As you sail along the north-east part of Elba, just off the Tuscan coast, make sure you drop your anchor in this special place, for a small bite or a full Italian menu. Freshly caught fish + super views of sunsets + ideal proximity to the sea. We meet Mario, owner and chef of Aquasalata ('Salty water' in Italian), a restaurant where the solid Tuscan culinary tradition meets creative innovation.
Hello Mario, tell us a little bit about you? How do your passion for the sea and for cooking come together?
Each of us is destined to follow our own path, the one we were born for, the one that gives added value to our existence. My path has not been easy from the start (as it often happens), tortuous at times impervious, different from the conventional life choices, one may say. I travelled around the world, cooking in many restaurants as a cook and then as a chef, before realising that the Island of Elba, in the small bay of Nisporto, would set my path, would be 'The place' for me to start my project.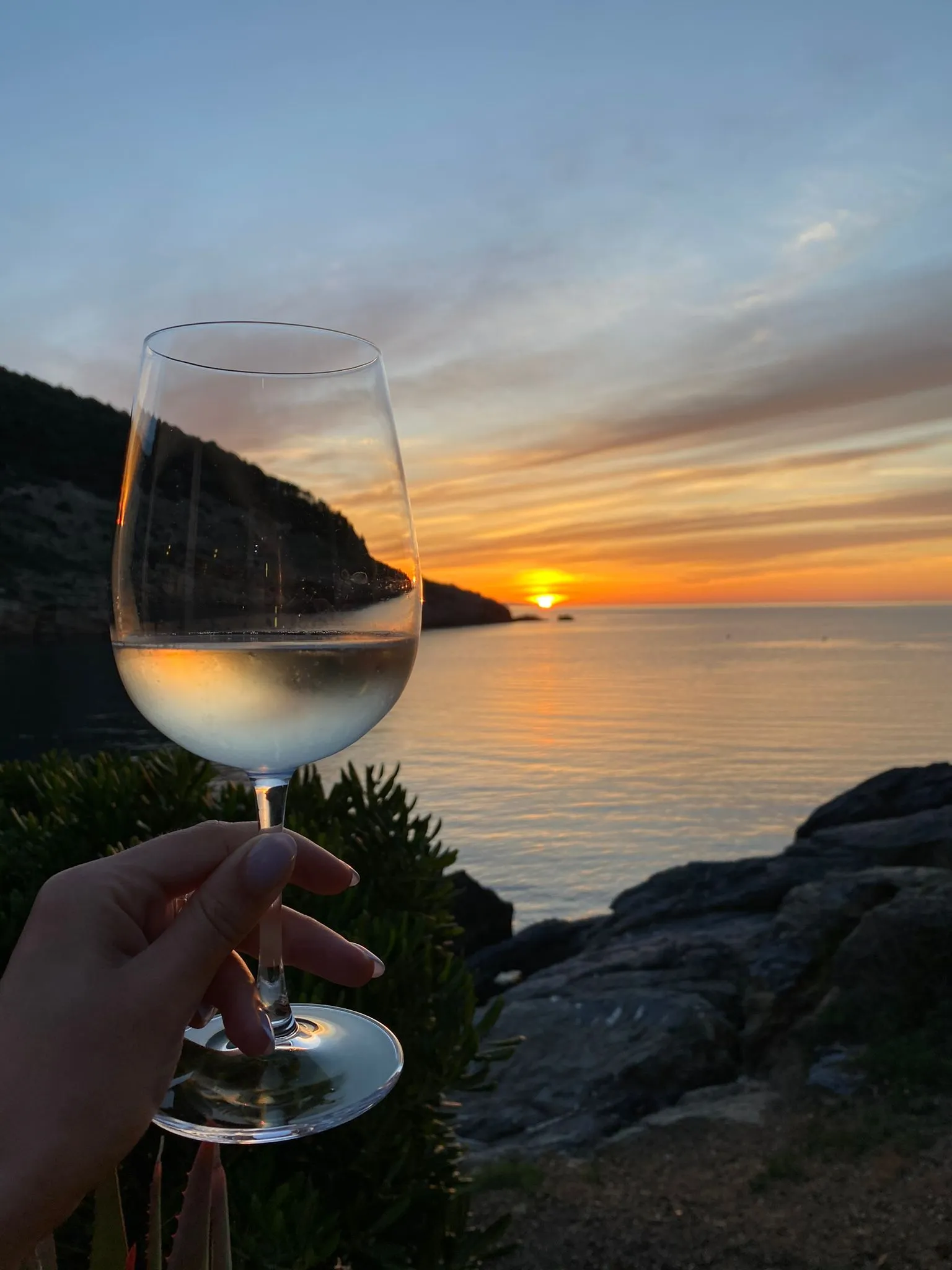 A mesmerizing place...I was immediately captivated by the harmony of the Mediterranean vegetation and that addictive scent of salt. I was able to combine my culinary knowledge, my appreciation for the quality of my raw ingredients, flavours and mix it up with the technique, attention to detail and innovation.
One year after the restaurant opened, I am very satisfied with the objectives achieved thanks to the young, competent and close-knit staff I have met during my work experience. We don't want to set ourselves any limits because we are aware that we can always do better.
What sort of cuisine do visitors find here?
An innovative cuisine. We love to revisit Italian traditional dishes in a modern contemporary way.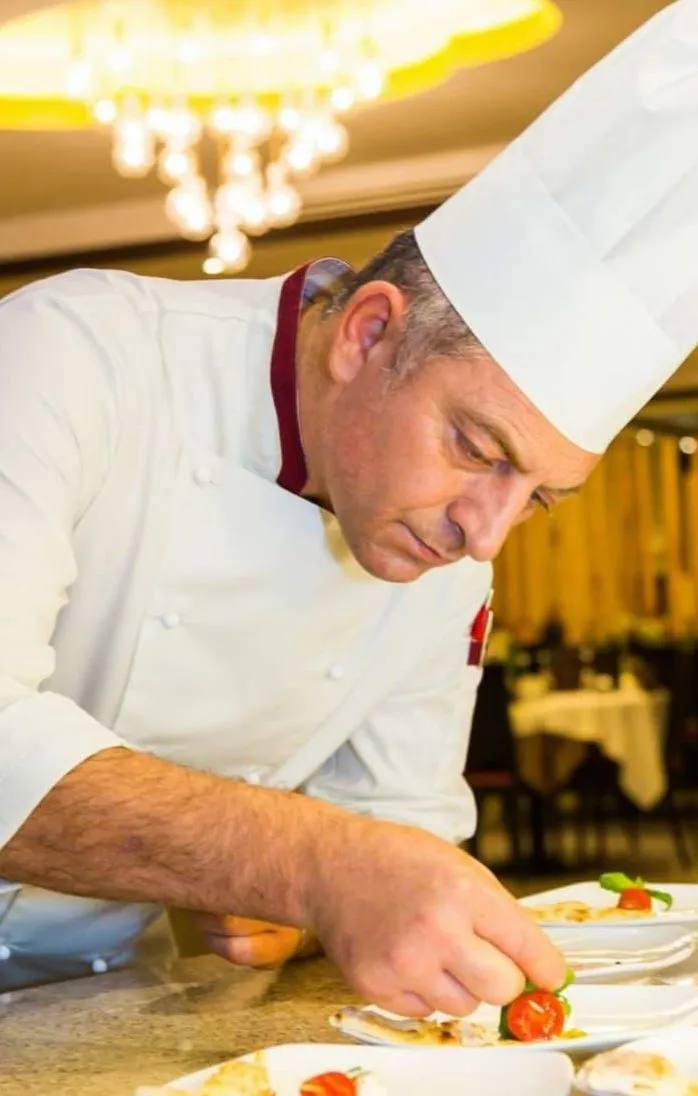 Presenting you Chef Mario
What's the link between the restaurant and the sea?
In addition to a breathtaking view of the bay of Nisporto, the waves hit the cliff where our terrace is located, allowing you to sit at the table at a distance of only a few metres from the sea itself. It's as if you were on a boat...
How do you get there?
If you sail here, you can simply get to our bay from along the Elba coast. Our restaurant is located right by Nisporto Beach, in the north-eastern part of Elba.
Our address is: Strada per Nisporto, 95, Rio Nell'elba, Toscana, Italia. Tel: 0565 963027
Interested in having a virtual bite to get properly convinced? Check out Aquasalata's Instagram page
Crustacean with dipping sauce and mustard citronette
Ingredients:
-1 Lobster
-3 Mazzara red prawns
-3 Sicilian scampi
-200g Red potatoes
-3 Carrots
-1 Fresh spring onion
-2 White onions
-3 Celery sticks
-4 Cherry tomatoes
-1 Tbsp old mustard
-2 Tbsp of apple vinegar
-4 Basil leaves
- Borage leaves
- 3 Leaves of curly endive
- White wine to taste
- Salt
- Evo oil to taste
- White pepper to taste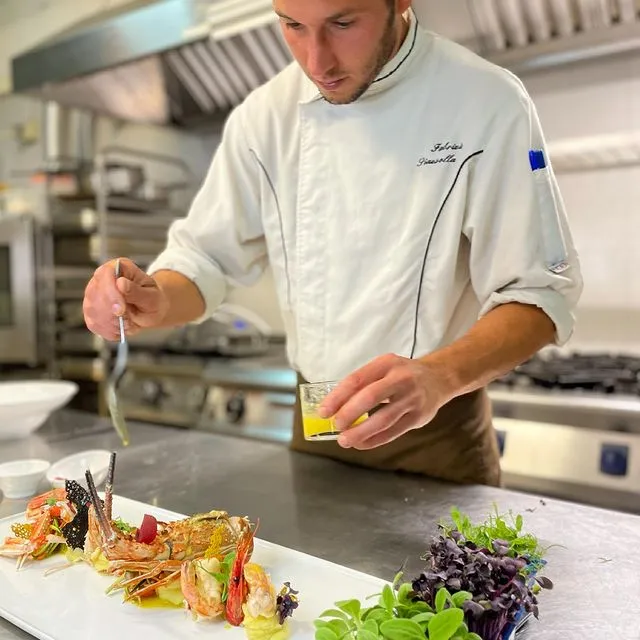 Preparing the mashed potatoes with oil
Wash the potatoes, put them in a pot of salted water and cook them for about 35 minutes. Peel them, mash them and whip them with the olive oil in a mixer.
Preparing the mustard citronette
Using a hand blender, blend the olive oil with the mustard, apple vinegar, a blanched shrimp tail, salt and pepper until you get a creamy sauce.
Preparing the crustaceans
Clean the shells and guts from the crustaceans. Dip the celery, carrots, onions and white wine in a pot of salted water and cook until an aromatic broth is obtained. Now dip the shellfish in the broth for about one minute and then drain.
Preparing the dipping sauce (pinzimonio)
Wash and peel the vegetables, slice them into julienne strips, add the basil and cherry tomatoes and dress with citronette.
Final touches
Using a pastry bag, spread the mashed potatoes in oil on a rectangular plate. Place the crustaceans vertically on the bed of potatoes and with a spoon add the crunchy vegetables. Finish it all off with borage sprouts and curly endive leaves.