As you make your way to North Sardinia, after you've set sail from the crystalline waters of La Maddalena, you cannot certainly miss a foodie experience at bar Zi Antò. Located just about 1 NM (nautical mile) from La Maddalena harbour of Cala Gavetta and about 1.6 NM from Cala Mangia Volpe, this is your go-to-place for superb fish, fresh ingredients and breathtaking sunsets.
Zi Antò was originally a military home: you will find several towers dating back to the two world wars. The founder of the restaurant, Antonio Muzzu, also known to the locals 'Zi Antò' - quite literally Uncle Tony - chose this place as his living home back in 1950 together with wife Isabella and since 1959 started his culinary career. This has always been a family bar, where the core values remain a fusion of Sardinian cooking tradition, fresh ingredients combined with an underlying respect for the environment.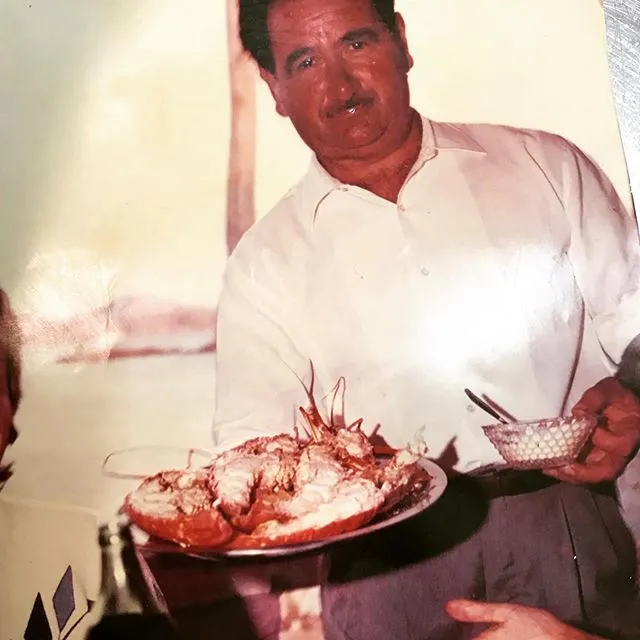 Zi Anto - uncle Tony - the founder
Over the last ten years, the culinary offer of Zi Antò has evolved into a wonderful variety of bruschettas, all made with local bread and ingredients...Sardinian cherry tomatoes, local mortadella, burrata cheese.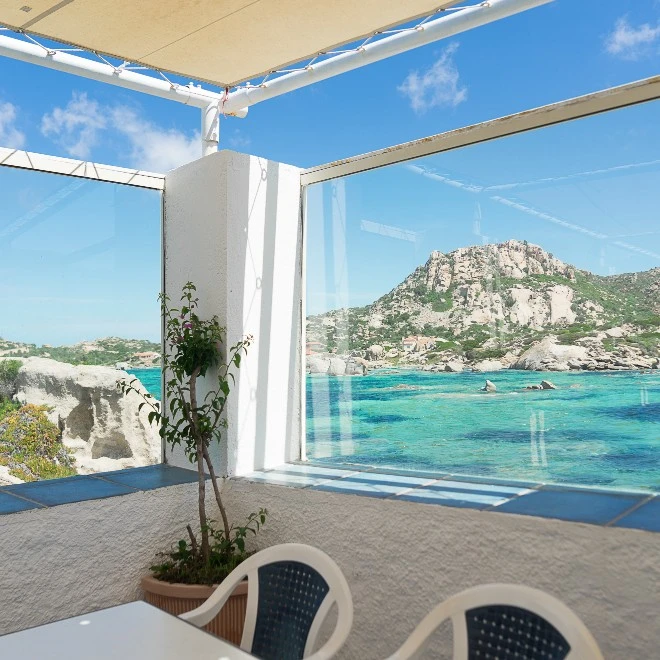 Sardinian snack with quite a special view
More recently the offer has now evolved to include some delicious 'primi piatti' (pasta dishes) with fresh catch of the day ('il pescato del giorno') from the local fish market.
Couldn't be easier to anchor here
Zi Antò is perfectly situated in a small peninsula between two bays: one sheltered from the westerly wind and the Mistral and the other one sheltered from the Levanter, easterly wind and from the Sirocco, the south-easterly wind. The restaurant is simply perfect to reach by boat as you'll be able to anchor in the peninsula and have your lunch or evening stop as if it was the extension of your boat deck! Particularly recommended a visit here at sunset.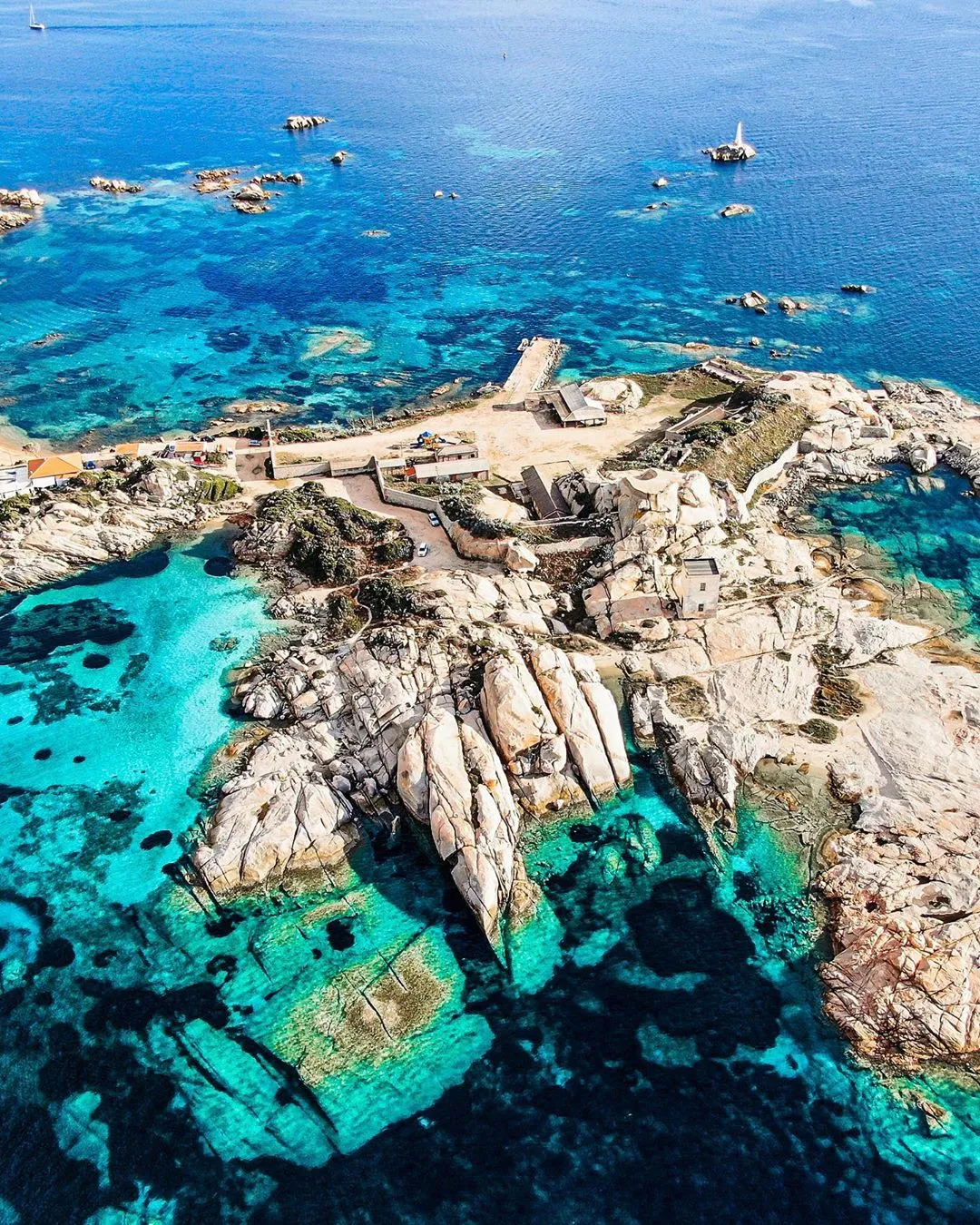 An aerial view of La Maddalena
Enrico Muzzu, one of the family members behind Zi Antò here proposes one of the recipe they're particularly proud of at Zi Antò':
Sardinian fregola with seafood
Ingredients (for 4 people):
Fregola* (50g per person)

Prawns 200gr

Clams 0.5 kg

Calamari 150 gr

Mussels 300gr

Tomatoes 100gr

Zucchinis 80gr

Bisque Sauce (0.5 liters)

Vegetable broth 0.5 liters

A few leaves of parsley

Garlic and extra virgin olive oil
Open the clams, remove half of the shell. Open the mussels and remove the whole shell. Continue removing the shell of the shrimp tails and slice your tomatoes and zucchini into small cubes. Place your tomatoes and zucchini onto a pan with extra virgin oil and a pinch of salt. Slice your squids into long strips. Now heat up another frying pan and place your garlic cloves and the extra virgin olive oil. Add the fregola and toast it, then pour your vegetable broth. Once the broth starts boiling add the bisque sauce to give that final flavour to your fregola. About 2 minutes before the fregola is ready to add your shrimps, clams and zucchini. Just before serving, add the mussels, squids and parsley. Complete your dish with a drizzle of olive oil.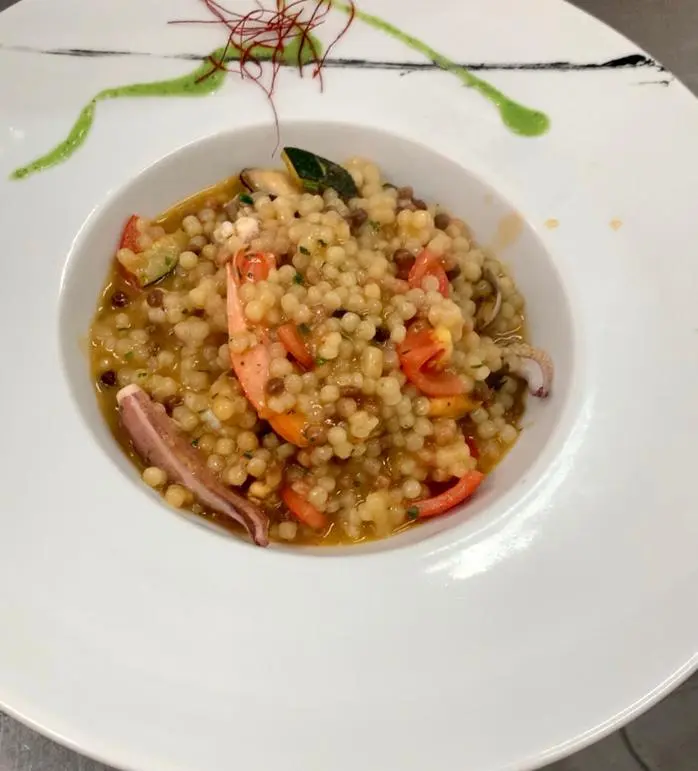 What a summer treat this is...
*Fregola is a type of Sardinian pasta and comes in varying sizes, but typically consists of semolina dough that has been rolled into balls 2–3 mm in diameter and toasted in an oven.
Where to find Zi Antò
Address: Località Punta Tegge, 07024 La Maddalena SS (the restaurant is a small white house on the sea). You can book your Sardinian treat here by calling 0789 722150. Or start following them on Instagram at Zi Antò or Facebook to see their latest recipes (and sunsets!).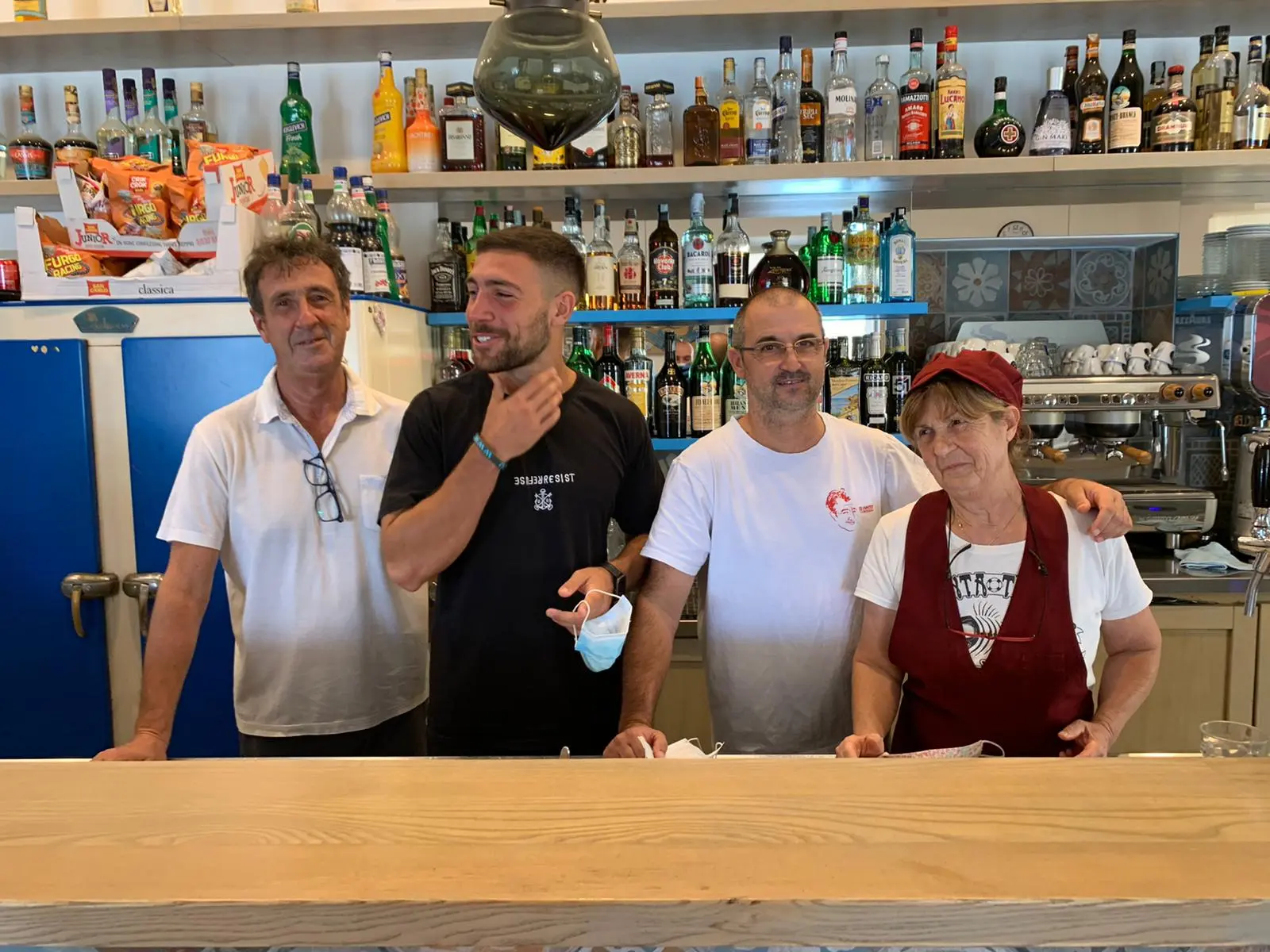 From the left, the family behind Zi Antò: Lorenzo, Enrico, Tino and Caterina

A special tour to get you in the mood