More and more sea lovers are choosing to enjoy the company of their dog on a sailing holiday. In fact, with a few precautions, it is possible to enjoy a sailing holiday that is pleasant and satisfying for both of you.
If we choose to take a holiday with our furry friend, the rule that should guide all our choices is that the dog's needs will always have priority.
To be sure to give detailed suggestions, we have used the experience of Boris, a three-month-old labrador, just back from a week's sail between Salerno and the Pontine islands on a Lagoon 40 catamaran.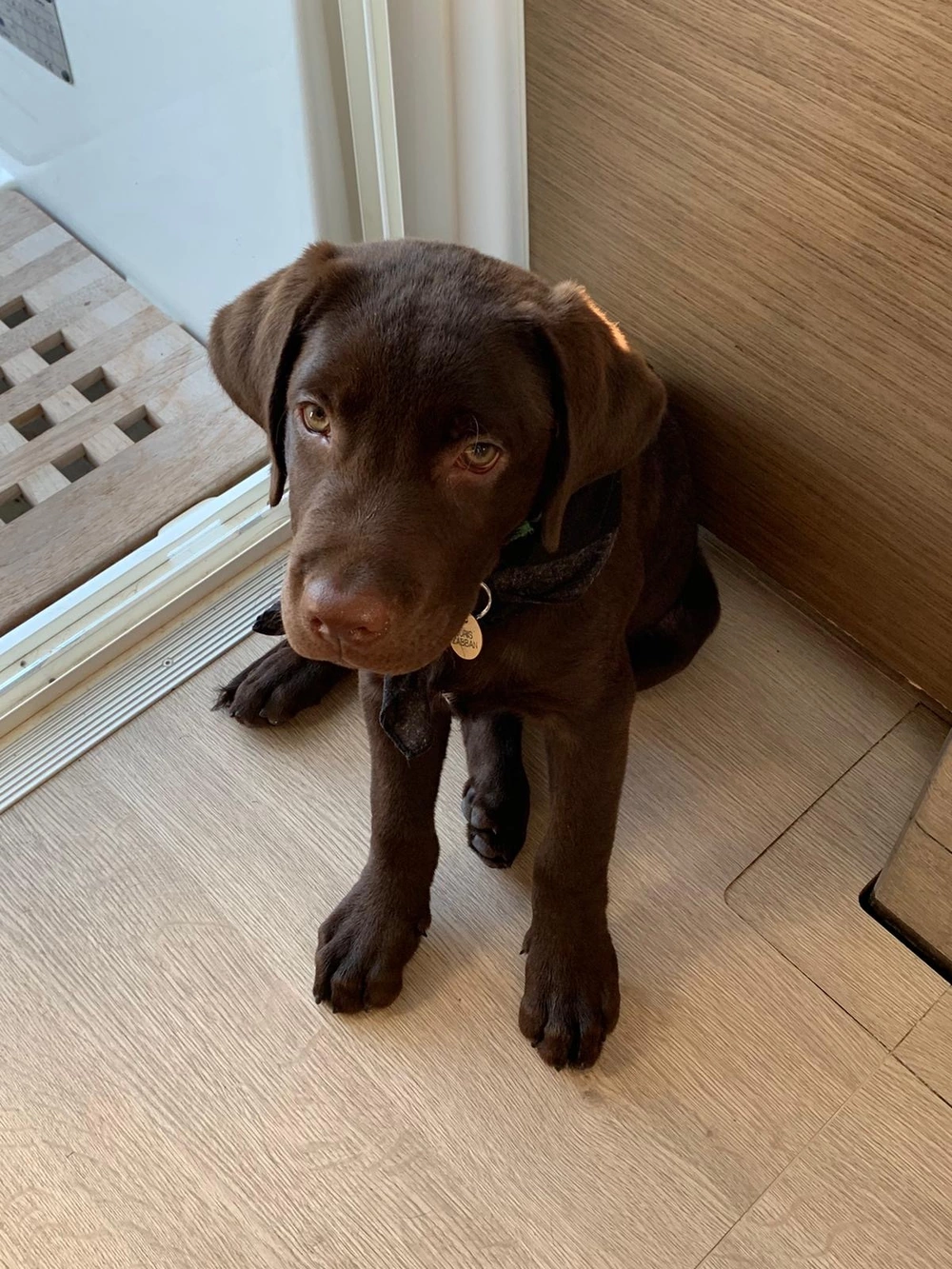 Dogs onboard: What do they really need?
As we were saying, the priority will be to satisfy the dog's needs and not change his habits compared to when he is on land. A dog needs to go ashore to do its business and relieve itself at least four times a day. If you are in a harbour, it is easy, but if you are at anchor in a roadstead, you must use the tender to go ashore, making sure to stop in a place where the terrain is suitable for your dog (beach yes, but no cliffs or rocks), not to disturb bathers and to pick up everything.
So remember to take small plastic bags with you, the leash and a bowl of water to drink.
In any case, never allow your dog to do its business on a boat.
Long cruises max. duration
As I was saying, during a sailing holiday with a dog, you must remember at all times that the dog's needs take priority over everything else and that the dog will be delighted to be there with us to share this new adventure. Thus, even in transfers and crossings, the maximum length of a sailing trip, without any intermediate stops, will be 4-5 hours, which is still a range of 20-25 miles: not bad.
Seasickness
Dogs do not suffer from seasickness, mainly if they have been progressively accustomed to it from an early age.
Swimming
Swimming is instinctive for a dog. The only thing to remember is that you should always bathe your dog from the beach, never from the boat: dogs shouldn't get used to diving in from the boat. They won't risk doing it at inappropriate times, for example, during a manoeuvre.
Fear
Dogs are not afraid of boats by nature. As in all other unusual situations, they place a great deal of trust in their owner and are reassured and happy to be there with him to do things together, but we recommend that they get used to it gradually.
Do dogs have to wear life jackets on boats?
Your dog doesn't need to have a jacket. The problem does not arise because your dog should not fall into the water. First of all, find a safe area where the dog can stay at all times, a good solution being the cockpit. If our sailing boat or catamaran has a stern with easy access to the sea, it is a good idea to keep your dog tied up at certain times during navigation.
For a sailing holiday with a dog, I recommend a dog collar with a handle. It's more convenient for us and more comfortable for them!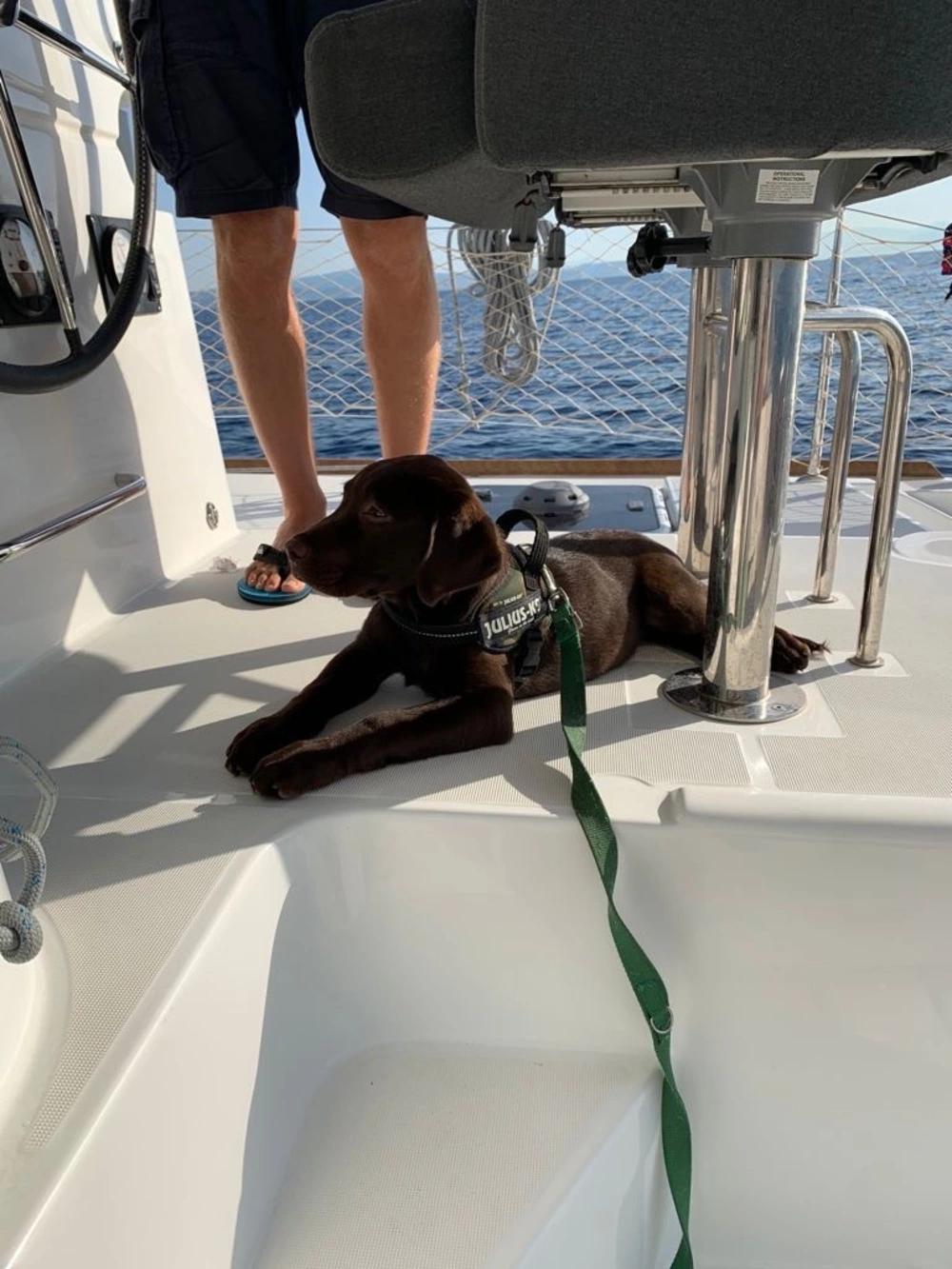 Extra cleaning ON REQUEST
Understandably, the presence of a dog on board requires some extra cleaning.
It is essential to inform the charter you'll be cruising with in advance so that they can identify a boat on which you can take dogs on board.
Usually, charter companies perform a thorough cleaning of the boat after a week with a dog, for which you will pay an extra fee.
Special precautions
Always remember to wash your dog with fresh water every time you come back on board. This is both to remove salt from the hair and also to remove any traces of sand. For this purpose, I think the stern beach with the external shower with fresh, lukewarm water at hand is perfect.
Observe his condition, drink frequently and wet his head at least once an hour.
Make sure he has a shady place to stay and watch out for the lines, both when sailing and when manoeuvring to moor: all the more reason to act calmly and unceremoniously and to keep the cockpit tidy at all times.
Finding the right spot for them
A catamaran is better because of the much larger footprint and the dinette on the same level as the cockpit, but a slightly spacious sailboat will also do.
It is essential to make it clear to your dog where he can stay: to do this you must first establish where he can go and be unambiguous.
The dog will never tend to go to the bow. Always rig lifelines between the bow and stern so that your dog can walk around securely on a lead when at anchor.
Sun
Unlike people, you won't need any specific sun lotions for your dog onboard. What's really important is to make sure you pour water on your dog frequently. The effect of the wind can increase dehydration so another reason you should keep your pet moist.
Shade, heat stroke
Same as for the sun, I'd like to stress the importance of providing shady and ventilated areas to dogs on board, making sure that he/she drinks regularly and that his/her head is always moist during the day.
What's the ideal spot for your dog to stay onboard?
Whether you're sailing, mooring, at roadstead, or sailing overnight, your dog will generally stay in the cockpit, preferably tied on a short leash if your boat has open sterns. Make sure to leave your dog in a position where he/she will not hinder the boat manoeuvres.
What to do while mooring? Dogs are not capable of walking independently on the gangway, at least not right away. Only on those boats with stable wooden planks and a good grip will likely work for dogs. I suggest always to carry your dog or accompany him/her.
Make sure your dog does not bite the ropes of your neighbours.
Anytime you can, try to go for walks on land and along the jetty, particularly when it's not too hot.
At roadsted: on a boat, whether you are standing or sailing, the precautions will not be very different. Dogs will stay mainly in the cockpit with the addition of a few walks in the bow (secured to the lifelines).
At Night: dogs should stay in the cockpit or dinette depending on the temperature and your preference. In summer, dogs usually wake up with the first light of dawn. Make sure he/she has a shady space by keeping the awning and canopy open and setting up some ad hoc shade, perhaps with towels if necessary.
Kennel?
Setting up a kennel in a specific position on the boat is not necessary; after a few days of acclimatisation, it will become clear which spots he prefers.
Safety net
Another precaution we must take when choosing and booking the most suitable boat for our holiday is to ask for a fine-meshed perimeter safety net. This extra can have a different price depending on whether we prefer to find it installed when we arrive onboard or are willing to apply it ourselves.
Feeding your dog onboard
Gradually get him used to this new, somewhat unusual environment, trying as much as possible not to change his habits, particularly his eating habits, both concerning food and to the time of day, always remembering to drink regularly.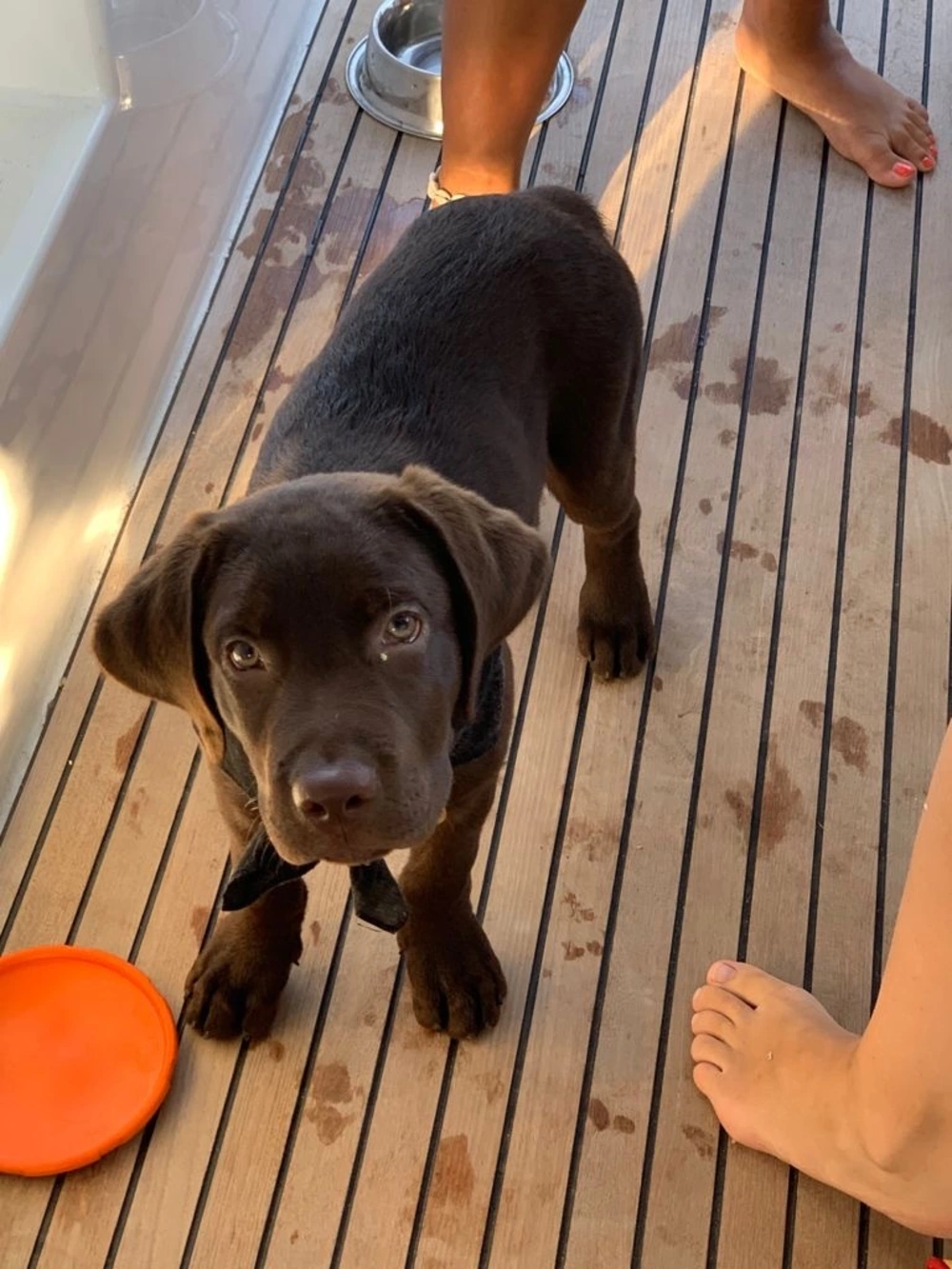 Can he get on and off? In and out, up and down... mobility on board
Much depends on the size of the dog.
They do not tend to be able to get on and off the boat from the dock, nor from above to below deck (from the cockpit to the dinette) on a sailing boat.
This is why a catamaran, where the dinette and cockpit are on the same level, can be a winning choice for those who want to enjoy a sailing holiday with their dog (a comfortable solution for people too!).
The dog is not able to jump safely from the stern platform to the dinghy; when doing this, the best thing to do is to help him by accompanying him or taking him in your arms.
When on a boat, I advise equipping your dog with a harness with a handle, which will prove invaluable in these situations.
As we have previously said, I recommend discouraging your dog from going into the water from the boat, because it is a behaviour that, if it becomes a habit, your dog may also perform at inappropriate times, but also because once in the water your dog is absolutely unable to get back on board on his own.
On occasions, over the course of the holiday, your dog may gradually gain confidence and get on and off the boat on his own, particularly if the gangway consists of a simple wooden plank firmly supported on both sides.
Is he having a good time?
With some practical adjustments, your dog will have a blast. All I can say is that it is important to constantly observe his/her reactions, same as we'd do on land.