So you've just boarded your boat, you spent a good long day sailing with your crew, sunbathed a bit perhaps, anchored in a beautiful crystalline-blue bay of the Sardinian coast and now your stomachs are all rumbling. Well, the beauty of being on a boat is often the ability of getting hold of wonderful fresh and generally seasonal ingredients. We're a little bit closer to nature and stopping by small markets, where one can get hold of local fruit and vegetables, freshly fished fish, well it's a little easier. Whoever is the designated chef of the crew can have access to a suite of fresh ingredients that just add that 'je-ne-sais-quoi' to any recipe, don't they?
Easy Recipes to Prepare on Board
So without further ado, let us introduce you to chef Roberto Nese who is going to indulge us with some simple recipes one can prepare on board. Our first menu part of this 'easy-recipes-on board series' consists of:
Vegetables and Cheese Caprese
Recommended wine: Lugana San Benedetto 2019 Azienda Zenato
Chicken and Vegetable Cous cous
Recommended wine: Chardonnay 2019 Cantine Terlano
Panna cotta
Recommended wine: Ramandolo 2014 Giovanni Dri
Vegetables and Cheese Caprese
Ingredients
Edamer cheese
3 ripe tomatoes
1 celery
3 small fresh zucchini
1 lime
3 spoons of pumpkin seeds
1 mid sized baguette
Fresh oregano
6 spoons of extra virgin olive oil
Salt
Preparation
Wash and trim the zucchini and cucumber. Peel the cucumber partially and cut it into slices. Cut the zucchini into very thin slices. To prepare the marinade: squeeze the lime, pour the juice into a bowl, add the oil, salt and some fresh oregano leaves. Place the vegetables in two different dishes, add salt and sprinkle with the marinade then leave to rest for a quarter of an hour. Cut the baguette into round slices and lightly toast them on a hot plate with a drizzle of oil or in the oven at 180° for 5 mins. Let it cool down on a grill. Slice the tomatoes and the edamer cheese - slice the cheese about 1cm. Toast the pumpkin seeds. You can now prepare your final dish by alternating the slices of the different ingredients to your taste, put in the oven for about 5 minutes at 180° to let the cheese soften. Cut your roasted pumpkin seeds into smaller pieces and finish up by sprinkling your dish with the pumpkin seeds and what's left of your marinade. Garnish with fresh oregano and serve. You can replace the zucchini with aubergines or peppers depending on the taste of your crew!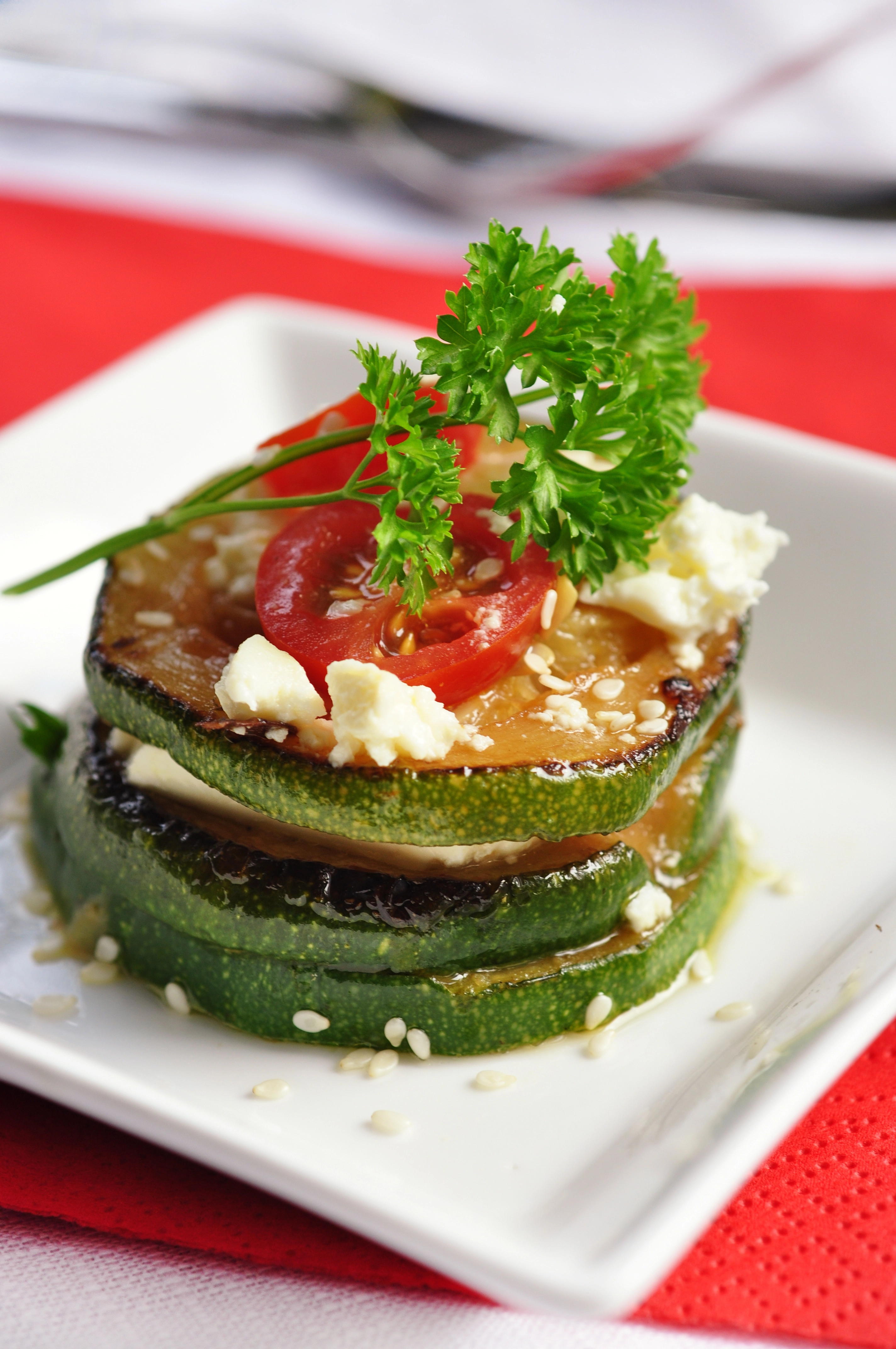 Vegetable and cheese caprese, yum!
Chicken and Veggie Cous Cous
Ingredients
200 grams of cous cous
1 chicken breast
Vegetable broth
1 aubergine
1 red pepper
1 yellow pepper
2 zucchini
8 cherry tomatoes
2 spring onions
1 sprig of basil
2-3 sprigs of parsley
1 garlic clove
1 lemon
Evo Oil
Salt
Chilli pepper
Preparation
Prepare all your ingredients. Slice the chicken breast (about 500 g) lengthwise and remove the bone and central cartilage to obtain 2 fillets. Wash all the vegetables. Slice the aubergine into 3-4 mm thick slices. Cut the zucchini in half and then into slices. Remove the rootlets and the green part of the spring onions and cut them into quarters lengthwise. Toast the peppers.
Cook the meat and vegetables. Heat the plate, sprinkle with fine salt and grill the chicken fillets over medium-low heat for 5-6 minutes on each side. Salt them, cut them into 1 cm thick slices and keep them warm. Grill the aubergines and spring onions 3-4 minutes on each side, the zucchini 2 minutes on each side and the tomatoes, to taste, whole or cut in half, lengthwise, for 2-3 minutes.
Chop the basil and parsley with the clove of garlic. Put the mix in a jar and add 2 tablespoons of lemon juice, 2-3 tablespoons of evo oil, salt and a pinch of chilli pepper. Put the lid on and shake. Food plating and presentation Pour the couscous into a saucepan and add the hot vegetable broth you previously prepared; put a lid on and let it rest for about 3 minutes. Grain the cous cous with a fork and season with the prepared sauce. Place your cous cous, chicken and grilled vegetables on your plates. Drizzle again with a few drops of evo oil and season with a pinch of salt. Serve your chicken and vegetable cous cous.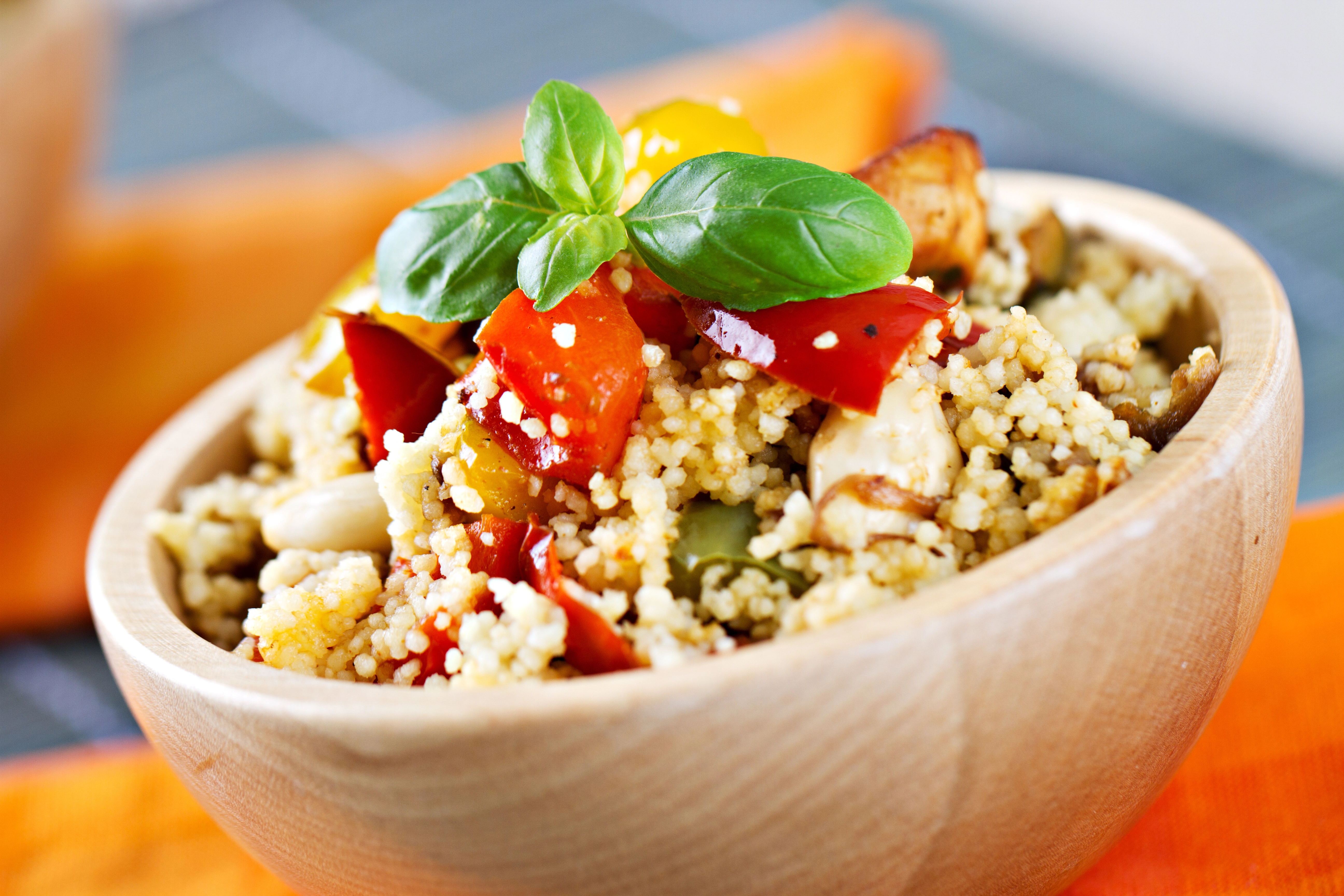 Veggie & chicken cous cous, simple but tasty
Panna Cotta
Ingredients
700 g fresh cream
300 g whole milk
150 g caster sugar
1 vanilla berry
16 g gelatine sheets
200 grams of chocolate granules/chocolate bar
150 gr of semi-whipped cream
5 baby mint leaves
1 mango
Preparation
Boil all the ingredients in a pot (milk, cream, sugar and vanilla berry) while soaking the jelly in cold water. When the mixture starts boiling, turn off the hob (or gas) add the hot mixture of gelatine and start stirring, put everything in moulds (or muffin tin) let it cool. On the side whip the cream till it gets semi-whipped to be able to then lay it on the plate and splash it with a spoon (just like in the picture)!
Take a little bit of chocolate chips or even just some chocolate bar and tripe it coarse and finally whisk our mango without the peel, it must remain quite consistent. Food plating and presentation Let's take our plates and using a spoon we'll place the whipped cream right in the center of the plate where we'll make a sketch. On three points of the plate, we'll put the chocolate where then on top we'll put our Bavarians (in case we made a bigger Bavarian we'll lay it in the center of the plate). Make some spikes with a spoon on the plate with the mango and finally garnish with baby tufts of mint.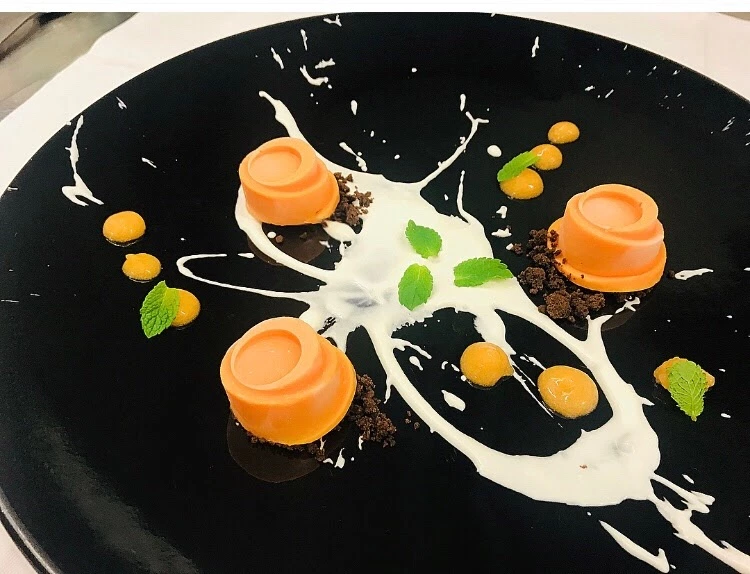 Panna Cotta or...a Jackson Pollock's?
About Chef Roberto…
My journey in the world of Italian haute cuisine started at the age of 15. My cooking studies began in 'Scuola Alberghiera di Casargo' in northern Italy, whilst getting involved in some cooking internships. It was right during my last internship, that I bumped into the Grand Hotel Tremezzo in the kitchen, which was headed by chef Osvaldo Presazzi.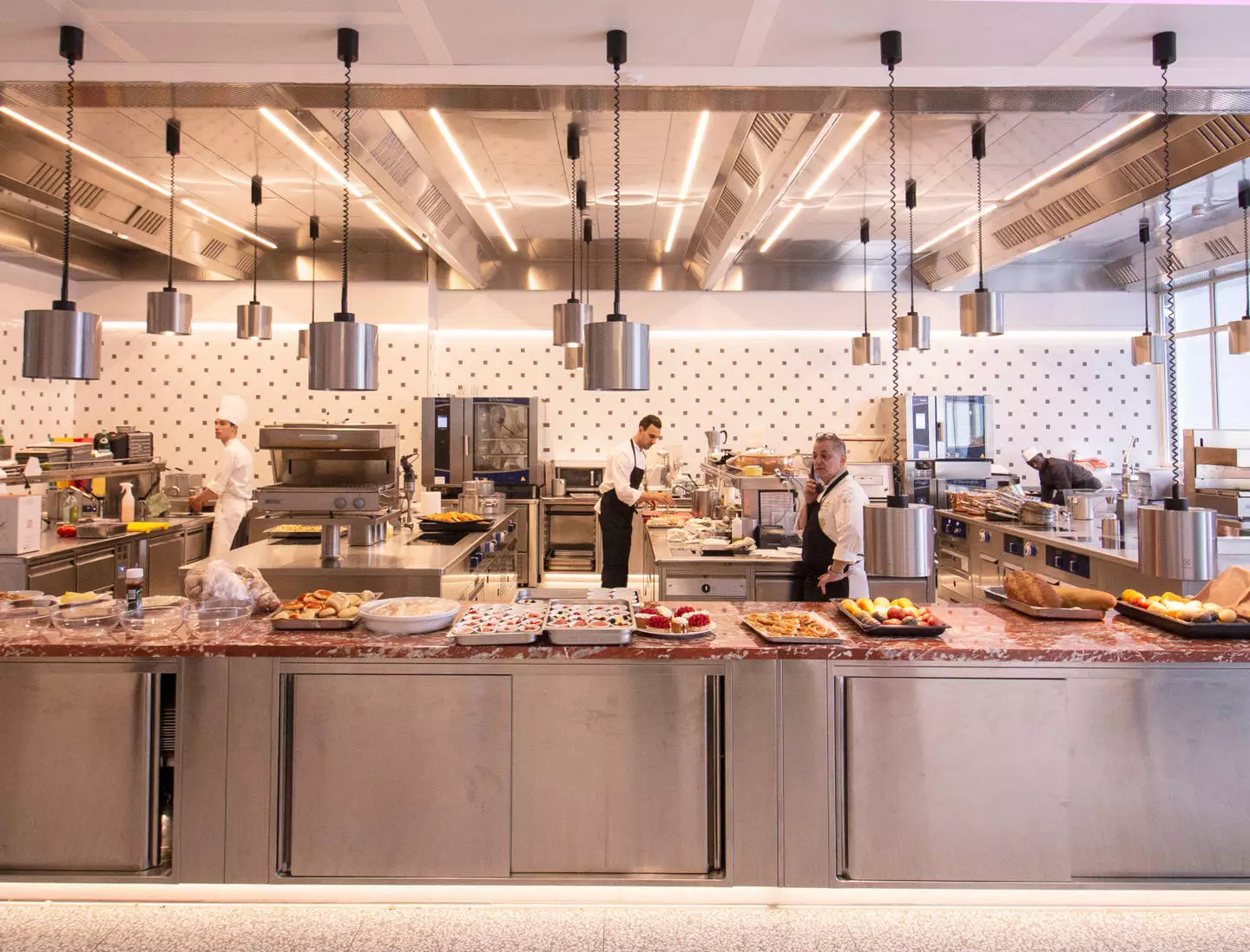 Chef Roberto (centre) in the Gran Hotel Tremezzo's kitchen with chef Osvaldo Presazzi (right)
So here I started my cooking adventure, working throughout the summer season, I began as a commis pastry chef. A couple of years later, I moved into the centre of the scene, so to speak and started getting involved in pizza making, grill, breakfast, appetizers, first courses, and well, you name it, anything the hotel customers fancied. A hotel is a wonderful world where you can learn and learn from everyone's experience. After a couple of winters in Southern Australian, the Grand Hotel in Como and the Alpine in Gstaad, Switzerland.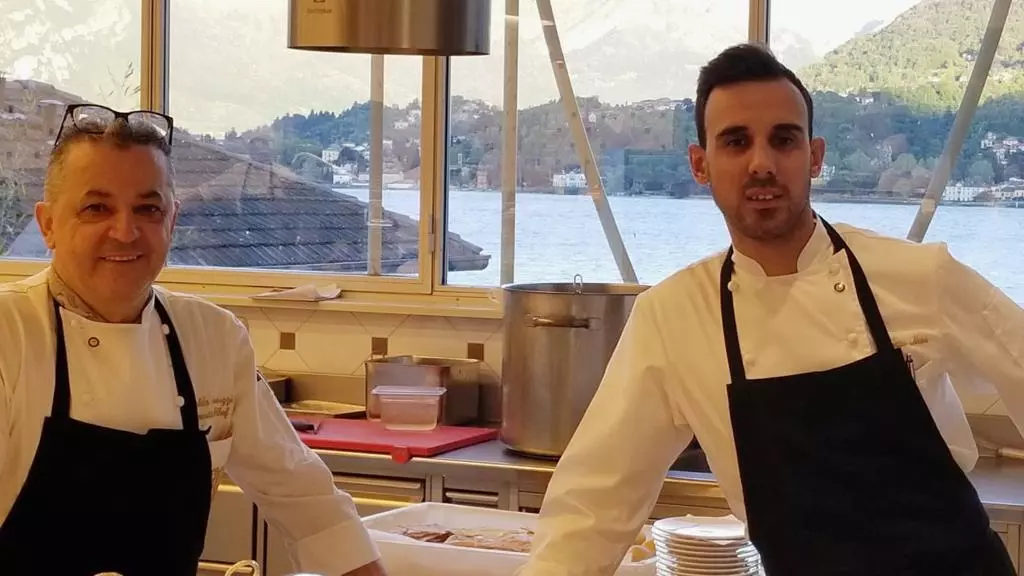 Chef Osvaldo Presazzi (left) with chef Roberto at Grand Hotel Tremezzo
I joined chef Osvaldo Presazzi and the great master chef Gualtiero Marchesi in a wonderful initiative to bring Gualtiero Marchesi famous dishes and his cuisine to the Grand Hotel Tremezzo's tables, in front of its highly international guests. Dishes such as gold rice, caviar spaghetti, etc… We hope you enjoyed this first menu, see in you our next easy-recipe-on-board post!
We hope you enjoyed this first menu, see in you our next easy-recipe-on-board post!