Our journey into the colorful and flavorsome Greek cuisine starts here with a selection of delicious recipes anyone can prepare whilst enjoy the tranquillity of your sailing trip. For the occasion, we've asked a true connoisseur and food lover, Niki Christidi Roemmer who introduces us to the world of Greek cuisine. The 26-year-old Greek girl knows definitely a little bit on life on a boat as she works as a hostess on yachts and grew up by the sea. She has been sailing around the Greek islands every summer with her family since she was little.
'Nothing made more sense for me than to work on a boat. What's better finding a job that's also your hobby and your home? ' says Niki. Niki loves the sea as much as the cuisine of her home country. In the next few weeks, we will present Niki's recipes on our blog, you can take a read, try them at home or print them out and cook them during your next sailing adventure. So off we go with the first recipe!
Stuffed Eggplants Papoutsakia
Our first dish is going to involve eggplants. Now, when you think of eggplants and Greek cuisine, you're thinking of moussaka, aren't you? But, did you know that one of the most delicious Greek dish has a close relative, Papoutsakia, literally 'small shoes'?
Once cooked, that's what they resemble, but we promise they are wonderfully tasty. An easier recipe to make than moussaka, with fewer ingredients, and simply perfect for when you're sailing. A great seasonal recipe to prepare if you're somewhere in the Med where eggplants can be found easily in any local market.
Ingredients for the eggplants
4 Eggplants
4-5 Tablespoons of olive oil
Salt
Pepper
Ingredients for the filling
1 Onion
1 Garlic clove
2-3 Tablespoons of olive oil
1 Tablespoon of thyme
1 Teaspoon of oregano
1 Green pepper
500 g of Minced meat or ground beef (whichever you prefer)
1 Tablespoon of tomato paste
50 g of Red or white wine
400 g of Canned tomatoes
200 g of Water
1 Tablespoon of chicken stock if you use chicken, if not a mixed vegetable cube
200 g Feta cheese
Ingredients for the serving
Arugula
Olive oil
Pepper
Oregano
Preparation
Preheat the oven to 200 ° C. Slice the eggplants lengthwise and carve the meat crosswise with a knife. Place in a baking tin lined with parchment paper and add olive oil, salt and pepper. Place your eggplants with the skin facing upwards and fry for 25-30 minutes.
Preparation for the filling
Place a pan on high heat and add the olive oil. Finely chop the onion and garlic and add them to the pan. Add the thyme, the oregano and fry it all together. Slice the pepper into small pieces, place them in the pan and stir. Add the chicken and fry for 2-3 minutes until brown. Add the tomato paste and stir. Pour some wine in your pan and the canned tomatoes, water and stock. Simmer over a low heat for 15 to 20 minutes until all the moisture has evaporated. Using a spoon, carve the centre of your eggplants to create a pocket. Spread the filling you prepared for each eggplant, making sure every eggplants is filled with it.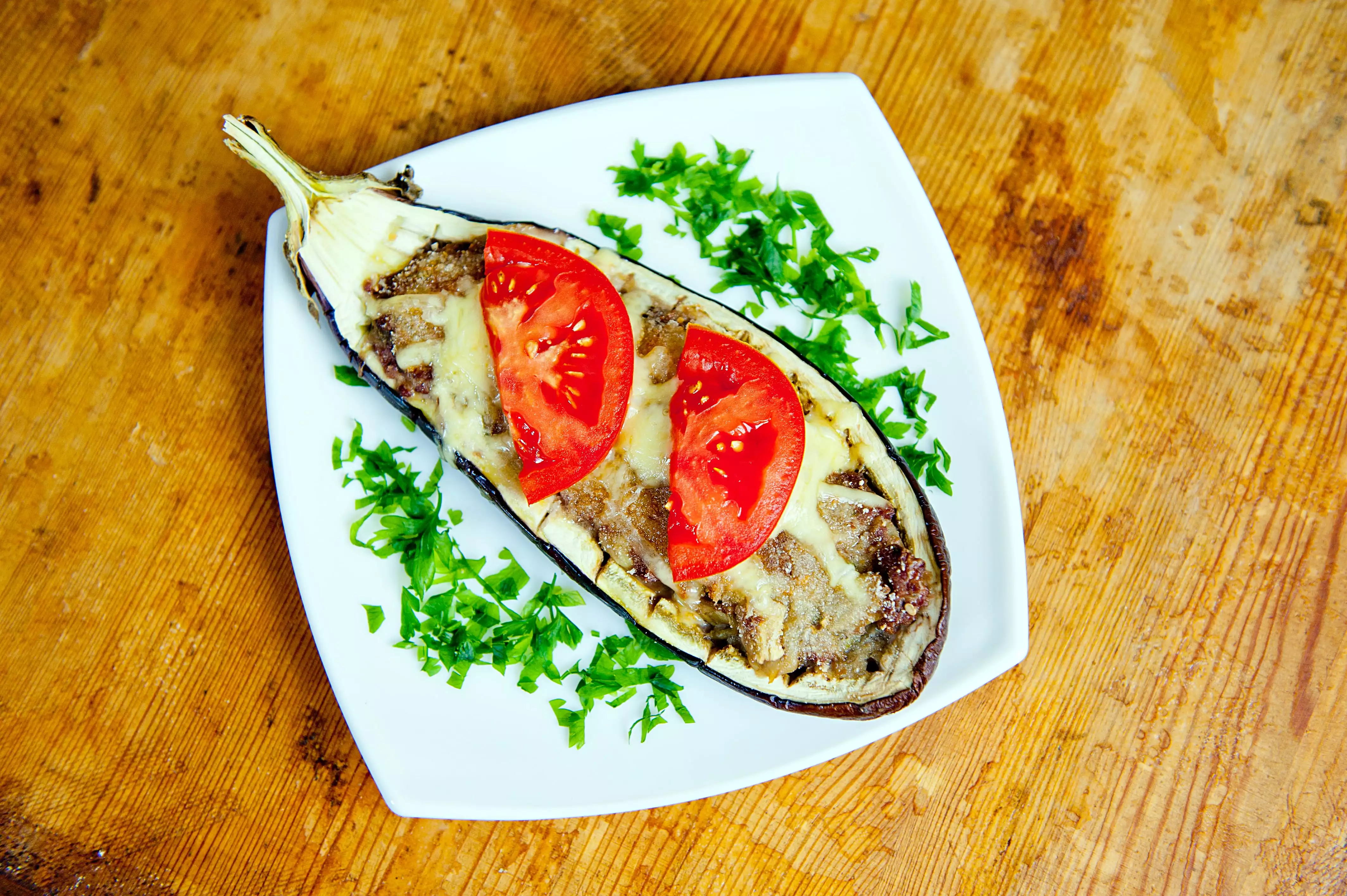 Your Papoutsakia is served
Once all the eggplants are filled, sprinkle some feta cheese on top. Serve with arugula, olive oil, pepper and oregano.
Enjoy!