A travel report from Alexander Feucht, Austrian who sailed across the Agean Sea with a group of friends on a Sun Odyssey 45.
'We have been traveling together for ten years; the Adriatic Sea, the southern Sporades, the Ionian Islands and the Saronic Gulf are no longer unknown places for us - however we do not yet know Kos and the surrounding area; we are excited to see what awaits us.

Aerial view of Kos
Our 8-Day Sailing Journey Through Wind, Sun and Blue Sea
Day one: Getting there (Sept. 15, 2018)
Our Eurowings plane takes off from Vienna Schwechat Airport at 7:35 a.m. and lands in Kos around 11 a.m. We wait for a taxi in front of the airport so that we can reach Kos Marina, which is just a short 20-minute drive from the airport.
Excellent! The trip can begin with a beer in the Marina restaurant.
The formalities are straightforward and the boat is handed over very professionally. So we move into our Sun Odyssey 45 in the late afternoon. The bunk distribution is very pleasant for five people, not least because Günther and Knut end up sleeping on the deck. Knut and Herbert take care of the shopping during check-in. So nothing stops us from going on an evening stroll around the city.
Day two: Kos Marina to Yathy / Kalymnos
Weather Bulletin: Wind 15 kn. NW, Sea 2, Sunny (Day 2 on September 16, 2018)
After a good coffee, we leave at about 11 am and soon set sail on a 15 knots wind. Kind waves and a half wind course allow us to enjoy the first hours on board! After about four hours of sailing, we approach our destination, Vathy, a fjord recommended by Hubert Zeller. Right when the last excursion boats leave the fjord, we come in and can moor at the pier with a bow anchor. We are surrounded by steep cliffs and the crystal clear water is inviting you to swim. Herbert takes a brave dive from a height of about six meters. Will our friend Günther follow him? Well, after an hour of looking right before the abyss :-)
Günther decides not to jump, something that will haunt him for the rest of the week. In his defence, neither of us jumped! Before sunset, Xandl and Günther climb barefoot on rugged stones to reach a hill and enjoy the view of the anchored boats. We end the day with fish, wine and ouzo (a Greek dry anise-flavoured aperitif) in one of the few restaurants.
Day three: Vathy to Palionissos / Kalymnos
Weather Bulletin: Wind 15 kn. N, Sea 2, Sunny (Day 3 on September 17th, 2018)
After an American coffee in the quay restaurant, we leave and sail north. Crossing makes little sense if we want to gain height quickly. The waves are so high that most of us do not manage to eat. So skipper Xandl decides to take a break in the nearby Palionissos bay after an hour and a half drive. We lie on a buoy and chug ashore with the dinghy.
We get to know Charly. A peculiar character who starts telling us his story: He built his own two-master, and as a former professional ship builder, he worked on it for eight years until he fulfilled his dream of spending the summer here in Greece. He becomes good friends with Herbert, and continues telling us about his life whilst sharing some ouzo and some beer. He advises us to stay there overnight due to the meltemi (also referred to as the etesians, they are the strong, dry north winds of the Aegean Sea, which blows from about mid-May to mid-September) which this year is particularly affecting the Greek weather. We follow his advice and spend a few hours enjoying some food in this quaint bay.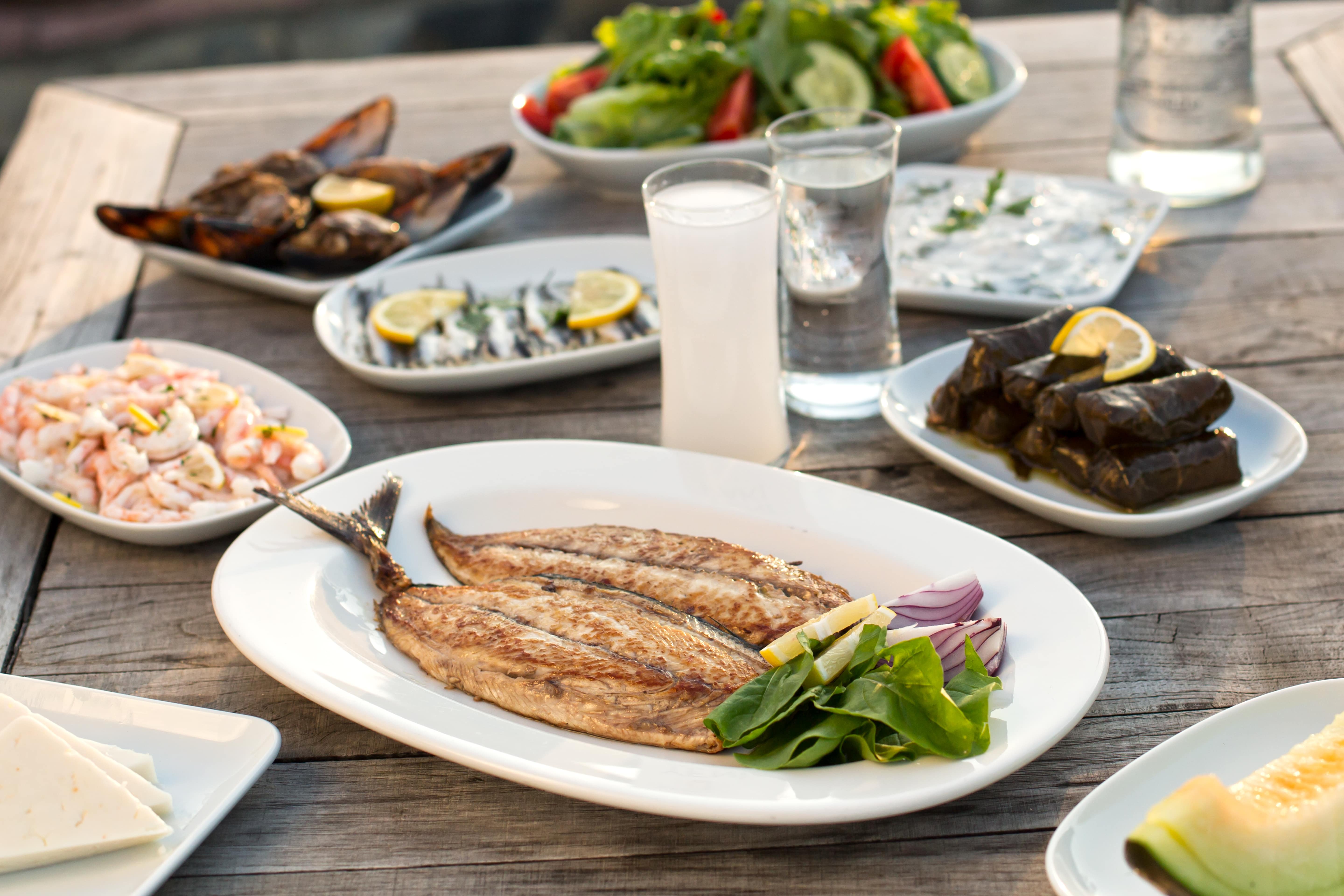 Greek Traditional Dining Table with Raki and Ouzo
Day four: Palionissos / Lakky / Leros
Weather Bulletin: Wind 20 kn. NW, Sea 3, Sunny (Day 4 on Sept. 18, 2018)
Despite the weather has not completely improved, we decide to leave in the morning and head north. This time with sails up. After 15 miles, due to the weather conditions, Xandl is forced to change direction and we cruise at 20 to 25 knots far into the bay of Xirokampos. We are on the southern tip of the island of Leros, where we attach a buoy to the stern. We relax by bathing and then have lunch. Xandl swims to a neighboring yacht with an Austrian flag to get information. We continue by motor to Lakky, where we hang safely on a mooring in the Leros Marina before the gusts of fall.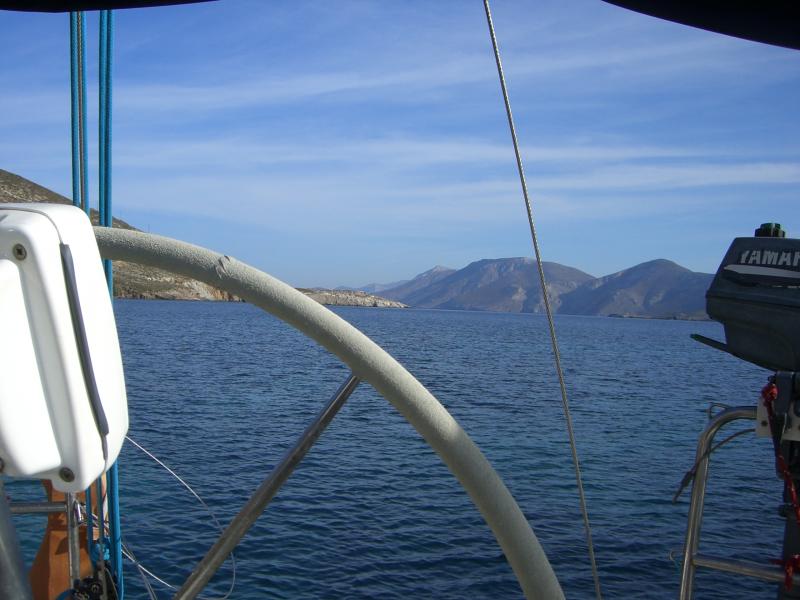 View of Leros from the boat
The marina is new, but due to the dusty floor, we decide not to go to any of the marina restaurants. We choose instead to take a walk into town and discover a great restaurant called Lyxnari with traditional Greek cuisine. A truly excellent dining experience.
'We choose instead to take a walk into town and discover a great restaurant called Lyxnari with traditional Greek cuisine. A truly excellent dining experience.'
Day five: Lakky
Weather Bulletin: Wind 15 to 25 kn. NW, Sea 2 to 3, Sunny (Day 5 on Sept. 19, 2018)
It is difficult for Xandl to decide where to go from here in order to be protected from the meltemi in the evening. Patmos is now too far away and most of the bays are exposed to the north wind. So we decide to sail further north with the motor. There is little point in taking that direction, the wave is higher here in the west of the island of Leros than in the east.
Nevertheless, we enjoy the beautiful landscape and archipelago that passes by right in front of us. After three hours we reach Markonisi, where our Navionics chart indicates some good mooring spots and great bathing gems. We decide to proceed to Kadsadia Bay in the south of the island of Lipsi with a turquoise anchor base. The meltemi blows with its 20 knots, the anchor does not hold again. So we quickly start our return trip, soon set sail for a downwind course and get back to where we had sailed from in the morning with rolling waves. Having really enjoyed the place we had been the day before, Xandl invites the crew to the captains dinner, where we are spoiled with local delicacies.
On the way home we bump into a street festival from the Women Without Borders association and get spontaneously invited. We are immediately presented with cheese, wine and dance. We are truly enjoying this! We end our day with ouzo in a bar.
'On the way home we bump into a street festival from the Women Without Borders association and get spontaneously invited. We are immediately presented with cheese, wine and dance. We are truly enjoying this! We end our day with ouzo in a bar.'
Day six: Lakky - Pserimos
Weather Bulletin: Wind 15 kn. NW, Sea 2, Sunny (Day 6 on September 20, 2018)
The crew without skipper has the privilege of sleeping under deck. We have agreed that they will leave south early in the morning when the sun is rising. The two trained skippers Günther and Fichtel as well as the experienced seamen Herbert and Knut leave no doubt about their seafaring competence. Skipper Xandl only comes in after two hours of driving and gets involved in setting sails. We get to sail on a wonderful ride with engine-off on a space sheet course with 15 knots of wind. We interrupt the trip again in the Palonissos Bay, which we get to know on the second visit in a completely different weather, a beautiful and relaxing stop.
This time we visit the Kalidonis tavern on the west side. After a good American coffee and some freshly squeezed orange juice, we continue sailing under sail until the wind comes down at around 3pm. We chug the remaining eight miles into the lovely harbor of Pserimos on the island of the same name, which is very popular for excursion boats. We come at the right time when most of the other boats are about to sail off. The anchor holds well in the harbor basin. We are lying next to a catamaran with a German crew we've met several times this week.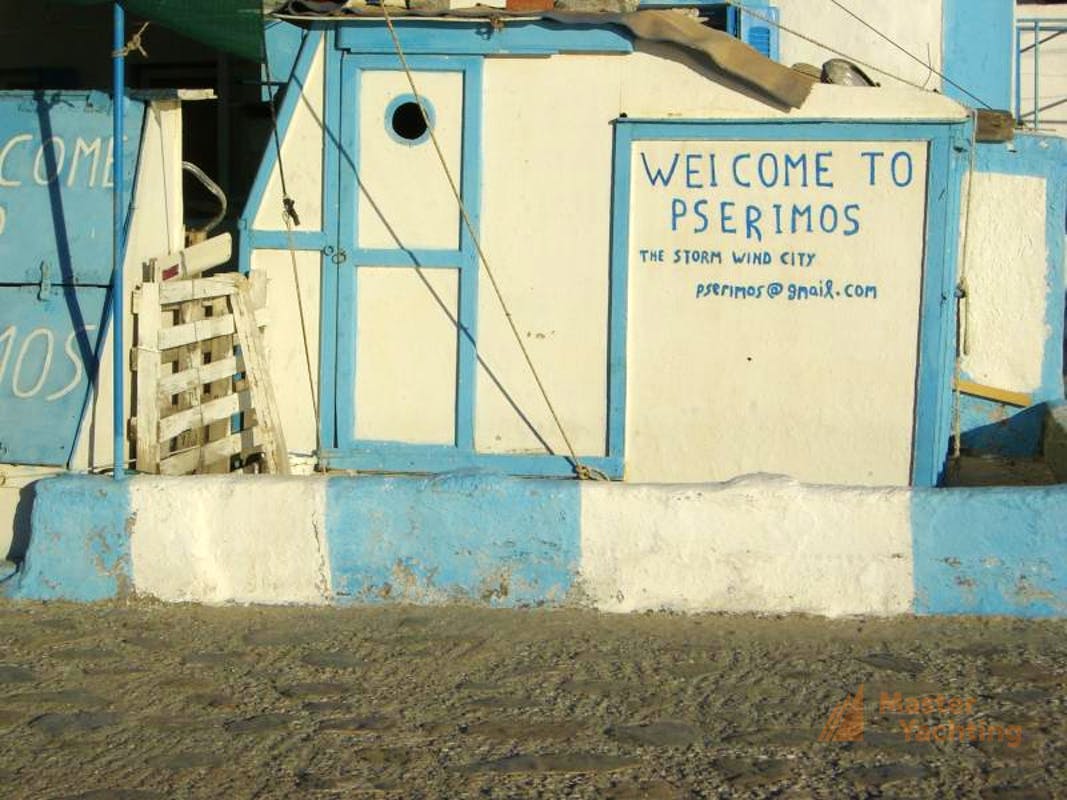 Arriving in Pserimos
Something doesn't go quite right
It is tempting to moor where the excursion boats are moored; Günther swims to the wall of the harbor and makes sure there is enough depth. Unfortunately, we drop the anchor too late, the anchor gets caught in the mooring lines of the fishing boats lying across.
Günther dives down and confirms the bad news: we will have problems untangling the anchor later! So we decide to take off and pull out the anchor there and then. If there are any problems, it's better today than tomorrow! Feeling optimistic about this, we do not attach a mooring line, which turns out to be a fatal mistake: the anchor cannot be caught, a gust turns the ship to the fishing boats. We need to make sure there is no additional mooring line entangled in the propeller. Our yacht is now involuntarily stuck on two sides in the harbor.
What now? After a short back and forth we let our dinghy into the water, and Günther uses it to transport the mooring line to the jetty, whereupon we can successfully pull our ship into the starting position. Someone from the village kindly helps us with the anchor, diving in and freeing it from the lines at a depth of five meters. We end this exhausting day in the rustic Nisida tavern, where the landlady lets us look into the pots with tasty cooked rabbits, ready-made fish and other delicacies. What a day.
Day seven: Pserimos - Kos
Weather Bulletin: Wind 15 kn. NW, Sea 1, Sunny (Day 7 on Sept. 21, 2018)
The night was restless, Schwell let the lines suddenly and steadily stop our Sun Odyssey, so that we wake up the next day rather sleepy. The fact that our diver releases the anchor very quickly at 8.30 a.m. immediately improves our mood. The morning wind is good for sailing at 15 knots; it takes us to our last stop, in Ormos Vathy Bay on the east side of the island of Pserimos.
We are enjoying the sea with the awareness that this is the last time we will jump into the sea water this year. Herbert, who brought the anchor in flawlessly, brings it up again and slowly turns into a future skipper? We will see! With some good music in the background and 20 knots, we get back to the port where we first sailed from in Kos Marina. Here after refueling, we are ready for the handover of the boat. Checking out is relatively quick, but we have to wait until 5:00 p.m. for the diver.
We have enough time to relax and enjoy Herbert's original Moser sausage before the squadron of the other charter yachts reaches their destination. In the evening we stroll through Kos and end the evening with beer and ice cream.
Day eight: Going home
Day 8 on September 22, 2018 At 9:30 a.m. we are ready with our packed bags to be taken to the airport. Although we have a two hour delay in the crowded airport, we can look back at our beautiful trip of about 100 nautical miles (two thirds of which are under sail), with good wind, lots of sun, good food and wonderful bathing stays.'