Thomas Schedina is a full-time graphic artist who has been self-publishing the series "Momentas - Exploring Memorable Places" since 2016. The focus is always on special places and bars in a particular region described in text and images. So far, volumes have been published about the Kornati Islands and the Archipelago of Šibenik (2016); the legendary Mljet, the greenest island in the Adriatic Sea (2017); the island of Vis, which was closed to tourists up until 30 years ago and the volcanic triangle in the middle of the Adriatic Sea (2018), and about the island of Lastovo, the medieval pirate hideout (2020). The new edition "Gourmet Stars along the Adriatic" will be available as of December 13, 2021. In it, thirty-five fabulous restaurants are portrayed, elaborately illustrated, and described in the face of the current crisis. The entire series is available on Momentas Guide
Top 10 Restaurants on the Croatian Coast

Tavern Go-Ro
The story of this tavern began over 35 years ago when Goran Rogulj made an ingenious old barbecue tradition socially acceptable in a secluded bay at the end of the Telašćica Nature Park called the peka. There is almost nothing that Goran has not already prepared in a peka. Most popular, however, are the varieties with veal and squid, which are gently grilled and steamed in their juice along with vegetables.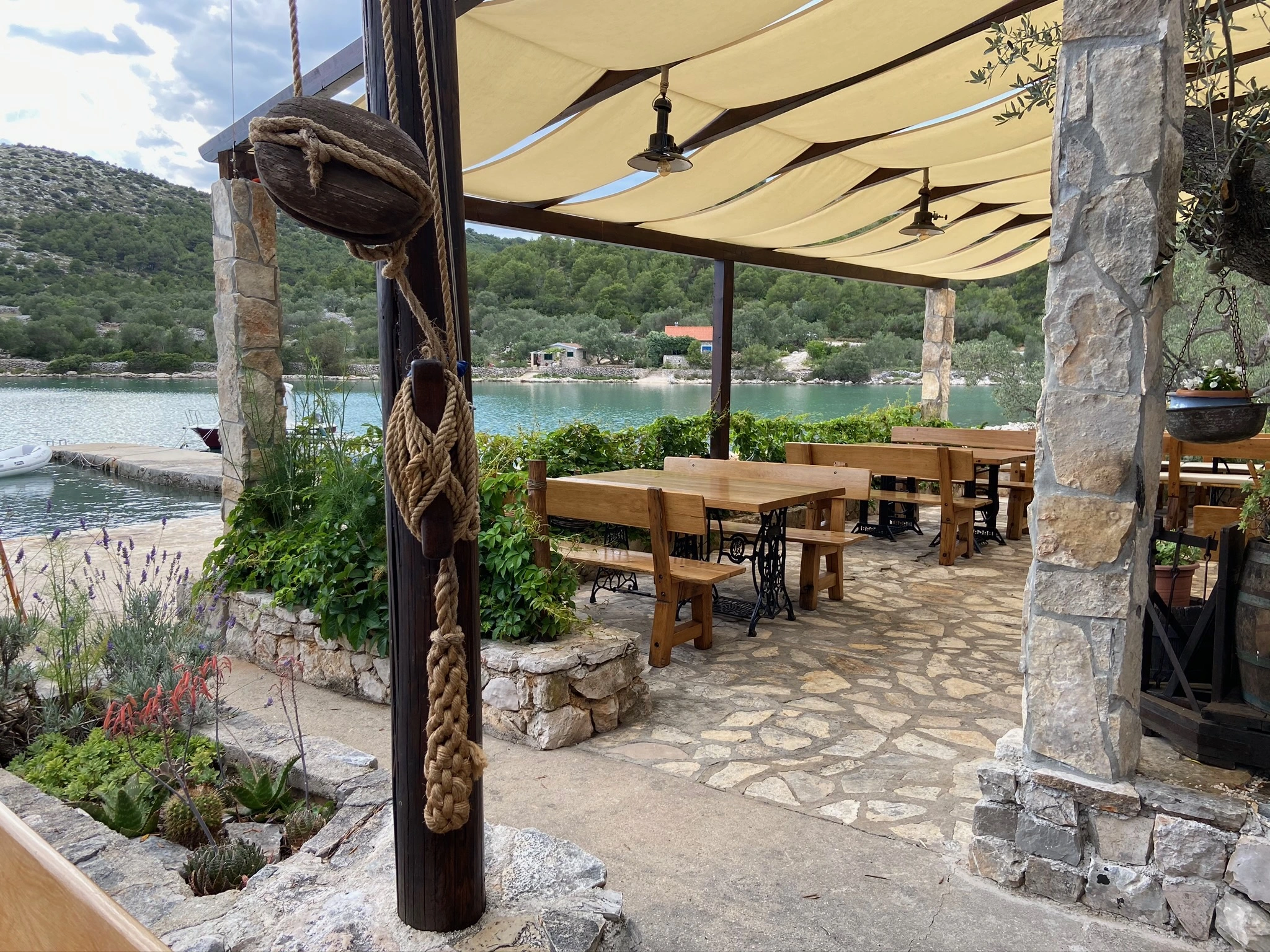 The outdoor seating space in Tavern Go-Ro (source: tavernagoro.com)
Goran, who easily ran the entire restaurant in the style of an entertainer, died in 2016. His son, Jakov, took over management and is successfully continuing the peka tradition of the tavern, which has advanced to become a top international address and also delights his guests with Dalmatian specialities such as pašticada, a braised beef or lamb that is cooked for hours and, thus, is available in limited quantities.
Due to the long cooking time, we recommend ordering in advance!
Address:
Dugi Otok, Telašćica, Magrovica Bay
N43°55'39'', E15°08'19''
Phone: +385-98-1388136
Konoba Statival
The restaurant opened by David Špralja in 2011 on the rather barren, rugged north side of the island is one of the last insider tips in the Kornati National Park. In the wild and romantic bay, there are two mooring places, three buoys and discounted national park tickets. David is an innkeeper, fisherman and sought-after diving instructor, and the house speciality is the octopus. It is served grilled, as a peka or carpaccio. The black sepia risotto and the sepia spaghetti also taste sensational. The meat of the sheep grazing peacefully in the bay is prepared under the peka hood. A reservation is required, preferably via WhatsApp message, as the radio signal in the bay is relatively poor.
Address:
Kornat, Statival
N43°51'46'', E15°15'06''
Phone: +385-91-5060102
Konoba Soleta
You can't tell by looking at it, but Šipnate Bay, where the sun seems to take an exceptionally long time to set, was the scene of a drama in August 2007. Twelve firefighters lost their lives in what was supposed to be a routine operation; large stone crosses, which can be reached via a narrow path, still remind us of this tragedy today.
In 2013, the success story of the young couple Snježan and Ivana Rameša began, whose family has been raising sheep here for a hundred years. Great importance is attached to an inviting ambience and lovingly designed decoration. Hospitality with the appropriate attention is written in capital letters! The nicely designed menu is convincing with its freshness and quality because everything from lamb to fish to olive oil grows more or less around the house here. Gourmet tip: scampi buzzara à la Ivana!
Address:
Buoys and mooring places are available. Discounted National Park day tickets are also available here!
Kornat, Šipnate Bay
N43°51'00'', E15°14'48''
Phone: +385-95-1978102
Konoba Ringo
Jure Knezović has lovingly furnished his tavern with all sorts of original pieces. He only assigns a berth after telephone notification and the promise to respect the sacred tranquillity of this bay.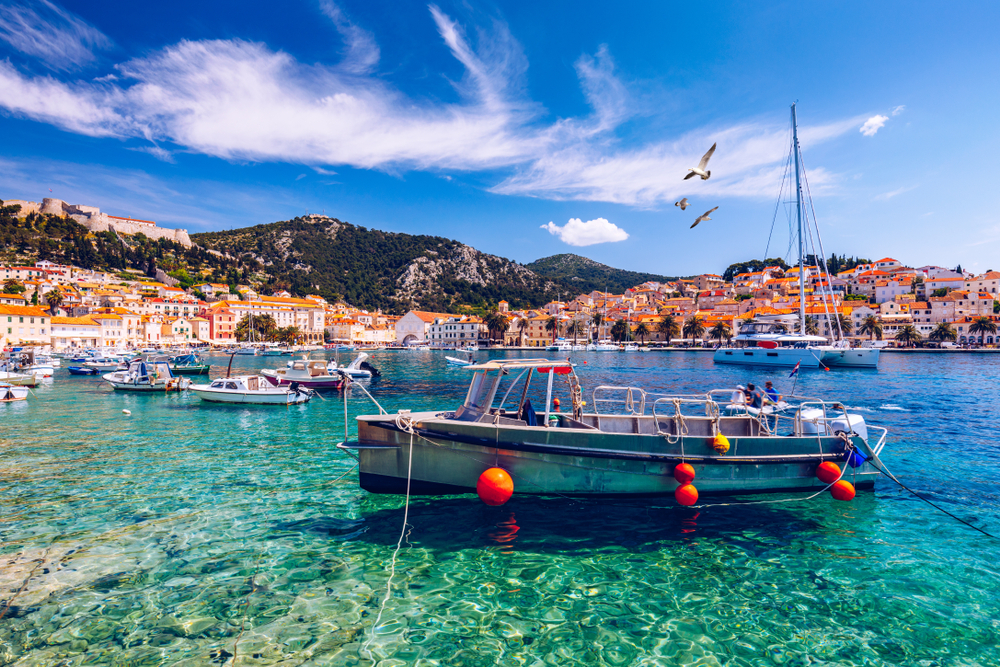 Harbor of the old Croatian island town Hvar
Only fish and seafood are served, both of which Jure knows how to prepare flawlessly. And all without garlic which Jure describes as the "prison of aroma", which falsifies the purity of the taste. If you want, you can order a menu with countless courses; the absolute highlight is the masterfully fried tuna.
Address:
Hvar, Pribinja
N43°11'28", E16°26'03"
Phone: +385-91-5103686
Konoba Senko Karuza
The landlord, Senko Karuza, is described by some as a problematic philosopher who rules over his little dream bay and only cooks when he feels like it. My tip is to get in touch with him in good time, reserve a buoy – and you will end up in another world. Senko turns out to be quite approachable and friendly; maybe he staged his reputation himself. His stone house is very cosy, his cooking style is a mixture of dedication and adventure, and the result is simply terrific. For more than 30 years, the idiosyncratic "gastrosoph" has been trying to get his guests excited about slow food and home-grown wines - you should make enough time for this.
Address:
Vis, Mala Travna
N43°01'13'', E16°10'47''
Phone: +385-99-3525803
Konoba Mrčara
The friendly jack-of-all-trades, Krešo Glavica, who uses the former military island as a location for survival camps on the off-season, has creatively decorated his small, rustic tavern with floating debris and offers to change menus, vegetarian dishes and peka. Two boats can moor on the side of the old military pier, and there are two new mooring places at the top and three buoys. Today, this little paradise, which can only accommodate a manageable number of guests, is no longer an insider tip, and a reservation is required.
Address:
Mrčara (Archipelago of Lastovo)
N42°46'16'', E16°47'34''
Phone: +385-99-5485720
Restaurant Augusta Insula
Lučo Jurica is a gifted dreamer with a thousand ideas and the obsession to implement them. He paid tribute to the island's ancestors and designed the restaurant as a pirate's nest with a cannon and all the paraphernalia. Today, the rich and famous dock here, and you feel like a Hollywood star in this setting with a whirlpool, an Asian massage team, and a cleaning crew who quickly brings the boat into shape – if you can get one of the berths.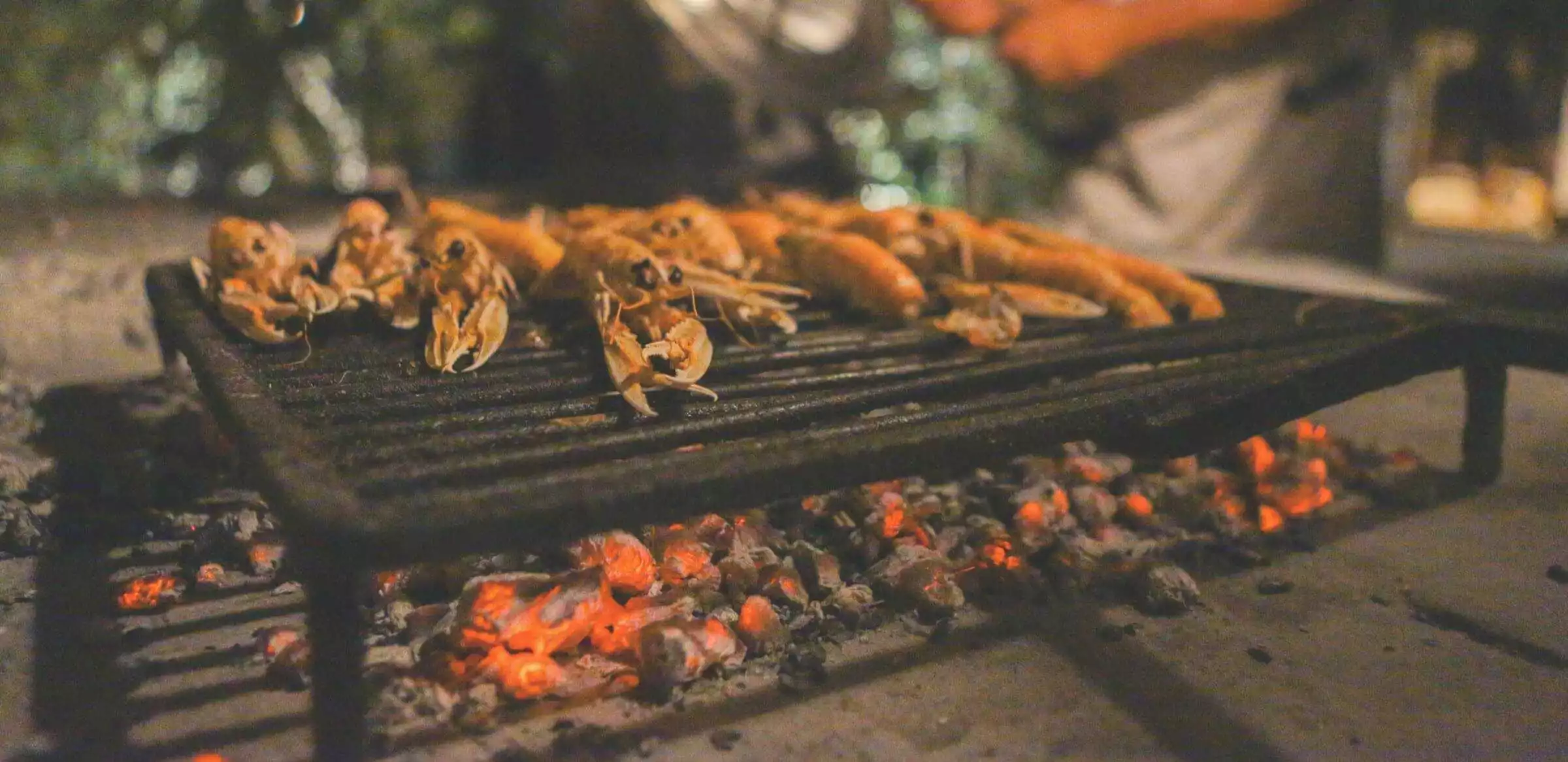 Grilled shrimps and other freshly caught of the day (source: augustainsula.com)
Just which blockbuster gave Lučo the inspiration for the dynamic, lovely service team remains his secret. A menu of the day, which is just as spectacular as the entire location, is served on several terraces or board. Great cinema is offered here – if you like it that way!
Lastovo, Zaklopatica
N42°46'28'', E16°52'39''
Phone: +385-98-571884
Konoba Marijina
Even after more than 30 years in the business, the Belins are constantly striving to consolidate the excellent reputation of the family business. Last winter, the terrace was weatherproofed, and a new garden was created where all kinds of vegetables and herbs thrive. In the four legendary clay ovens, fish, lobster, wild boar and, above all, octopus is prepared with great skill. The undisputed star is the already mentioned cephalopod, which is served as a starter, salad, risotto, and numerous other variations. The desserts made fresh every day by Chef Marianka are on their way to achieving cult status. There are three mooring places and seven buoys directly in front of the restaurant.
Address:
Mljet, Prožura
N42°43'52'', E17°39'03''
Phone: +385-99-8877951
Restaurant Stermasi
Adrian Stermasi's restaurant, which towers high above the narrow Podskolj Bay, guarded by two islets, is practically the Olympus of the island in terms of gastronomy. From here, you can see as far as the Elaphiti Islands stretching northwest of Dubrovnik. The owner learned his trade in Hamburg and has built an excellent reputation on Mljet since the early 2000s. He defends consistently and successfully year after year. Everything is just right here: the ambience, quality of the food and service.
There are five (orange/red) Stermasi buoys in the bay. A reservation is highly recommended.
Address:
Mljet, Podskolj
N42°42'15'', E17°44'35''
Phone: +385-98-9390362
Konoba Gastro Mare
The tranquil Kobaš Bay in the Stonski Canal is no longer an insider tip – it is one of the most sought-after gourmet bays in Croatia.
The newest restaurant, "Gastro Mare" offers a high culinary level! Berths with electricity and water and well-tended sanitary facilities and a chilled bar in front of the building delight the numerous, often prominent guests.
Chef Toni Bjelančić has delighted his guests with Dalmatian cuisine for a long time in the USA, in London and, most recently, in the restaurant "Kulinarum 7" in Vienna.
In an open show kitchen, he celebrates varied, highly creative menus made from regional ingredients and the restaurant's garden. The charismatic master chef presents to his guests in a protracted manner.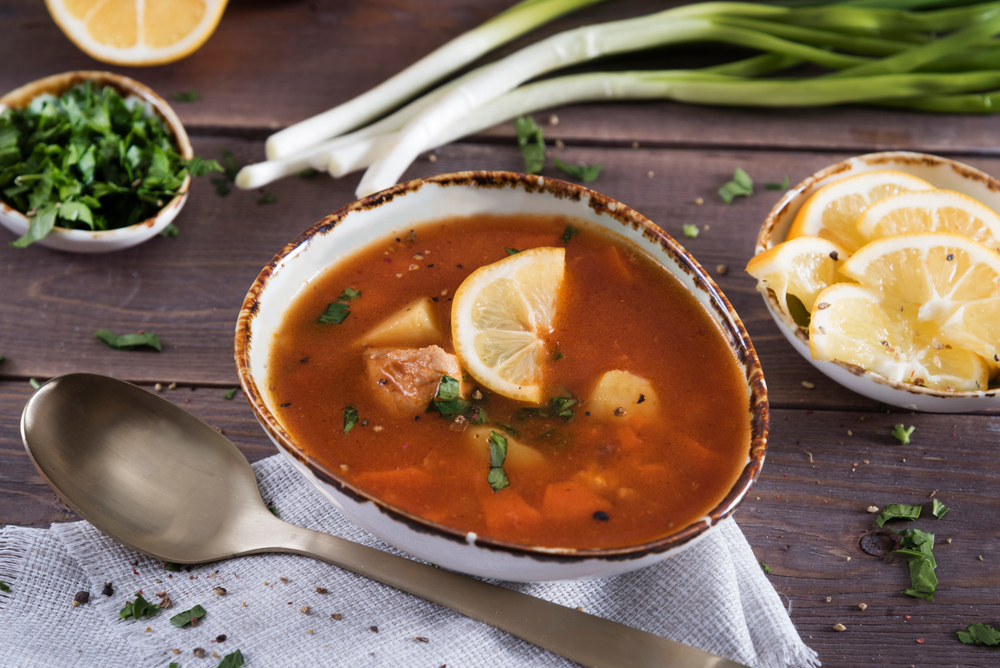 Toni's fish soup is simple but ingenious and has received several awards!
The fish on offer is now caught using their boat.
Address:
Pelješac, Kobaš
N42°48'16'', E17°44'34''
Phone: +385-97-7968008, +385-99-2617171