Sailing forces us to enter a very different dimension from the one we are used to in our daily lives. That's the reason why more and more people choose it as their holidays.
A boat is not a machine, it moves through the water, and this affects its speed. That's why its speed is much slower, which means we have more time to enjoy the moment, and on a boat, everything is designed to allow us to do that great!
What do I need to know for my first cruise?
Where to hire a boat?
When onboard, you should only worry about enjoying the moment, and sailing is an integral part of the experience. However, if you consider that an hour by car equals a day sailing, it is best to go to the area where you are interested in sailing by fast transport and hiring a boat from a local boat owner.
What is the speed of a sailing boat?
The average speed of a sailing boat is 5 knots (approx. 10 km/h).
What is the length of a nautical mile?
A knot (kn) measures the speed and equals a nautical mile (1852 m) per hour.
The maximum speed can be even higher on modern (or particularly long) boats, particularly when sailing with a motor or perhaps aided by a gennaker. This optional large area bow sail is at its best in particular circumstances, mainly on wide swings.
Catamarans are faster, particularly at lift, when the wind pushes them.
When talking about sailing, you should bear in mind that the wind hardly ever blows from a direction that allows us to reach our destination directly, so the actual speed towards it will be considerably lower.
The sailboat engine
The sailing boat engine is an auxiliary engine, as the primary means of propulsion are boat sails. This engine is not extremely powerful, however more than sufficient for sailboats' speed. Additionally, the moderate engine power is a guarantee for silence; its slight muttering is primarily covered by the sounds of the sea and the wind, allowing us to fully enjoy the moments spent sailing with the engine on without forcing ourselves into an impatience to arrive. Sailing, as in the mountains, is done in hours. The engine control panel on our sailing boat is equipped with a rev counter and an hour counter.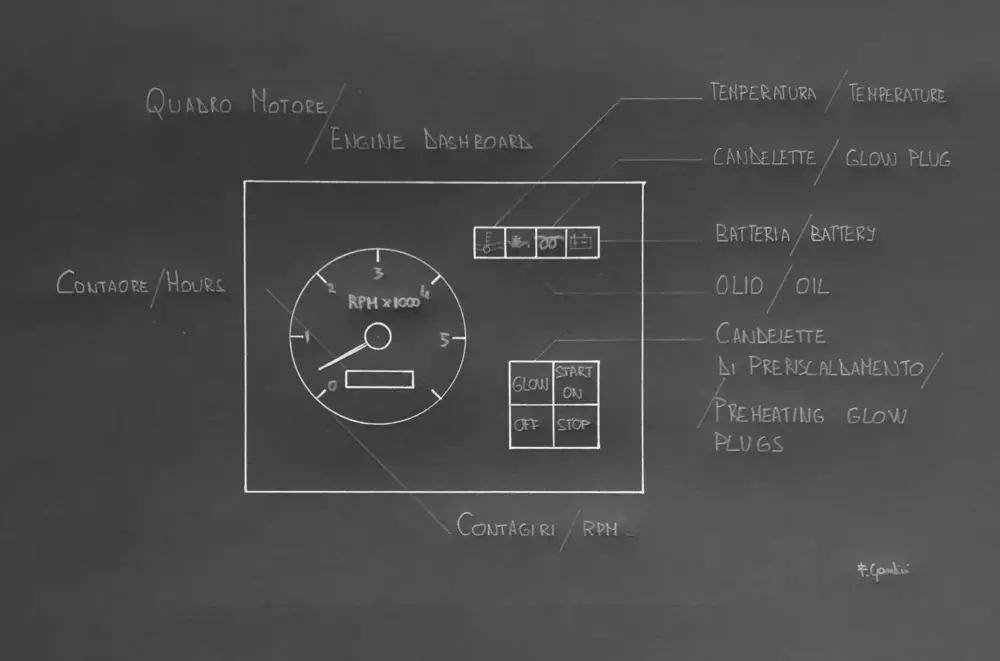 What's the average petrol consumption of sailboats?
Consumption can vary, even a lot, but in general, the consumption of a small diesel engine, such as those used in sailing boats, is quite low: a modern 30 hp Yanmar engine, such as the one fitted in the Beneteau Oceanis 37, consumes about 4 l/h.
How long should I sail for?
When planning your navigation in terms of distance, time or fuel, it is crucial to consider the outward journey, the return journey and a one-third margin.
Consider sailing for a maximum of 4-5 hours per day, avoiding the night and always keeping a significant safety margin against darkness.
In particular, we make sure we have light when mooring or anchoring in unfamiliar places.
These considerations lead us to a range of about 25 miles per day, 75 for a week's holiday. Let's take this into account when planning our destinations, and if we are interested in visiting even more distant locations, we should consider chartering the boat for a fortnight.
Displacement hull or planing hull?
Boats displace a volume of water equal to their weight, this way. They will float on water. Depending on the hull type, boats can navigate in two ways, displacing the water they occupy or sliding partially over. In the first case, sailboats sail in displacement while plaining (like an inflatable boat) in the second.
As the propulsive thrust increases, sailboats increase their speed until they reach a speed where they rise out of the water and glide. Some hulls will have a shape that does generate that gliding effect. However, some hulls are shaped so that once the sailboat reaches a certain speed, the boat's motion will create waves that will not allow it to accelerate any further.
Critical speed
The critical speed is 1.35 x the square root of the waterline length in feet.
So for the Beneteau Oceanis 37 in the example above, this would be a speed of about 8 knots.
As a result, there is no need to push the engine any further once the speed is reached; on the contrary, it is better to reduce the revs slightly until they drop a little: this is the point of maximum efficiency!
This post is written by Francesco Gambini. Francesco met sailing in Liguria 20 years ago. A fleet specialist in Sailogy, his favourite boat is the Dufour 310 Grand Large.