How to organise the galley during your sailing holiday?
When preparing for a sailing holiday, especially if this is your first time onboard, it can be challenging to understand how life on board will work and deal with one of the most critical factors, namely the galley.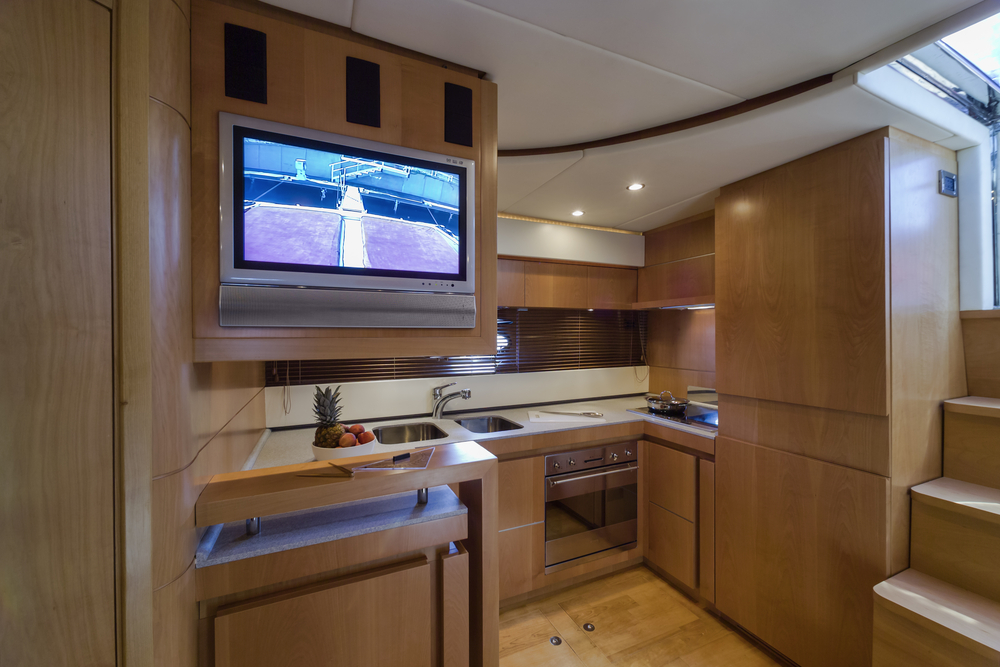 Whether you are travelling on a skippered or without a skipper, it is a good idea to identify one or more people in the group of travellers who will be responsible for organising the galley, an essential centre of life at sea.
Food is at the guests' expense and, in the absence of personnel such as hostesses, the tasks of cooking and galley should be divided according to possibilities and capacities, bearing in mind that the skipper is considered our guest and does not usually pay.
The best solution, which is also the most common, is to collect a per capita sum in a common fund to be used for the various food expenses, the most important of which is the one you make before departure.
Storing food on a boat
Regardless of personal taste and possible health requirements, it is important to remember that fresh food is tricky to store on board as the fridge is powered by the engine and does not usually have much refrigeration capacity.
It is therefore necessary to take very little fresh food on board, trying to consume it as soon as possible and always being careful about its condition.
Meat and fish, in particular, should be eaten the same day whenever possible.
What food to bring on a sailing boat
You should try to buy immediately and stow carefully all the food and products that do not perish: space therefore for oil, pasta, canned goods such as tuna, peas, peeled tomatoes and beans, biscuits and long-life cakes, crackers and packaged bread, coffee, tea, sugar, salt, honey and jam.
Hard, mature cheeses or various types of salami are a good idea as they can easily stored. They will keep easily, while other sausages and salamis are best if bought in vacuum-packed bags for better preservation.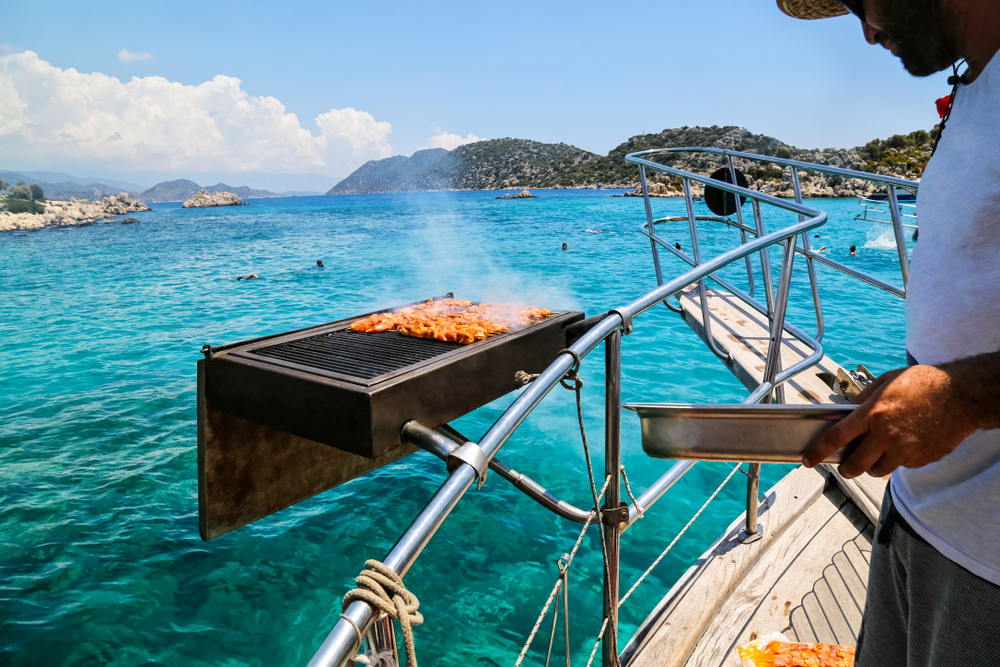 As far as milk is concerned, it is better to use long-life milk and prefer half-litre packs. Some of the fruit and vegetables that keep better (lemons, oranges, apples, potatoes, onions, etc.) can also be purchased before boarding, as can some of the water and beverages, depending on the hold capacity.
It is important to stress the importance of a good water supply: water on board is not drinkable, and you will need to calculate at least 1.5 litres per person per day.
Bottles of water and assorted drinks are usually stored in the bilge, remembering to remove the label if it is paper.
As for very fresh foods such as meat, soft cheeses, some vegetables and fish, it is best to take a minimal amount onboard the sailing boat, buying them from port to port as needed.
What else to bring on a sailing boat
You should not neglect all those products that relate to the management of the sailing boat: you will therefore need to stock up on biodegradable detergents (for laundry and dishes), kitchen and toilet paper, sponges and tea towels, rubbish bags. Plastic plates, glasses and cutlery may seem practical at first glance, but apart from not being the best for eating and apart from all green considerations they oblige us to go ashore frequently to dispose of the rubbish because the mass of waste they constitute is significant: is this constraint worth the effort of rinsing two forks while watching the sunset?
Simple recipes on board
Generally speaking, you won't always find it easy to cook complex and sophisticated dishes on board, so it's best to opt for quick and straightforward recipes, reserving your more particular appetites for the restaurants on land. You can prepare simple pasta dishes, for example something with prawns and avocado or a quick ceviche with freshly caught grouper and lime juice. Your sailing menu will be tasty, varied and you'll often find that you can buy great ingredients locally. Check out some of our articles on easy recipes to prepare on board.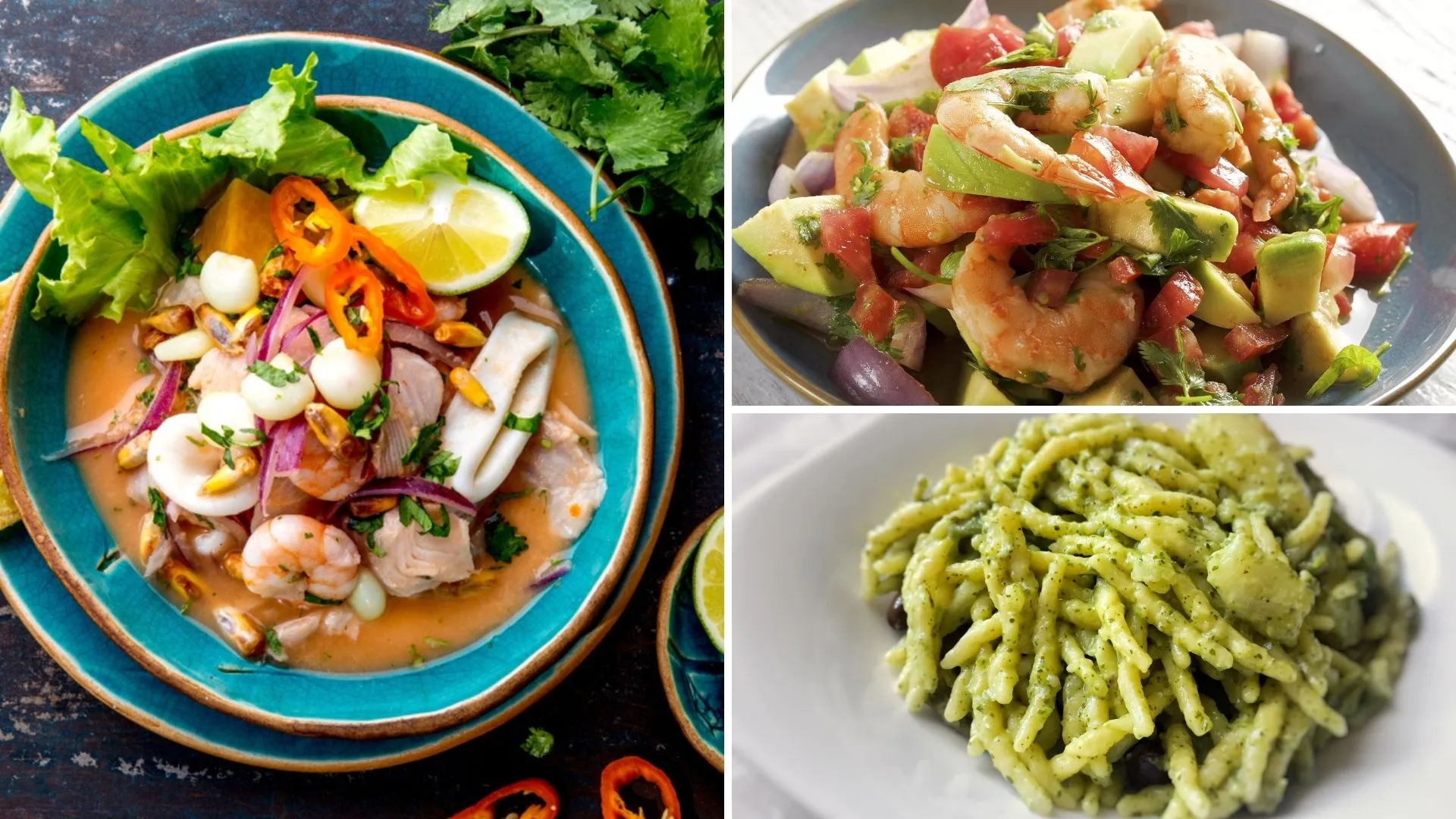 Cooking on board is no trouble at all, as modern boats have large, fully equipped kitchens, and in summer, when you're on holiday by the sea, you generally prefer fresh, quickly prepared dishes. There's also the time it takes to cook and the use of gas to consider, so it's best to favour pasta formats that take a few minutes to cook and avoid rice. Here is some useful advice on cooking on board.

The pressure cooker
You can use the pressure cooker to cut down on cooking time. It is also safe to use on a boat as it has a hermetically sealed lid that makes it impossible to spill the contents, even if you are cooking in a rather turbulent situation.
Finally, here is some advice for specific categories of food.
Cheese: store them on the lowest shelf of the fridge. Heat tends to rise upwards, which is why, particularly in cockpit fridges, which are much more efficient and therefore very common on boats, the lower shelves are used for the most perishable foods. In any case, my advice is not to fill it up too much and always be ready to turn it off at short notice.
Eggs: can last for a few days. Just store them safely in a cool place. Get in the habit of opening them one by one in a bowl before combining them with the others.
Butter: butter, contrary to what you might think, is straightforward to preserve, just put it in an airtight container full of water.
Bread: large loaves with a hard, thick crust generally keep better, especially if wrapped in cloths. It is, however, a foodstuff on which it is easy for small moulds to form, so check it very well before eating it, always try to buy it fresh and, where it is not possible to find it, rely on packaged bread or crackers.
Fruit and vegetables: should be stored in a cool, well-ventilated place. Hanging nets are very good and save space.
However, the keeper should check these products daily to ensure that they are in good condition and to remove deteriorated specimens before they infect healthy ones.
By following these simple guidelines, managing the galley will be much easier and the whole experience of the trip will be enhanced.
Travelling by sailboat, with or without a skipper, is an extraordinary experience that you will remember for a long time: Sailogy offers thousands of different boats in the most beautiful destinations in the world. Contact our travel consultants to set up the most suitable experience for you to turn the holiday of your dreams into reality!