Today working from home is on everyone's lips. In an era of social distancing, many organizations find themselves having to offer a working solution from home. A real boom in Covid times, according to FlexJobs data, remote work grew by 159% between 2005 and 2017. A workplace survey by Staples, reported that 90% of respondents said that more flexible work arrangements and schedules boost employee morale. With the disruptions currently being caused by the pandemic, the number of remote workers has only increased and is bound to increase further. Worldwide organizations are needing to figure out how to reach the highest possible productivity and morale, even when working from home.
What if all this is possible in an even more comfortable and relaxing environment?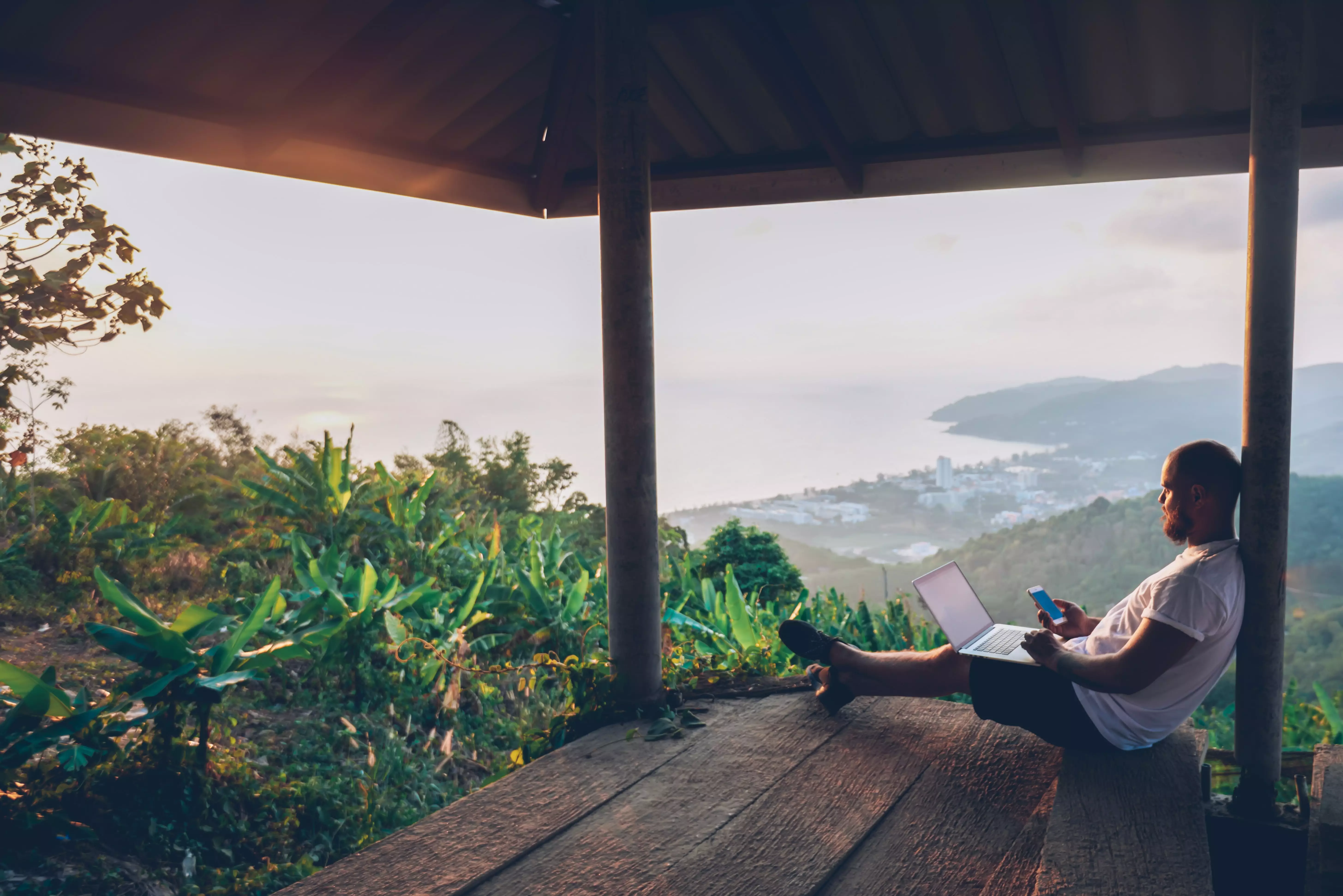 It is the dream of every sea lover - take advantage of the privileges of remote work whilst sitting comfortably on board. Perhaps on a catamaran that doesn't certainly lack the comforts of any normal office.
Many companies already allow you to work from home on Fridays, no matter where you are as long as you get the job done. Setting sails on a Friday morning or Thursday evening is usually a much better way to beat the late Friday afternoon traffic. If you have the opportunity to work completely remotely you can also think about a week or two by boat, the beauty of already being on a boat is that when the weekend comes, when work is done, you are already there, ready to enjoy the weekend.
But there are definitely aspects to consider with working from onboard - from finding adequate space to set conference calls to a reliable internet connection. Let's take a look at them together.
Here are some important aspects to consider to make remote working from your boat more productive.
The sun, who would have thought?
One of the biggest problems in working from your boat is seeing your laptop screen on a sunny afternoon - the glare can be blinding. First, make sure you have a good pair of polarized sunglasses to help you sunbathe (a must for every yachtsman). Then, a good sunscreen for your monitor can also help reduce glare.
WiFi Boost
Marinas are generally equipped to offer a free WiFi connection, however it is always better to check in advance. However, you may encounter connection problems on the dock where you are anchored, perhaps you may find a weak signal. Many marinas have the signal coming from the main office, which is far from the pier - and even more depending on where your boat is on the pier. If your marina is not willing or able to upgrade its equipment, then you can try using a USB wireless WiFi network adapter with a high gain antenna to boost the signal.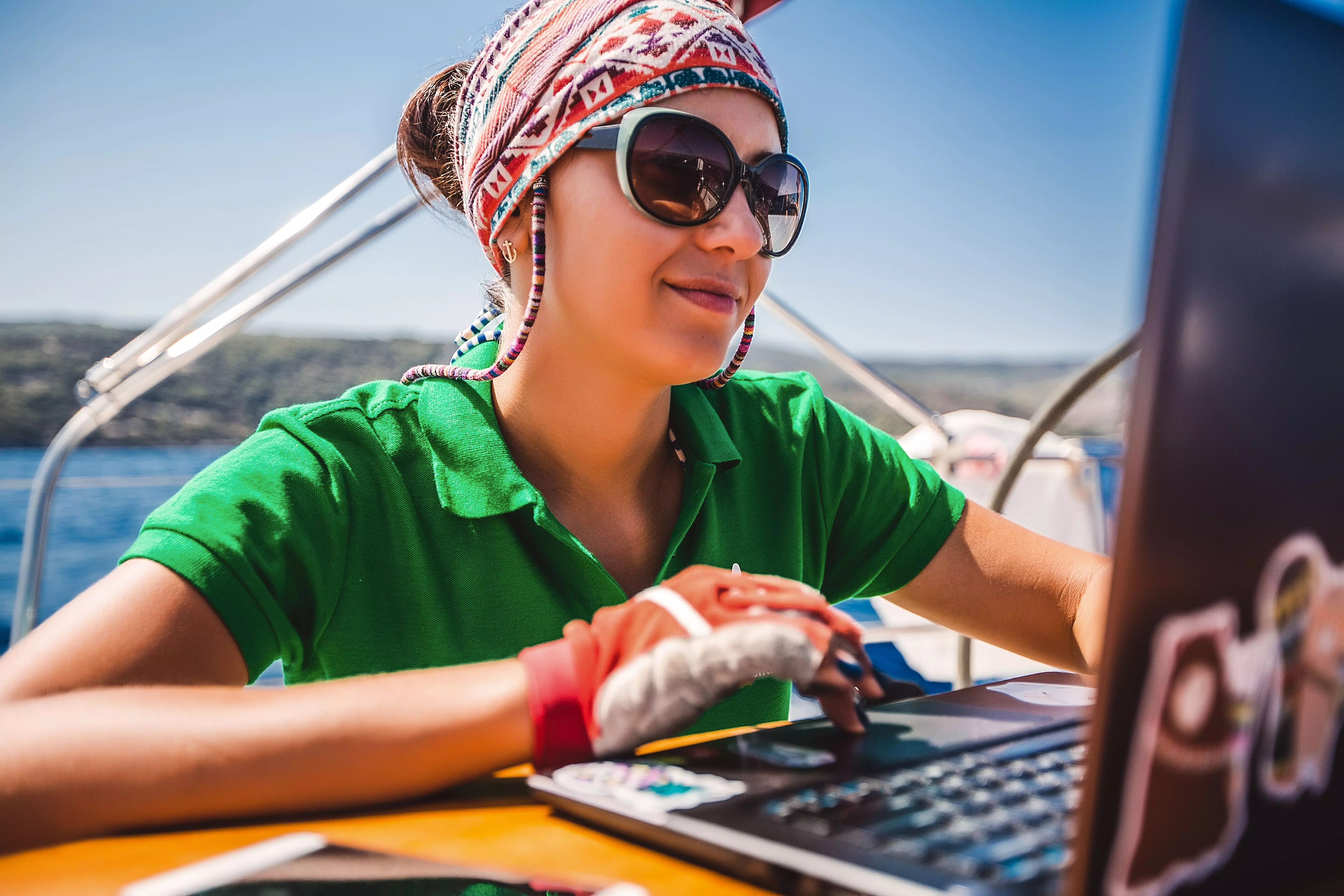 Internet Connection
WiFi access in marinas often has a limited number of open IP addresses... even if the wireless signal strength is good, you won't be able to connect your smartphone or laptop. This is a common problem in crowded marinas because everyone tries to access WiFi with their smartphone. It is better to invest in your mobile hotspot if you really need to make sure you always have a reliable internet connection. You can easily purchase a mobile wireless hotspot device online and add it to your wireless plan.
Office space
Let's face it, unless you have a gigantic yacht, you probably don't have a designated office space on board. Placing your laptop at the salon table is usually the best desk you will have on board. Other 'desks on board' might be above deck or simply with the mild temperatures of many destinations you might choose to stay outdoors (this is one of the reasons why you work from the boat!). Another good option could be a bar near the harbor. The Wi-Fi signal will probably be stronger than on board and you can probably find a nice chair and a table to set up your desk.
What boat types are best suited for remote work?
When it comes to boat types that offer maximum comfort, space and stability for perfect remote work we will need to spend a few words on catamarans. We've asked sailing experts and office people what they thought would work best as the ideal office space. Here's what we've found.
Lagoon 400 S2
This catamaran can comfortably accommodate up to 8 people with its 3/4 double cabins, its spacious saloon completely renovated and its cockpit on the same level. After more than 260 boats built in less than 3 years, the Lagoon 400 (launched in 2009) is quite exceptional thanks to its Nauta Design for the interiors.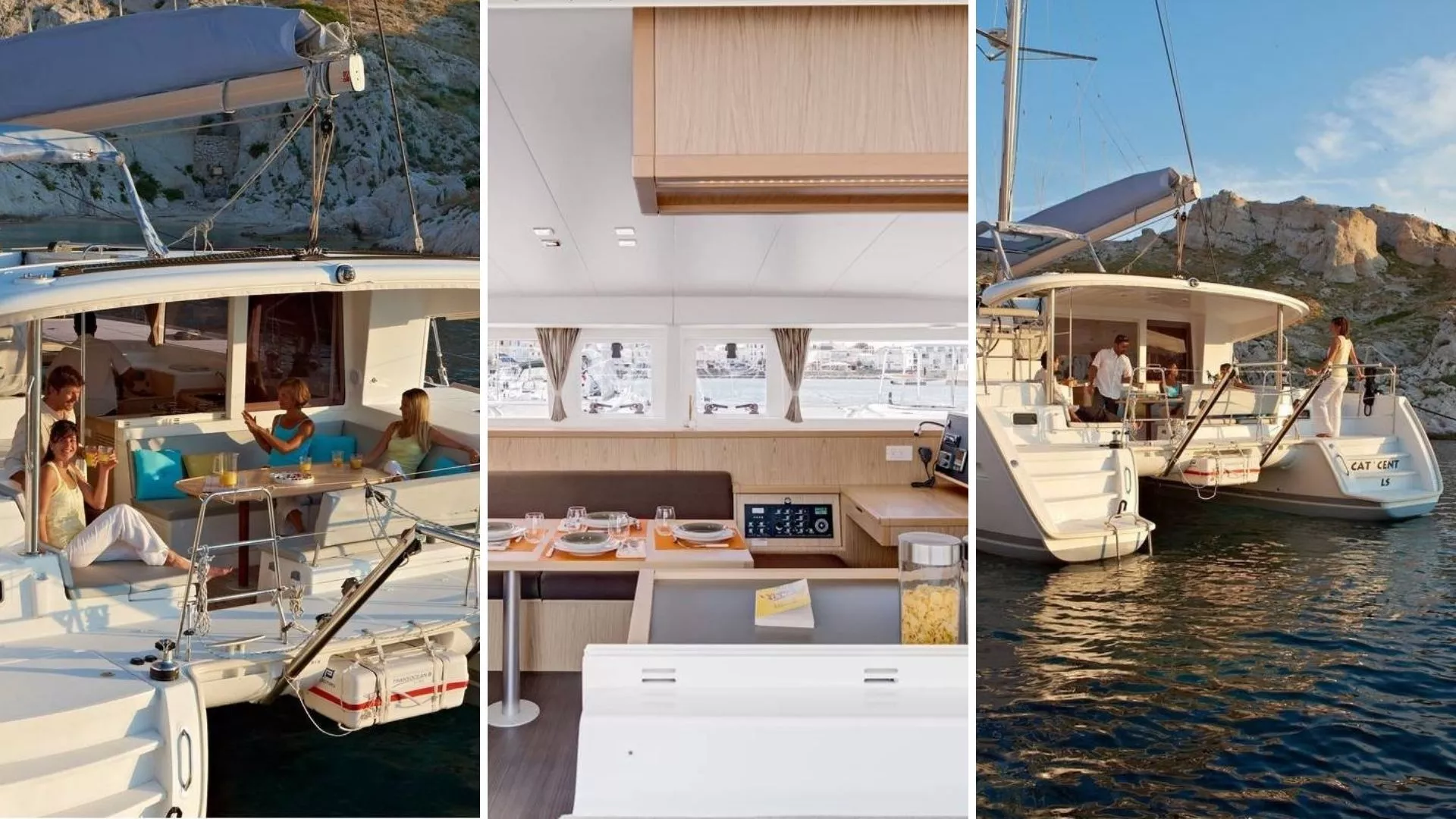 Choosing the three cabins option (four different layouts are available) means the availability of a huge bedroom/office/bathroom with ample space. The V-shaped forward mooring fillers slide away easily, giving access to the large storage lockers below. You'll enjoy comfortable desk space whether you want to work indoors or on the boat, providing excellent stability that allows you to work even while sailing. The biggest advantage is definitely the large aft deck with table and spacious seating area.
Lagoon 450
Available in 3 or 4 cabins, in the Lagoon 450 each cabin is bathed in generous natural light thanks to the large glass panels on the hulls, which allow you to use the cabins for office space.
On the 450, to maximize the internal volume, the hulls are slightly larger than those of the 440. The Lagoon 450 has a huge aft berth, a small office, a large bathroom with separate shower (like all headboards), and plenty of closet and storage space.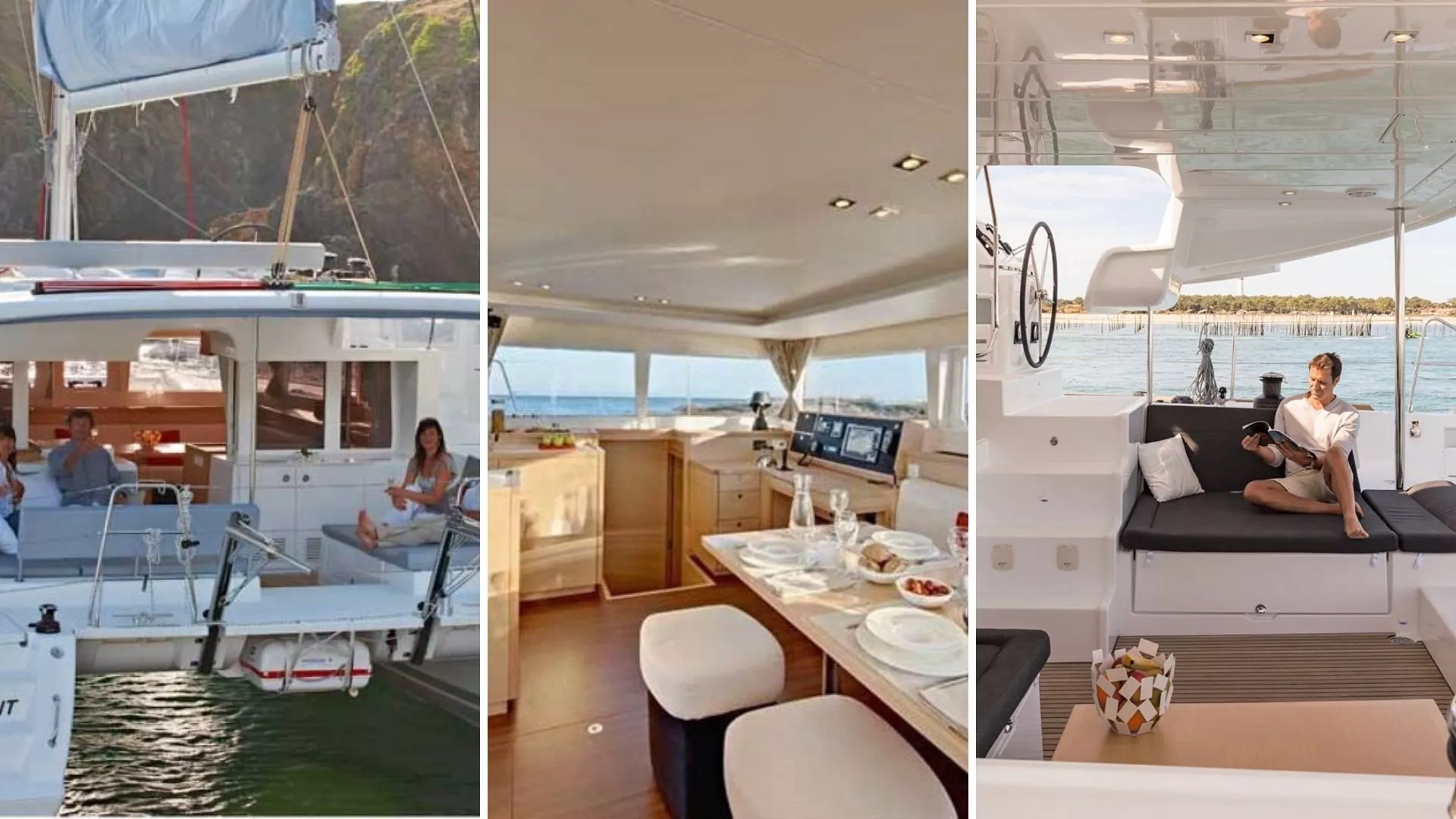 The Lagoon 450 has a fully equipped U-shaped kitchen and a large interior living room, complete with microwave/grill on board and two steel refrigerators with extra-large capacity. Strategically placed windows provide brightness inside and a 360-degree view outside the salon, making it perfect for an office space.
Lagoon 42
The Lagoon 42 has been designed to guarantee a navigation in the name of stability and therefore the maximum comfort for those who travel there. The interior of the boat is cozy, offering a well ventilated environment where to place the office area. The saloon and galley are contiguous in order to increase the available space. There is also a longitudinal L-shaped sofa that can also be used as a seat for the navigation station overlooking the outside.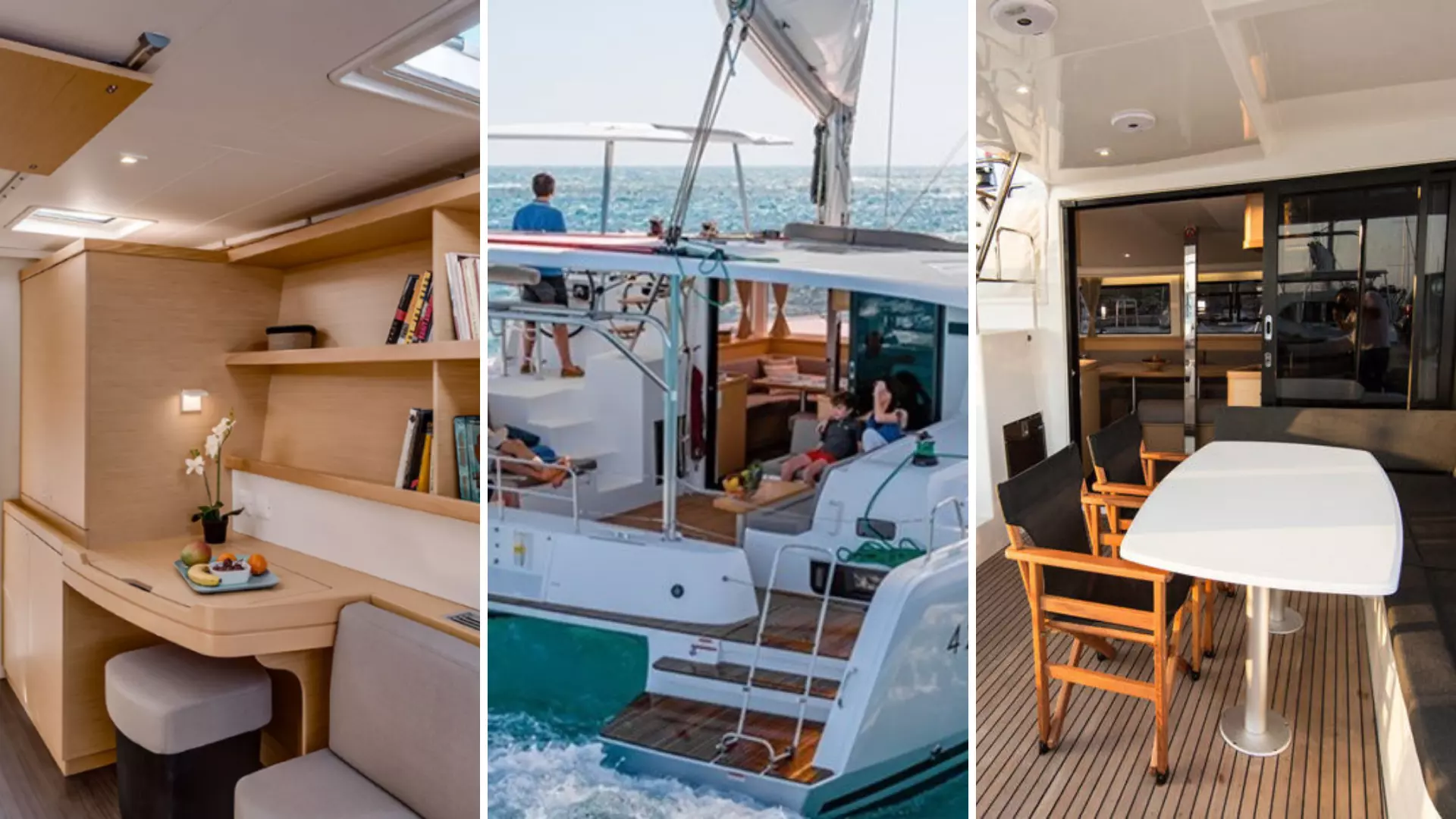 Its minimum of four, maximum of six cabins (hence the wording "4 + 2 Cabins"), four bathrooms, and the presence of eight to twelve berths make the ship perfect for small groups who want a little more space, or medium-sized groups. The U-shaped galley includes a lot of refrigeration equipment, a space on the sink and preparation space. Like the other Lagoons, the outdoor space can be used as a comfortable office space.
Remote work, not just a cool idea with Andreas, business manager
We've met Andreas Alsved, Business Manager at Quarterdeck and professional skipper. In this Q&A, Andreas explains why remote working from a boat is an ideal choice for him, especially in times of social distancing.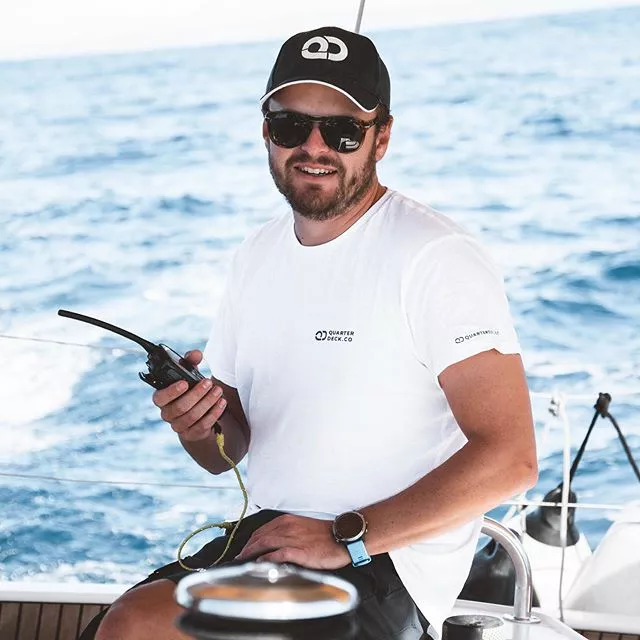 "Since the outbreak of the pandemic I have been forced to work from home. Thanks to the technology now available it hasn't been a big problem, apart from the social aspect. My company is planning a lot for the future and with that comes the journey. All summer I moved my home office to a classic sailing yacht in the Swedish archipelago, a luxury catamaran in Sardinia and finally a week's sailing office in Croatia".