Nowadays, a sailing holiday is a dream that can come true for more and more people. With plenty of destinations and charters available, and the number of clients increasing each year, the stereotype of a luxury holiday became an easy option available for the majority of tourists. Of course, you can still opt for a more standard or premium type of vacation according to your needs and preferences.
Before setting sail to your holiday destination, especially if you're new to the industry, there are certainly a few questions you will need answers to: can I shower on board? Will I roll down the bed while sleeping? And, most of all, what should I cook on a boat?
We tried to answer this last question with a list of useful tips to bear in mind before starting your next sailing trip.
.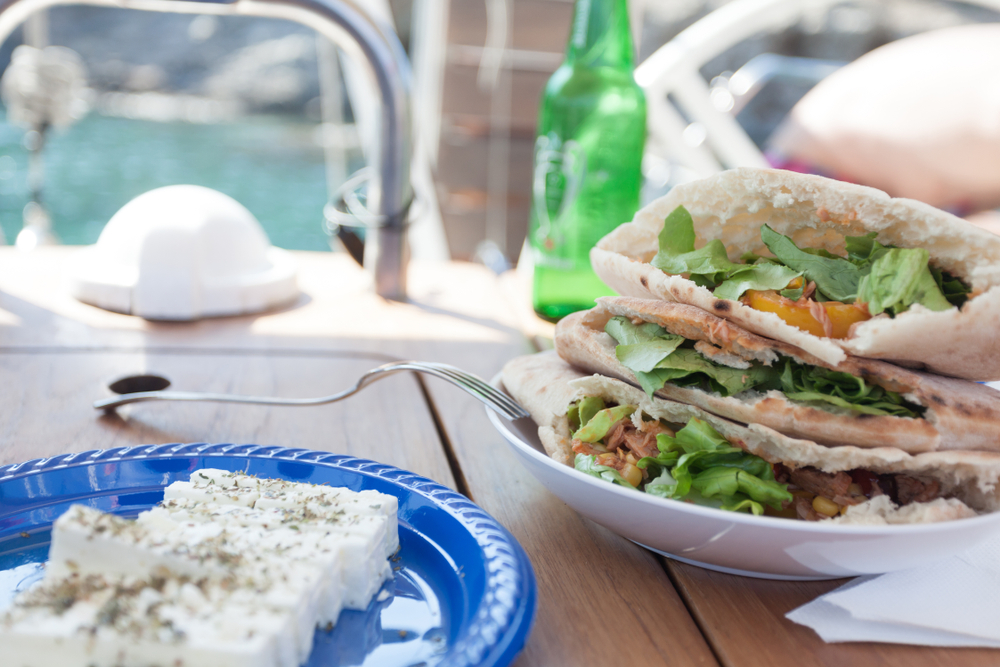 .
What to cook on a boat
Make a list and plan ahead
Whether you are leaving for a daily trip or a more extended holiday, planning your meals ahead is always a good idea. Define the main ingredients you will use for breakfast, lunch, and dinner, and add light snacks to nibble throughout the day. If possible, cook the most complex food at home and freeze it in small containers, so you can store it and heat it up when needed. The less time cooking, the more time enjoying your holiday! A written menu will help you save food and combine leftovers from one meal to another. Also, it is preferable to use up food that will spoil quickly and to leave longer-lasting food for later.
A menu offshore will look quite different from the one at home. You are spending a lot of time under the sun and in the water, so you might want to opt for lighter and fresher food most of the time. Salads, pasta, rice, fruits, vegetables, and canned food such as legumes and tuna are all great ingredients to combine in your daily meals. Enjoy fried food responsibly and, if you're skilled enough, you can always try to catch your next fish meal yourself!
A rule of thumb for sailing food is to bring enough food and drinks to cover up to three days of meals. After this period of time, you will most likely need to stop at a port to fuel up, visit a place, or simply stretch up, so you can take advantage and grab some more fresh food in a local store. Fresh food onboard tends to perish quicker as there is less space available to refrigerate it, so make sure you calculate the right amount to take on a boat and avoid wasting food.
Get enough drinks
Water is the most important thing to keep in mind when buying food for your trip. Remember that offshore, you won't have access to fresh water and, generally speaking, the water provided onboard (tap water, to be clear) is not drinkable. According to the number of people on the boat, you should calculate at least 1.5 liters of water each, and multiply it for three days (if you choose to follow our suggestion of covering up to three days of meals at a time).
Nonalcoholic and alcoholic drinks are also included in the list. Bring your favorite ones but keep in mind that the space in the galley is often very limited and that is preferable not to take any glass containers so that they won't break and scatter dangerous debris on the floor.
Condiments and spices
Onboard, you will mostly find basic condiments and spices such as olive oil, salt, and vinegar. To be sure, check with your charter before embarking to avoid carrying things that are already available onboard. If you travel along the Mediterranean coast, take advantage of the multitude of spices available in the bush, such as rosemary, thyme, and sage - those are the freshest you can find!
.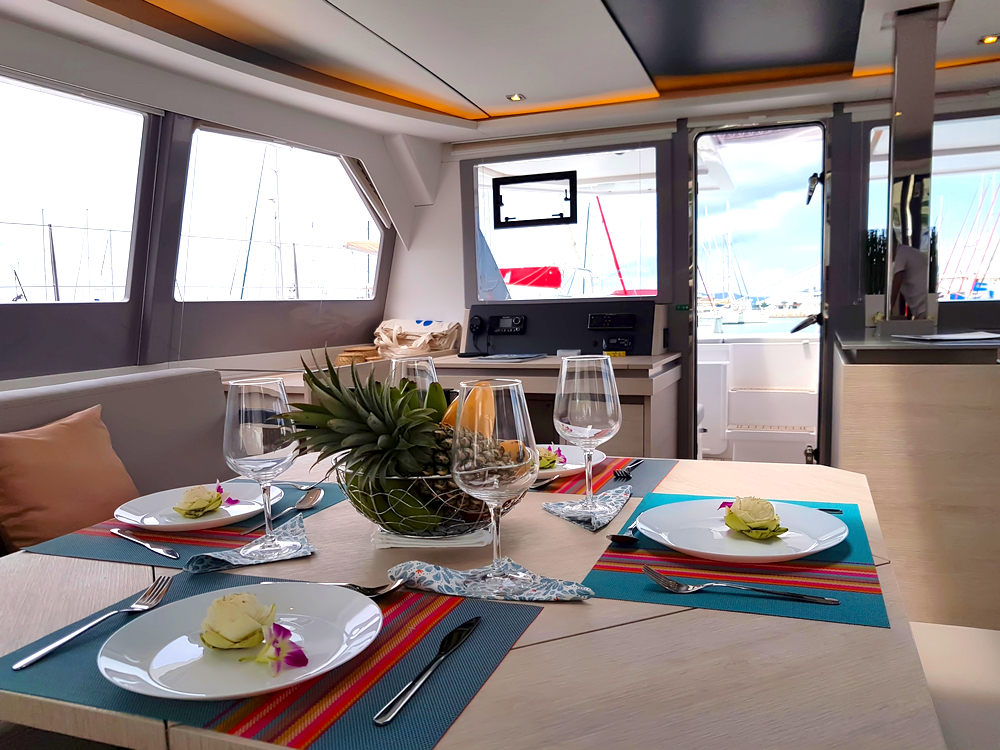 .
The galley kitchen on a boat: how to prepare and store food
Galley Equipment and space management
Modern boats are usually provided with well-equipped galleys, so you will notice small differences from your home's kitchen. One thing is obvious: space is limited, whether it's storage space or enough room to fit more than two people. Keep that in mind when buying food, because you won't have a lot of space to store it. Also, fridges, if any, are usually very small and can contain small quantities of fresh food, hence the shorter perishing time.
Most of the galleys already include the essentials, such as pans, saucepans, salad bowls, cutlery, glasses, kettles, and more. These items are enough to comfortably prepare simple but delicious meals, but if you need anything in particular, you can check with your charter company if it's already on board. Did you know that boat dishes and glasses are usually made of metal or plastic, with the only exception of wine and juice glasses?
Cooking duties can be challenging on a boat, so it is important to organize the process in the easiest way possible: cook in steps and clean as you cook, pack the refrigerator with the items you will use first on top, and minimize the number of times you open the fridge in order to save battery power and keep the temperature cool. These little tips will help you to create simple meals to enjoy with the rest of the crew!
Water supplies
One thing is sure: water is limited offshore. As we mentioned, tap water on board is usually not drinkable and the tanks will need to store enough liters for cooking, cleaning, and showering. If you want to read more about managing water supplies onboard, read our dedicated article on Sailogy's blog.
.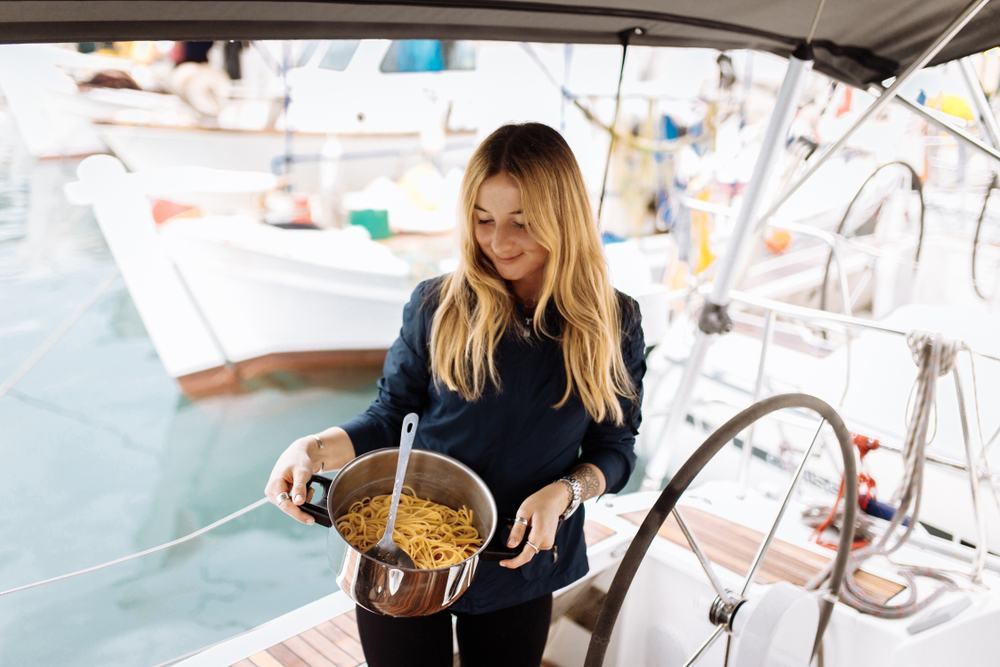 .
Quick and easy summer recipes to cook on a boat
We selected some of the easiest, freshest, and lightest dishes to prepare on board, all made with few ingredients and in a short amount of time, to make sure you enjoy your holiday by spending the least time in the kitchen!