Greece and its coasts, as well as the Aegean Sea and its islands, represent a true paradise for all sailing lovers. But have you ever wondered what's the best boat to sail around these areas? When it comes to comfort and relaxation, no boat can be compared to the catamaran, a great way to experience an exclusive and unforgettable holiday. A catamaran is a perfect way to explore the thousands of islands, islets, bays, and caves scattered around the territory of this corner of the Mediterranean Sea.
There are infinite itinerary possibilities here: the choice can be made between more than 6,000 islands across the archipelagos of Cyclades, Ionian, Dodecanese, and Sporades, and the beautiful coasts of the mainland. The variety of locations can satisfy even the most demanding tourists, whether they're up to a more adventurous experience or are looking for a holiday of relaxation.
.
Why choose a catamaran for a sailing holiday in Greece?
The catamaran is one of the best boat options for enjoying the beauties of Greece. Regardless of the client's choice, there are a few features that make this boat extremely comfortable and practical in any situation, two aspects that can make a big difference during a sailing holiday. The spaces on board a catamaran are bigger, with private bathrooms in the cabins, larger galleys, and bigger cockpits that allow a more comfortable living. Moreover, the presence of two hulls makes the boat more stable even in rough seas, ideal for those who suffer seasickness. Finally, the catamaran is equipped with two engines which make it the perfect boat for long journeys without the wind or to reach further destinations.
If you want to know more about the differences between catamarans and sailboats, we suggest reading our related article.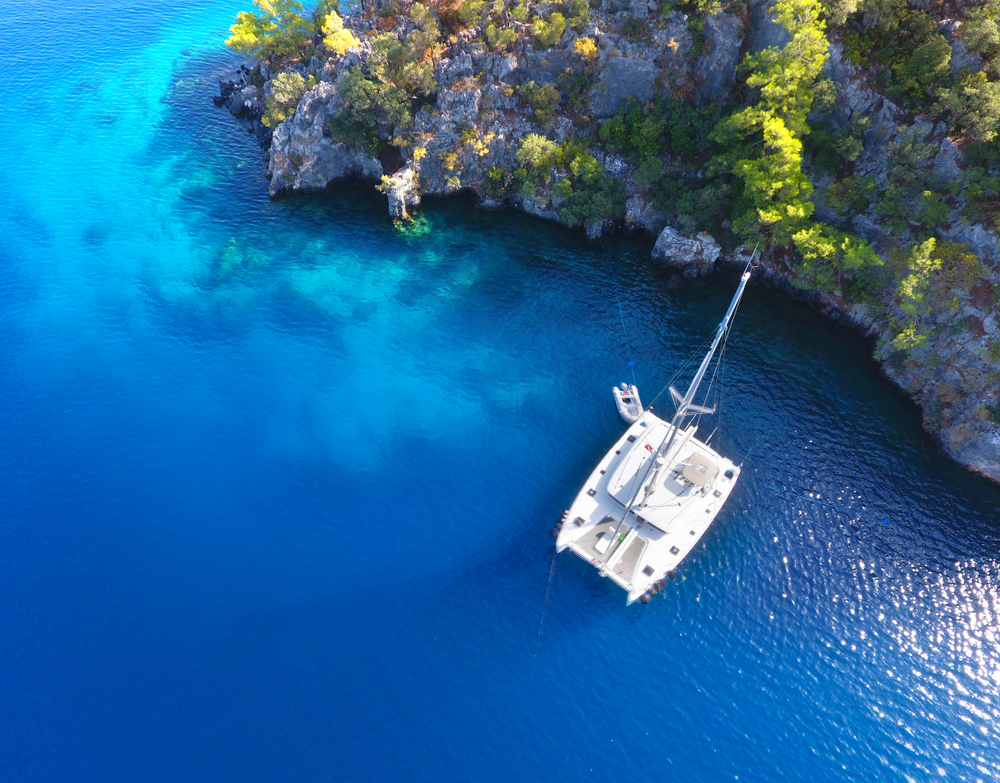 .
Where to go in Greece for a sailing holiday
A sailing holiday in Greece is one of those things you need to do at least once in a lifetime, an amazing experience that will take you to paradisiac locations and leave you breathless. Sailing on a private boat means you can customize your holiday according to your preferences, arranging a unique itinerary day by day.
As previously mentioned, Greece is a great location for a sailing holiday because allows you to choose between plenty of itineraries all around the territory. You can admire beautiful natural landscapes and visit historical sites at the same time, a characteristic that only a few more countries can boast of. We selected some of our customers' favorite destinations to inspire you for your next holiday:
Cyclades Islands
The Cyclades Islands are one of the most renowned archipelagos in Greece. This group of islands is located southeast of Athens, in the Aegean Sea, and is famous for the coexistence of dreamy beaches and nightlife. The most popular islands are most certainly Mykonos and Santorini, with their white villages and beautiful beaches, but the hordes of tourists can make the experience less pleasant.
A holiday on board a catamaran will allow you to personalize your itinerary and choose less crowded islands that are equally beautiful, such as Antiparos, Kea, Amorgos, Folegandros, Sikinos, Kythnos, and the Small Cyclades. The absence of tourists is a real game-changer and will let you experience a more exclusive holiday surrounded by the beauties of these islands, great food, and amazing hospitality.
When talking about Cyclades Islands, it is necessary to mention the Meltemi, a strong with that blows from the north and that is particularly strong during summer. To those who choose to bareboat during July and August, we suggest paying attention to weather and sea conditions, or, when possible, booking a holiday in April or June, when the wind is less strong or absent.
Dodecanese Islands
The islands of the Dodecanese are another great travel destination. This trait of sea between Greece and Turkey is characterized by an abundance of wind, wild nature, and low prices, and for this, it is becoming a popular choice for water sports lovers and adventurous tourists. These islands are located in the southernmost part of the country and present amazing weather even at the beginning of Spring: book a holiday in April or May for a more exclusive experience!
The most famous islands of this archipelago are Rodi, Symi, Nisyros, Kos, Tilos, and Halki, around which we created an amazing 7-day boat itinerary between picturesque villages, unspoiled beaches, and turquoise waters.
Ionian Islands
The Ionian Islands are clearly one of the most famous destinations in the whole of Greece, especially thanks to the turquoise water, the paradisiac beaches, and the lush vegetation that is usually not typical of the Greek islands (which are generally arider).
These islands were once part of the Venetian Republic and are far away from presenting the stereotypical Greek landscape made of white villages and mountains: instead, here you can breathe a Western atmosphere, enhanced by the Italian architecture that can be seen in towns such as Fiskado on the Kefalonia island. The most famous islands of this archipelago are Corfu, Lefkada, and Zakynthos.
An easy navigation makes sailing in the Ionian Islands great for beginners, also thanks to the lack of strong winds, usually coming from the northwest.
Gulf of Saronic
In the Gulf of Saronic, also known as the Gulf of Aegina, are scattered a series of islands and islets immersed in the deep blue of the Aegean Sea, each one rich in history, culture, and breathtaking natural landscapes.
These islands are far away from those intense flows of tourists that strike Greece every year, so this allows you to discover a much more traditional, calm, and peaceful aspect of this beautiful destination. Visiting these islands by boat means enjoying, almost alone, some of the most beautiful bays and coves in the Mediterranean. Amongst the islands of this archipelago, we suggest visiting Aegina with its splendid temple of Efea, Poros with its lemon-scented orchards, and Hydra with its narrow streets and attractive mills.
Even in this case, gentle winds and calm sea make the Gulf of Saronic an ideal destination for all types of sailors.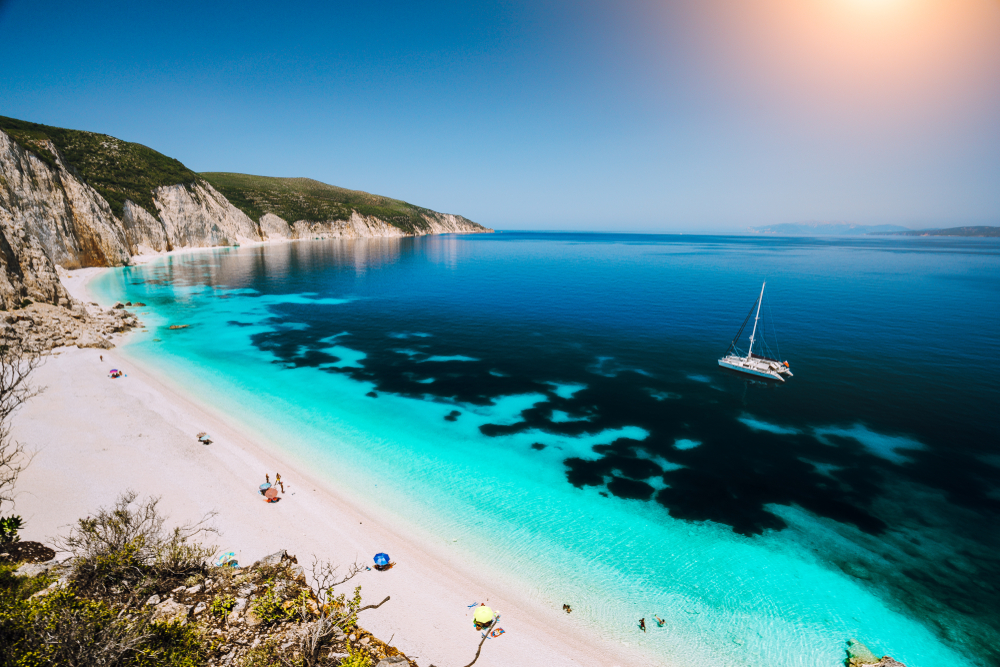 .
When to visit Greece
Due to its geographical position, Greece presents the typical features of a Mediterranean country, with very hot weather during the summer season, between June and September. Temperatures on the islands don't exceed 26° (78 F), as the hot is usually tempered by the frequent winds. On the other hand, temperatures in the capital city can reach 35° (95 F). During high season, high prices and masses of tourists can make the overall experience less pleasant, therefore we suggest visiting Greece in June, September, or during the first weeks of October when prices are lower, temperatures are milder and places are less crowded.
Some winds can seriously affect the navigation. For instance, the Meltemi, a wind typical of the Cyclades Islands, blows at its maximum strength between July and August, and therefore we recommend all sailors bareboating in this area to pay attention to weather conditions, or, if possible, to hire a professional skipper to be of support throughout the sailing holiday.
If you want to organize a cultural trip to Greece, April, May, and October are the best months in terms of weather conditions and tourists.
.