When pets are integral members of the family, leaving them at home is not an option for some of us. This means they can sometimes become part of the crew if you decide to rent a boat. A holiday is a moment for relaxing and enjoying the beauties of the destinations we visit, in the company of those we love the most - pets included. Even though for them it can be quite a challenging experience, all you need is a bit of preparation ahead of the trip to make sure you both live the best holiday together.
We spoke with Jana and Bernadette, respectively owners of the fluffy German Shepherd Apollo and the cute sailing cat Salty, who live on boats with their pets. They're experts in the field and will help us define the best practice for a perfect pup vacation.
"I, my husband, and Apollo moved to our Morgan 41 around 2 years ago. Apollo definitely loves the water and the opportunity to swim every day. He has a lot of energy and we love to enjoy this life with him!" - Jana
"Salty loves laying on the deck in the summertime and he loves watching seagulls and seals. He also only likes eating fish, so he likes watching and waiting to see if we catch him for something for his supper. He's a real boat cat!" - Bernadette
.
What to know before sailing with a pet
Dogs and cats can have different reactions to the boating environment. It is known that most cats despise water, but some breeds can love it and wouldn't mind getting wet or going for a swim. On the other hand, most dogs enjoy the water and are more open to new experiences but some of them can feel more stressed and anxious.
In both cases, it is good practice to accustom your pet to the sea. Taking them to the beach to sniff around, and getting used to shallow waters and the noises of the sea is a great way to understand if your pet is happy in such an environment. Once you pass this step, you should do the same on a boat: try a few short trips first, and let them explore the deck to make sure they feel comfortable on board before you are ready to depart. Allow some time to get used to the boat and make the experience as relaxed as possible.
"Salty came to us when he was a kitten and he didn't seem to notice he was living on a boat. He naturally loves water as he is a Turkish Van Cat, but since the water is too cold for him, he only paddles from the shore" - Bernadette
"Before we bought our sailboat we used to go to the Venetian island where we were able to jump to the water and one day Apollo jump too. That's how he learned how to swim! He loves the water and every morning we take him out to the local island: he gets to swim, run and dig wholes around" - Jana

.
Pack the essentials
Just like it happens for us, some essentials can make your pet feel at home and therefore should be carried along. Pack snacks, toys, treats, favorite objects, beds, or anything they like and that you know will make them feel happy and comfortable. If your pet takes any, don't forget to bring medications.
"Good supply of dry food in airtight storage, an emergency plan, and a grab bag with essentials are always at hand on our boat" - Bernadette
"Don't forget to pack enough fresh drinking water and a drinking bowl for your dog. Being out in the sun all day is a really easy way to get dehydrated" - Jana
.
Safe spots
Pets are good at finding spots they feel comfortable, so let them decide where to stay. You can help them by making the place their place: add a bed to keep them secure and provide water right next to it. If they feel anxious, a spot beside your bunk could help relieve some stress. Cats are usually more independent and will tend to change places according to their needs. Make sure the boat has enough shaded spaces where your pet can rest away from the sun's rays.
"Florida is known for very hot and humid weather, so for Apollo, we installed an A/C to make sure he's always cool. A place nearby the A/C would be his safe spot when he feels too hot!" - Jana
"When out sailing we have found Salty likes to stay in a box located in our main cabin between the pillows and a small litter tray. We have also built a mezzanine shelf so he can have his food and water up high and a bed to watch out of his cabin window" - Bernadette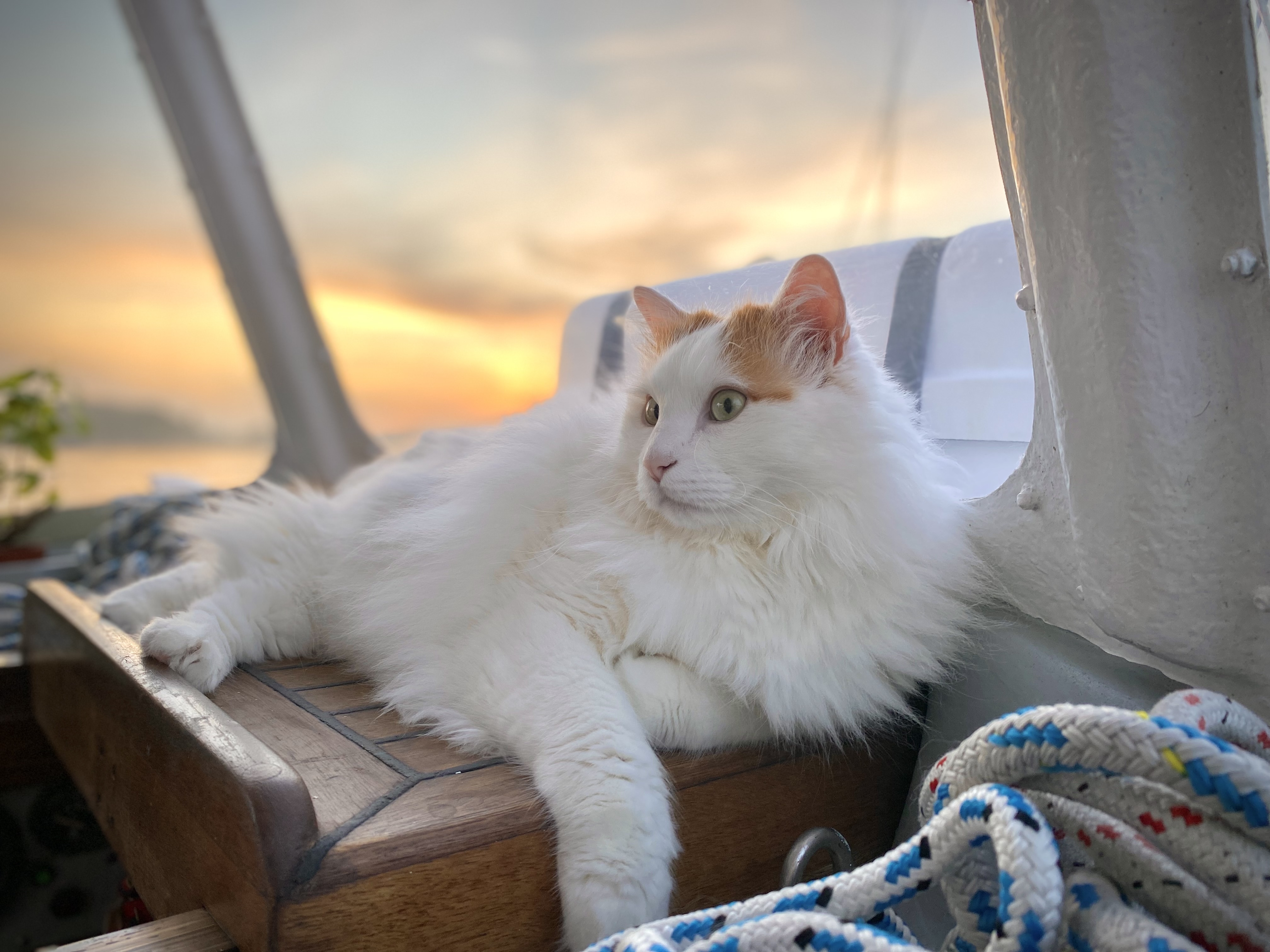 .
Pet safety onboard
Whether your pet can swim or not, they must be always safe on the boat. There are life jackets available for dogs and cats and wearing one will at least relieve some of the stress of having your pets fall overboard - cats are generally more cautious, so they are more unlikely to fall.
The inside of a boat can be quite slippery for our furry friends. A few carpets here and there can help them to have a better grip when the boat is shaking. A leash could also be a good solution for dogs that tend to be quite unpredictable. You can also put together a small first aid kit in case of an emergency, and ask your vet for suggestions.
In any case, a well-trained pet is the best control measure for a smooth and relaxed holiday.
"Salty goes on deck under supervision as he likes to wander about, so we make sure we know where he is at all times. He is also harness trained for safety and adventures ashore!" - Bernadette
"We recently installed a boat net that Apollo hates because his view of the bay is not the same. But it's for his own safety and that's what we care about. We won't let him swim in the open ocean unless we anchor in a safe place, but we prefer to take him to the islands which he loves. We also keep Apollo inside or by our side during the passages" - Jana
.
Toilet
When sailing, you spend most of your time away from the land. This means fewer potty walks for our pets! A toilet is essential for making sure they can do their business even when in the middle of the sea.
You can arrange a toilet spot on the boat by placing a piece of synthetic grass or litter and accustom them to the place. However, it might not be easy to train them to go potty in the designated space so make sure you always have doggie bags with you and throw them away as soon as you land.
"We have real grass in the front of the boat and Apollo has his own spot to do his necessities!" - Jana
"Salty has his own cabin with a litter robot that he is able to use. He will use a litter tray at times he is ashore with no problem" - Bernadette
.
Seasickness and sunstrokes
Seasickness can be a serious problem for your pet but you can only find out once you've set sail. There are many drugs for pets that prevent motion sickness, so a visit to the vet before the departure can help you understand the best solution and dosage for your friend.
Although pets won't overexpose themselves to sun rays, the risk of sunstroke on a boat can be behind the corner. Make sure they have fresh water available at all times as they cool themselves through their tongue. You can recognize if they're overheated for the uncontrollable panting: if this happens, use cooling pads or wet towels to relieve the heat.
If you wish, you can have a little pool where your pet can take a bath from time to time.
.
.
You can follow Apollo's and Salty's sailing adventures on their Instagram profiles!