As sailing aficionados, we all look for holidays where we can enjoy the natural beauties that this world has to offer. The prettiest bays, the most colorful barrier reefs, the lusher vegetation, and the most turquoise waters.
Each one of us has an important role to play in the protection of these environments, and in ensuring a sustainable life for us and future generations. During a holiday, it's easy to get distracted and make a few mistakes that can be small for us, but dangerous if we look at the bigger picture. With thousands of people booking sailing holidays each year, now more than ever we should be mindful of our actions and be able to enjoy a holiday in the more environmentally-friendly way possible.
We put together a list of easy eco-friendly tips that each one of us can follow while sailing. Which of them do you usually put into practice?
.
---
.
Sail with the wind and switch off the engine
How beautiful it is to be able to hoist the mainsail, unfurl the jib, and sail with the power of the wind?! It's the more eco-friendly way of sailing and allows you to slow down the time and enjoy the journey: basically, what sailboats were invented for!
Always pay attention to the winds that dominate a certain area, their strength, and how they affect your sailing. Make sure you take advantage of the wind only according to your skills and confidence and prefer the engine when the conditions are risky or dangerous for your safety.
.
Don't throw anything overboard
We will never stress this enough: don't throw anything overboard! A great percentage of marine life dies from getting tangled on or from eating plastic each year. Plastic pollution is already a huge concern in nowadays' society, let's enjoy the nature that surrounds us with respect and care for other species.
Instead, be part of a positive movement and pick up any litter you find at sea or on the beaches. Once you collect your litter, make sure you dispose of it properly - each marina has its own waste disposal point to use. The Earth says thanks! :)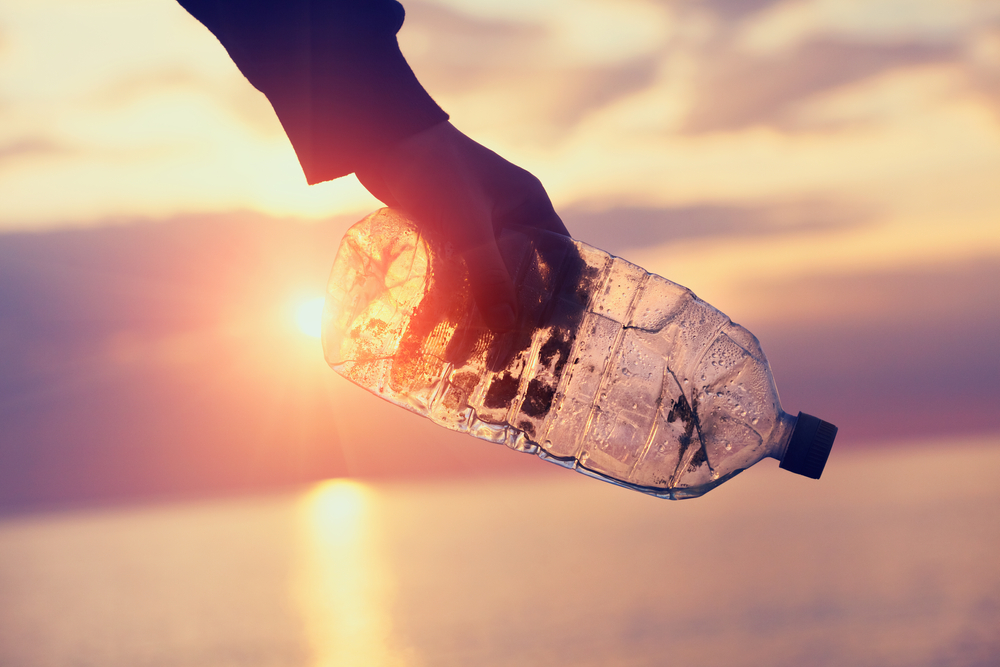 .
Minimize plastic usage
As already mentioned, plastic pollution is a great danger to this planet. The less we consume, the lower will be plastic demand and production, especially for single-use items. When possible, opt for paper or biodegradable products, such as cutlery, plates, and glasses that can be easily recycled. Even better if you choose reusable bottles and cups and invite your crew to do the same!
.
Correctly discharge grey/dark waters
Every country has its own rules, but it is essential to know them and follow them correctly to avoid polluting the areas. Get information before setting sail and discharge your holding tank accordingly. Most of all, don't empty your tank next to the beach or in shallow waters, to avoid harming marine life and people: instead, do it while in deep waters.
.
Use eco-friendly sunscreens
Did you know that certain types of sunscreen can harm marine life? Scientists have found that some of the chemicals contained in sunscreens are harmful to coral reefs, which are considered to be the most valuable ecosystems on Earth.
But how? The sunscreen we apply to our skin doesn't completely remain on our skin: part of it is washed off while swimming or showering, entering the waterways, and reaching the fragile underwater ecosystem. From algae to corals to even dolphins, the effects that these compounds have on some species can be threatening.
Some of these harmful chemicals are: Oxybenzone, Benzophenone-1, Benzophenone-8, OD-PABA, 4-Methylbenzylidene camphor, 3-Benzylidene camphor, nano-Titanium dioxide, nano-Zinc oxide, Octinoxate, Octocrylene
There are a few simple ways to protect ourselves and marine life under the sun: buy sunscreen that doesn't contain the aforementioned chemicals, seek shade during peak hours of the day (10 am to 2 pm), and use UPF Sunwear, as well as hats and sunglasses.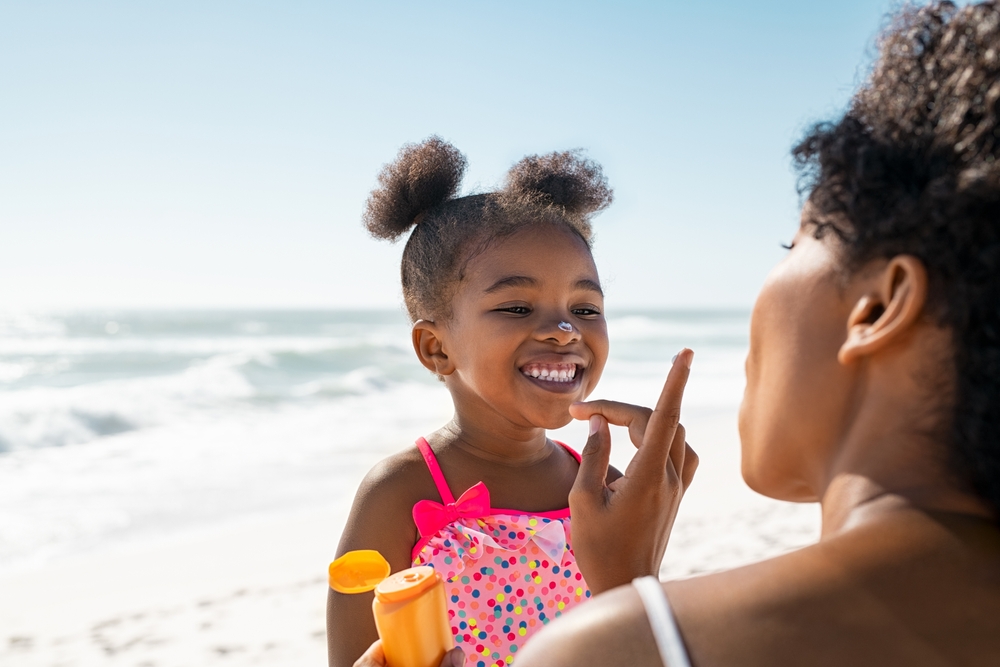 .
Switch to oars when using the dinghy
Whether they're big or small, engines pollute the waters. However, it is fair to highlight that nowadays' four-stroke outboard engines are more environmentally friendly than the older two-stroke ones.
Having said that, if you want to travel in an even more sustainable way, try to reach the shore by rowing when using the dinghy. It's a fun activity that includes laughs, collaboration, and a bit of upper body workouts. Good for you, great for the environment!
.
Use eco-friendly or homemade cleaning products
Just like we mentioned for the sunscreen, we must pay close attention to the cleaning products we use onboard, which all obviously end up in the water. Even in this case, if we want to avoid polluting the sea, we should opt for products that don't contain harmful chemicals and that are eco-friendly: there are many brands that offer sustainable options to the commonly-used dish soaps, all-purpose sprays, and other cleaning products.
Did you know that you can make your own cleaning products with a few, everyday ingredients? Simply mix equal parts of white vinegar and water into a spray bottle and shake well. Add your favorite essential oil, if desired.
.
Be careful where you drop the anchor
Anchoring without care can harm marine life and the seabed. Make sure that the water is deep enough to avoid grounding your boat when the tide changes. Generally speaking, drop the anchor on sand or mud so you don't damage the ecosystems.
If you wish to anchor ashore, remember not to tie ropes on trees, which are important to protect the inland from wind and waves.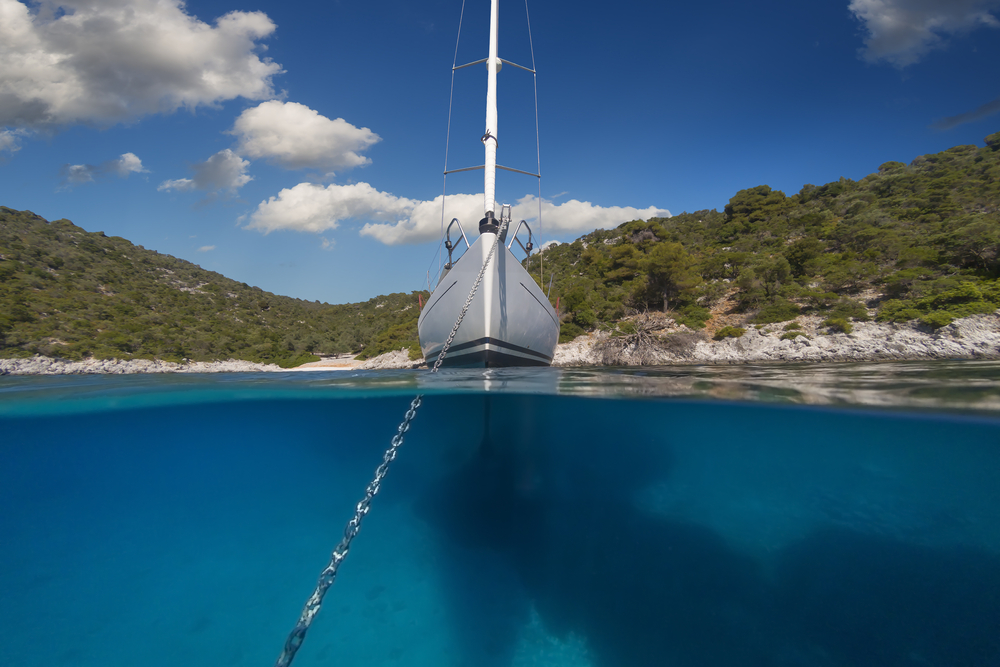 .
Be mindful of protected marine areas
In many parts of the Med, as well as the world, there are complex systems of protected areas where sailing is either prohibited or limited (for instance, you can't use the engine). These areas allow the protection of fragile ecosystems under human threat, which can go extinct with serious consequences for marine life.
By respecting the rules of such protected areas, you contribute to the reconstruction of marine resources, the control of fishing activities, and the preservation of marine ecosystems.
.
.