You've already booked and are getting ready for your next sail, it's probably the time to think about what to pack to take onboard with you.
Generally speaking; indeed, you won't need a very different kit throughout the different seasons. We all know the basics: light shirts, floaty dresses, summer shoes, sun cream, towels. Yet there are a few other things worth noting that you should pack.
In this practical article, we've listed just a few extra items to ensure that you are ready for the trip of a lifetime.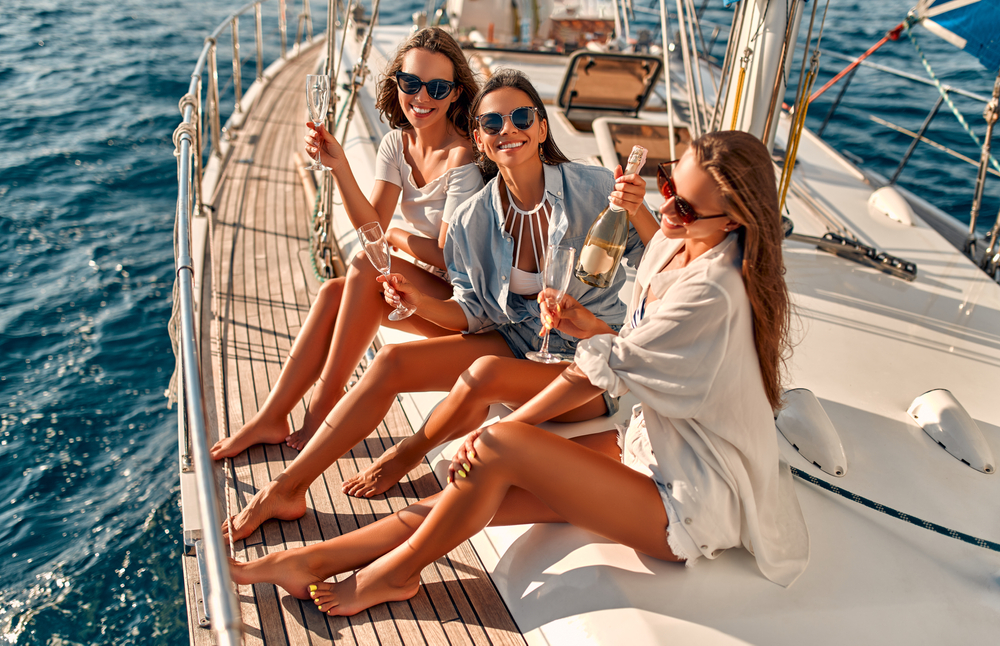 Deck shoes
Boat surfaces can be slippery, so investing in a good pair of deck shoes is a great idea to avoid any trips or slips.
Deck shoes are designed to wear on a boat; they are made from comfortable leather and have special non-marking soles and extra grip on the bottom, making them suitable to wear on wet surfaces.
Deck shoes are highly durable and are perfect to wear both on and off the boat - so worth getting them in your bag!
It's also worth packing a sturdy pair of shoes to wear ashore if you're planning on going on any afternoon walks or hikes to get the best sunset view.
Light waterproof jacket
You may be planning for glorious weather (fingers crossed!), but there's no harm in packing a lightweight waterproof jacket, just in case. If it does happen to rain during your trip and gets particularly windy, you want to make sure you're ready.
Plus, a light jacket won't take up too much space in your bag and it will also keep you warm on misty or chilly evenings.
Soft-sided luggage
Hard suitcases are a big no for sailing trips: difficult to pack into your cabin and luggage space. Hard luggage may also cause damage to decks.
Opt for soft-sided luggage instead, like a duffle bag, for example: they are easily fit into tiny spaces and can be folded up and stored away once you have unpacked. Plus, soft-sided luggage will avoid any damage to decks.
Important little bits
As obvious as it may seem, make sure to pack your passport and sailing licenses (if you have it). To make sure your phone is charged at all times, a power bank is a great one to take with you. A waterproof phone case can be a great idea to protect your phone and help you get the best pictures.
Medical items and beauty products
Don't forget beach towels, dry bags, insect repellent and some evening wear, as well as shower gels and toothpaste/toothbrush.
Seasickness medication is also handy to have onboard, just in case.
And for the fun part...
You can make some room for the fun items, now that all the serious important stuff is out of the way. You'll find that when you're on a boat, you will naturally look for time off the screen, and you could easily find yourself rediscovering simpler social activities, such as playing cards or chatting sipping a glass of wine. So, perhaps you could pack a deck of playing cards for some light onboard evening entertainment with your crew.
Compile your favourite summer playlist to blast out on a sunny day at sea.
Don't forget to bring a couple of books and a travel journal - you'll want to remember this trip forever, and there's nothing better than writing at anchor on a glistening sea.
It's also a good idea to pack a bottle of gin or rum for those relaxing evenings under the stars.
What not to pack
You do not need to bring any bedding or cooking utensils, as you'll find these on board. You'll also find first aid kits, nautical charts, speakers and any sailing equipment.
What to Pack for a Sailing Holiday
So, here's a complete checklist of everything you'll need to make the most out of your next yacht charter:
Soft-sided bags
Flip flops
Light clothing - floaty dresses, light shirts
Swimwear
Sun protection - sunglasses, sun hats, high SPF sun cream
Deck shoes
Sturdy shoes for walking ashore
Lightweight waterproof jacket
Passport / ID
Toiletries - shampoos, shower gels and toothpaste
Beach towels
Insect repellent
Playing cards
Power bank
Waterproof phone case
Books
Travel journal
Sailing licence (if you have one!)