Where to eat in the Cyclades: Island hopping (& eating)
Dal calpo del porto in Folegandros
Ammoudi Fish Tavern in Santorini
Livadia Restaurant Cafe in Paros
Folegrandos is a small Greek island in the Aegean Sea. Together with Sikinos, Ios, Anafi and Santorini is a southern island part of the Cyclades. The small port from the island bustles with bars, hotels and restaurants. An absolute worth a visit is Dal calpo del Porto, located close to the port and only 10 minutes away from the main town by car. It's the perfect story after a day sunbathing on your deck. My recommend is their french potatoes and calamarakia (fried squid rings). And of course their saganaki cheese - simple and beloved traditional Greek appetizer: Crunchy on the outside, melted cheese on the inside and warm.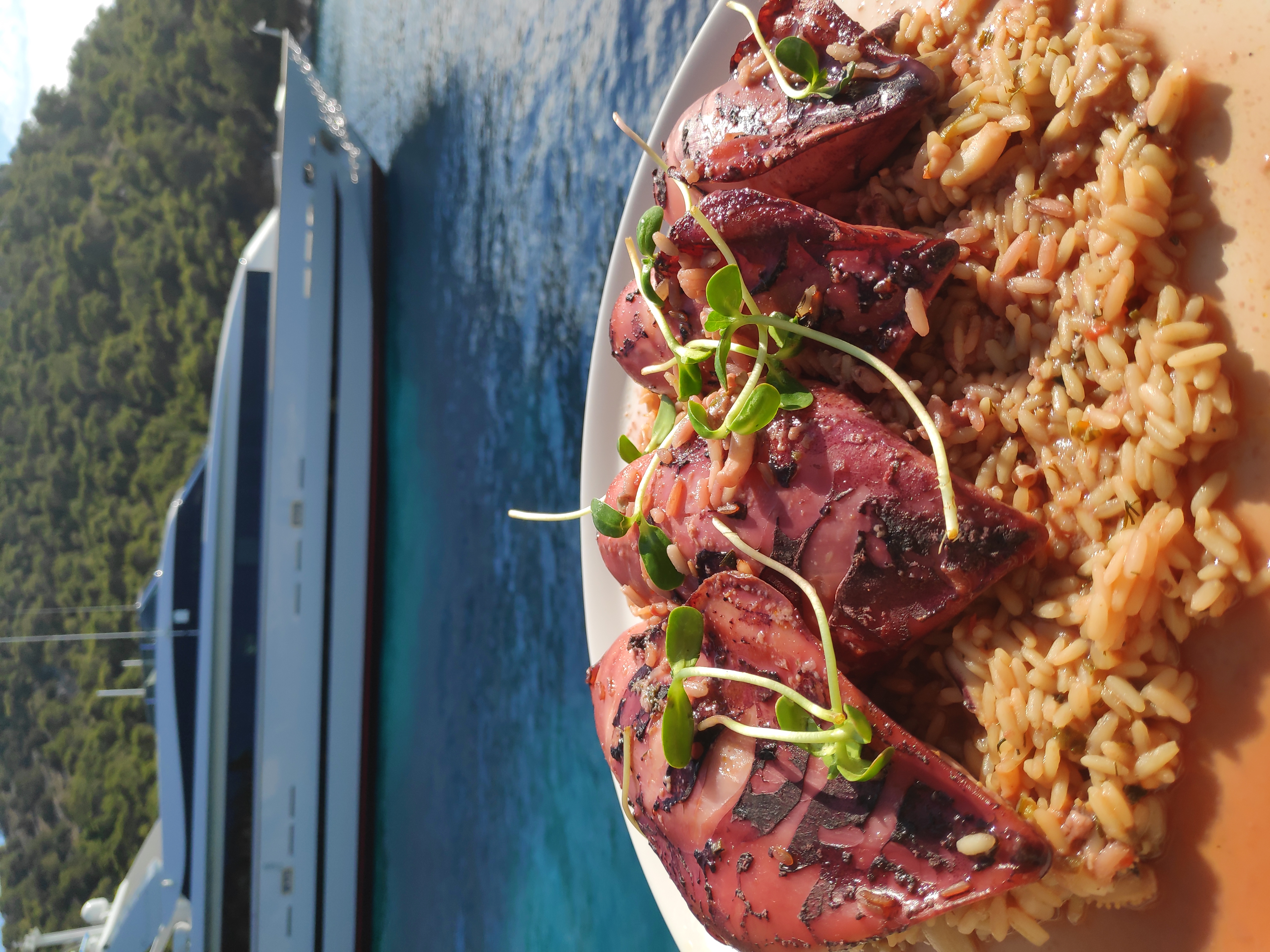 Dal calpo del porto in Folegandros
Our next foodey stop is in Kythons, a beautiful mountainous island right on the west part of the Cyclades. Its wild natural landscape and selection of stunning bays to stop by for a swim and some unwinding time, makes this island quite unique in the Cyclades group. Being quite close to Athens, is often very popular and finding the right place to stop for a bite can be challenging. You won't be let down here in Restaurant Ostria in Merichase, a small town by the sea. If you love your local fish dishes, this is the place to be. I definitely recommend trying the grilled calamari and the risotto with shrimps and tomatoes. The views from here are special as well: you'll be sipping your ouzo whilst looking at exquisite sunsets.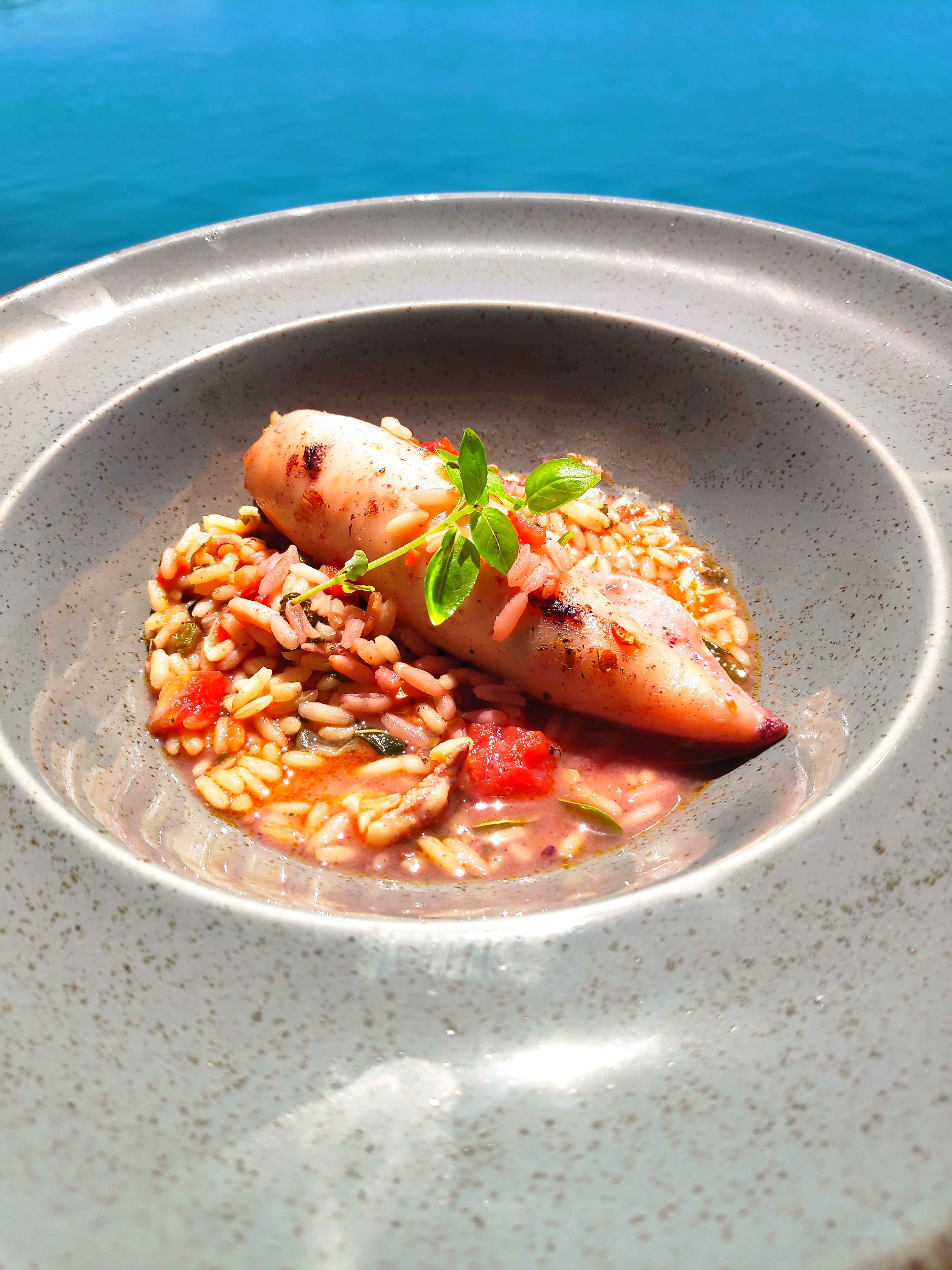 Ammoudi is one of the best places on Santorini island to watch the amazing sunsets. Probably one of my favourite views in the Cyclades from here. It's a bit of a walk up the stairs (but what isn't in Santorini?) but trust me it's absolutely worth it! You can choose from a selection of Greek dishes and whatever you'll choose you won't get disappointed. Start your night with a bottle of white wine and tuna carpaccio. The staff is very knowledgeable and friendly, you will get excellent service and the staff will make you feel at home.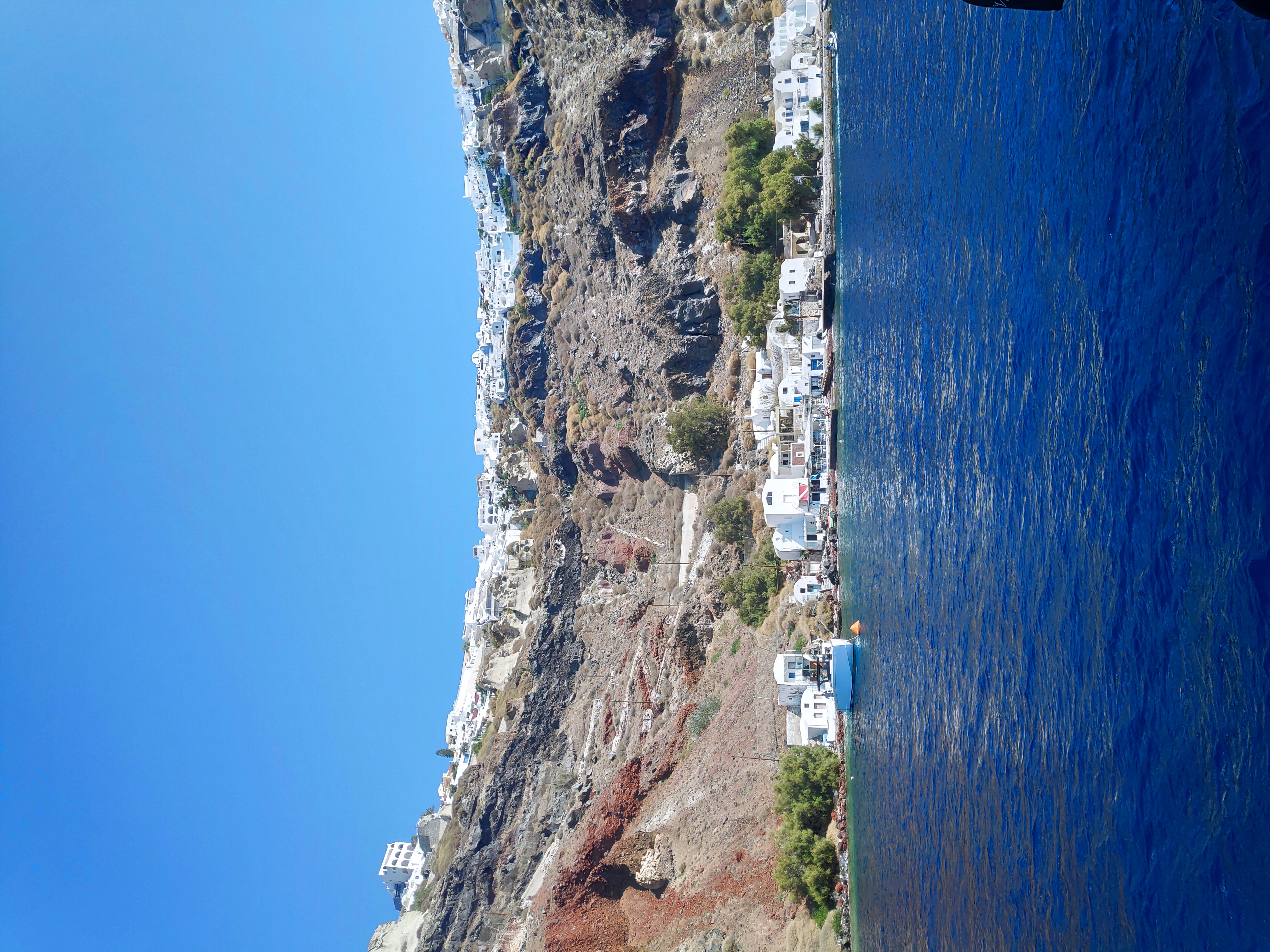 Ammoudi Fish Tavern in Santorini
Paros Island is well known for its gorgeous food and nightlife. Ouzeri Halaris offers just a perfectly comfy atmosphere after your day sunbathing or swimming. Ideal location near the port of Naousa. At Ouzeri Halaris you will enjoy exquisite fish and seafood. My recommendation is their mussel pasta and pariani salad: the salad epitomizes the best products Paros has to offer. Marinated ripe and crisp tomatoes, salty and lightly pickled samphire (which grows abundant near the rocks by the sea here), tiny briny caper flowers, all tossed together with carob rusks and sprinkled with soft and creamy "xynomyzithra" cheese on top. I can say this salad is a decent representative of Greek super-foods.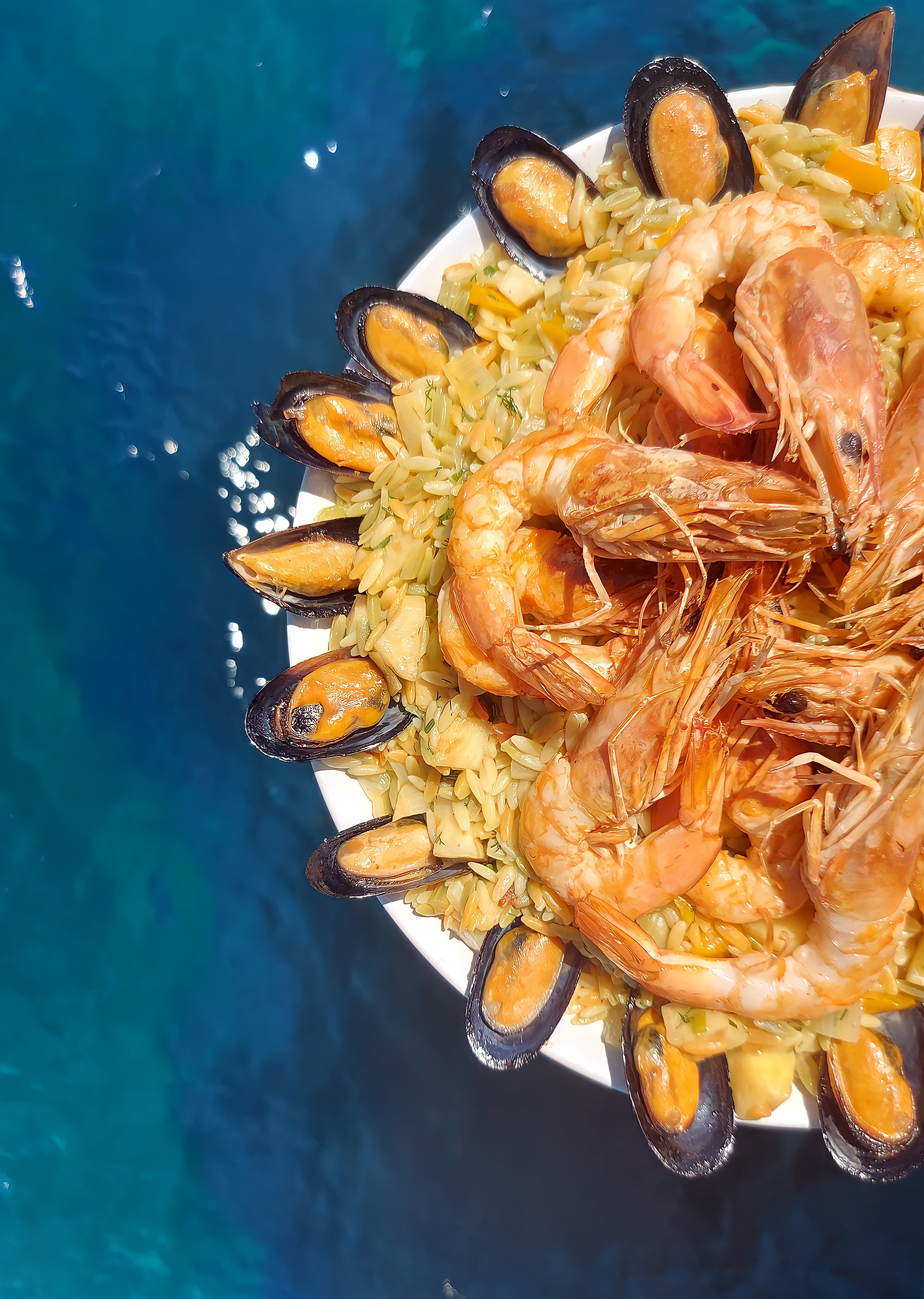 Ouzeri Halaris in Paros
Another great option when visiting Paros Island is Livadia Restaurant, located right at the main port of the island, at Paroikia. I recommend sitting outdoors so you can enjoy the view of the waves right in front of you and of course the fresh air. Here I suggest the local and Mediterranean cuisine, especially their grilled fish and grilled squid combined with white house wine, delicious and with unique flavours. It offers a great selection for breakfast, the perfect way to start the day sailing!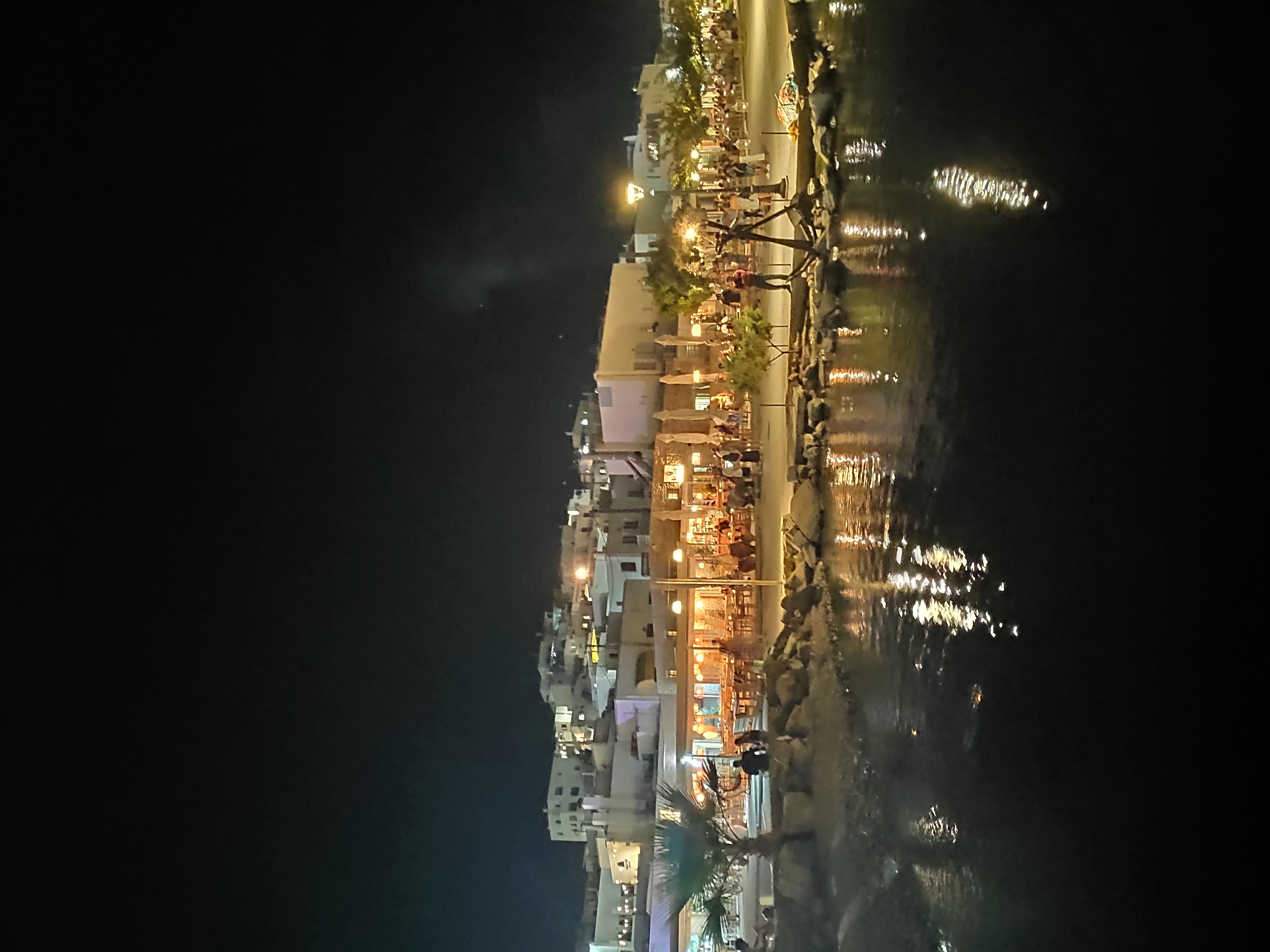 Livadia Restaurant Cafe in Paros
North of the Sea of Crete, you'll find the volcanic island of Milos, in the southwestermost part of the Cyclades group. Our restaurant, Gialos, sits in a special location on the island, Pollonia, overlooking the sea. An extended menu of traditional Greek favourites, a variety of wine selections and the magical view make this a place worth stopping bite for a proper meal or even for small bites on the way. It is reasonably considered as one of the best restaurants in Milos. I would heartily recommend the calamari with lemon sauce and sepia.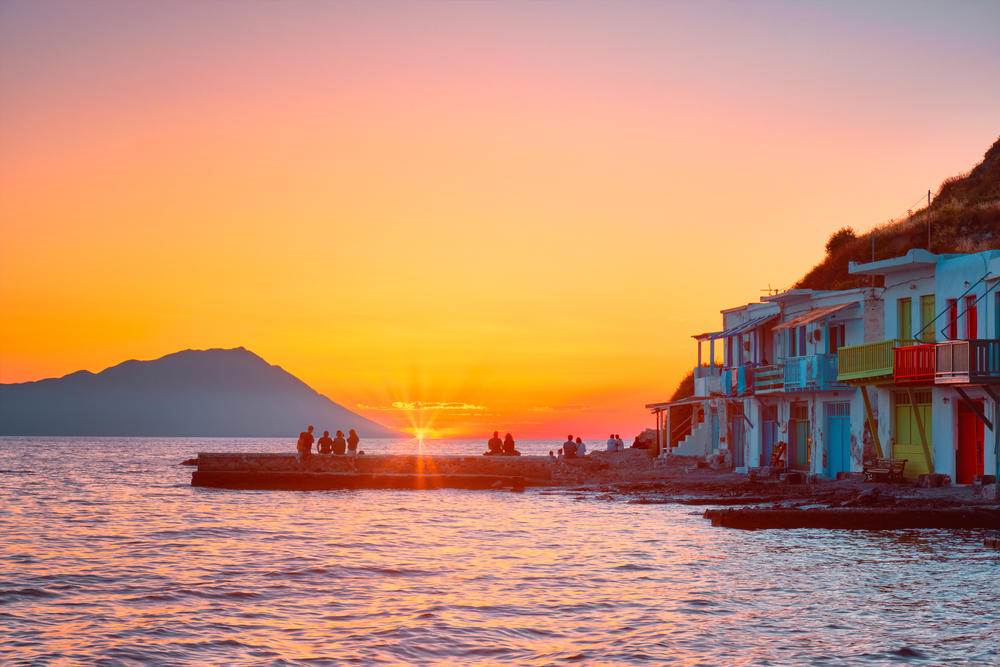 People enjoy scenic sunset in picturesque Klima village above Aegean sea on Milos island in Greece
About me…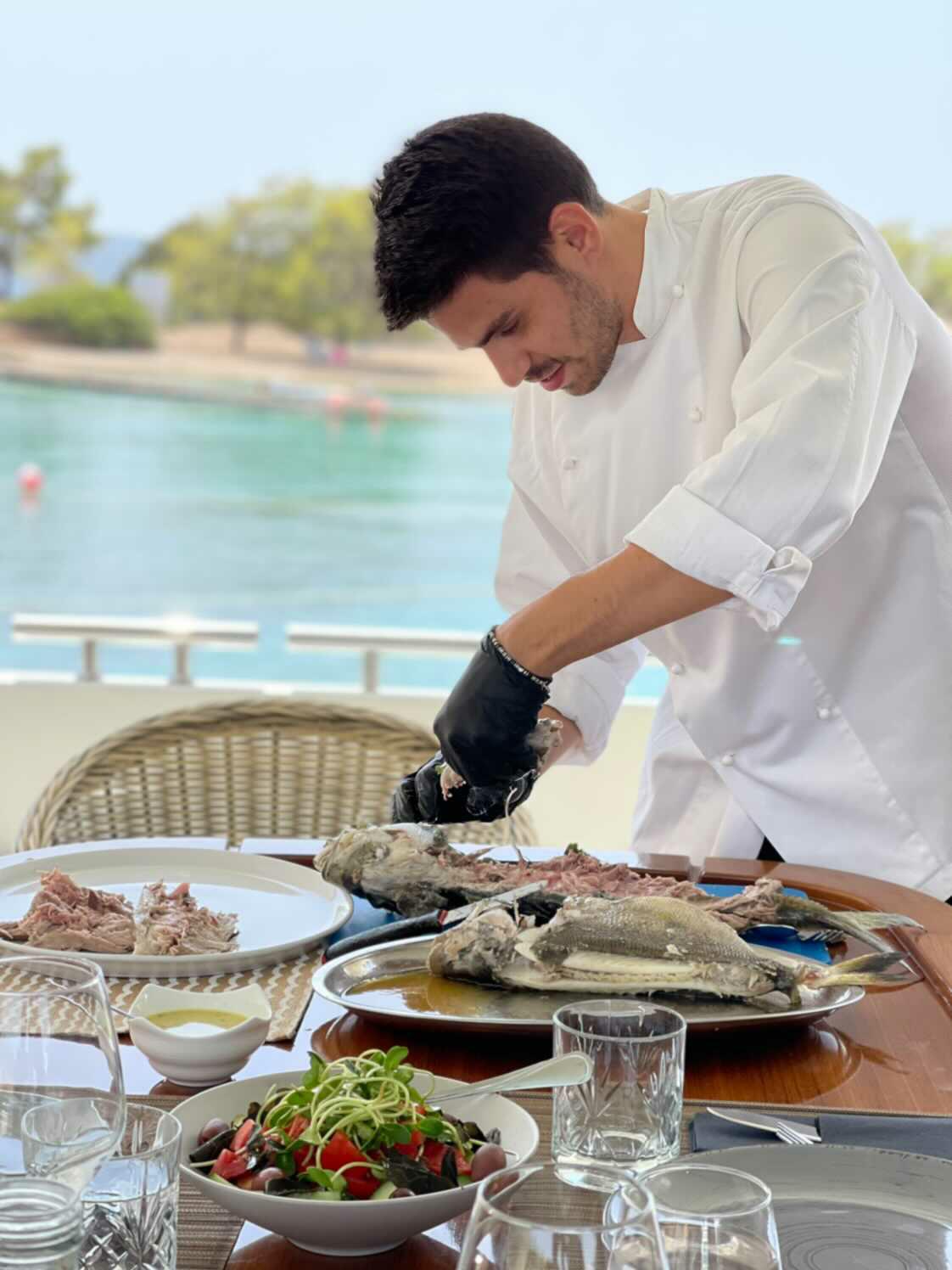 "This is George and I'm from beautiful Greece. I decided to become a food blogger because I love travelling and good food. So I combined those two things in blogging.
I really enjoy trying new food from the countries and the islands I visit. I believe that food is one of the most interesting parts of every culture. Of course, I love eating my country's traditional dishes and Greek cuisine is one of my favourites. What makes Greek food special for me is its simple ingredients that are carefully put together in a harmonious combination of flavours."
If you want to explore Greek food and drinks together with a real Greek, check out George's Instagram page on @food.life.travelling
Best way to explore the Cyclades
There is no more emblematic place in the whole of Greece that fully represents the colours, scents and flavours of this wonderful country. The islands of the archipelago appear as pearls emerging from the Aegean Sea, making them almost magnetic and irresistible. Here the rhythms of life pass slowly despite the strong tourist flows and, even in the most crowded islands such as Mykonos, it is still easy to find a bay or cove hidden only for themselves. Take a look at our 7-day sailing itinerary in the Cyclades, the perfect way to explore them from the unique view of your boat or how about taking a look at our selection of boats to rent in the Cycladic Archipelago here?