The beautiful Ibiza is one of the most popular Balearic destinations, mainly because of its lively nightlife full of young crowds. Stag dos, hen dos, birthday parties, honeymoons: this is the place to be for an unforgettable (and sometimes crazy) vacation with your crew of people.
But this isn't the only face of Ibiza. Actually, the nightlife is just a tiny dot in the vastness of this island's beauty. In fact, Ibiza boasts some of the most beautiful beaches and coves of the whole Mediterranean Sea and it's a short distance from another paradise on Earth, its little sister Formentera. The two islands are almost connected by a stripe of land that is part of the stunning Natural Park of Ses Salines, where the colors of the sea go from deep blue to light turquoise in proximity to the white-sanded beaches.
The coasts of Ibiza are rich in unspoiled vegetation and a variety of different landscapes that give this place a really unique atmosphere. Whether you are more into relaxation or are looking for adventures, Ibiza has got you covered with plenty of beaches that can satisfy any type of tourist.
Renting a private boat adds an extra charm to the experience because it allows you to live the vacation from an exclusive perspective. The beaches and bays to discover by boat are many and so are the itineraries, but if you want to explore the most unique areas of the island, this article is for you!
---
Top 5 beaches in Ibiza to visit by boat
---
.
We start our list of top beaches in Ibiza with the most fascinating and mysterious ones. Despite being a popular and crowded destination on the island, Cala d'Hort is a great place to visit by boat: the amazing waters that surround this western trait of coast wash a white-sand beach, creating a beautiful atmosphere that is perfect to enjoy onboard your private watercraft. The two small restaurants in front of this beach offer a great choice of Iberian cuisine.
Right in front of Cala d'Hort is located one of the most dramatic sights, Es Vedrà, a mysterious island that has been at the center of many local legends. The island, which is actually a 400-meter-high rock, is said to be the third most magnetic point on Earth, similar to the Bermuda triangle or the Pyramids: for this reason, this place has become an inspiration for many artists and yogis that visit the island and Cala d'Hort to absorb its supernatural energy. Other legends recognize Es Vedrà as the tip of the submerged city of Atlantis, or as the place with the highest volume of UFO sightings.
We can't confirm if these legends are true or not, but we can assure you that visiting Cala d'Hort and Es Vedrà by boat is undoubtedly an amazing experience. And who knows, perhaps you can witness some supernatural activity yourself!
One last thing: this is the westernmost part of the island so if you pay a visit, make sure you don't miss the sunset.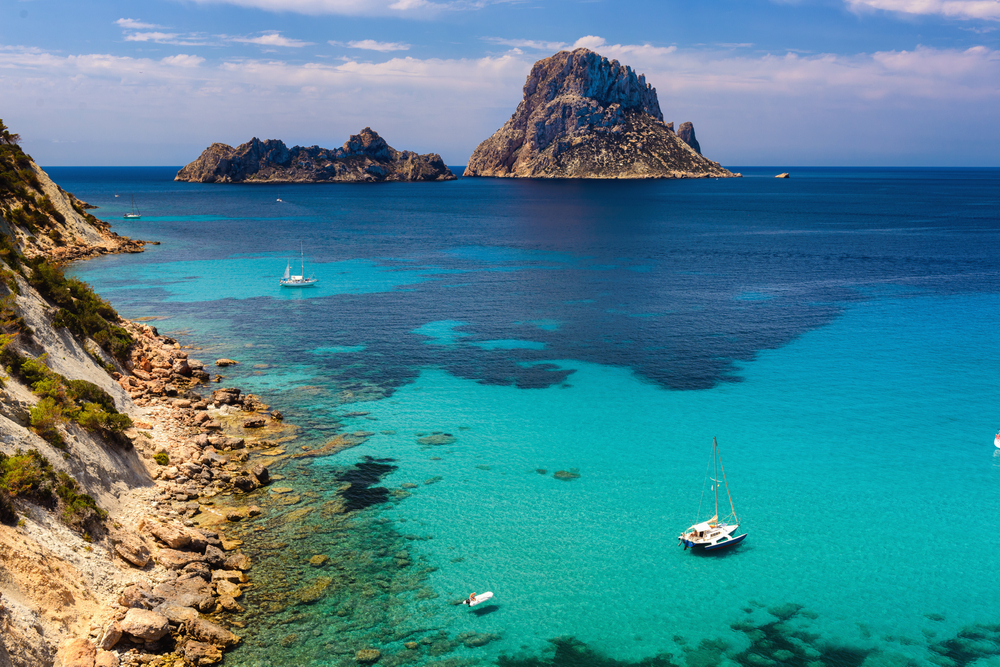 .
Technically, this is not a beach - hence why it's perfect to visit from the sea! Punta Galera is a beautiful rocky bay located at the southernmost point of Ibiza, close to Sant Antoni de Portmany, in an area that has maintained its wildness and unspoiled beauty. The stone formations jutting out of the sea offer an amazing spot for snorkelers of all types, and the cliffs hide beautiful coves to explore.
This is a really great place to relax surrounded by lush vegetation and azure waters. The beach is also famous among locals as well as yoga and meditation groups, as the flat rocks create a perfect surface for sunbathing and exercising blessed by one of the most breathtaking sights on the island.
Most of the beaches in Ibiza are nudist-friendly so get ready to see some booties all around!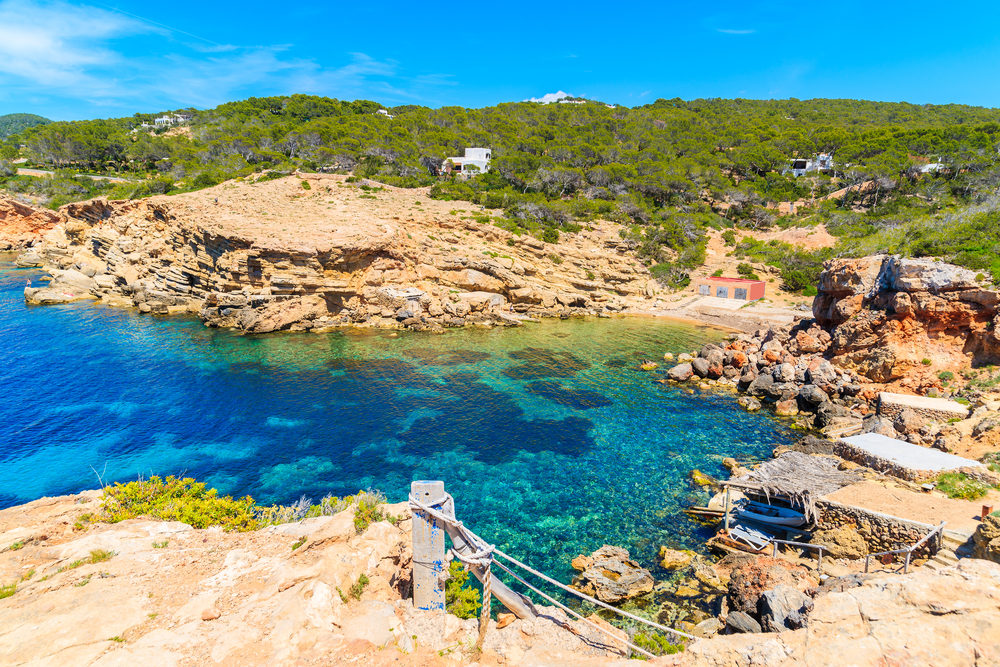 .
These three little gems are some of the most popular destinations in Ibiza and a must-see when it comes to exploring by boat because you can easily hop from one beach to another in a very little time.
The idyllic landscape of Cala Comte is made of white sands and bright turquoise waters that create a beautiful natural pool. Here you can practice some paddleboarding while exploring the coasts of this beautiful bay or you can relax while sunbathing on the deck of your boat.
Cala Bassa has the unique feature of being surrounded by pine forests, perfect for enjoying some cool natural shade during the day. The turquoise waters and white sand make this bay look like another beautiful natural pool not to miss by boat.
Cala Tarida is another little corner of paradise hidden on the coasts of Ibiza. The picturesque cliff in the background and the azure waters create a perfect scenario for a day of relaxation and some snorkeling.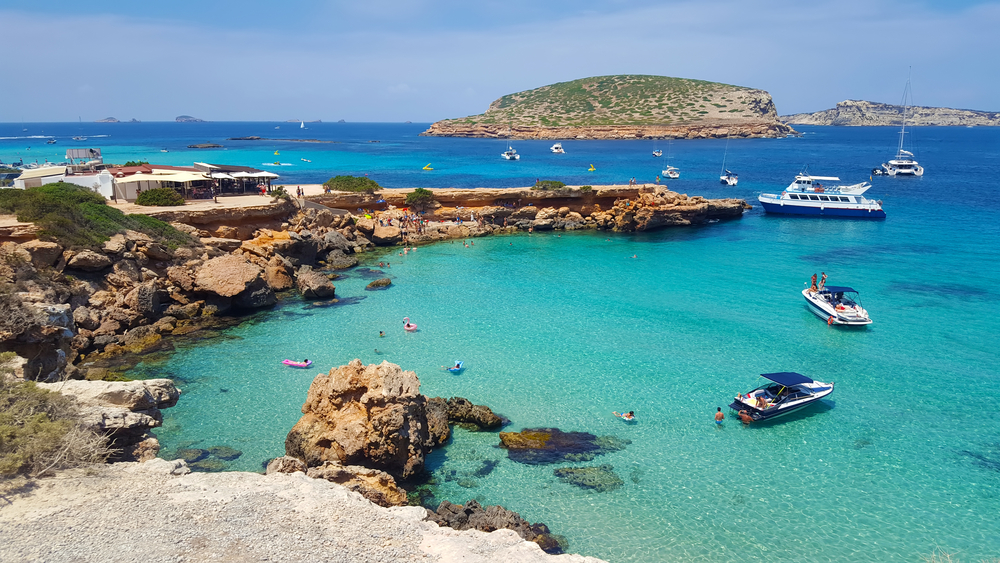 .
This beach suggestion is more about the experience rather than the beach itself. Of course, we can't complain about the overall beauty of this bay, with its turquoise waters and fine white sand, but if you want to enjoy the real beauty of this place, you have to visit it at sunset.
Benirras is, in fact, renowned for the majestic sunset colors and the Sundays hippie drum sessions: yes, every Sunday, groups of hippies, locals, and tourists gather together to witness the natural spectacle to the sound of drums, bongos, songs, and dances, in an amazing atmosphere of inclusion. A great moment to share with friends, families, and complete strangers, to remind us that happiness and kindness are the things that really matter in life.
Enjoy the sunset and the drums on board your boat, or reach the shore to join the dance!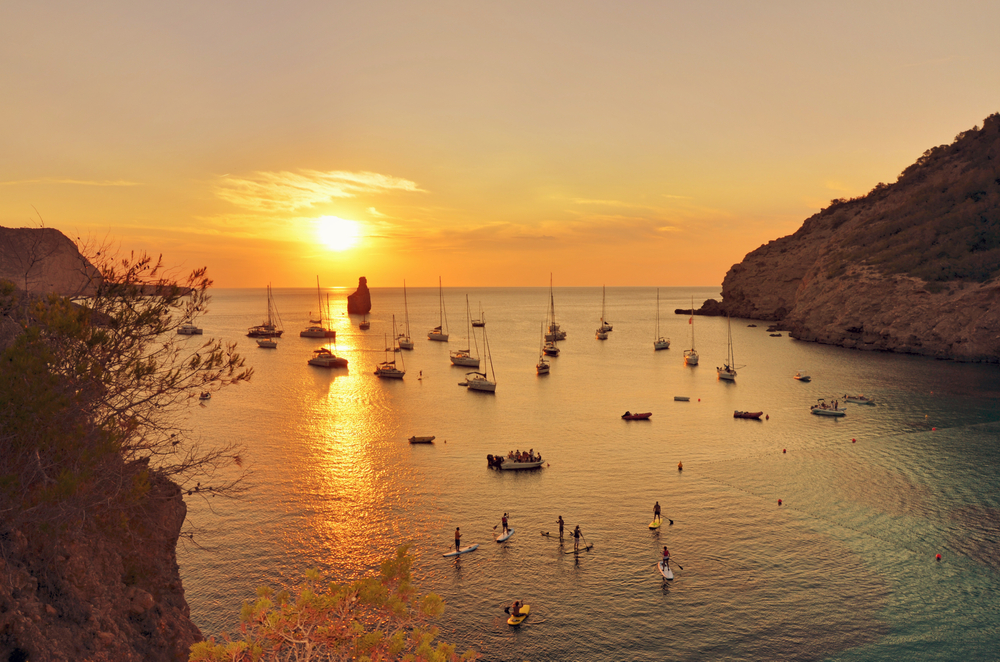 .
We end our list with a real hidden gem of the island. Es Portixol is the perfect bay if you're looking for absolute peace surrounded by nothing but unspoiled vegetation and crystal-clear waters, as the beach is still quite unknown to tourists. Some abandoned shacks that cling to the beach give this bay a feel of solitude and remoteness, while the cliffs provide a great shelter from all winds. Here, the waters are still and calm, so bring your goggles for some snorkeling!
Located on the northern coast of Ibiza, not far from the hippie beach of Benirràs, this bay is one of the best to visit by boat for a day of complete relaxation in an exclusive location.