A travel report by Hans-Walter who sailed across the Emerald Coast and southern Corsica with a group of six on a Bavaria Cruiser 51 2017. Well, a wonderful insight into Sardinia and Corsica with some great tips on where to stop for genuine Sardinian cuisine along the way. If you're heading that way, we recommend printing this out and taking it with you to get some extra hint on where to dine.
'A ship of this size offers a more spacious and comfier cabin and berth than the 46-foot ships we've been traveling with so far. Since everything is dimensioned for up to 12 people, our 6-person crew is extremely comfortable! The two bow cabins are only occupied by one person and the additional 5th cabin with its bunk beds serves as luggage space. The surrounding area we start sailing off with proves to be very varied in terms of landscape and weather - plus we seem to have consistently good wind.
The landscape is wonderful, the water is clean and pleasantly warm in the second half of September with 24 ° C. The bays are as emerald green as the name COSTA SMERALDA (literally 'emerald coast') suggests.
We experience the most beautiful harbors and bays of northern Sardinia and southern Corsica in the following two weeks. The change between turbulent harbors and quiet bays is truly wonderful, the relatively short distances are an excellent reason to slow down and contemplate the beauty around us from the perspective of the boat.
Flight from Frankfurt to Olbia, check in, purchase, set up
Day 1 on Sept. 15, 2018
We get to Portisco fairly quickly from Olbia airport. Since our flight is moved up to 4.45 a.m., we arrive at the harbor a bit earlier and enjoy a good breakfast. During the day we handle a few practical things: we take care of the "Permesso" (a permit) to drive through the "Parco Nazionale dell'Arcipelago di La Maddalena".
We arrange a lovely dinner at Matt's on a terrace with a wonderful view of the harbor. We are very satisfied with the almost luxurious spaciousness of the Bavaria 51. Later on, we will meet our 12-man crew on the same ship.
From Portisco to Cala Galetta / Maddalena
Day 2 on September 16, 2018
We cast off at 11.30 a.m. and set sail for the first time. Our goal is La Maddalena. Briefly after we depart, we approach two large regatta fields including the "Swan 45 World Championship". The extra-long masts with the mostly black Kevlar sails are impressive. Well, we have to have our first first swim stop, we pick Cala Villamarina, a bay in the south of Santo Stefano. Water temperature 25 ° C. After an hour we continue our route to our destination port of Cala Galetta in the middle of the city of La Maddalena. Dinner in Ristorante La Perla Blu on a terrace with a view of the entire harbor. We eat a wonderful dish, excellently prepared, of fresh tuna fish.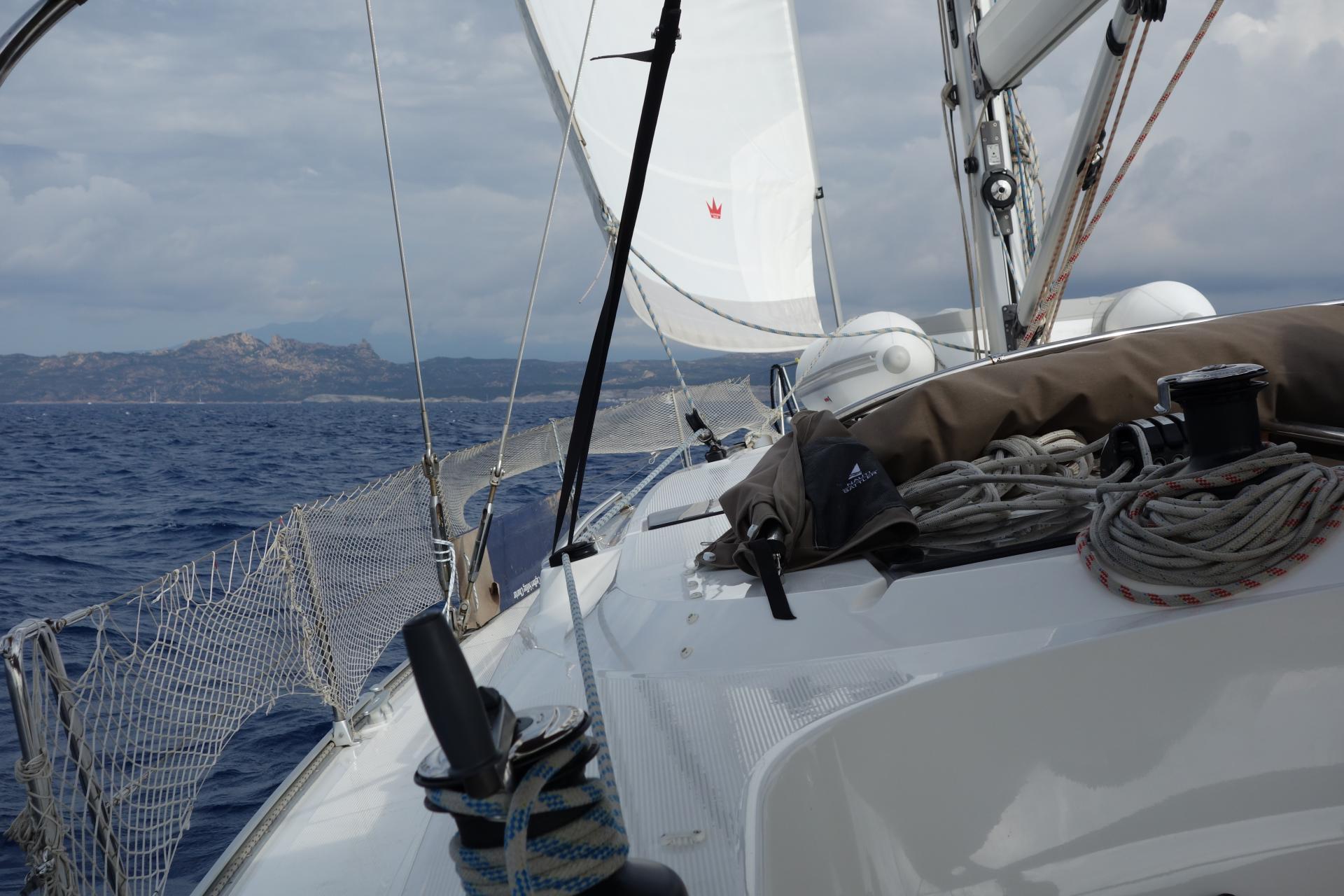 From Portisco on the way to La Maddalena
From Cala Galetta / Maddalena to Santa Teresa di Gallura
Day 3 on September 17th, 2018
The sky is slightly overcast, hardly any wind, but it looks like a hot thunderstorm is approaching so we decide to take off. Our next destination is Santa Teresa di Gallura in the north of Sardinia. On our way there, we decide for a much needed bathing stop in Porto Puddu, a beautiful bay behind an islet on 7 m sandy bottom. We swim ashore and take a look at the natural dune landscape. Right when we get back on board, the previously announced thunderstorm finally gets to us with a few thunderbolts and a short shower.
We continue past Isola Cavalli - a hotspot for kiters - towards our destination, where an employee of the Capitainerie assigns us a berth within sight of the ferry port on the opposite side. We take a good break with a refreshing abundant fruit salad (juicy Williams pears can be very additive :). Later we pick the Girasole restaurant in the main square of Santa Teresa where we indulge in a wonderful selection of local cuisine dishes.
From Santa Teresa di Gallura / Bonifacio Straits / Southern Corsica
Day 4 on Sept. 18, 2018
We start very early - at least for our standards :) - and at about 9.45 a.m we're already sailing to the northerly direction towards the Bonifacio Strait as we need to be there by noon to get a berth for our boat. We sail through with a 22 kn wind from 30° starboard only under a jib with up to 5 kn. The view in front of us is truly thrilling: the buildings on the overhanging chalk cliffs and the long, fjord-like entrance.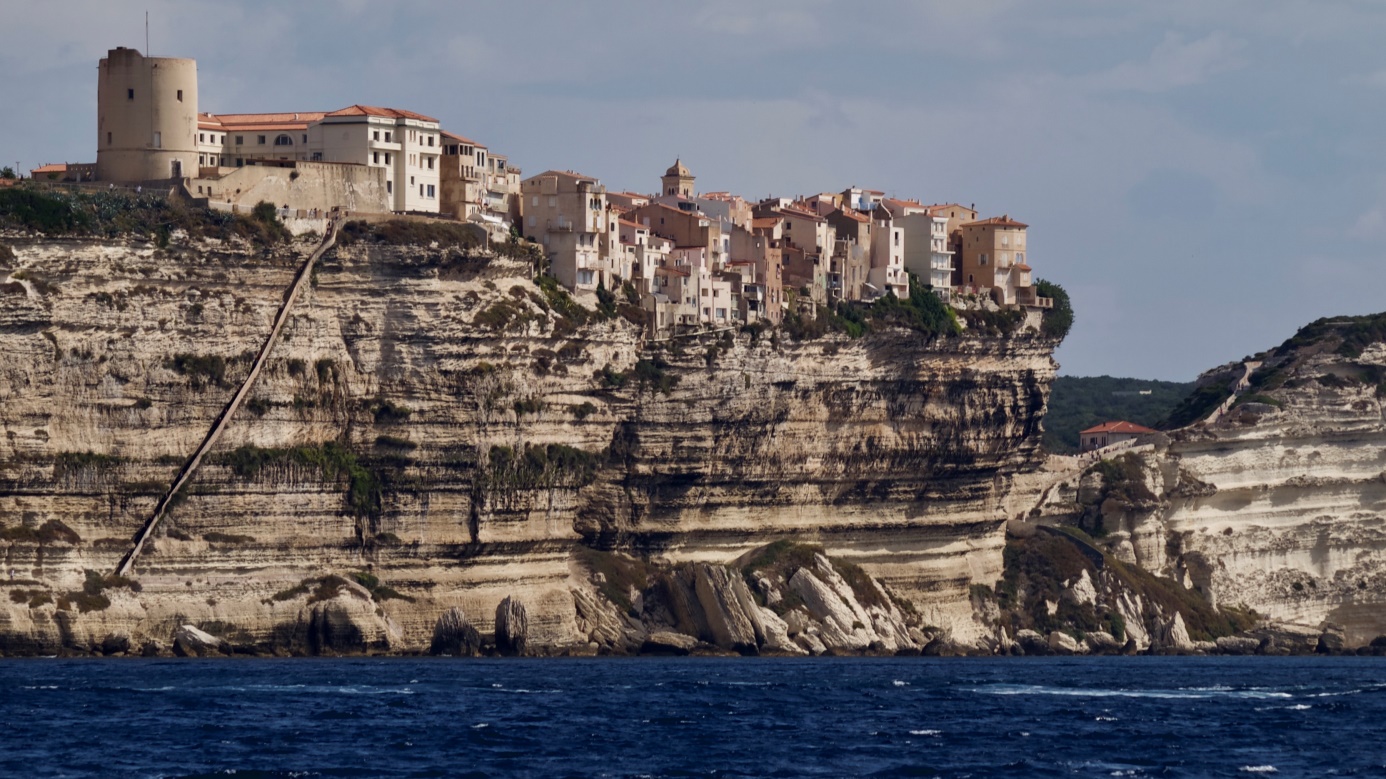 View of Bonifacio cliffs from onboard
Since the capitainerie does not respond to VHF or to our calls, we start to make provisional arrangements. We are directed to the guest bridges L and M, where we choose the berth we will moore on. We are right in the middle of the city and indulge once more in a delicious tuna salad and fresh baguettes.
That afternoon, we decide to venture and explore this remarkable city a bit. What we especially love is the broad airy view of the road from Bonifacio to Sardinia. In the evening we walk a few steps across the concrete walkway to the Da Rocca restaurant directly in front of it. The wild boar stew in wine sauce with chestnuts and homemade pasta is recommended.
The night is surprisingly calm. The same time the previous year, I had the feeling that I was spending the night in the middle of a disco, while in the second half of September the season was coming to an end.
From Bonifacio to Porto-Vecchio / Corsica
Day 5 on Sept. 19, 2018
We cast off at 10.15 a.m., drive out of the magnificent fjord, set sail and rustle in an easterly direction. When the wind slackens noticeably later, we start the engine and navigate via the Pintarella passage, a shortcut that is not easy in terms of navigation. Further north we drive to another swim stop in the Gulf of Rondinara, a much praised, almost circular bay, which is surrounded by a white sandy beach. Probably because this "insider tip" is mentioned everywhere, the bay is full of yachts.
Crossing the Gulf of Rondinara, waters get a little more 'wavey' :)
During the anchoring, we realize there is a significant amount of jellyfish so we turn around immediately. We finally get to Porto-Vecchio. The old town on the mountain is very beautiful, a fair bit of hype around this town, however with beautiful boutiques, according to the ladies in our group. Rain is forecast for the rest of the day.
From Porto-Vecchio / Corsica to Isola di Razzolo and Isola Budelli
Day 6 on September 20, 2018
The wind cools down the temperature. Because of the wind direction and wave height we change our initial plan to visit the Îsles Lavezzi of Cala Lazzarini. Back in Italian waters, we give up trying to moor the last free buoy in Cala Lunga on Isola Razzoli. By 4.30 p.m. we are safely on a buoy between Isola Razzoli and Isola Budelli. We eat spaghetti with tomato sauce on board and enjoy the magnificent sunset.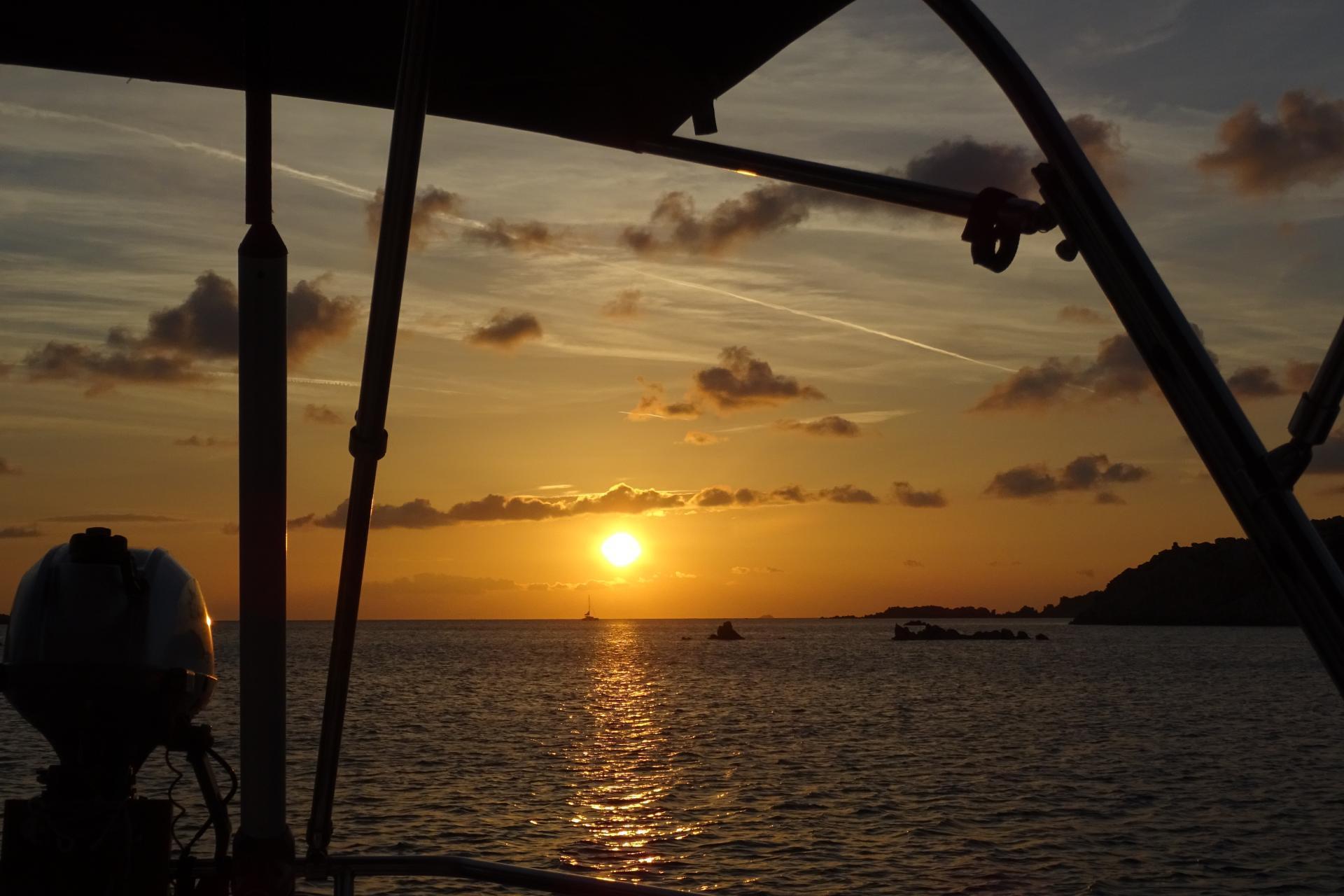 Enjoying a wonderful sunset while eating Italian style spaghetti between Isola Razzoli and Isola Budelli
Isola di Razzolo and Isola Budelli / Maddalena Archipelago to Palau
Day 7 on Sept. 21, 2018
After a pleasant, but at times quite windy night, we get ready and indulge on a good breakfast. At around 11 a.m. we sail off and choose not to go via the nearby passage between the islands of Budelli and Santa Maria. It is not by chance that the passage is called "Passo cecca di morto" (literally passage of the suicides) because of the numerous stones under and above water.
We navigate around the island of Budelli, then move east and leave the north of Isola La Maddalena on starboard to get to Porto Massimo on the northeast coast of the island. After a glorious lunch break, we leave Palau on the Sardinian mainland towards other shores.
From Palau / Sardinia to Cala Portese / Isola Caprera
Day 8 on September 22, 2018
The west wind increases the further we sail north from the deep bay. Later in an easterly direction we hardly have any waves with aft wind: it is a great, quiet and fast ride at up to 7 knots. At the southern tip of the Isola Caprera we circle Punta Rossa and turn a little later into our destination bay, Cala Portese.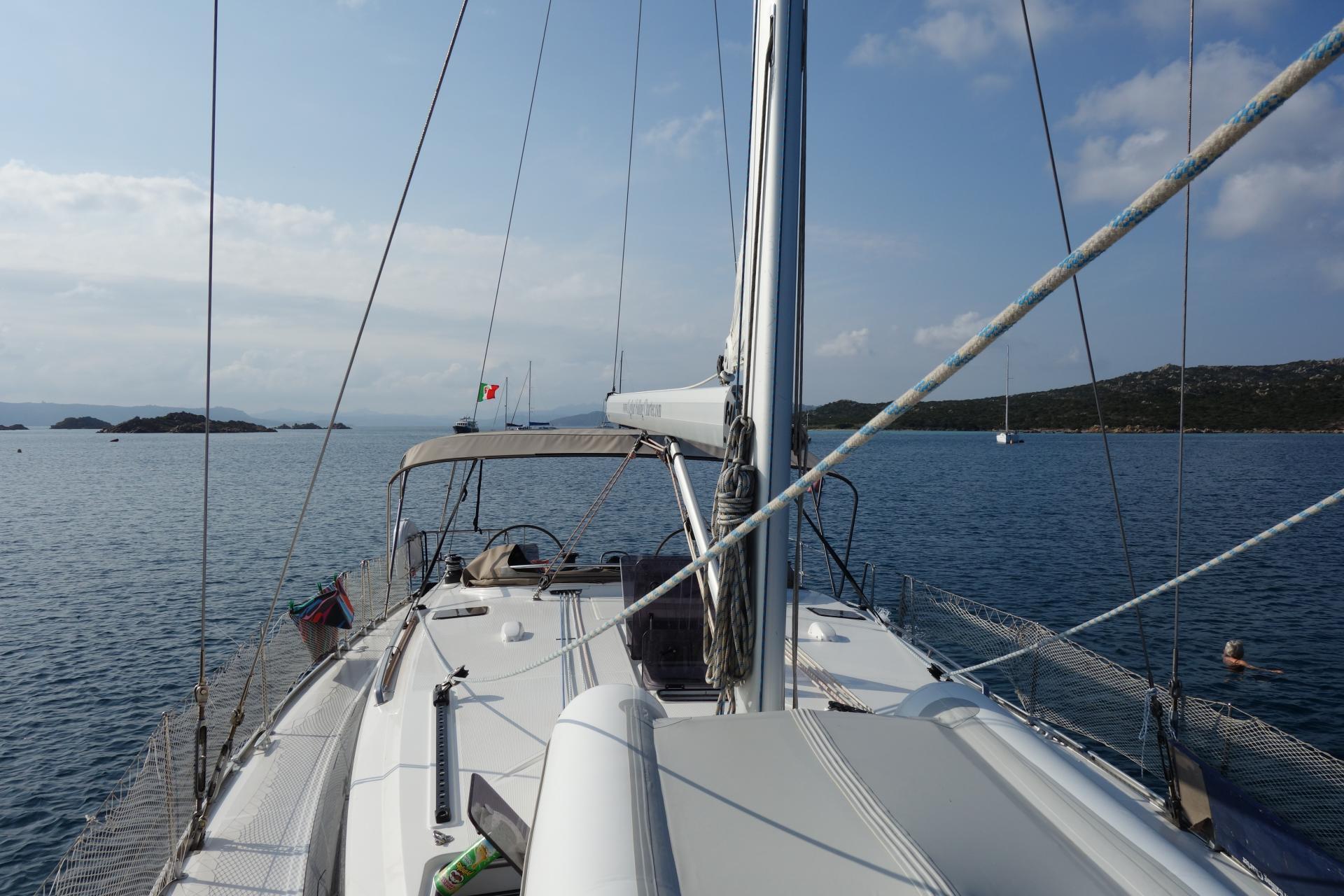 Sailing towards Isola Caprera
After several unsuccessful attempts to connect our mooring line from the rather high bow of the Bavaria 51 to a buoy (including a dip in the water), it then folds backwards over the bathing platform. A short time later we are stopped and asked for our Permesso (permit) for the first time. Shielded by the mountains, we remain on a quiet calm spot anchored on our buoy, although the wind keeps cooling us with its 30kn speed.
From Cala Portese / Isola Caprera to Cala Gavetta / Maddalena
Day 9 on September 23, 2018
A wonderful morning! We sleep in, have breakfast and swim. First, the dinghy is inaugurated. We motor two on land. The beach is full of Italian vacationers. Behind it there is a nature reserve. After a few steps over a land bridge you have a nice view in the other direction. We register by phone in Cala Gavetta.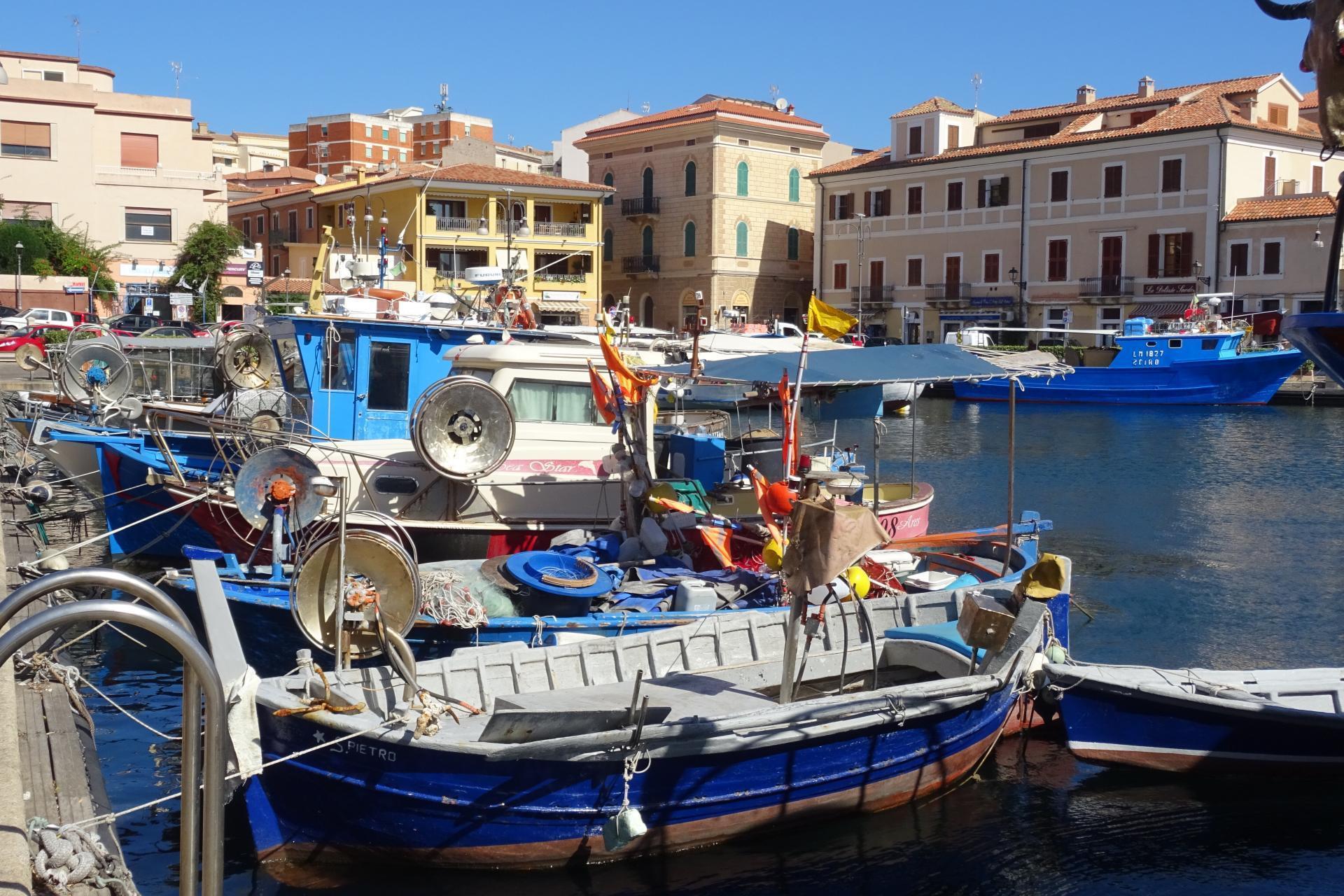 A little picturesque gem - Cala Gavetta
The decision for the safest port far and wide is made because of the weather forecast: from the following day, there should be a storm for three days.
Port day in Cala Gavetta
Day 10 & 11 on Sept. 24, 25, 2018
The announced storm starts as scheduled. Luckily we are safely sheltered in the harbor. The day passes by with us eating, reading, chilling, shopping. The "Port Cinema" - i.e. the view we get to see on the harbour - keeps us entertained with ships constantly coming in. The night becomes an experience of a special kind: Our direct neighbor, a full male crew, is in a party mood.
They open up female compatriots and there is roaring, laughing and singing at extreme volume, even dancing on the quay. Nothing against happy partying, but bawling until well after midnight and cheeky responses to friendly requests are the opposite of good behaviour. Now we all the more appreciate the tranquility of a night in a bay.
Because the wind continues to blow violently and a crew member does not feel well, we extend our stay by another day. We use the time gained to go on an excursion on the island railway, which also takes us to high-altitude lookouts far outside the city of Maddalena. We always stop to enjoy the great views all the way to Bonifacio. The sea is raging and we are happy to have a safe berth in a sheltered harbor.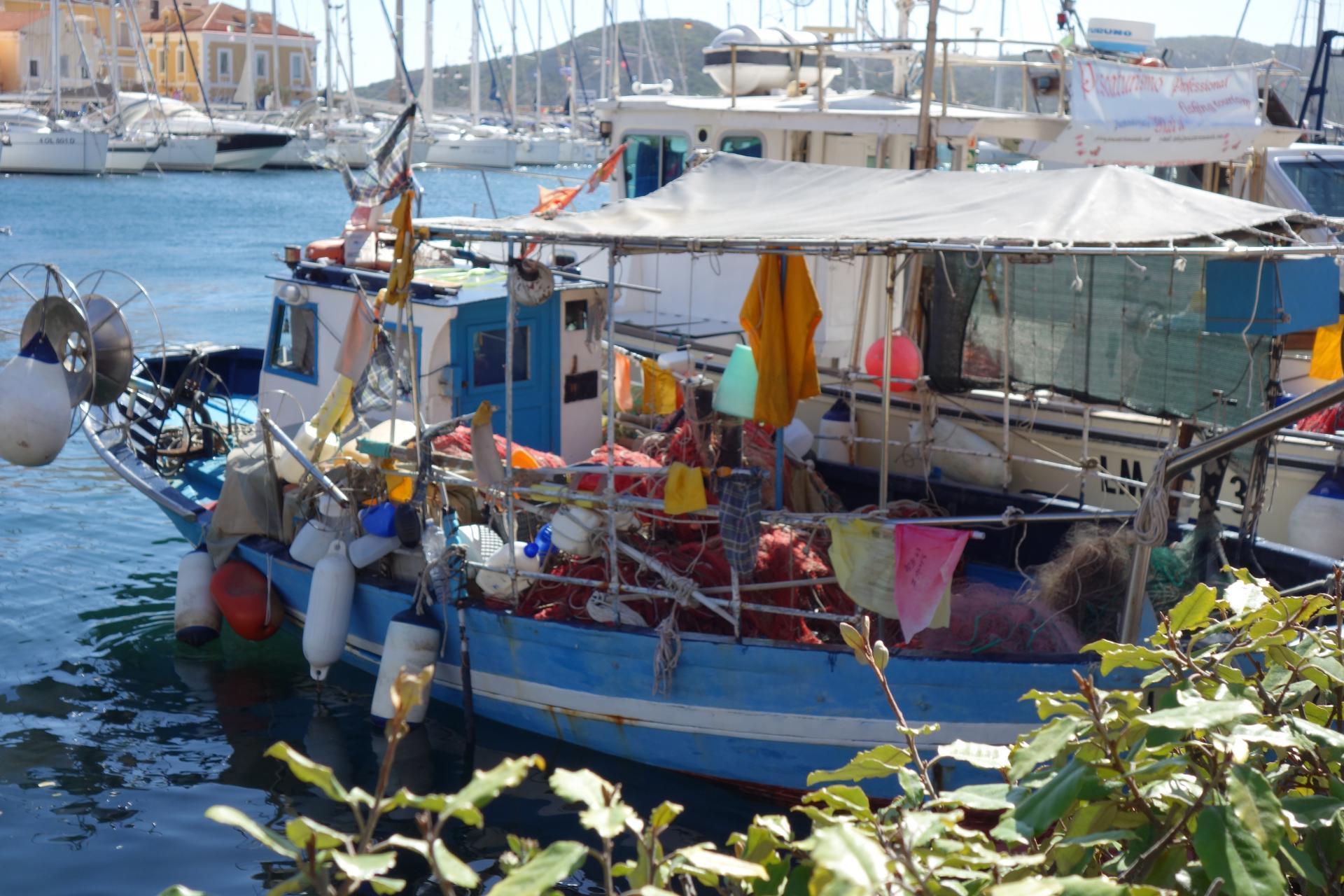 The things you can fit on a boat!
from Cala Gavetta / Maddalena to Cannigione in the Golfo Arzachena
Day 12 on September 26, 2018
As the wind is expected to weaken according to forecasts, we reserve a berth in Cannigione in the Gulf of Arzachena for the late afternoon. Our ladies' verdict on Cannigione: pretty harbor, slightly sophisticated with expensive boutiques In the city centre. We end our evening, in the cozy fish restaurant La Zattera.
From Cannigione in the Golfo Arzachena to an anchorage in Cala di Volpe
Day 13 on Sept. 27, 2018
After a very cool night, we have breakfast on deck. After sailing past beautiful beaches, great estates and bare rock formations, we finally anchor in Cala di Volpe, the "Bay of Foxes". Roger Moore and Curd Jürgens once made the 007 thriller "The Spy Who Loved Me" in this bay. If James Bond had already stayed in the luxury hotel, the 17k € per night is a bargain for the presidential suite, right?
We enjoy the wonderful quite calm bay. We swim, drive the dinghy to a nearby beach and swim some more. Later we take a trip to the legendary hotel "Cala di Volpe".
From the anchorage in Cala di Volpe to Portisco
Day 14 & 15 on Sept. 28, 29, 2018
We enjoy the last day of vacation on board having breakfast, reading and chilling. We do not raise our anchor until 2 p.m. and slowly sail to our destination port, Marina di Portisco, in the aft wind. The check-out is extremely friendly and brisk, but still thorough. We have the last meal together in the same restaurant we dined at the beginning of our trip, at "Matt's".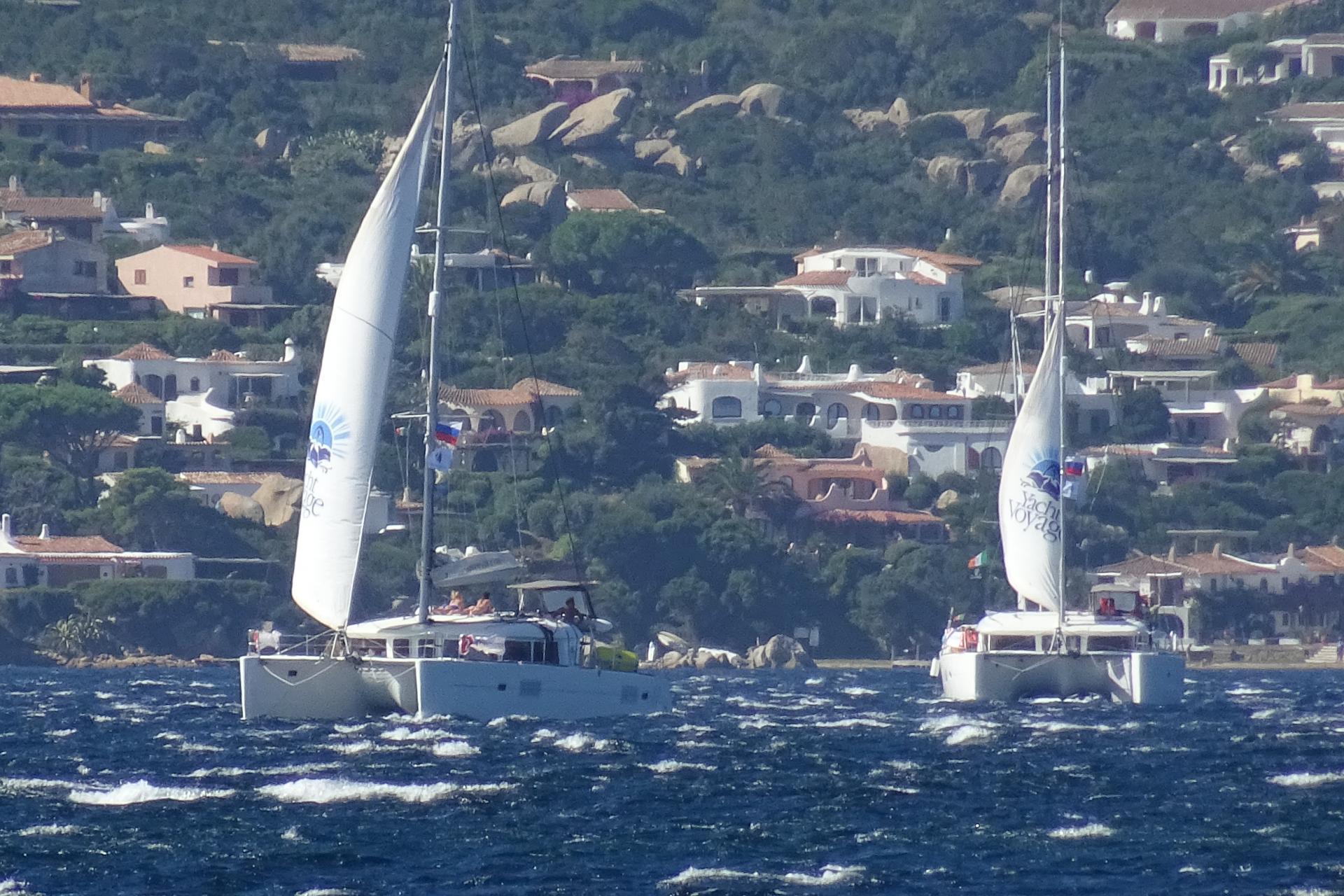 Well, time to sail back sadly....