Such a vast territory in which Mother Nature was so generous, typical dishes could certainly not be missing, Given the abundance and above all the quality of raw ingredients, such as cherry tomatoes, olive oil and mozzarella just to name a few, the territory of Salerno couldn't offer but a superlative culinary experience as wonderful as it often is with the Mediterranean cities. Some traditional Salerno dishes are sometimes generically remembered as typical products of the region of Campania.
Few (even people from Campania) know that the divine buffalo mozzarella DOP (Protected Designation of Origin) is produced all over the Sele plain, just as few people know that the sfogliatella was born in Conca dei Marini and the ancient Cilento pizza was born many years before the pizza margherita.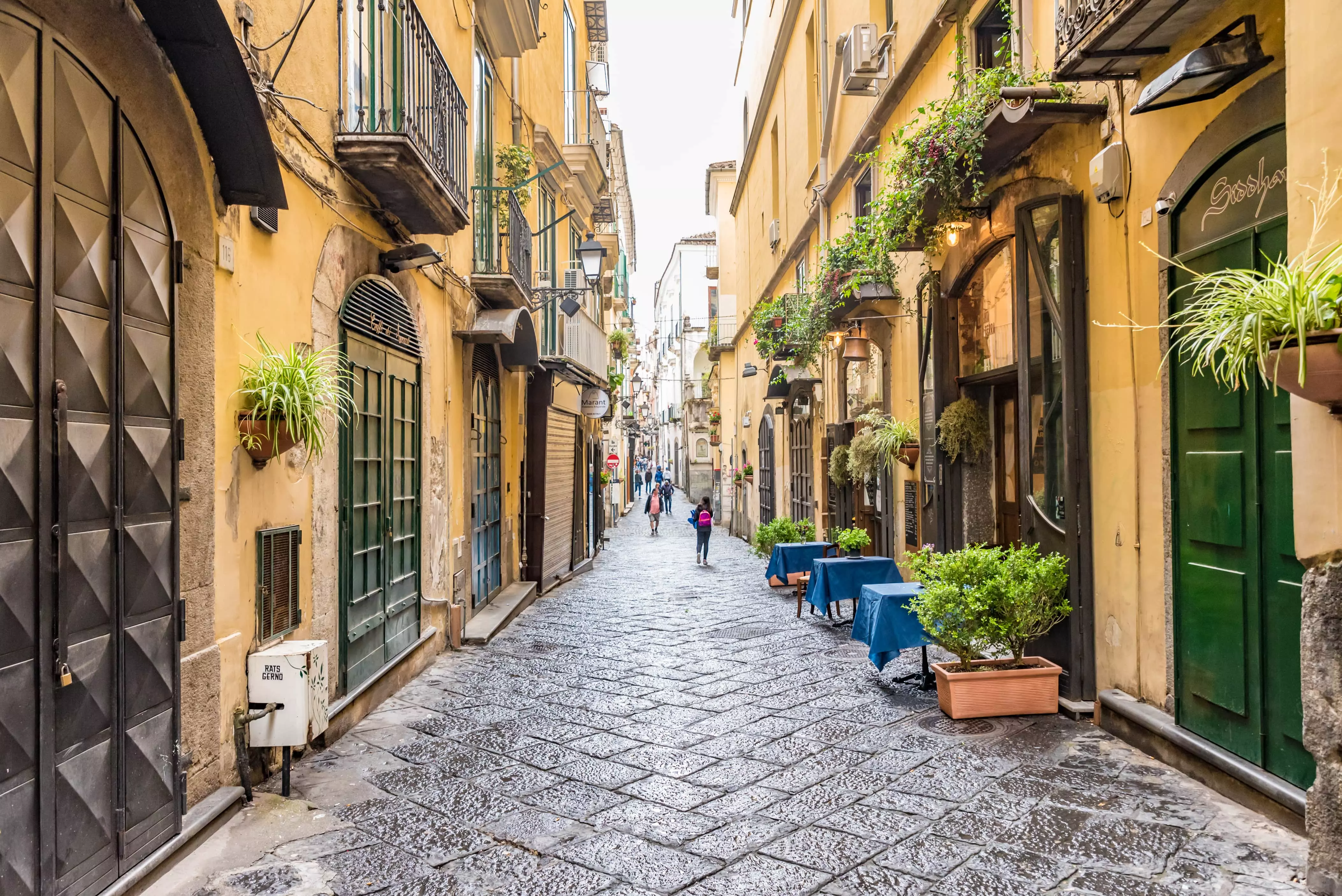 Salerno nightlife and where to find your exquisite culinary treat
In a town where most people grab pizza to go, it's refreshing to find a nice, rustic pizza restaurant to sit and eat at and Vicolo della Neve is exactly that (Vicolo della Neve, 24). It is the oldest "pizzeria" in town, and if you find a huge queue in front of it don't be deterred: their margherita with buffalo mozzarella is worth it.
If you're not in the mood for pizza and want to taste the real flavour of Mediterranean cuisine, don't forget to order the catch of the day - il pescato del giorno, the real stars of the menu at Cotto & Crudo Restaurant (Piazza Flavio Gioia, 8).
Another restaurant you cannot miss is Osteria dei Sapori (Vicolo S. Maria de Domno 4) based in a little alley in the city centre, very quaint location and easy to find. Here you'll find some truly excellent fish, simply prepared, simply delicious.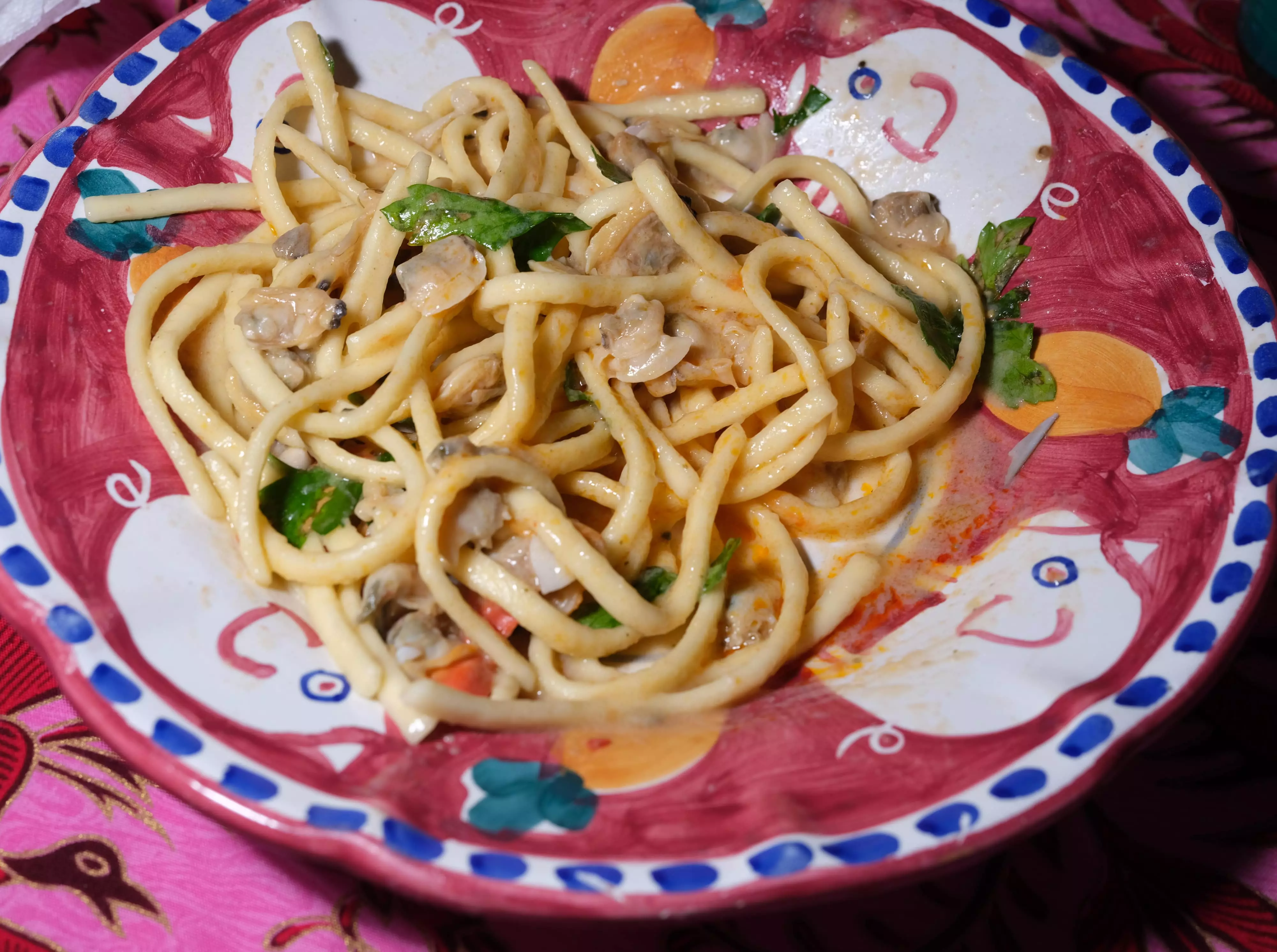 Scialatielli pasta with seafood mix on the plate
One last, if you're up for some fresh scialatielli and filled pasta, you cannot miss La Botte Pazza, literally the Crazy Barrel (Vicolo Giovanni Ruggi d'Aragona, 1 Piazza Portanova). Right in the heart of the city centre, this is another must-visit. Besides the traditionally cooked food, what's quite unique about this place is the accessibility to wine: to put it simply, wine comes from three tabs so visitors can help themselves with wine, with a tempting statement right above the tabs saying 'L'acqua fa male, il vino fa cantare' - Water is bad for you, wine makes you sing'. As if drinking wine from the tab was not tempting enough!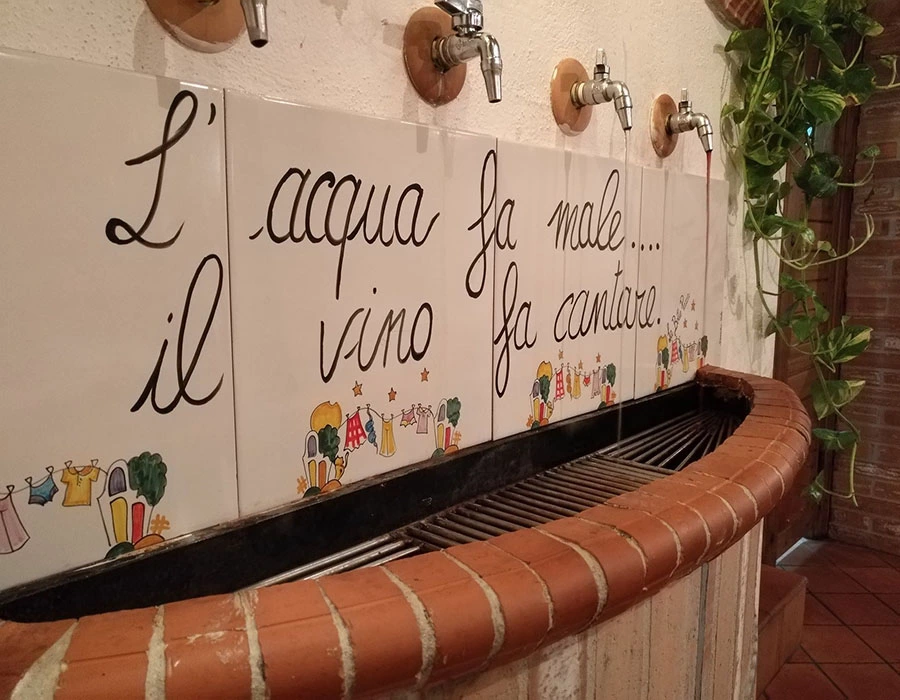 'Water is bad for you, wine makes you sing' at La Botte Pazza
Cocktails and music come together for nightlife in Salerno. In Via Roma, the busiest street of the city from 7pm on, you can't miss the experience of enjoying a frozen mojito at 089, the coolest bar of the area (Via Roma, 51).
If you're still feeling thirsty, why not grabbing one final cocktail in Calavera, a warm atmosphere right in the centre of the city, you'll find quite unusual cocktails, competently prepared by the two owners and friends Diego and Antonino. Excellent fresh ingredients used. Drinks come along with cheese and cured meats tasting.
After a couple of drinks, if you're looking for a good place to party, Dolcevita is the best guaranteed night out. Good music and an amazing view on the Tyrrhenian Sea make this disco the most popular nightclub in Salerno, where you can even dance on the foreshore.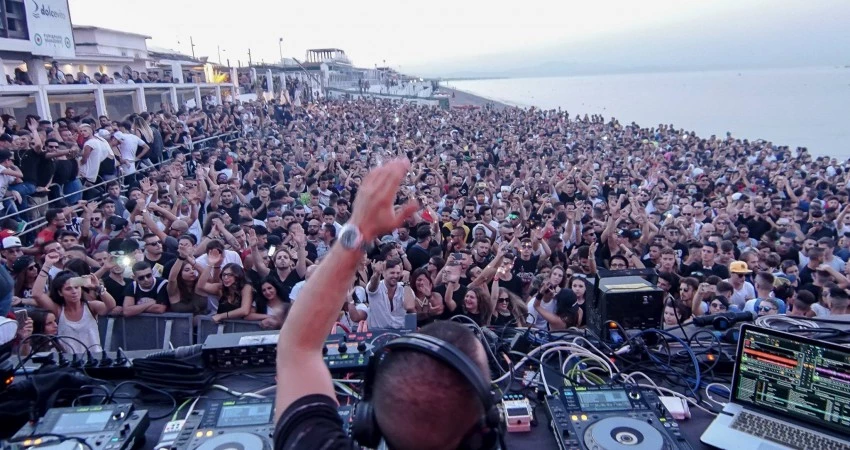 Dolcevita - the 'DJ-view'
At 3am when the clubs close, grabbing brioche and cappuccino at the closest bar is a must. Babà con crema e fragoline, sfogliatelle, a slice of pastiera, brioche with ice cream to name but a few of the luscious patisserie from Campania...In Pasticceria Romolo (Corso Garibaldi 33/13) and Bar Nettuno (on the Lungomare Trieste 136), along the sea promenade, you'll find some truly special sweets and savouries guaranteed to satisfy the most demanding of palates.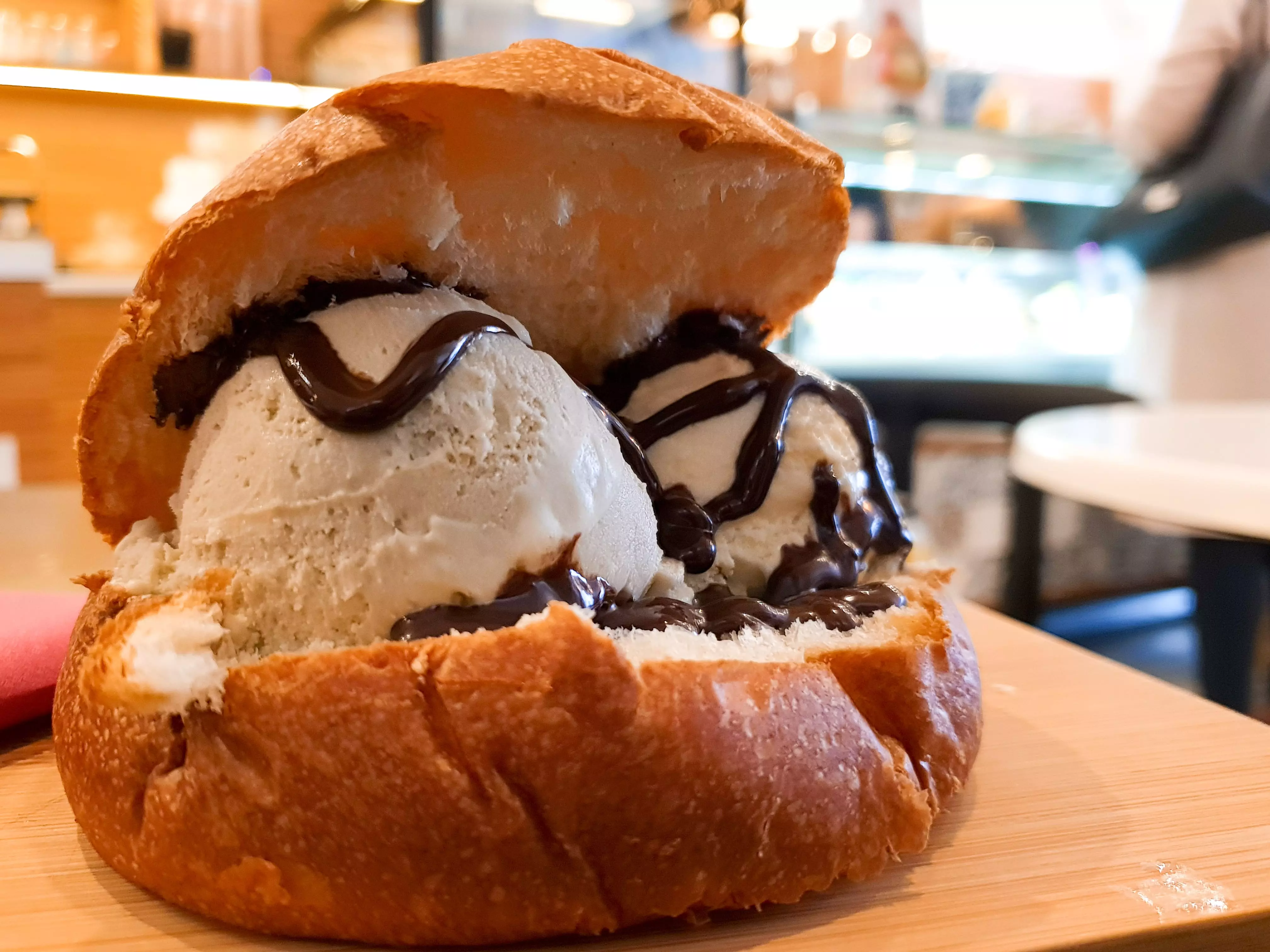 Strange you may think, but ice-cream in a brioche is the perfect morning boost
How about setting sails from Salerno?
Situated in a strategic position at the top of the homonymous gulf, Salerno is the perfect starting point to sail through the fascinating Amalfi Coast. A suggestion for you can be to travel along the coastline in a seven-day itinerary - but it can also be covered more easily over a longer period - starting from Salerno, with the medieval castle of Arechi at 300 meters above sea level, then touching Ischia, with its church of Santa Maria di Portosalvo and the Casina Reale, and then docking in Naples to taste authentic Campania cuisine in the small restaurants of the Spanish quarters.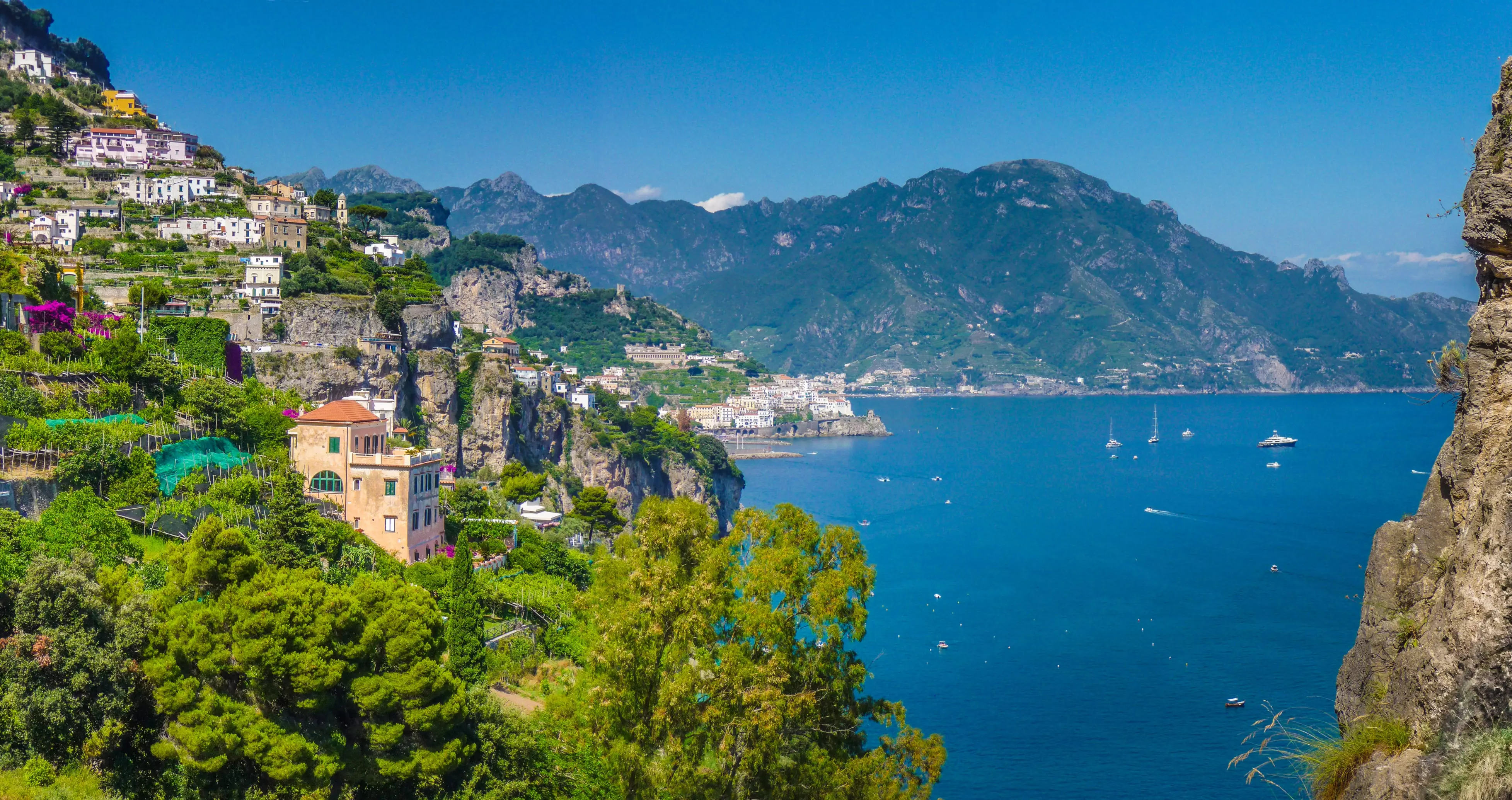 Panoramic view of the Salerno Gulf
Stop in Sorrento, with its Cathedral, the Basilica of San Francesco and the Sedile Dominova. An itinerary that can end with Capri, Positano and Amalfi to delight in the alleys of these pearls of the coast or simply enjoy them from the comfort of your boat.
Explore the Amalfi Coast renting your boat from Salerno.