Anastasia has worked in the yachting industry for more than 7 years, both as a freelance hostess and chef. Her background is in culinary studies, but she doesn't hide her incredible passion for sailing, having obtained her sailing licence recently. In simple words, Anastasia combines a love for Mediterranean cooking with a passion for sailing. Working as a hostess is simply the right fit for her. Let's find out together how she came close to the world of cooking and how she decided to embark on a career as a boat hostess.

"Since I was a little girl I remember surrounding myself with animals finding a safe place close to nature. Later in my life I realised that something was missing and that was the absence of the ocean. When my family moved to Greece I found an amazing idea to combine love to the sea with my future profession. After all " if you dream it you can do it " and that's how my journey in the yachting industry began.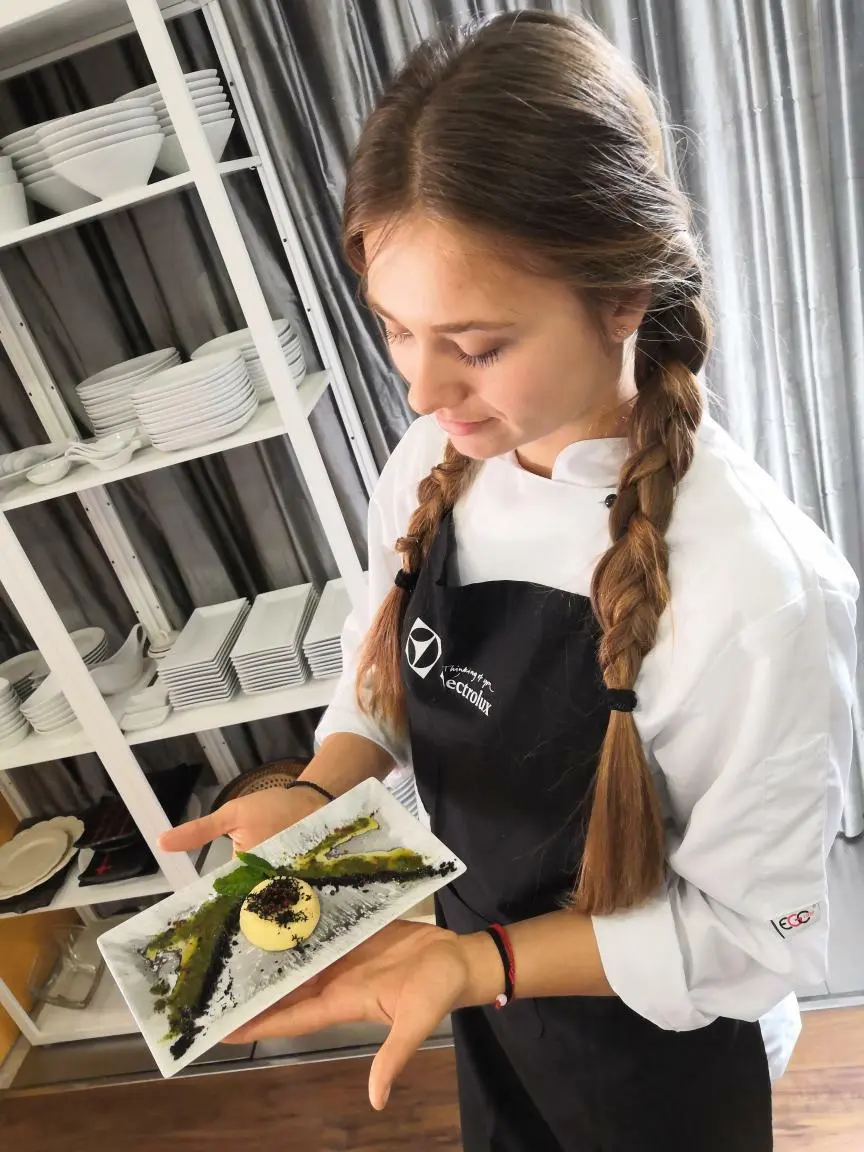 When was the moment you decided to turn this passion into a profession?

"For a big amount of people work is something you do to earn money, for Chefs work is their passion. If you love to cook and are passionate about food then why not develop your interest in cooking. I adore seeing people excited about my food, with shining and cheerful faces and relaxed positive energy is the best reward at the end of every trip. Many chefs choose their profession because they simply love food. I get great pleasure from eating and enjoy flavorful and healthy meals, creating a variety of different tastes that please and make my guests happy."

What is the spot you're most fond of you've sailed to?
"Greece is full of beautiful islands and amazing spots waiting for you to explore them. But, there is one very unique and exotic island called Kefalonia, part of the Ionian group. Exploring Kefalonia by boat is the most inspiring way to see the hidden coves and beautiful coastline of the island. Sailing across the turquoise waters, discovering countless little bays and beaches along the coastline, many of them accessible only by boat are really life-time experiences. In the north of Kefalonia, between Aghia Efimia and Fiskardo, there are many secluded bays with pebble beaches, which you usually have to yourself when you stop for sunbathing, snorkeling and swimming."

And what about your favorite food/ recipe?
"One of the most authentic cultural elements of a place is gastronomy. And Greek cuisine, that is part of Mediterranean culinary tradition, is rich of authentic flavours and aromas and represents an age-old cultural identity. That is the reason why Greek cuisine is so tasty and healthy at the same time. I strongly believe that there are four secrets of success: good quality and very fresh ingredients, correct use of herbs and spices, the famous Greek olive oil and simplicity. At the same time, food is also a form of communication, a way to "speak" to someone's heart. Don't you agree?"

If someone is thinking of starting to work as a hostess – what would be your advice?
"There is something here in Greece called "Meraki". The meaning of this word is doing whatever you choose with love and passion. To achieve this, you need to read books, put in a lot of effort and practice because practice makes perfect. Never give up your dreams and always chase new opportunities. Especially in my area of expertise the most important skills apart from cooking skills a new candidate should acquire is patience, flexibility and understand the client's psychology and act accordingly."

Interested in learning more about Anastasia and get inspired by her sailing trips around Greece? You can follow her on Facebook or look her up on Instagram Anastasia is a hostess for Istion Yachting.
Fancy cooking something totally Greek, nutritious and delicious? Get inspired by Anastasia's cooking with this Gemista recipe:
Greek Gemista Recipe by Anastasia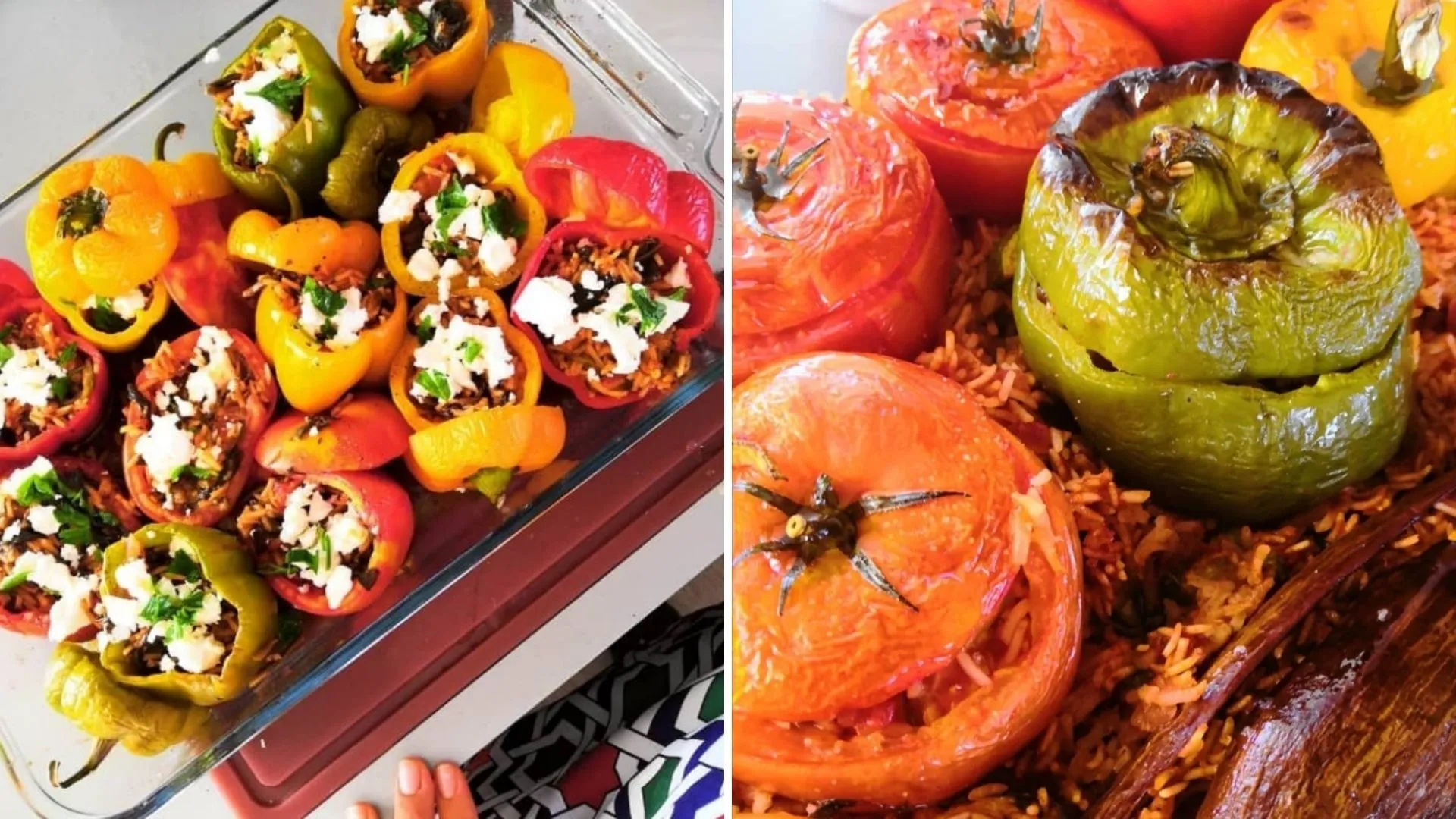 Ingredients:
500 g baby potatoes

2 tablespoon(s) olive oil

salt

pepper
For the vegetables:
3 onions

6 tomatoes

3 green bell peppers
For the filling:
4 tablespoon(s) olive oil

350 g glutinous rice

400 ml water

1 vegetable bouillon cube

2 clove(s) of garlic

1 tablespoon(s) tomato paste

1 zucchini

1 carrot

1 tablespoon(s) granulated sugar

salt, generous amount

pepper, generous amount

1 bunch parsley

1 bunch mint

1/3 bunch dill
To serve

Preparation for the Gemista recipe
Preheat oven to 180*C (350*F) Fan.
For the potatoes: Place a pan over high heat and let it get very hot. Wash and scrub the baby potatoes but leave the skin on since it adds a lot of flavor. Cut them in to wedges. Add 2 tablespoons of olive oil to the pan and add the potatoes. Season with salt and pepper and sauté for 4-5 minutes, just until golden. You don't want to cook them through since they will cook further in the oven. Spread them in a baking dish and set aside.
For the vegetables: Slice off the top of 3 onions. Scoop out most of the inner layers leaving about 3-4 outer layers intact, creating a sturdy shell. Place them in the baking dish with the baby potatoes. Finely chop all of the inner layers you removed. Put them in a bowl and set aside until needed. Slice off the bottom side of the tomatoes with a sharp knife, cutting about ½ - 1 mm from the edge. This way they can hold more of the filling. Carefully scoop out the flesh, making sure you do not rip the outer shell. Put the flesh in a separate bowl and set aside until needed. Place the tomato shells in the baking dish stem side down, arranging them nicely in the dish. Mash the tomato flesh in the bowl with your hands and set aside until needed. Slice the tops off of the bell peppers, cutting about ½ - 1 mm under the stem and just a little off the bottom to help them stand better. Remove any flesh and seeds and arrange them nicely in the baking dish among the rest of the vegetables and potatoes.
For the filling: Place a pan over high heat and add 4 tablespoons olive oil. Add your chopped onion and sauté. Thinly slice the garlic and add it to the pan. Sauté. Add 1 tablespoon of granulated sugar. Mix and sauté until the vegetables caramelize nicely. Add a generous amount of salt and freshly ground pepper, since you will be adding the rice also and it needs a good amount of seasoning. Add the rice and sauté for 3-4 minutes, until it turns light golden. Sautéing the rice "seals" it, so it doesn't let it get mushy when cooking. Add the tomato paste and sauté. Add the 400 ml of water and the reserved tomato flesh. Let it simmer for 5 minutes. Stir and remove from heat. The rest of the cooking will take place in the oven. Finely chop the parsley, dill and mint leaves and add them to the pan. Stir. Drizzle vegetables in pan with a generous amount of olive oil, both inside and out and season with salt and pepper.
To assemble: Use a spoon to help you add the filling to the vegetables. Fill them ¾ of the way because the rice will expand while cooking. Add any of the leftover filling over the potatoes to add even more flavor. Add the 200 ml of water to the pan and drizzle with olive oil. Cover with aluminum foil and bake for 60 minutes. Remove foil and bake for another 10-20 minutes, until most of the liquid has evaporated and the stuffed vegetables are cooked and golden. To serve, drizzle with some extra virgin olive oil, add a few mint leaves and enjoy!