Nobody enjoys arguments on board. That is why my advice is to take certain decisions that can influence the course of your sailing holiday, together with our crew, in advance.
Based on my experience onboard, these are the three key aspects that you and your crew should take into consideration before setting sails:
How long should you sail for?

Sleeping at anchor or in a marina?

Dining on board or in a restaurant?
How long should you sail for?
You will generally want to spend a maximum of four to five hours a day sailing.
So with an average speed of five knots, this translates in a range of 25 miles per day, 75 for your entire holiday considering the outward and return journeys (with a bit of a time margin). With a terrestrial metre, it may seem that this is not a lot. In reality, it is not negligible, considering that sailing boats allow us to enjoy every single metre of this journey fully.
It is quite normal that every crew will have those members who are more into the actual sailing part of the holiday and those interested in the sea and relaxation part. My suggestion is to make sure you have a good chat about these needs, as obvious as it may sound, this will help create just the perfect ingredients for a successful holiday.
How to plan a sailing holiday that meets all the members of your crew's needs?
It is essential to say what we want exactly.
If you plan to take a particular route or reach specific points of interest during your sailing holiday, you should tell the rest of the crew and the skipper in good time so that you can plan your route accordingly.
That is why many skippers have a quick briefing at the beginning of the holiday and quick debriefs every morning to help harmonise the crew's wishes, based on the distances and the weather conditions.
A boat is an opportunity: It's about getting to those places you wouldn't easily reach from land. Often you may find that there is a tendency to still consider a sailing holiday just like any other holiday from land, thus you may want to still get to the most popular (often crowded) places. This is by no means a sin, but I feel there's so much more to a sailing holiday, and you and your crew should make the most of the unique perspective when onboard.
The typical day will be marked by times of sailing, eating, swimming, chilling, all in the name of relaxation.
My favourite time to sail is in the late afternoon; it is a magical time provided you already know where to stop for the night.
Sleeping at anchor or in a marina?
Another vital question that we need to clarify in good time with our companions is whether we want to sleep in a roadstead, in a marina or more likely, a mix of the two: Choosing how long for and when to sleep in a marina.
Of course, these are decisions that we will make with a minimum of flexibility, open to last-minute changes due to new needs, lousy weather or places that catch our eye.
In fact, with a boat, we always have everything we need with us, and there is nothing to stop us from staying in a place we have just discovered and like, provided we have a sufficient supply of food and water.
I am an advocate of spending the night at anchor. Still, in any case, I suggest considering a stop in a marina at least every three to four days. Not only to top up water and fuel and recharge batteries but above all to go ashore, stretch out a bit and explore places offboard. Perhaps indulge in a bit of shopping, especially for fresh local produce for your recipes onboard.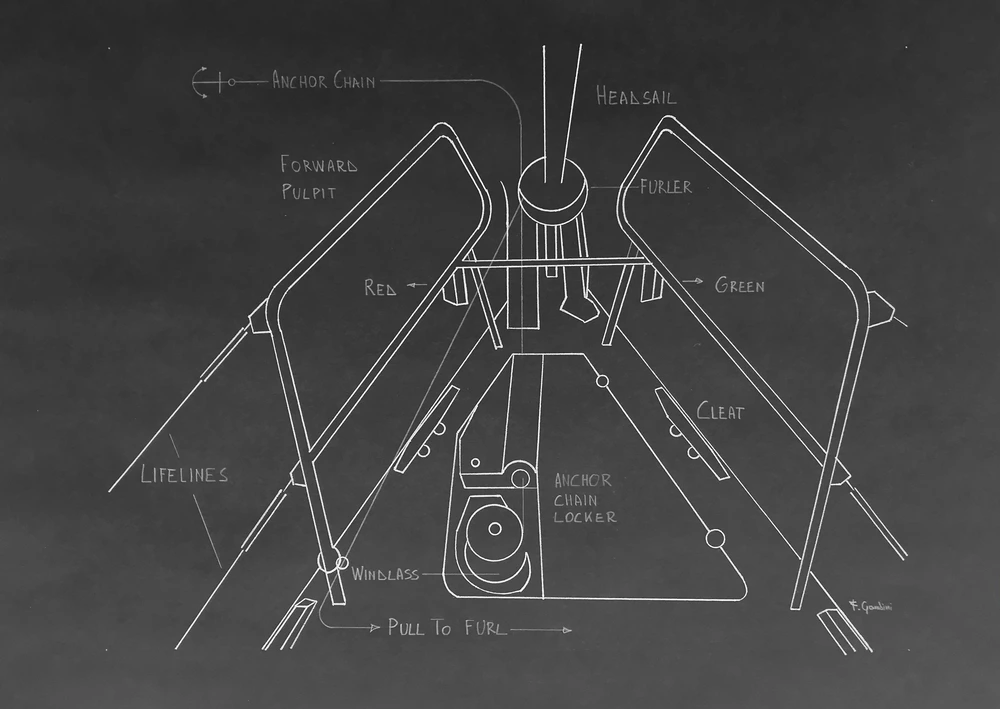 It is essential to be familiar with the shape of the bow of the boat in order to anchor safely for the night
Above all, going ashore from time to time and spreading out allows everyone to take some time for themselves, away from the rest of the crew. Have a bit of 'you-time after several days spent together.
Sleeping on a boat, especially at anchor, is quite magical: the boat moves gently, quietly and almost imperceptibly, lulling us into a regenerating rest - just what we need after an intense and demanding year.
Moreover, at anchor, boats naturally position themselves parallel to the wind: by keeping the bow hatch and the entrance hatch ajar, a pleasant current of fresh air flows through the whole boat.
In Italy, harbours are very crowded in the summer and assistance from the mooring crew is generally compulsory, which means waiting outside the harbour, sometimes for a long time, listening to channel 9 on the VHF radio while waiting for your turn to enter the harbour.
In Croatia, harbours are very well organised, but quite big, and in high season there can be many boats coming in at the same time. On the contrary, the ports in Greece are generally small and with essential services but delightful in their simplicity.
Generally speaking, an area with a rugged coastline with many hills and islets is more suited to a holiday where you want to spend the night on a boat, sleeping in a roadstead. Greece and Croatia offer fascinating territory in this respect, as does Sardinia.
The cost of a night in a marina varies, but a phone call, even to book your slot, will address questions on availability and pricing.
One of the advantages of a roadstead is the magic of close contact with nature - there are times when it seems that the sea, the horizon, the sky and the stars are all there for us.
The silence, the coolness, the privacy and the possibility of taking a bath at any time are priceless.
Dining on board or in a restaurant?
The last aspect is the one that can create the biggest misunderstandings on board.
For many people, a holiday means eating out, in restaurants, café, etc... but this implies staying within reach of civilisation and goes badly with nights at anchor under the stars and life in nature.
Eating on board, particularly in the evening, means having an extraordinary location all to ourselves, more exclusive and private than any restaurant.
Of course, sitting at the dinner table, every now and then, is a completely legitimate desire. A good compromise could be to take the tender to a restaurant on the beach, leaving the boat anchored within easy reach.
As in the case of nights in a marina, it is better to decide in advance when to go to a restaurant. You may end up wasting the provisions you have made to eat on board.
You will probably realise that the best nights to go to a restaurant are those when we will be sleeping in the marina.
Cooking on board is not at all demanding, as modern boats have large and fully equipped kitchens, and in the summertime, when you are on holiday by the sea, you generally prefer fresh, quickly prepared dishes.
People usually choose to go to a restaurant, especially when they want to enjoy some fresh catch of the day or the local cuisine.
Don't forget, however, that you can also cook on a grill on a boat. Almost all boats have an efficient gas BBQ hooked up to the stern pulpit, while larger models are often equipped with a small additional kitchen under the cockpit seats with a grill, a sink and a small fridge so you can cook all together from the stern beach just a metre from the sea.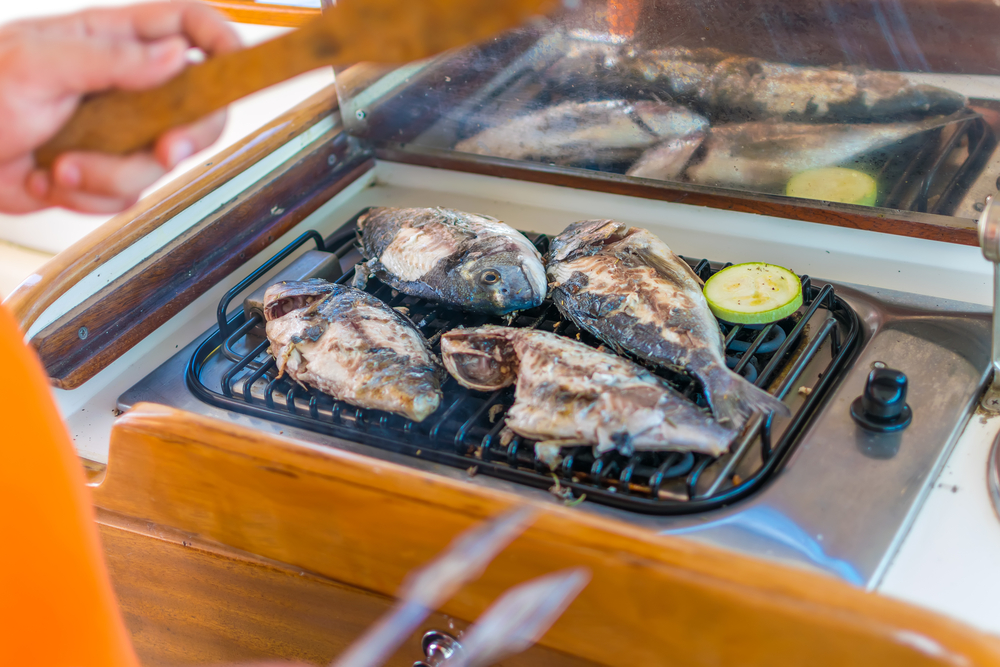 Your catch of the day with your special private view
If your crew feels a bit more adventurous and the moment is right, you can also choose to go ashore with the tender and improvise an unforgettable barbecue on the beach using the dry wood brought ashore from the sea.
This post is written by Francesco Gambini. Francesco met sailing in Liguria 20 years ago. A fleet specialist in Sailogy, his favourite boat is the Dufour 310 Grand Large.