A fair amount of preparation ahead of a sailing holiday is the best way to experience a stress-free vacation, ready for (almost) everything. A highly discussed topic is boat clothing and essentials, which should be suitable for any activity or climate condition. The boat will be your home and way of transport for a more or less long period of time, becoming a place where you will need to have everything at hand.
In this article, we'll discover the must-have items that every beginner (and expert) should pack for a boat holiday, before setting sail to a new and exciting adventure at sea.
.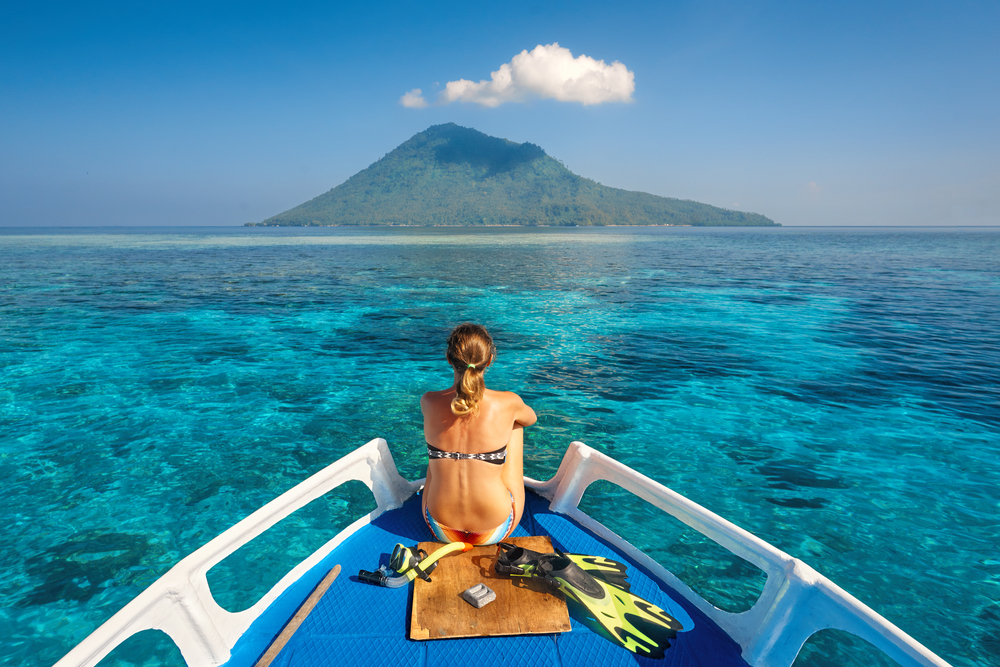 .
Packing light
Let's dispel the myth that there is no space on a boat. In fact, there is plenty of space, but it's divided into small compartments located in different areas of the boat, such as the cabins or the galley. For this reason, carrying a big heavy suitcase will be highly inconvenient, as there will be no space to store it. Instead, try to pack your things in a handy and soft bag: in this way, you'll be able to store everything you need in the right place and fold the empty bag before putting it away.
A 30 to 40 liters backpack is more than enough to carry what you need (remember: on a boat, you will spend most of the time wearing a swimsuit) - this dimension is also great for stowing the carry-on luggage in a plane's cabin, with no extra costs for your flight! Shoulder bags are also a valid substitute for a suitcase because they allow you to reach the boat and walk along the jetties in a faster and easier way.
Finally, we recommend using packing cubes to divide your clothes into different categories and to have a tidier cabin.
.
Sailing essentials
In addition to your favorite swimsuits, don't forget to bring essentials that will help you survive under the sun all day! Some items not to be missed are a hat, colored t-shirts and sarongs, and sunglasses with straps to keep track of your shades. Sunscreen is your best ally: bring protection for yourself and all the crew, according to your skin type and needs, to be able to safely expose yourself to the sun for a long amount of time.
If you need more ideas on sailing essentials, read this article!
.
Is it cold on a boat?
You might not think about it, but nights on a boat can be quite chilly. A sweater or a fleece jacket could be helpful during abrupt weather changes or to fight the humidity. What's better than wrapping up into something warm and cozy during those moments? We suggest dressing in layers and carrying along windproof clothing, to be ready for any unpredictable situation.
We also recommend bringing some long-sleeved shirts and long pants.
.
Best shoes for boat
On a boat, you will find yourself walking barefoot most of the time. There are a few moments, for instance when mooring or while anchoring, where it is preferrable to wear a pair of light boat shoes to protect the feet and to have a better grip on the wet deck. We suggest carrying a pair of white sole shoes (so you won't leave marks on the floor) for the boat only, and another pair of comfortable shoes for walking ashore. Don't forget to bring flip flops for swimming and showering!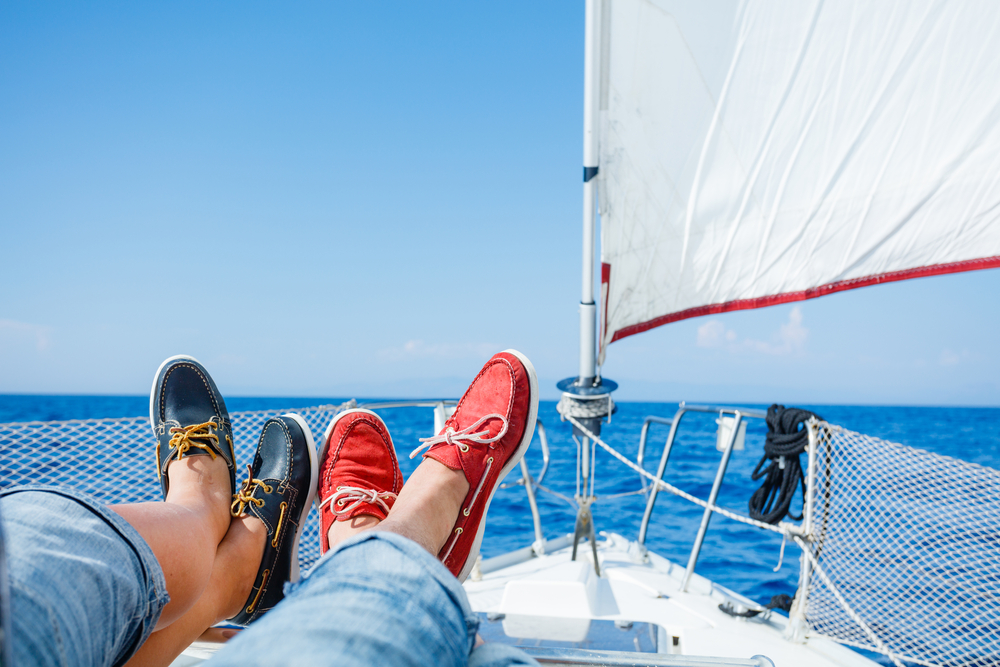 .
A few more items
A sailing holiday can be a great source of amazing memories to cherish forever. In order to get the best out of it, it is useful to bring some items that will complete the experience and will allow us to enjoy every single second. Here's a short list, to name a few:
Headlight: a practical torch can be useful to lighten up those dark moments on the boat or ashore, especially if you like to moor in those remote spots far away from the bustle of the city.
Light sleeping bag: have you ever slept under a sky full of starts? Believe us, this is one of the best things you could possibly do when on a boat! Nights at sea are chilly and humid, a light sleeping bag will help you fall asleep with ease during a beautiful starry night.
Books: a good reading is the best way to relax and enjoy the tranquility of a place. Enjoy the sound of the sea while reading your favorite books lulled by the waves. Looking for suggestions? Read our list of top books to bring on vacation.
Headphones and speaker: every holiday has its own soundtrack. Don't forget to bring your headphones to enjoy it alone, or a speaker to share it with your crew!
Casual chic clothes: although most of the times you'll be wearing a comfy swimsuit, a nice dress or a good pair of trousers and shirt are always a good choice for those evenings in a town's restaurant or a night out with friends.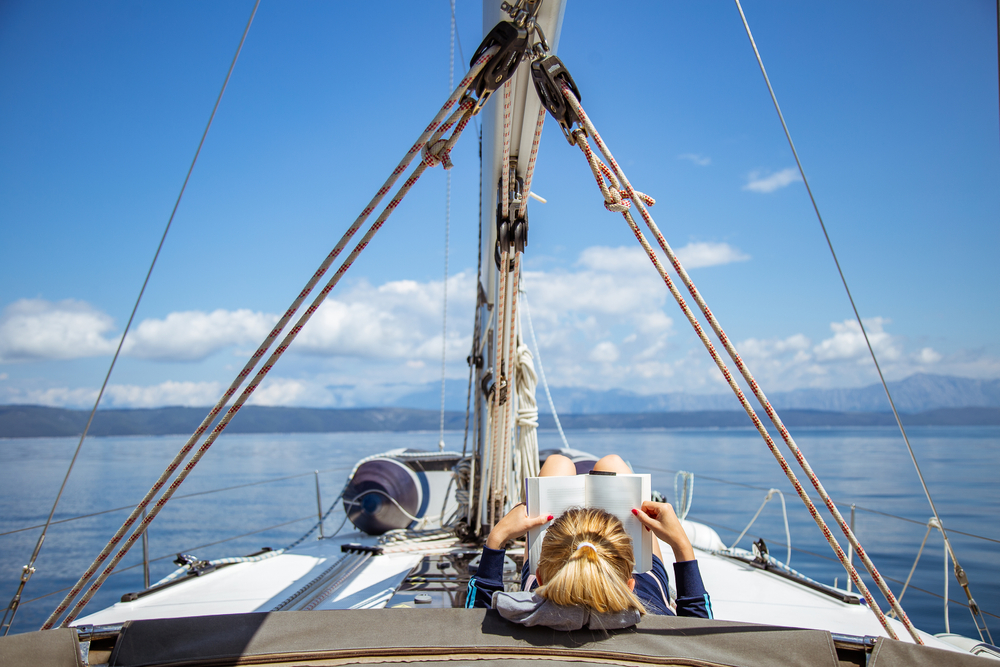 .
These are some of our best and easiest tips and tricks for enjoying a perfect sailing holiday. We suggest adjusting our advice according to the departure season, and to organize according to location and weather forecasts.