Probably the most accessible sailing destination to reach from Athens, the islands in the Saronic Gulf are the ideal destination for one-week trips from Athens. Blessed by the relatively mild winds compared to other sailing Greek destinations and closer to the mainland, the Saronic Gulf is a sought-after sailing destination for those in the mood for a more relaxing, less strenuous (sailing-wise) holiday in Greece. Starting your journey from Alimos Marina, you can head south-west and visit the islands of Aigina, Spetses, Hydra and Poros. It is in Troezen, right across Poros Island, about 30 nautical miles from Athens Alimos, that we strike a flavoursome connection with what is possibly one of the most ancient aromatic ingredients from these sun-blessed Greek islands: of course, we are talking of the extra virgin olive oil that so gracefully colors most Greek cuisine, from starters to desserts (wait a minute, what did we just say? yes, you heard us right - we shall find out soon enough).
And what a wonderful way to guide us in this exploration if not with an olive oil connoisseur who lives and breathes 'Greek-ness' all round. Meet Thanos, owner of the extra virgin olive oil who takes us on a journey through time, from mythology, history all the way to modern times of why olive oil is an absolutely vital element in the life of a Greek and what makes this olive oil just so special.
So Thanos, tell us a little about yourself, where you are from, where do you currently live?
My name is Thanos Katsigkras, I am 25 years old and I come from the diamond-beauty island of Saronic Gulf, Poros Island. I have graduated from the University of Agricultural Sciences of Thessaly (Volos). I have participated in a number of seminars on olives and olive oil, both on the cultivation/production stage, the process stage, the bottling stage and the marketing business plan stage. However, the time after university was not meant to be left unexploited. So, I attended weekly courses at the National Kapodistrian University of Athens on marketing agricultural products and I am the founder and producer of the Extra Virgin Olive Oil Theseus.
What's the story behind the name Theseus Evoo?
Well, the story of Theseus comes from the mythological godly-human creature Theseus. His human mortal side, from his mother Aethra, gives him the ability to understand and empathise with humans. His father's divine side, Neptune, pushes him to make use of his supernatural skills for the wellbeing of mankind.
Theseus was a great fan of Hercules. When he became an adult, Aethra showed him the stone that his mortal father Aegeus (King of Athens) had left his sword and his sandals. He lifted the stone with his strong hands, grabbed the gifts of his father and began the way to Athens and his father, Aegeus.
Theseus is considered the greatest Mythical Hero of Athens. He was endowed with power, bravery and great intelligence, which had always been put at the service of the people, which resulted in freedom for the Athenians. He was a hero of his times: he rebuilt cities, crafted laws, instituted sacred sporting games and organized the first social system. His heritages lies also here, on this island where olive groves have been flourishing since ancient times.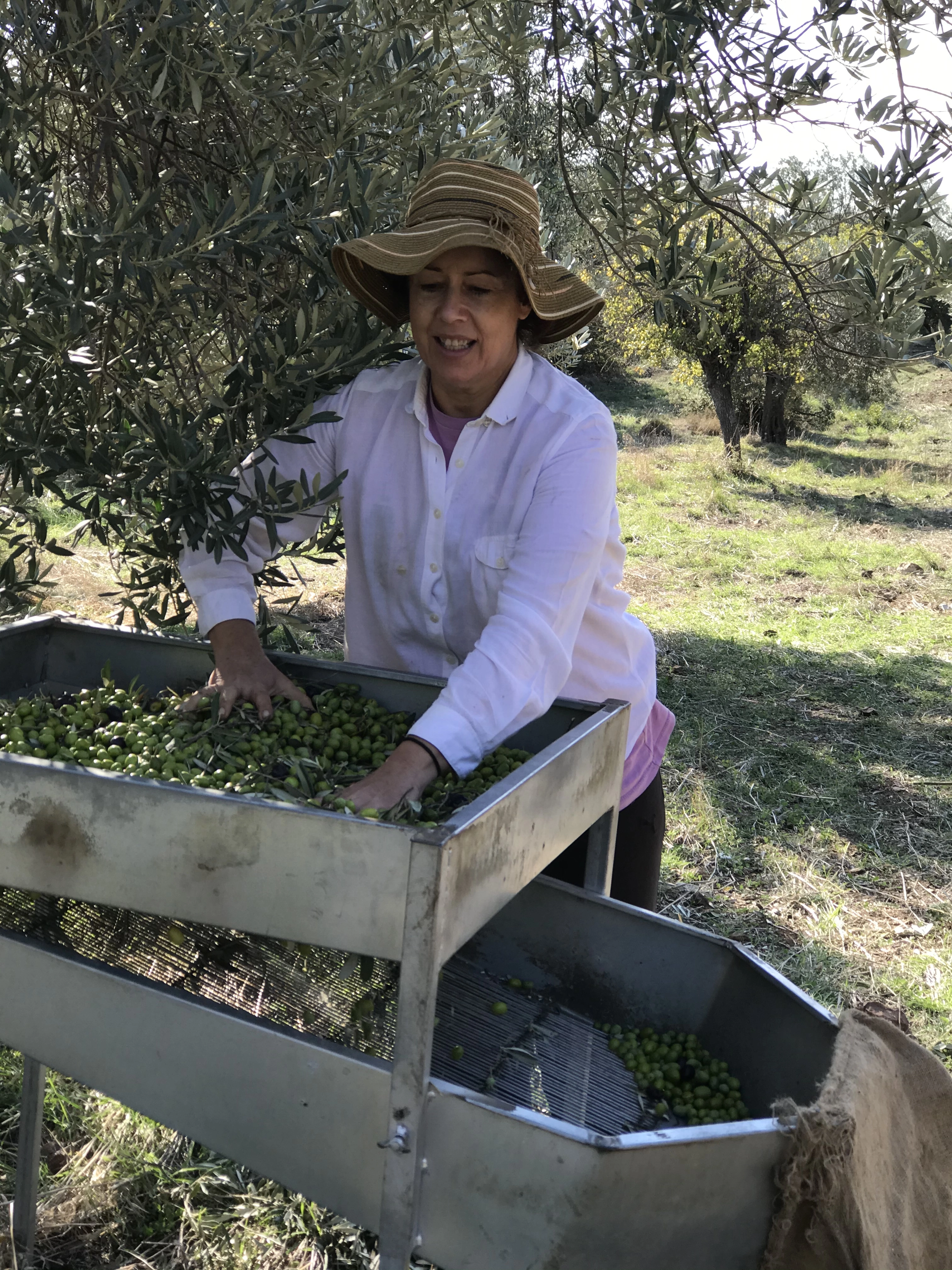 How did you get involved in the Olive Oil business?
The idea of growing olives and producing extra virgin olive oil started growing in me about three years ago when I was still a student. The actual business, however, shaped up properly shortly before the pandemic, so we're a start-up still but we're growing quickly and learning every day something new about the business and about the art of olive oil making.
The unique mythical, ancient and modern history of Troezen, the important supplies I grabbed by the University of Agricultural Sciences and the experience I gained from my family through years of knowledge in the cultivation of olive trees, in combination with the pure Extra Virgin Olive Oil produced by our estates, was the reason to incarnate the idea in the bottle.
So what makes this olive oil so special?
The extra virgin olive oil comes in different varieties and probably one of the reasons why it's so special, it can really satisfy different palates. Our Manaki variety is more buttered and mild and it is enriched with a strong fruity flavour, perfect for cooking and dressing. Our Koroneiki variety tends to have a bittersweet taste, spicier than our Manaki variety can perfectly accompany savoury dishes.
Needless to say, it's a constant learning experience: to reach the level we're at now takes time, continuous effort, patience, persistence and well, also a scientific approach to the cultivation of olive groves.
What is your absolute favourite way of tasting your olive oil?
The truth is that I am a food lover! So, I am not able to choose one. But, if I had to, I would say that Cretan Takos is my favourite way of tasting extra virgin olive oil as it is in its raw state in combination with greek grated Feta, a bit of thyme and pure tomato sauce on a big crunchy Rusk.
What would you say to sailors anchoring by Poros?
Saronic is the closest gulf to Athens and is perfect for island-hopping and sailing through Aegina, Agistri, Poros, Hydra and Spetses. I totally recommend Poros Island as a stop on your sailing tour. Our island has the widest port of all Saronic Gulf's Islands and it's the greenest island of all.
How does one reach your olive groves?
I would love to meet any sailors coming our way and show them what original Greek philoxenia means by providing them with a tour on Theseus Olive Groves and giving them the opportunity to feel our lands wonderful flavours. Poros connects to Peloponnese through a sea passage (Poros means Passage in Greek) of about 400m, where daily small boats or ferry boats transport people and vehicles. It is like a Little Venice. Theseus Olive Groves is located in the historic land of Troezen (Galatas, Peloponnese). So, almost every day we cross this sea passage to reach our olive groves and back again at the end of the day.
An 'olivey' itinerary for all sailors
Theseus Olive Groves are about 15 minutes by renting a minivan/minibus or a car or by taxi. All the way to Troezen, a visitor can easily notice that all around there are olive and citrus groves.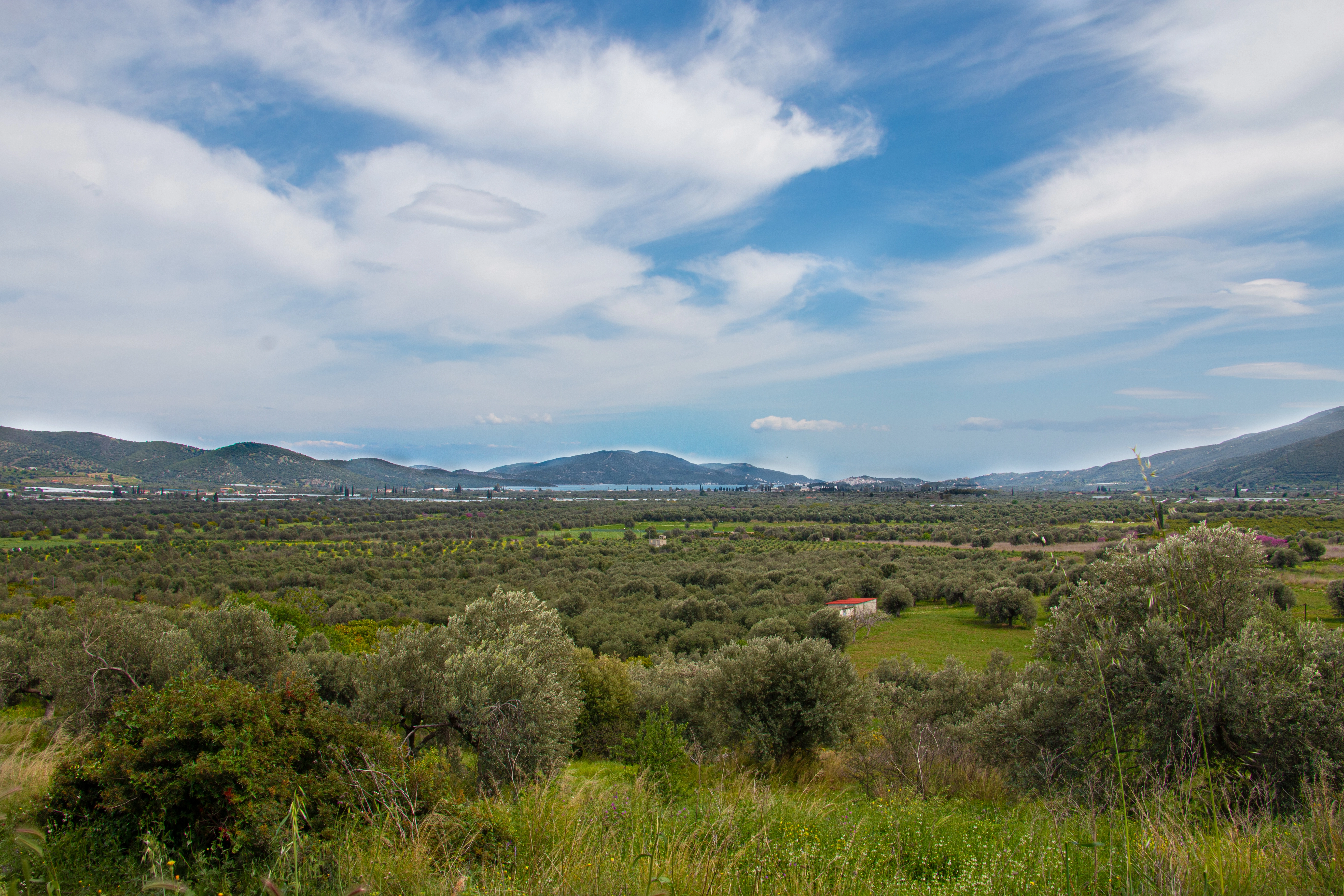 View of Theseus olive groves and Poros Bay
Next to Troezen, there are Theseus Olive Groves and the famous Stone of Theseus, the one that he lifted when he grew up and from where he grabbed the sandals and the sword his father had left him. Minivan/minibus/car/taxi stops at this point and trekking begin all the way up to Devil's Bridge. After the Stone, there is the Castle of Theseus, where the myth says he grew up. Keeping on trekking, we meet the Devil's Footprint on a rock and as the myth says, Devil wanted to cross one mountain to the other. So, he built a bridge and crossed them easily, that's the famous Devil's Bridge, over a wonderful oasis with a small lake, which we will be able to visit, swim and feel like Tarzan for a while, following the right path. Incredible Experience!
Tip 1: Anchor by Galatas and enjoy the view of Poros port/town

Tip 2: When going across Poros to Galatas do not lose the click on the back of the small boat of Poros Town, it's amazing, like a painting!

Tip 3: When you arrive in Galatas, don't lose the chance to even have a look at La Frianderie Noisette. Get coffee, tea, brunch etc and you are ready to continue the tour!
Going all the way back to the minivan/car/taxi, we will continue our tour to our business's hill viewpoint, from where Theseus Olive Groves are right in front of you. In these settings, our friend and chef Anastasia will prepare a special meal with our extra virgin olive oil. If you sail to Poros at the end of September / October, you will have the chance to experience the harvesting of olive trees and following the path to the olive mill all the way to bottling!

Cretan Dakos by chef Anastasia
Make a fresh and colourful Greek salad in no time. It's great with grilled meats or on its own as a veggie main.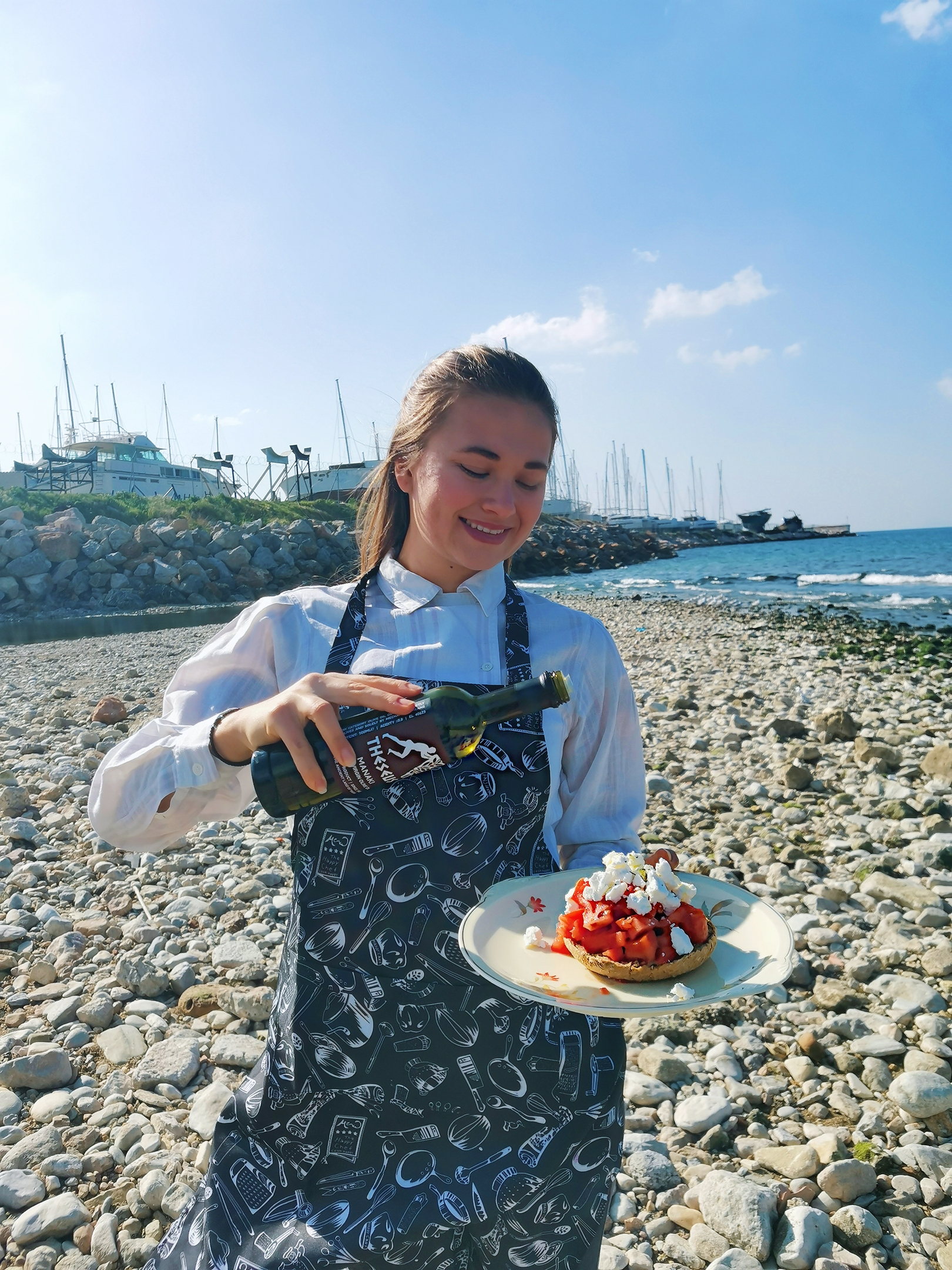 Preparation time: 10 minutes
Ingredients
2-3 large vine tomatoes
½ red onion, thinly sliced
8-10 Greek olives
1 tsp dried oregano
80g feta cheese, cut into chunks
4 tsp THESEUS Extra Virgin Olive Oil
Preparation
Place 2-3 large vine tomatoes, cut into wedges, ½ thinly sliced red onion, 8-10 Greek olives, 1 tsp dried oregano, 80 g feta cheese chunks and 4 tbsp THESEUS extra virgin olive oil in a large bowl. Lightly season, then serve with crusty bread to mop up all of the juices.
Contact details and how to get to Theseus Olive Groves by boat
If you're interested to learn more you can contact Thanos via email theseusevoo@gmail.com or WhatsApp +30 6998463015 or you can start getting in the mood by following them on Instagram @Theseusevoo
Fancy reading more stories like Thanos' and his olive groves? Flick through the second issue of our sailing magazine, Magister Navis and get inspired on your next sail!