Today we interview Riccardo who travelled along the northern coast of Sardinia together with a crew of 12. As a sailing expert and years-long licensed skipper, Riccardo he shares some tips for skippers thinking of embarking on a sailing holiday with friends and family; here he says that being the captain of your crew is a responsibility for sure, but with a bit of clear direction from the start, you can turn this into the holiday of a lifetime for everyone onboard. Let's find out more why.
Being a captain of your crew
Hi Riccardo, tell us about your personal journey
"My name is Riccardo, I'm from Como, 31 years old and I deal with management control. My main hobbies have always been basketball and sailing. I started with large cabin cruisers in 2010 with friends older than me who often organized week-holidays or weekends. In 2015, I got my sailing license without limits and it's now 5 years that, when possible, I organize sailing holidays with my friends.
I like to find the right balance with my crews, from childhood friends. and trusted acquaintances, aiming to get the right mix of skills onboard. Since I started, getting the right level of chemistry within the group of people has always been key for a great sail together. Everyone holds wonderful memories of the days spent at sea, including the unforeseen events that are always likely when you set sail!"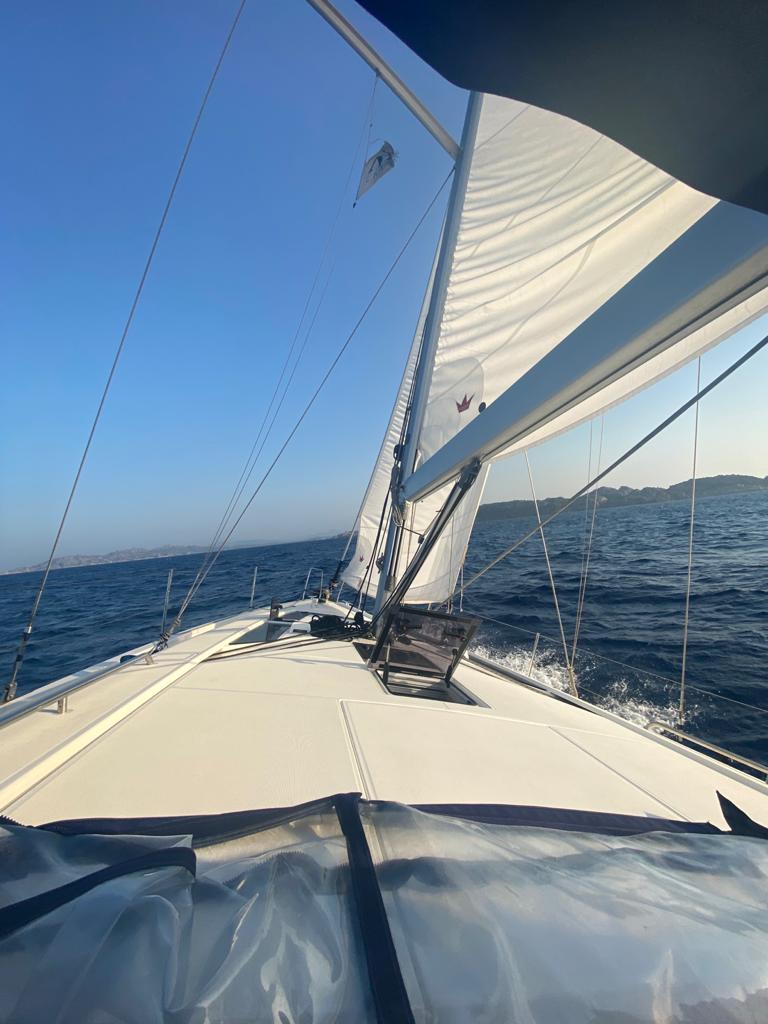 That moment when the wind drives your boat perfectly
What was your itinerary this time?
"In our past trips we've sailed in Porquerolles (France), North Corsica, the Balearic Islands, South Croatia, South Sardinia. This year we opted for North Sardinia to fully enjoy the whole area of La Maddalena. We left on August 8th and came back on the 15th with a crew of 12 people, a great challenge in terms of responsibility".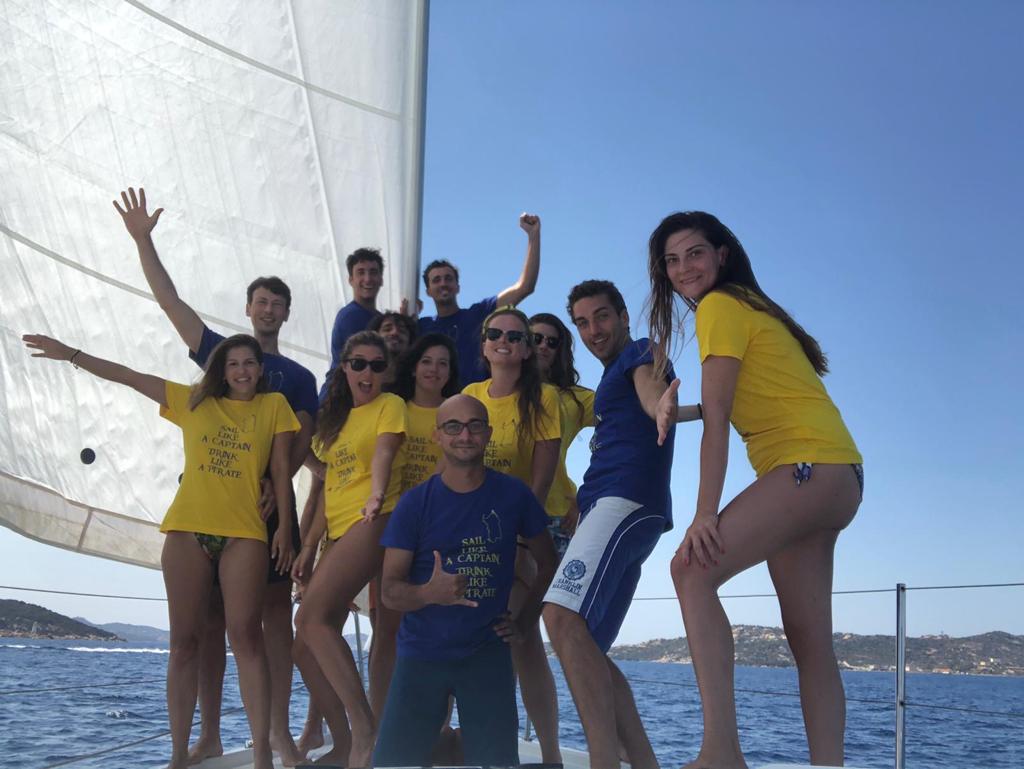 And now...cheese!
Any particular place you visited during this vacation that you are fond of and why?
"We sailed mainly in the Maddalena Archipelago visiting Spargi, Mortorio Island, Isola Piana, Isola Lavezzi, Budelli, Isola di Giardinelli. Wonderful Cala Coticcio, in Caprera. One thing that all these incredible places have in common: crystal waters, they honestly look like natural pools, perfect access to sea and incredible panoramic views".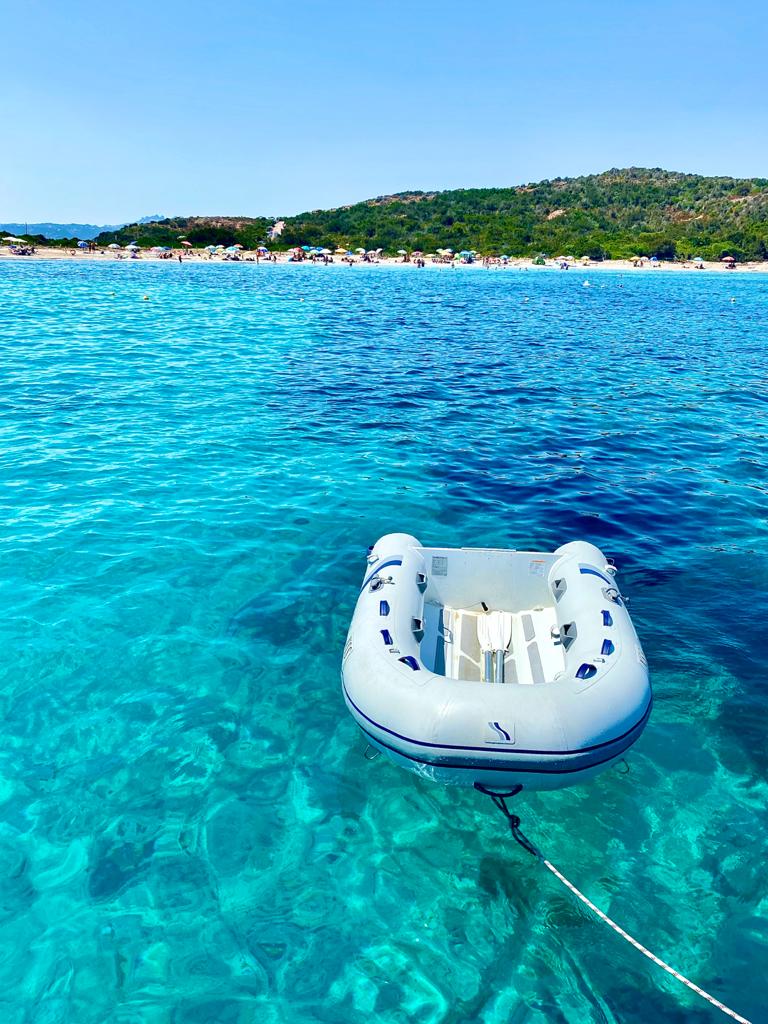 A sea to die for!
What would you recommend to other skippers sailing with friends?
"I'd suggest to have at least a couple of trusted people with whom you have shared previous holidays, whether long or short, and who you know can handle life onboard. Be elastic and try not to make too much planning, enjoy what the sea has to offer. Finally, as these are boats for rent, take your time to check the boat you're given without leaving anything to chance with regard to sailing and safety equipment. I also believe that being a skipper carries a certain responsibility to convey life-on-board values to your crew, such as a certain discipline onboard, a code of conduct to to speak and respect for the environment".
Oh, so you can anchor in a swimming pool?
Why a sailing boat over a catamaran?
"I tried the catamaran once but in my opinion I would never replace sailing on a sailing boat over a catamaran because a sail boat allows you to thoroughly enjoy your experience onboard both from a pure fun and a technical point of view".