Monika had the dream of taking her father on a sailing trip for quite some time now. So all the way from Cape Town, South Africa she made her dream come through in Croatia. In this interview Monika tell us what brought them to Croatia and that passion for sailing runs in the family. We will also learn some tips on why choosing to sail with a skipper was the ideal choice to enjoy a holiday in full relaxation and completely hassle-free.
"My husband Tim and I are from Cape Town South Africa. We have always travelled extensively even before we even met. Probably what we had most in common. We have one son, Nicholas, who after school travelled to America and became a deckhand on the super yachts in Palm Beach. We wanted to spoil my dad and step-mother one more time before he became too old to travel. So we've decided to go on a sailing trip to Croatia by catamaran. Our itinerary went from Primosten, then off to Vodice, Tisno, Murter, Kakan, Zlarin, Kaprije, Krka and Skradin.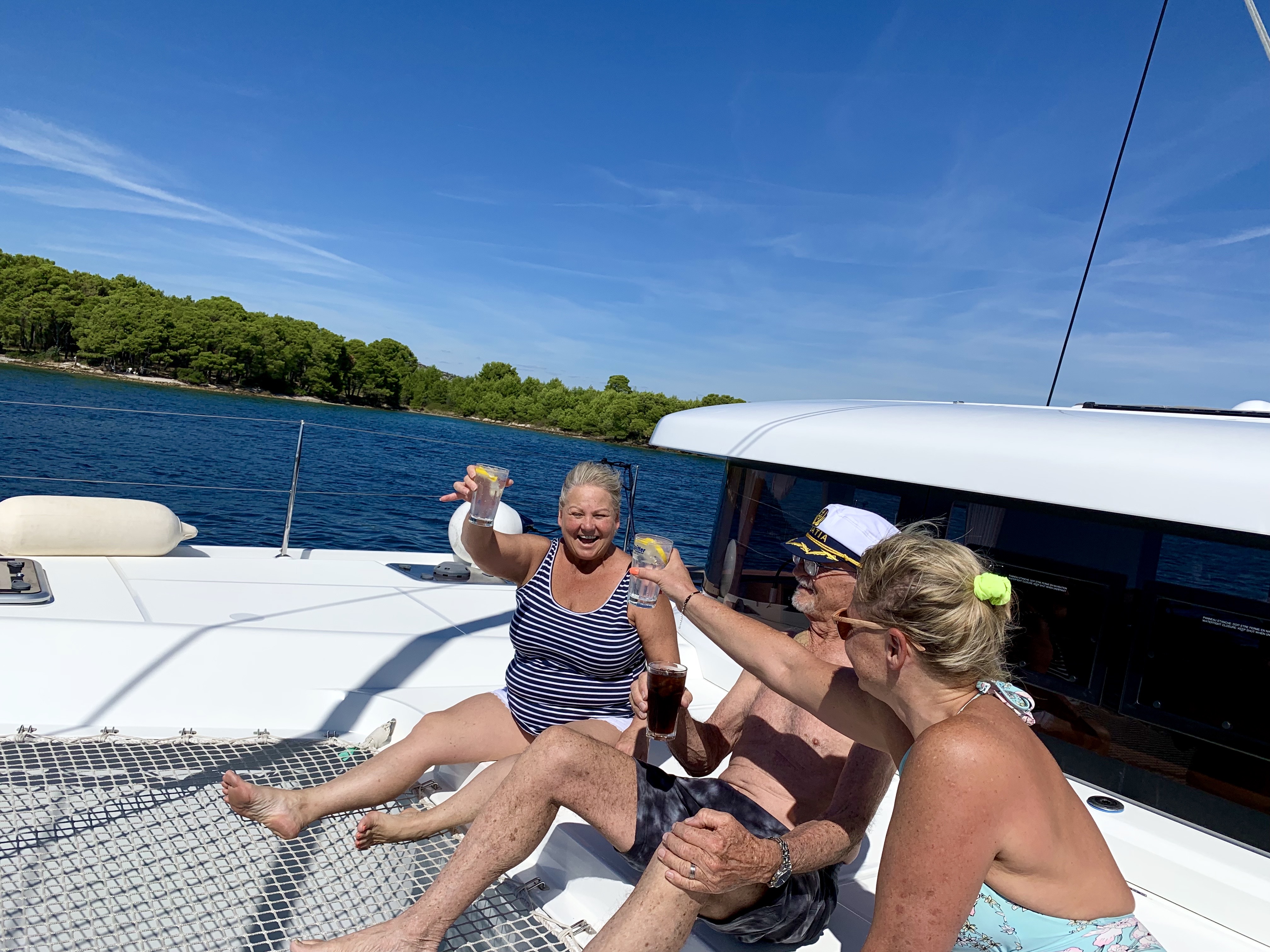 Toasting to a wonderful sailing holiday!
"I had read beforehand that if you have a special flag from your country or a favorite sports team flag you can bring it with and the skipper will put it up. We brought our national rugby Springbok flag with and Mario happily hoisted it for us."
Sailing runs in the family
"My dad loves sailing and we grew up taking trips on a small sailboat. It took us a year to save for this trip because we wanted to do it properly and didn't want to worry about money at any point during our travels."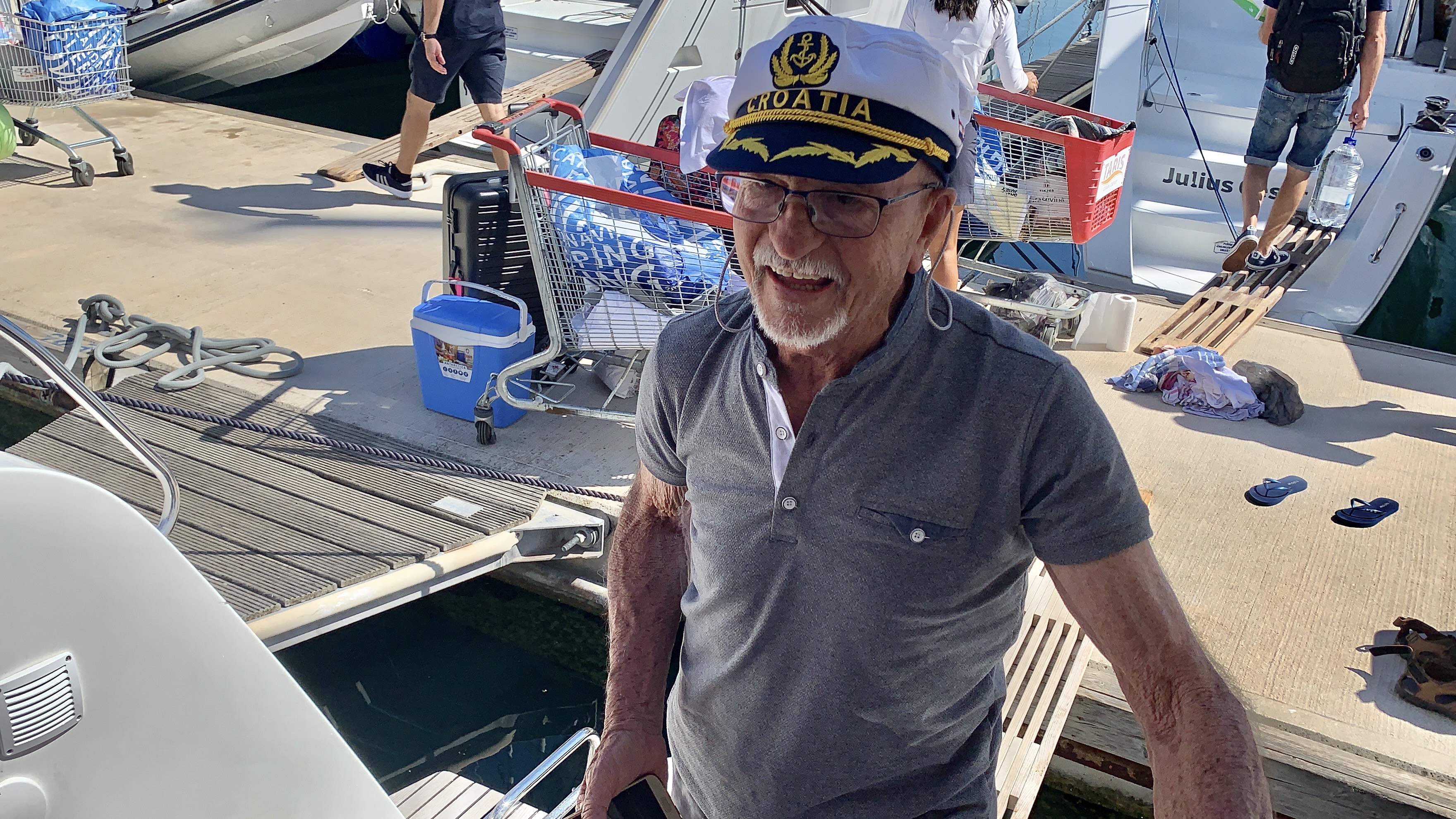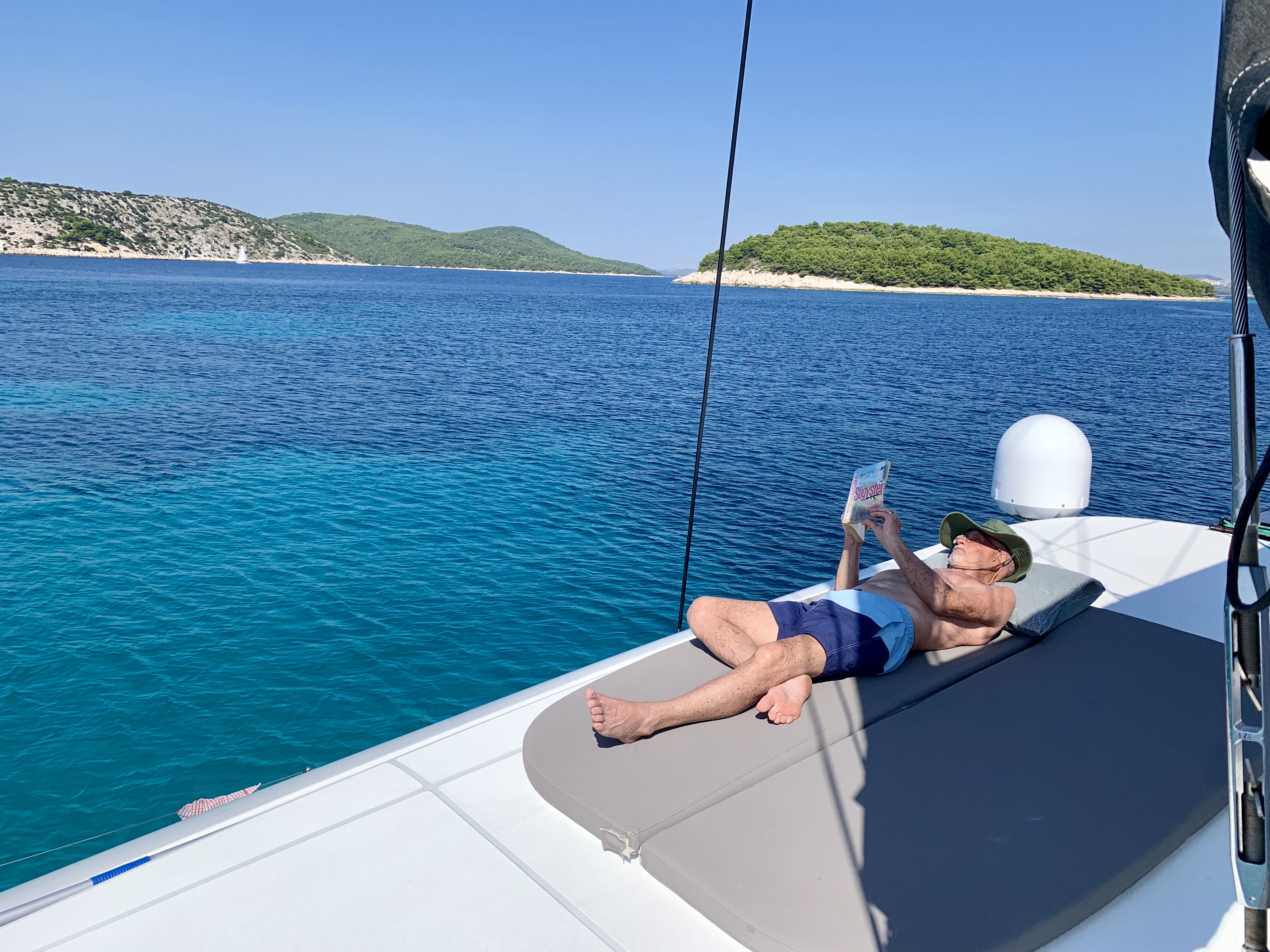 How blue can the Croatia sea really be?!
Did you travel with a skipper?
"Closer to our departure date Sailogy recommended a skipper called Mario. Mario was simply put amazing. We were the easiest clients to work with because we told him right from the beginning we are here to have a good time, he is the skipper and knows more than we do, so whatever he recommends us to do and wherever he wants us to go to, we are happy."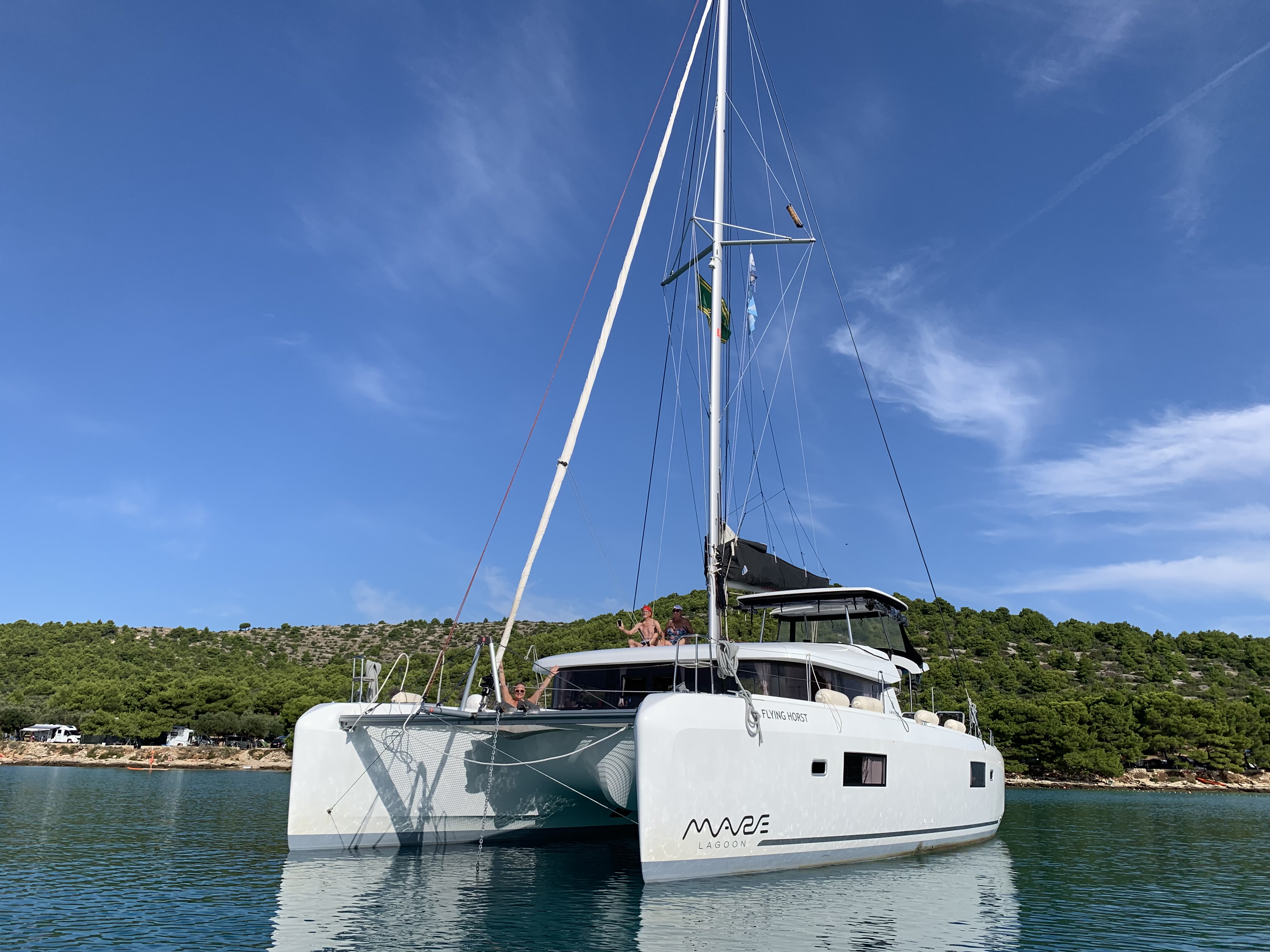 Traveling comfortably, aren't we?
Is there anything you wanted to pack but didn't bring?
"I recommend taking some extra swimming towels, which come always in handy and some washing line pegs (so towels don't blow away when the boat starts moving)."
Do you have any advice to give to those who are considering a sailing holiday for the first time?
"If I could suggest anything to any potential traveler it would be to relax once you are on board and let the skipper do his thing.
We definitely recommend having a local skipper who knows the weather and the islands. It was definitely the highlight having a skipper who could recommend restaurants and spots to visit and on the last day he even cooked a local dish for us. When we departed from Marina Mandalina, we left long before the other catamarans because Mario knew they all leave at around 5. So we basically were the first to arrive in Primosten and could get a good mooring spot very easily. That's when we knew our skipper Mario was going to give us a wonderful trip."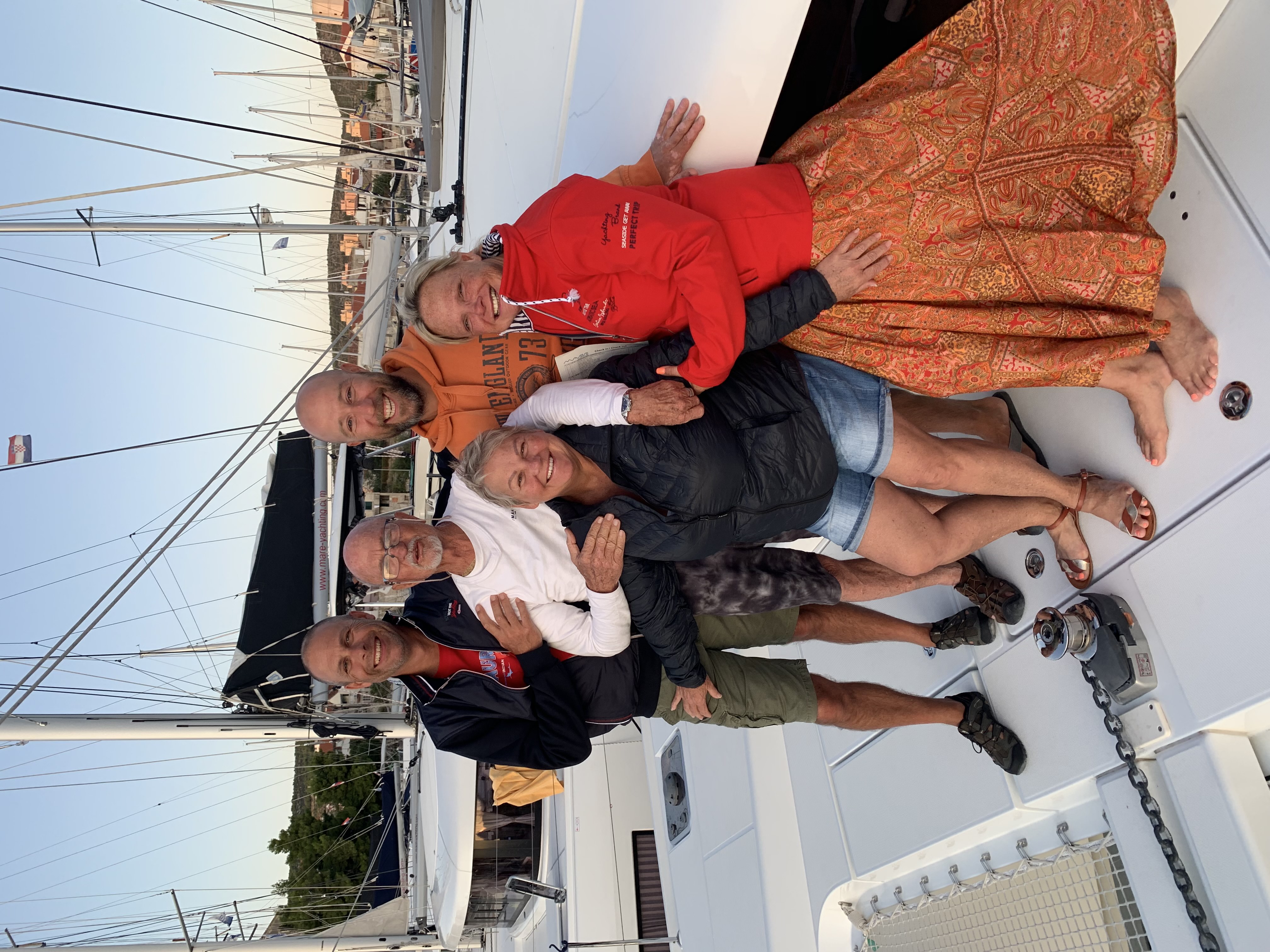 Monika (far right) and her smiley crew + Mario, their skipper (next to Monika)
How did you get your meals organized? Did you eat anywhere nice?
"Mario our skipper would suggest a restaurant to eat everyday and some days we cooked on the boat. We would buy fresh food and fruit at every little place we went to.
Mario also quickly picked up that we liked the very small villages and ports, that's more the quiet and older Croatia. And we loved every little, quaint place he took us to. All the places were quite quaint and a little less known from the main touristic tracks. They all left us speechless every time.
For example before we went to Kakan, Mario told us about this family who lives on this island and owns a restaurant . He called ahead to tell them we were coming. Here's us sitting in this less-known restaurant on the Island of Kakan."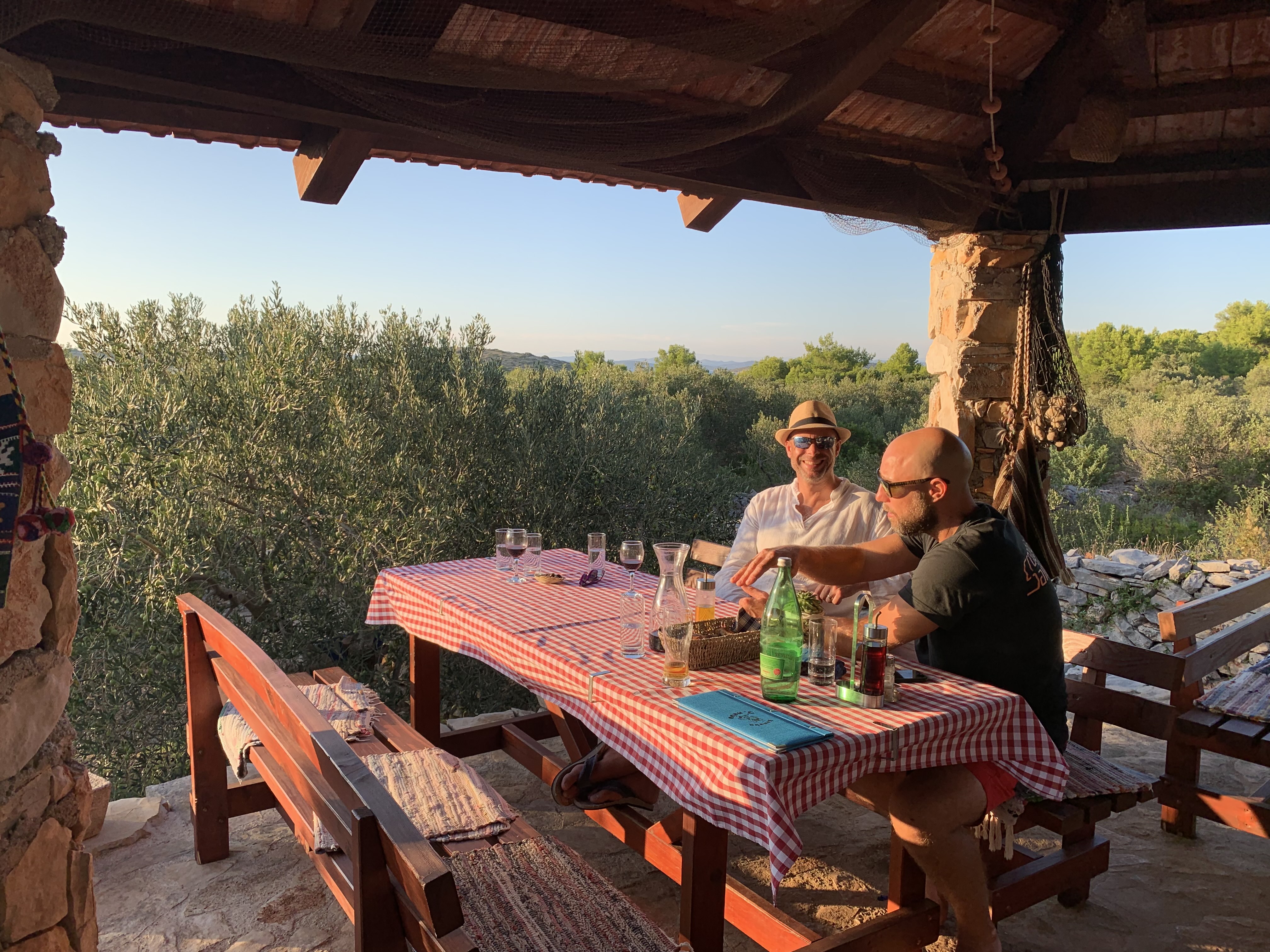 Getting ready for a Crotian cuisine treat in Kakan Island