by Francesco Gambini
Life on board is not substantially different from life on land. Today's boats are so comfortable and fully accessorised that we often forget we are on board and not sitting on our couch at home.
That said, sailing boats do present some constraints compared to homey life. One of them is freshwater.
Every sailing boat has generous freshwater tanks to use for general washing up. Just for reference, here are examples of the capacity of water tanks of some boats and catamarans of different sizes:
Dufour 310 Grand Large 159 litres
Bavaria Cruiser 37 208 litres
Bavaria C 45 650 litres
Dufour 520 Grand Large 719 litres
One word on catamarans. Their shape affects their overall weight; thus, whilst one may think they may host more water supply, actually, they are not significantly different from sailboats in this respect. The water supply will not be much greater than on a sailing boat. The number of toilets, and therefore water consumption, will tend to be higher on a catamaran. Something to consider if we want to spend a long period. Do take this into account if you want to spend long periods anchoring in roads.
Lagoon 380 300 litres
Lagoon 42 299 litres
Lagoon 450 348 litres
The water in the tanks onboard is used mainly for washing and taking showers. Super, but do remember that water supply comes from a tank and not to an aqueduct!
How to take a shower onboard: Some tips
Bear in mind that one single shower produces about 10 litres of water per minute. Under the enveloping jet time flies, this means that a crew in a round of full, domestic showers can drain the boat's water reserve, forcing a return to the nearest harbour to refuel. A time-consuming operation, especially in the high season and in small resorts. It forces an unwanted overnight stop in the marina.
Our advice to save your tanks, and I should add an enjoyable one, is to give yourself a rinse in the sea during the day. Then just a final wash with fresh water using the external shower while standing on the stern beach at the end of the day. In this way, as well as having a fresh shower (or a hot one, as there is usually never a lack of hot water on a boat) with a priceless view, you will also avoid wetting the boat's bathroom.
The secret to maximising our water supply is using marine soap. Something you should always take with you as you pack your bags.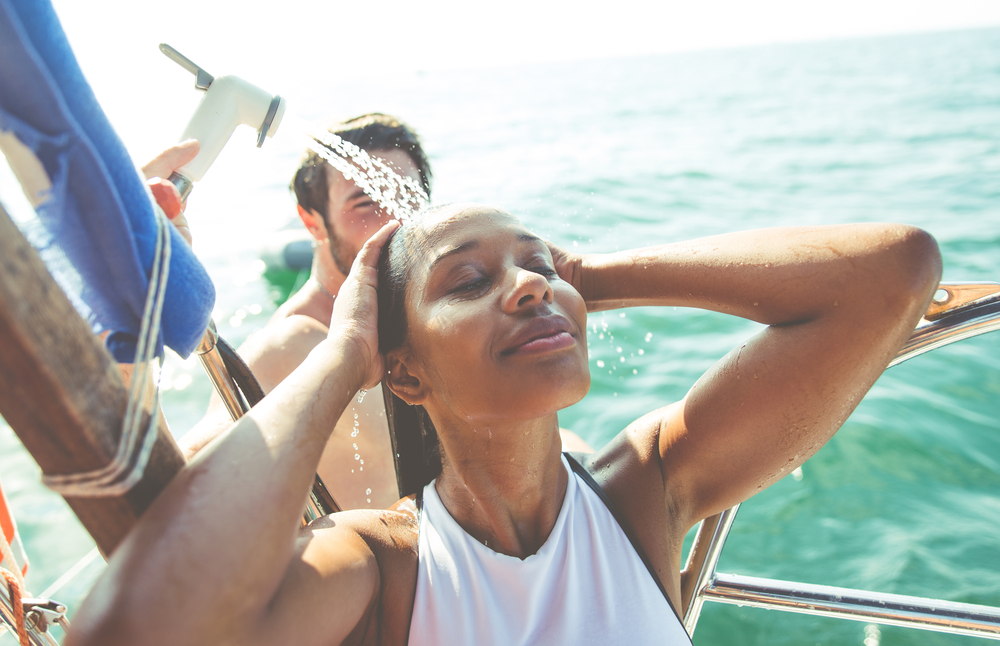 Why is it so important? For three reasons: first, it is a special soap that can dissolve even in saltwater, differently from regular soaps harder to rinse. So a more effective and practical option for seawater.
On top of that, it does not produce any foam, so ideal for the environment. Regular soap will leave that typical trail of bubbles where we are and where, let's not forget, we are only guests. A reason why the third aspect, biodegradability, is so important.
We don't want to leave that perfect cove or bay we've just discovered because we ran out of water, do we? So it is essential to make sure we set sail with sufficient water, food and fuel supply so that we can choose to stop whenever we spot a special place to anchor.
Water for food use
As far as food use is concerned, onboard we generally use plastic bottled water for drinking and cooking. At least three litres per person per day, so do your maths and take plenty.
Under the floor, you will find plenty of space to store your bottles (I recommend removing the label if it is made of paper).
Some boats, particularly well-equipped, will also have a convenient tap powered by seawater in the galley. Great not only for rinsing your fruit and vegetables but also for washing dishes.
Cooking with seawater
If you enjoy it, you can use seawater for cooking - just make sure it's clean.
Given the reasonably high salinity of the Mediterranean, much higher than that of the ocean, for example, it is sufficient to use a quarter of seawater of the total liquid.
Among other advantages, the pressure cooker allows you to cook using little water, otherwise, you can recover the water used to cook pasta, which is excellent for washing dishes!
The watermaker
Many modern boats are now equipped with a desalinator. Once intended for oceanic navigators and specialist use, this accessory is now almost within everyone's reach, with compact dimensions and low power consumption and runs also using the batteries onboard.
It consists of a high-pressure pump and an extended filter and removes salt from the water through an osmotic process.
With an output of several dozen litres per hour, it will provide an inexhaustible supply of freshwater for all our holiday needs.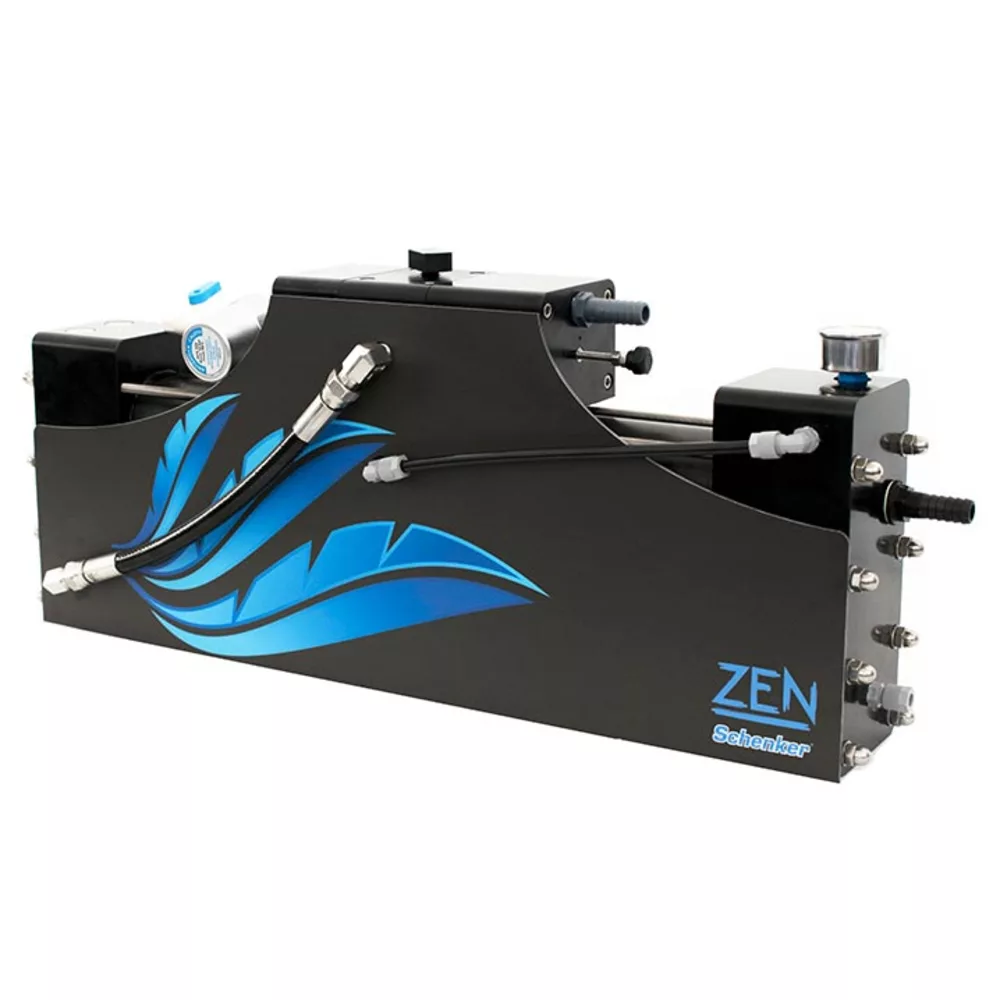 Source: Schenker
Modern watermakers are very compact, this model produces 30 liters / hour with the absorption of a light bulb
>> Let's make sure we dispose of mineral water bottles correctly
A week holiday for a 6 people crew with a skipper requires an average of 150 plastic water bottles. These must be disposed of correctly and can put a strain on a generally fragile environment both from a water supply perspective as well as when it comes to waste disposal.
To overcome this problem and this inconvenience, I just think of the number of times we will be forced to go ashore during our holiday to dispose of the bottles we produce), desalination units are becoming more common on boats, which can produce drinking water which we can then store in our flasks at our preferred temperature.
Managing your water on board
How to save water: a boat is as comfortable as a house, but it is detached from the mainland, so it is essential to respect a golden rule that can also be applied at home: never let the water run from the tap, but always close it after each use.
In the past, boat taps were equipped with hand pumps, which were not very practical but had the advantage of making us more aware of the water we were using.
Today, the boat's plumbing system is pressurised by an electric pump that allows water to flow copiously every time we turn on the tap, which is very practical but at the same time very prone to domestic consumption.
When we need to rinse something, such as a swimming costume or fruit, we do not use the tap jet, but rather fill a bowl or basin with the water we need.
>> Use seawater whenever possible
Suppose we need to strictly control our water consumption not to run out of water while waiting for the next refill. In that case, we should consider temporarily disconnecting the pump.
This post is written by Francesco Gambini. Francesco met sailing in Liguria 20 years ago. A fleet specialist in Sailogy, his favourite boat is the Dufour 310 Grand Large.