by Francesco Gambini
In our articles, we generally talk about sailing boats. In most cases, however, what we say also applies on board a catamaran.
However, what are the main differences and strengths of a sailing boat and a catamaran?
Sailing Boat vs Catamaran
Stability
A sailing boat, also known as a monohull, is, as its name suggests, a vessel consisting of a single hull. A catamaran, on the other hand, has two hulls.
The peculiar characteristic of a sailing boat is that, when subjected to the action of the wind, particularly at certain speeds characterised by a reduced angle to the wind, the hull tilts, counterbalanced by the daggerboard.
In a catamaran with two hulls, this effect will be noticeably less pronounced, almost invisible. This characteristic also allows the catamaran to do without deep keels and ballasts to the advantage of reduced draught and lightness.
The catamaran has an extensive square plan surface that rests on the water. It is a feature that makes it more stable and with more dampened movements when it is at anchor on a sea.
Space
The catamaran is undoubtedly more spacious than a sailing boat of the same size. Each cabin generally has a bathroom. The square-shaped dinette is of domestic proportions and dimensions, and the cockpit at the same level as the dinette is significant and well equipped. There is also a double aft deck at the end of the hull.
The roof of the dinette and cockpit, made of rigid fibreglass and therefore walkable, is called the flying bridge. This feature is often in great demand among enthusiasts of large boats because it allows them to dominate the sea from a raised position.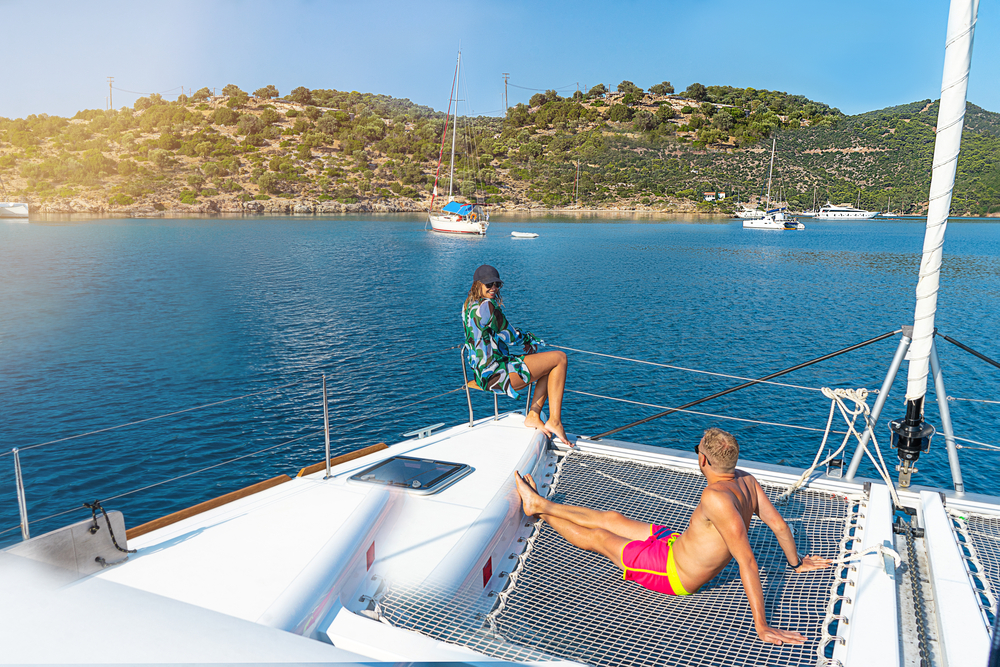 Size
With a similar length, a catamaran is undoubtedly more than twice as wide. This may make it more difficult to find a place in a marina during the high season. Still, on the other hand, the much larger footprint makes it possible to spend several consecutive days onboard without feeling the need to go ashore.
All on the same level
One of the main strengths of catamarans, and probably what makes them increasingly popular, is that the dinette and the cockpit are separated only by a thin transparent sliding wall. Once opened, the wall makes them a single seamless space that allows guests to maintain visual contact between those sitting in the dinette and those in the cockpit.
Along its external perimeter, catamarans have side walkways shielded on the seaside by a set of drapes and stanchions and equipped on the hull side with a firm handrail on the deckhouse for a safe route. At the bow, there is an area equipped with elastic nets firmly fixed between the two hulls and very taut, perfect for lying down and enjoying the moment squeezed between sky and sea. In some catamarans, this area is made of fibreglass, which makes it a very accessible part to use and live on.
Manoeuvrability
A cat can appear large and awkward, especially in confined spaces. However, no matter how big or small, you cannot manoeuvre a boat as easily as you would with a car because of the lack of brakes and certain inertia. So you'll need to carry out your manoeuvres in the harbour carefully and slowly. Having two engines means being able to manoeuvre one in reverse and one in forwarding gear. This also means that catamarans are able to turn on themselves in tight spaces without moving forward. Something practically impossible with a sailing boat, mainly if it is a long one and to which the bow thruster offers only a partial solution.
Speed and sailing
At a hydrodynamic level, catamaran hulls are by their nature more efficient: this is because their decidedly more refined profile cuts through the water rather than displacing it. This characteristic makes the catamaran the most efficient hull for motor propulsion. In fact, powercats, catamarans without masts and with oversized engines and tanks, are without doubt the most eco-friendly way to approach motor sailing.
When sailing, other considerations also come into play: the catamaran will do best in upwind sailing. It will suffer slightly upwind even at wide angles, not gripping the wind as much, whereas the sailboat is more versatile. However, the cat's greater overall speed is a guarantee, as it allows you to get away from bad weather more quickly.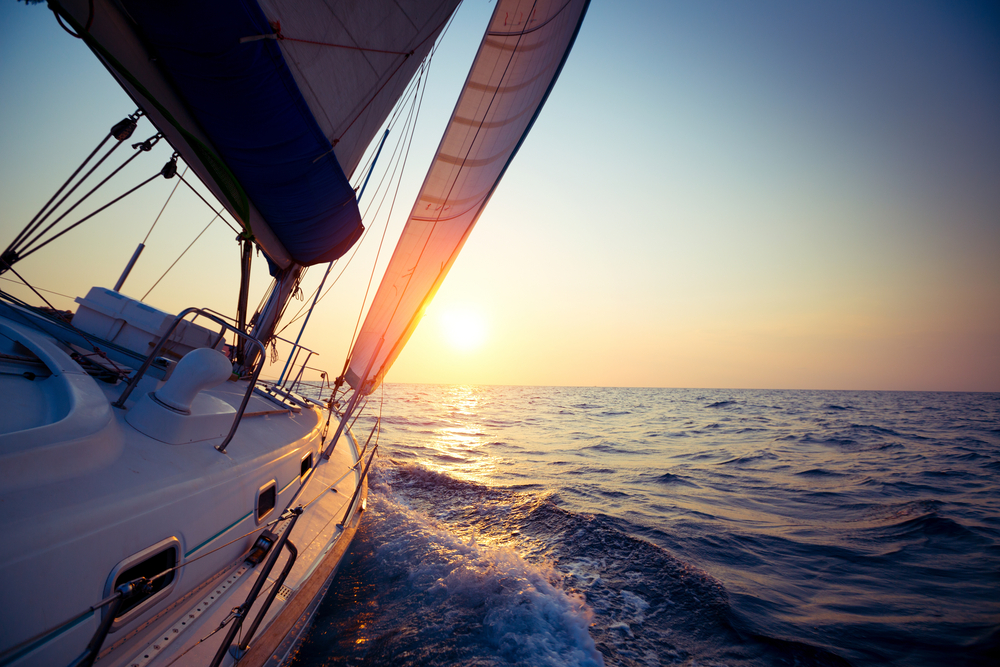 Comfort on board
A catamaran is often chosen by first-time sailors looking for something as similar as possible to a land-based home with the added value of the sea within diving distance. The catamaran is more disengaged and offers a more domestic division of space. And let's not forget that the sea lies between one hull and the other, so it's basically like being on two different boats, guaranteeing silence and privacy. This is especially welcome if you don't have much of a daily routine with the other members of your holiday party if you have the skipper on board or children.
Autonomy
Unlike sailing boats, catamarans are more heavily affected by their weight. Thus, they won't be as fuel-autonomous compared to sailing boats, but above all, they will not have ample water reserves. And, although not excessively powerful, catamarans will have two engines. If you want to experience long periods of logistical autonomy, the presence of a watermaker could be a perfect choice.
The organisation of space: The interior of the hulls
Catamarans designed for charter have a much more standardised structure than a sailing boat. Generally speaking, each of the two hulls has two cabins, located at the extreme bow and the extreme stern, with their two bathrooms in the central part.
If you've fallen in love with the catamaran vibe but at the same time would like to experience the same feelings you get on a monohull, the best solution is undoubtedly the Sunloft: an innovative Jeanneau model with six cabins and the galley outside, an integral part of the cockpit.
---
This post is written by Francesco Gambini. Francesco met sailing in Liguria 20 years ago. A fleet specialist in Sailogy, his favourite boat is the Dufour 310 Grand Large.