Most of our rental deals offer both bareboat and skipper options so that the client is free to choose the modality that suits his/her preferences. The presence of a skipper on board is not necessarily connected to the lack of a boat license. Still, it can depend on the type of holiday you want to experience, which can be more relax-oriented and not having to deal with the technical aspects of driving a boat.
In this article, we will try to clarify all doubts and curiosities regarding the figure of the skipper, and to understand what are the pros of having this professional member of the crew on board.
.
---
.
Who is the skipper?

A skipper is a figure in charge of the boat and differs from the figure of the boat owner: we're talking about a professional that obtained one or more boat licenses, with over ten years of experience in the command and operation of a boat, and that is civilly and penally liable when in command of such boat.
There's a substantial difference between boating courses and an actual boat license obtained after accumulating nautical miles of experience with different types of boats and weather conditions. This is the main reason why many people with a boat license still opt for having a skipper on board.
.
Why should I rent a boat with a skipper?
#1. Total relax
Please note that a person that does not have a valid boat license, is not allowed to rent a boat without a skipper.
Having said so, as previously mentioned, there are still many people able to drive a boat in more or less difficult conditions that request the presence of a skipper on board, even just to be supported by a professional figure and to be able to enjoy a more relaxed holiday without having to deal with technical matters.
Piloting a boat is an amazing but exhausting task and choosing to have a skipper by your side can make a difference to the whole holiday.
Those who choose to rent a boat with a skipper, ofter opt for extra services such as the presence of a hostess that can deal with meal preparations, as well as boat maintenance and cleaning. This will allow you to completely relax and enjoy your holiday.
#2. Always expecting the unexpected
A skipper is ready for any kind of eventuality, such as a difficult mooring, a negotiation at the port, or an unexpected storm. The experience that the skipper matured on board is such that he will always be ready to act faster compared to someone who, despite having a boat license, doesn't carry out this activity professionally.
#3. Useful travel suggestions
These professional figures are usually selected directly by the boat owner according to their experience in the area of your choice. They have great local knowledge and will be able to take you to coves, beaches, and corners of paradise that are less crowded by tourists so that you can have an exclusive experience.
If you are into local culture and food, a skipper that is also a resident will be able to advise on the best restaurants, bars, and places around the area that are often not mentioned in the online guides. Moreover, a skipper will be able to suggest the best activities to practice on board and at sea, from fishing to diving or any other water sport according to the area you are exploring.
#4. Getting used to the world of sailing
Having a skipper on board is a good opportunity to learn new navigational skills. People who own a boat license but can't practice much, often need to learn tricks and secrets about the noble art of sailing: all things that a professional skipper can provide throughout the holiday. If you don't have a boat license, this could be a great occasion for getting passionate about this amazing world!
.
Sailing boat or catamaran?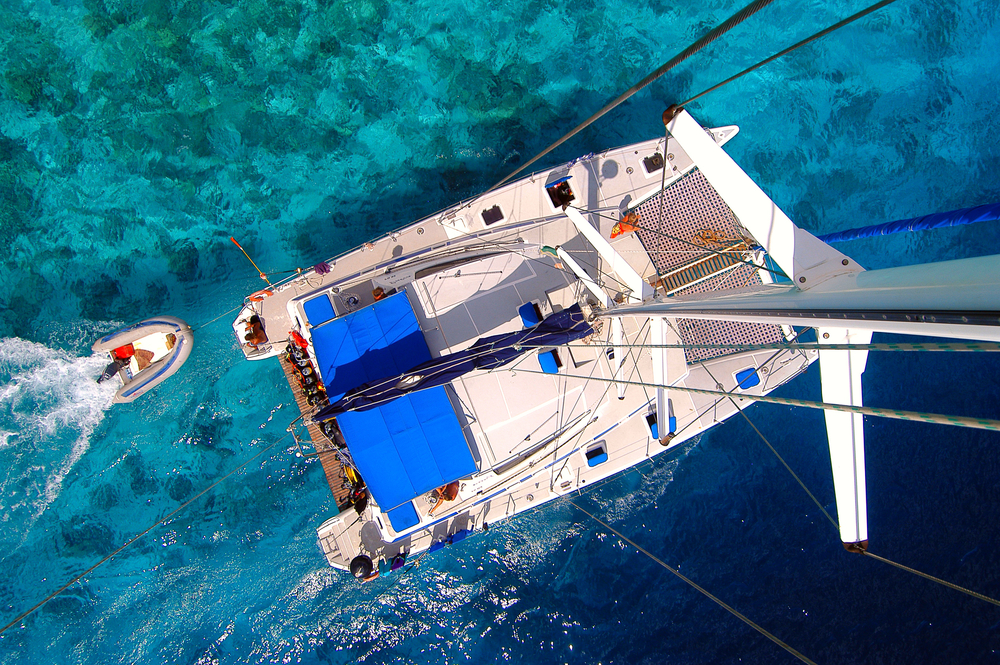 Sailing boats and catamarans differ for many reasons, of technical and economical nature. In both cases, it is possible to hire a skipper as well as add extra members of the crew according to the client's needs. Choosing a boat is a decision that relies exclusively upon you, however, the below info will help you to understand better these types of boats and to make the right decision for your next trip.
A sailing boat is a perfect choice for those who love the sea, the gentle rocking of the waves, and the direct contact with nature. It is a monohull that presents a single body (differently from the catamaran, which has two hulls), and therefore is more subject to oscillations dictated by the wind.
On catamarans, the presence of two hulls makes the oscillations less perceptible, which guarantees more stability even in the case of rough seas. The main difference lies within the space availability: catamarans, compared to sailing boats, occupy a wider surface, therefore they have larger spaces, such as the cabins with private bathrooms and outdoor dinettes by the cockpit. It's the perfect boat for large families or groups of friends.
When sailing, other considerations also come into play: the catamaran will do best in upwind sailing. It will suffer slightly upwind even at wide angles, not gripping the wind as much, whereas the sailboat is more versatile. However, the cat's greater overall speed is a guarantee, as it allows you to get away from bad weather more quickly.
.
Best sailing destinations for renting a boat with a skipper
Are you planning your next sailing trip? Check out our suggestions and book your holiday in a few clicks. Plenty of destinations to choose from and to discover with the expert guidance of a professional skipper, so you can enjoy a relaxed holiday with your friends, family, or partner. With Sailogy, you can add all the extra services you need on board and be assisted by a crew of professionals throughout the vacation. Here are some of the best destinations we suggest to consider for your next holiday: