As part of our culinary series of recipes to prepare onboard, today we meet one of our favourite Greek chef, Niki Christidi Roemmer, from beautiful Thessaloniki in Greece. Niki has travelled a lot onboard since her childhood and in this article, you'll learn a traditional Greek recipe, one of Niki's favourite. If you've spent a whole day sailing throughout the Med and fancy a filling comfy meal that will make your entire crew crave for more, well this is the dish for you. We're talking of the Greek stew, Giouvetsi.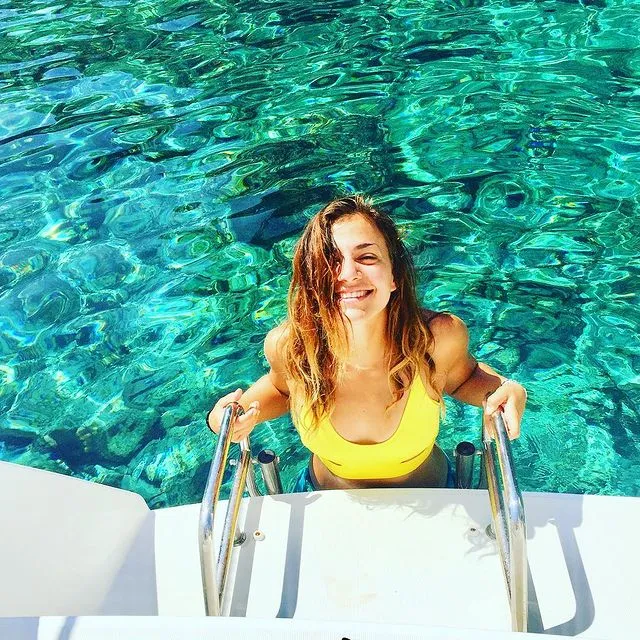 Lamb is the protagonist here, though chicken, beef or pork may also be used as ingredients here. If you're looking to vegetarianise this dish, you can easily replace the meat part with cauliflower and peppers (and usually any seasonal veggies actually will work here).
Traditionally, giouvetsi was made in clay pots and was called a one-pot meal, usually baked in a wood-burning oven. In Greek restaurants, you are more likely to have it served in glazed terracotta plates.
"Gastronomy in Greece is authentic, of high quality and traditional and makes a great use of local products, as it has been for hundreds of years in ancient Greece. The variety of recipes from different regions of the country will often include local ingredients. There are plenty of good recipes, which are spread all over Greece, but then there are also special and particular dishes for each region, such as in Corfu, Crete, the Cyclades, etc...As healthy eating becomes more and more important today, Mediterranean Greek cuisine is also known for its positive effects on the body." says Niki
How to make your giouvetsi onboard?
Ingredients (8-10 portions)
5 tablespoon(s) olive oil
3 onions, large
2 carrots
1 leek
1.200 g beef, leg, boneless, cut into 2 cm cubes
2 stick(s) cinnamon
2 bay leaves
1/2 teaspoon(s) cumin
2 tablespoon(s) tomato paste
150 ml red wine
400 g canned tomatoes
2 tablespoon(s) honey
1 liter water
salt
pepper
250 g orzo pasta, medium
1/2 teaspoon(s) thyme
feta cheese, to serve
1 bunch parsley, finely chopped, to serve
lemon zest, of 1 lemon, to serve
Cook time: 2:30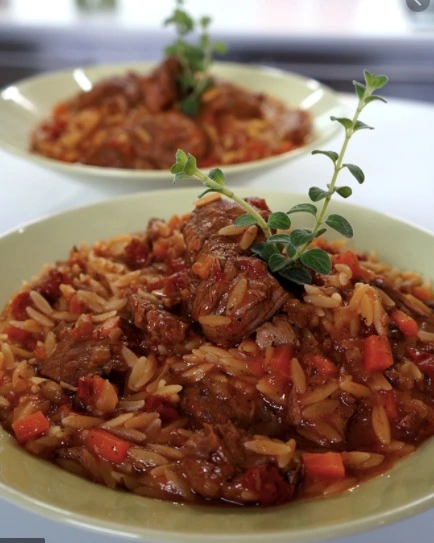 Preparation
Preheat oven to 180* C (350* F) Fan. Finely chop your onions and place a shallow pot over high heat and add 3 tablespoons olive oil. Add the onions and sauté until nicely caramelized. Quarter the carrots and chop them into cubes. Add them to the pot. Coarsely chop the leek and add to the pot. Stir and sauté for about 5 minutes, until they caramelize nicely. Add a little more olive oil, if necessary. When ready, transfer to a bowl and set aside until needed. Place the pot back on the heat and let it get very hot. Add 2 tablespoons of olive oil and the cubes of meat. Brown for 4-5 minute. Add the sautéed vegetables, cinnamon sticks, bay leaves, cumin and tomato paste. Sauté the tomato paste for 1-2 minutes to help remove its bitterness. This also helps to thicken the sauce. Add the wine and let it evaporate. Add the honey, 250 ml water and the can of chopped tomatoes and stir.
Season with salt and pepper. Lower heat to low and simmer for 1 ½ hours, until the meat is very soft and the sauce has thickened. If your sauce is too thick, add a little more water. When ready, transfer to an oven proof dish.
Place a pot over medium to high heat. Add 3-4 tablespoons of olive oil and the orzo. Sauté the orzo for 3-4 minutes, until golden.
When ready, add it over the meat in the oven proof dish. Add 750 ml water, and fresh thyme. You can add any of your favourite herbs also. Cover with aluminium foil and bake for 30 minutes. Remove foil and bake for another 15 minutes. When ready, remove from the oven. Sprinkle with finely chopped parsley, lemon zest and some freshly ground pepper.
Serve and enjoy!
Niki has written more recipes for us that you can try on board, including the Greek Papoutsakia and a fun culinary itinerary in Ionian Greece, highly recommended if you decide to sail along those waters!