Safe and enjoyable sailing is all about being prepared. You may think that it takes years of sailing to pack your suitcase to perfection, choosing from the many accessories we are offered, the countless jackets to protect us from the wind, but where to start? Which will be the most effective? And... will I need it in summer? With your first sail, you will quickly learn what you really need to make your trip enjoyable. With this article, we want to share with you what, based on our sailing experience, are the 'must-haves', the essentials of a boating holiday.
What to bring on a boating holiday
Waterproof Cases and Keyrings
Boats are constantlymoving, and it is possible to drop things overboard. It is good practice to keep your keys, important documents and mobile phone in a safe place as soon as you arrive onboard at the start of your holiday. We recommend that you protect your documents in convenient waterproof plastic document pouches. For all the keys you bring on board, we recommend a small floating key ring-like or you can take a key ring with a more visible float like this one with a cork float and be sure not to lose it! However, we always recommend keeping your keys strapped to the boat rather than lying around on board.
We definitely recommend one of those waterproof cases that you can also tie around your neck for your mobile phone.
Our fleet specialist Francesco tells us about his experience on the subject:
"On a boat, when something falls overboard, it tends to be lost, attaching it to a float can help, but prevention is better than cure, which is why it is important to tie all small objects that can fly overboard to yourself or the boat. Beware of the early stages of our stay on board when we are not yet familiar with the boat, a typical case is the wallet in the back pocket of the jeans that falls into the water when jumping on board, I have got into the habit of storing it in a closed pocket when I am still ashore, along with the car keys...!"
Duffel bag
The universal rule for boat travellers is to carry soft bags with no edges, wheels or feet that can scratch the boat. Soft bags are perfect because once you've emptied them, you can fold them easily, and they won't take up much space on board. As soon as you're on the boat, you'll soon realise that space is a bit more limited, so a good 60-litre waterproof soft duffel (pictured below, left) won't take up as much space, and you can easily fit it into the spaces provided.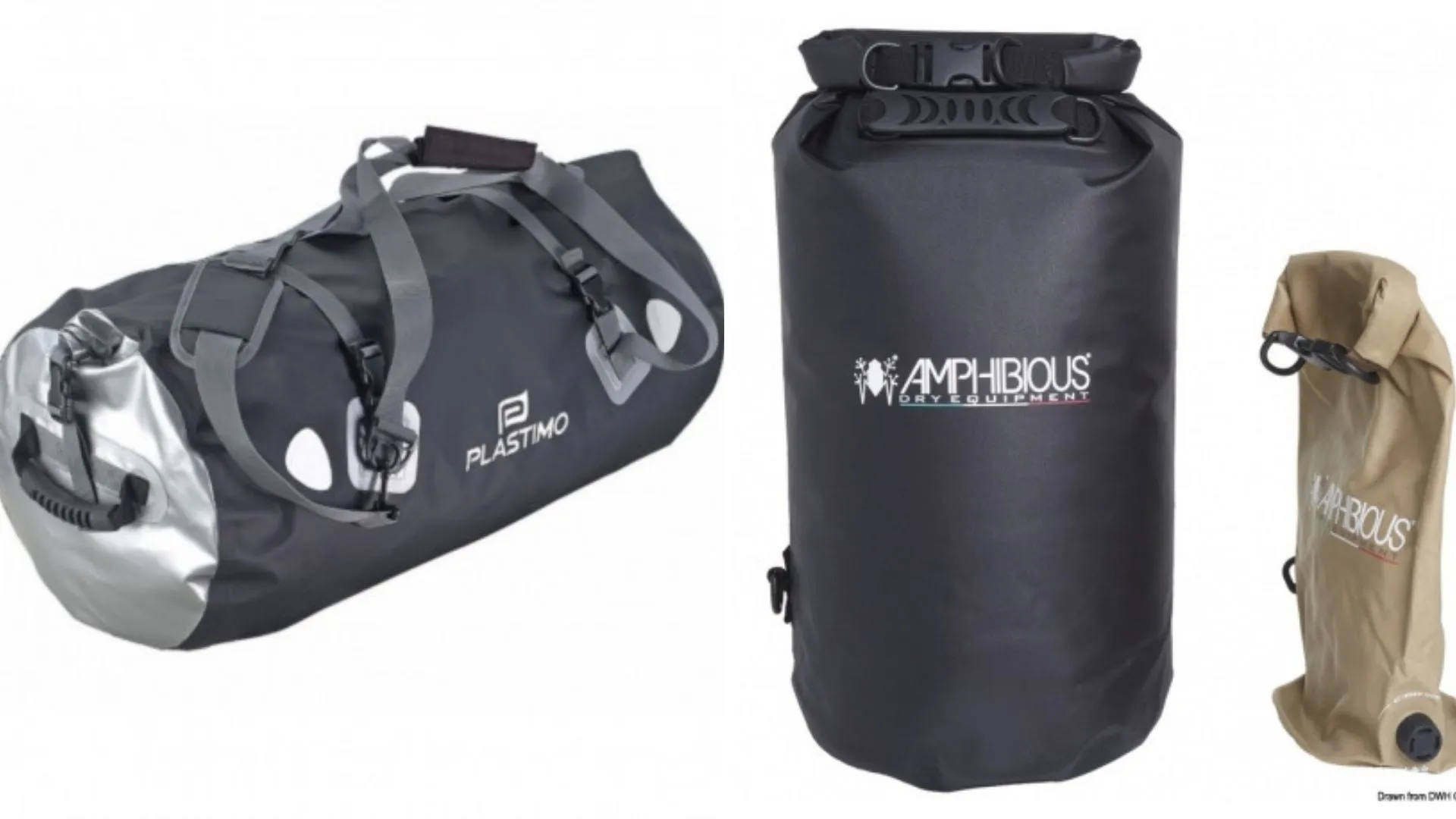 It is also ideal for boarding on a plane. With its heat-sealed seams and watertight material (similar to that used in inflatable boats), this is a bag that does not easily allow water to permeate. A valid alternative is this waterproof bag made of lighter material (pictured right). It is more versatile because you can use it also when you go ashore as a backpack. On top of that, it has a valve that allows you to reduce it to a vacuum bag and store it on the boat without taking up much space.
"I use a 60-litre expedition bag for transporting equipment on my trips. It's very robust and versatile, with shoulder straps, so I can carry it effortlessly even when the boat is at the end of a long, bumpy jetty... Once it's emptied and divided up into the various cupboards on the boat, it practically disappears, but it also works as a "cupboard" in case of a quick we onboard."
Sailor's knife
It may sound like an item for pro's only, but if you are interested in boating and are the kind of traveller who likes to get involved in the action, maybe lend a hand to the skipper, or maybe you are the skipper of your charter boat yourself. We recommend that you always carry a multi-purpose knife. Here you can choose between a more classic sailor's knife made of stainless steel - which won't rust in saltwater - and a more fully equipped model! One worth investing in is certainly this stainless steel sailing knife with blade, awl (for opening knots), retractable pin opener (boat hooks) and screwdriver. Ideal for cutting ropes when needed and perfect for opening knots. If you're looking for a knife with more performance, we recommend a Leatherman Sidekick. It is very versatile, it can make a great gift idea for someone who enjoys boating and other outdoor activities in general.
"Remember that knives can't fit in hand luggage on an aeroplane and you'll need to check them in with your other luggage. Several times when I've had to travel in hand luggage only, I've bought a new one on the spot at a marine supply shop."

Hat
Your head is the part of the body from which we dissipate the most heat. By shielding and protecting our heads, we ensure we don't suffer the summer heat and the cold temperatures for the rest of the year. A classic item that we recommend you pack is a hat to protect you from the wind (see picture), which is perfect for avoiding the sail effect and can be clipped onto your T-shirt to avoid losing it in the wind.
For the more experienced sailors, a hat in technical fabric (second on in the picture) dries quickly and remains a very versatile garment that you can also use if you decide to leave the boat for a canoe trip.
"I generally use such a hat when we are sailing, when we are at anchor or going ashore. I use instead a simple straw hat which is more suitable and cooler."
Even in summer at sea, the temperature can drop, especially in the evening or perhaps in solid winds. Best to be prepared with a warmer, water-repellent, 100% wool hat like the one pictured third here.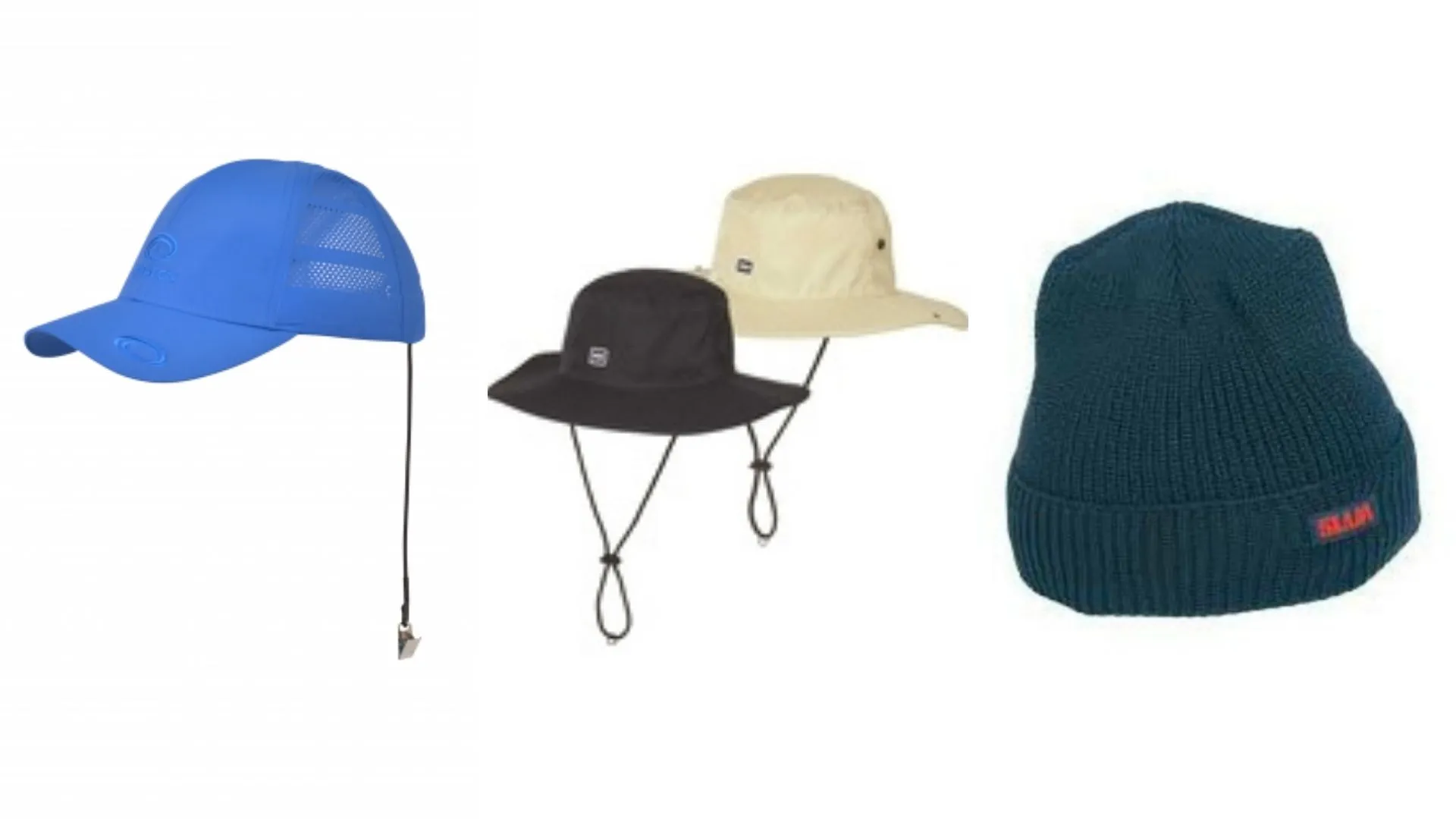 Dish soap
This is a product that you can clearly share with your crew. It is a special concentrated liquid detergent for dishes and cutlery that can be used with seawater, making it possible to wash dishes with saltwater. It is also organic and produces little foam.
"Washing dishes with seawater and using freshwater only to rinse them saves a lot of tank water. The kitchen sink on a well-equipped sailboat usually has an additional tap with seawater, but the kitchen sinks are small and everything gets wet. Whenever possible, I like to wash the dishes calmly while standing on the beach with my legs soaking, so it's important to use a soap that doesn't make foam, rinses easily, and ça va sans dire doesn't pollute the beautiful environment in which we live.
Sunglasses straps
If you love good sunglasses, whether it's the most fashionable model or the most sporty one, it would be a real shame to lose our favourite glasses at sea, because as we said, the boat is constantly moving! The lanyard is a very practical solution to this problem. There are different types on the market: from the neoprene strap (pictured left), which is lighter to wear, to the silicone strap (pictured right).
"I wear glasses, so losing them would be a double discomfort, so I've got into the habit of tying them with a very thin fishing line that a fisherman from Paros gave me. It's so thin that I forget I'm wearing it even if I use it for weeks on end or if I'm reading with my head resting on the pillow."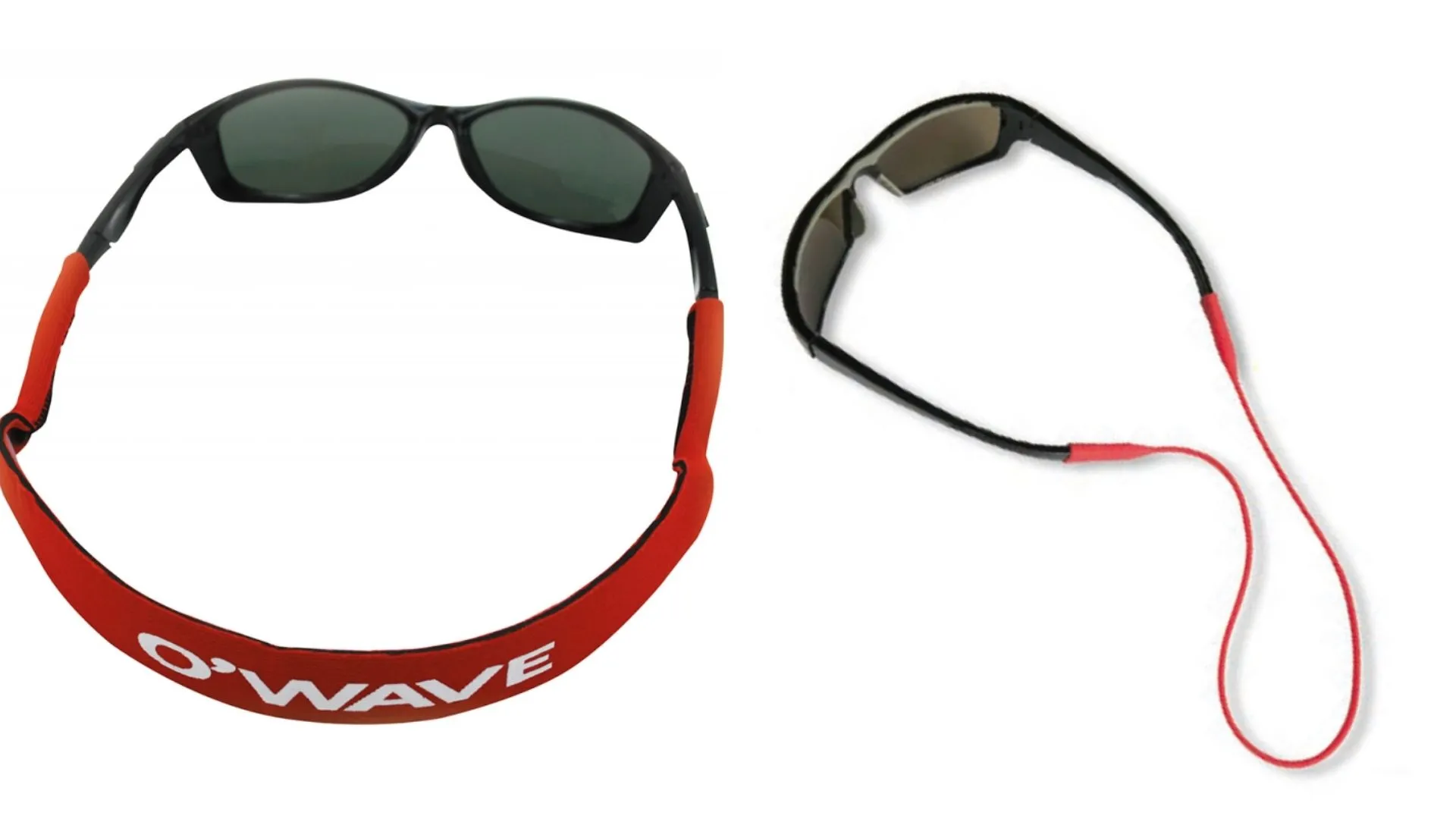 Softshell and wind waistcoat
A softshell is a kind of fleece with some windproof and partially waterproof qualities (not meant for a downpour, but perfect for boat splashes and low-intensity rain. Perfect in summer, you may not have to use it, but it's always better to bring it with you.
The softshell is also great in combination with other clothing in the colder seasons.
Another valid garment to wear on a boat and highly versatile is the waistcoat. It frees up movement, especially for those involved in running the boat or supporting the skipper, thanks to the absence of sleeves. Made of windproof technical fabric.
"The waistcoat is my ace up my sleeve for making all the combinations of layers work when I'm outdoors. It keeps the upper body warm and protected without becoming stuffy or sweaty. It's important to cover the parts of the body with the most heat loss such as the head, feet, torso, hands... you don't get cold from feeling cold in your legs or arms!"
Shoes
Having good shoes to move around on a boat is very important, especially if you want to support the skipper or, even more so, you are the skipper on board. A comfortable, breathable, water-repellent and quick-drying shoe, such as this one pictured, can significantly facilitate onboard movement and manoeuvring. The white sole is perfect for not scratching or leaving marks on the boat.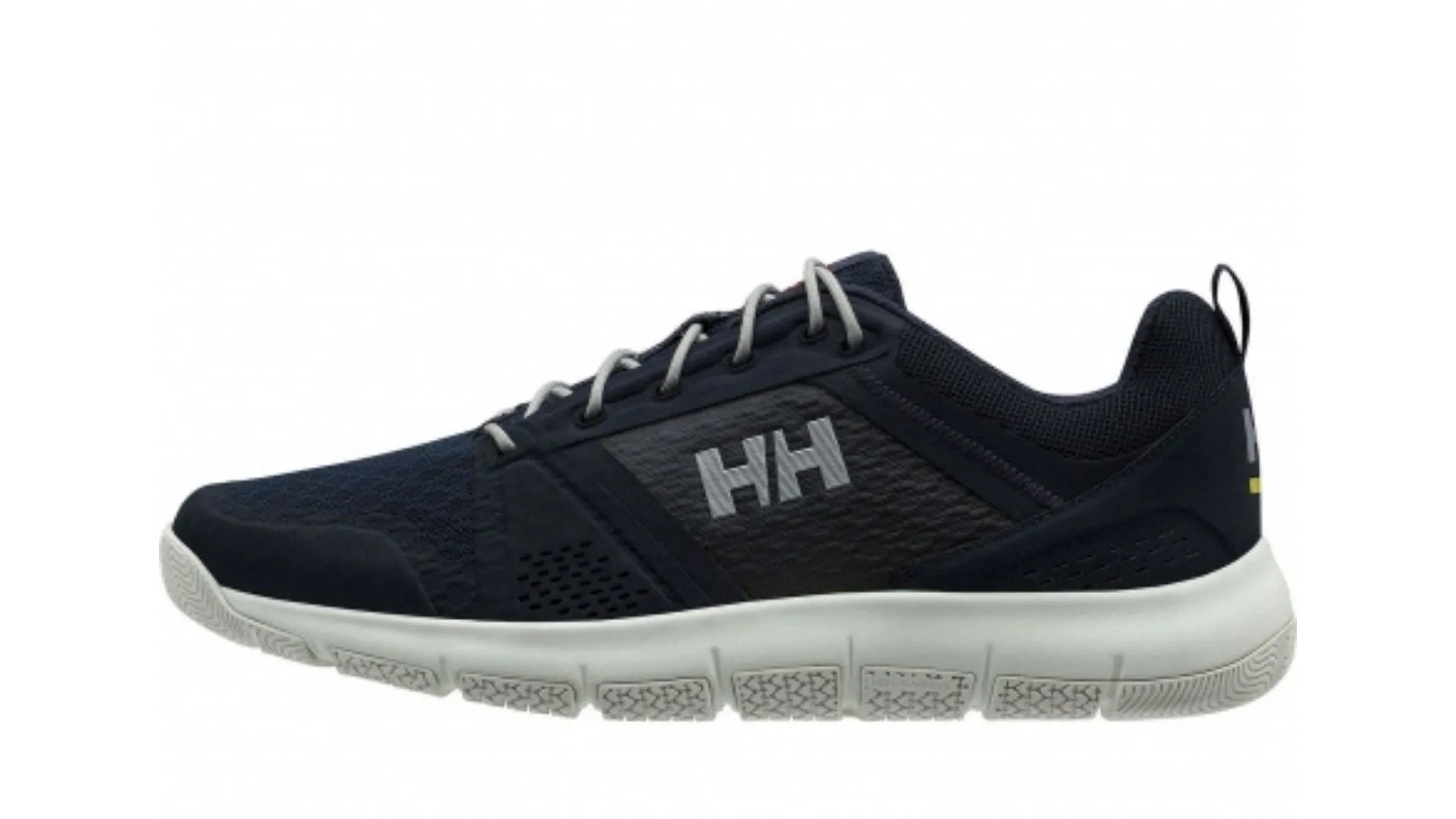 The notches on the outer sole allow for maximum grip on the boat. It is a year-round shoe. If it's a boat we don't know, a good shoe will protect our feet from any blunt protrusions and bolted objects. Very useful if you are doing mooring and anchor winch manoeuvres. We recommend keeping them handy so you can put them on quickly if needed.
"On the boat, I always wear a pair of modern boat shoes similar to trainers and wearable without socks to be used only on board (or at most on the jetty for a few moments) plus shoes to be used on land. A pair of all-rubber flip-flops that don't get wet is a must".
T-shirt
As for T-shirts, what may seem like a style choice is actually an extremely practical solution for life on a boat. The polo shirt, preferably white, remains a cool and ventilated garment thanks to the honeycomb fabric. The collar can be turned upwards to protect the neck from the sun. There is a wide range of polo shirts for both men and women.
Speaking of shirts, we would like to mention the long-sleeved Lycra underwear, which keeps you warm and protects you from excessive sun exposure (it may sound strange, but you are constantly exposed to the sun on a boat and it is advisable to have a garment to wear when you have had too much sun). Again, there are several underwear solutions for women and men.
"Putting on sunscreen is a hassle, so over time I've got into the habit of covering my body or arms with a tight-fitting, long-sleeved Lycra top. You still get a tan and don't get burnt, and when you want to go for a swim... ! It gives you that extra warmth that's perfect for your first swim and protects you from rocks and jellyfish."
Snorkelling Set
One of the greatest pleasures of a boat holiday is the constant proximity to the sea and to spectacular seabeds that are not always easy to reach from land. The sea and its wonders are just a dive away! Our advice for not missing out on the beauty of the sea bed is to equip yourself with a good snorkelling set, consisting of a mask and snorkel.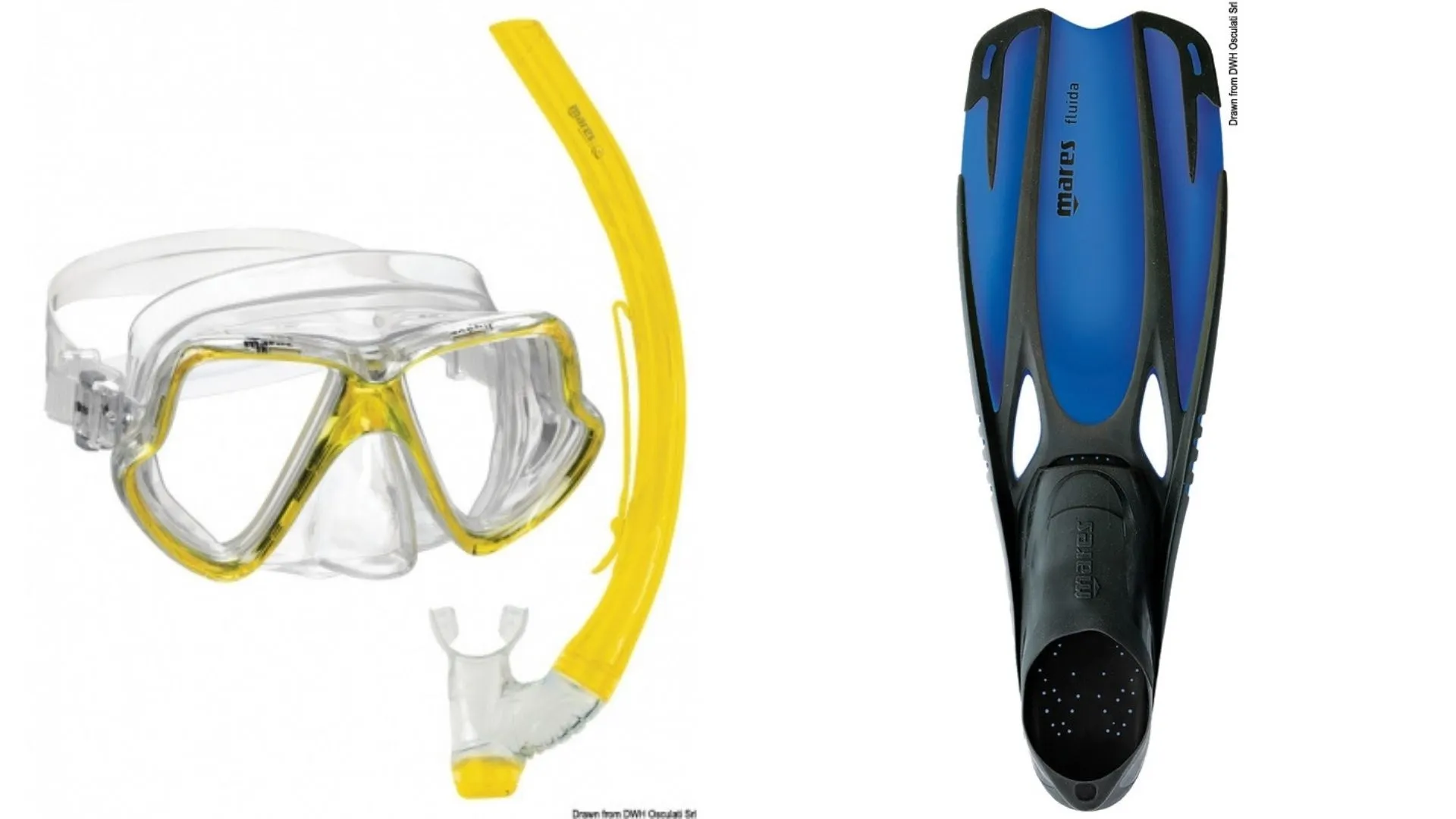 Although there are many brands on the market at often quite low prices, in the long run you'll notice the difference in price and quality. Quality masks tend to offer a far superior experience, so our advice is to make a small investment and you won't be disappointed! A final note on this subject: fins! Indispensable for freediving, diving or snorkelling, fins are your driving force. They allow you to move around efficiently and safely in the water, swim in small coves and go deep underwater with ease.
Here's a good pair here (pictured)
"Having a snorkelling set on board and knowing how to use it knowingly is also a safety factor: it will prove useful, for example, to go and check in the evening that the anchor has caught properly so that you can go to sleep peacefully and it will also help to solve some small unforeseen problems such as an anchor stranded on the bottom or a line caught around the propeller shaft."